The City of Austin and the Hill Country Conservancy are working together to develop the Violet Crown Trail system.
Violet Crown Trail begins at Barton Springs Pool in Zilker Park and, once complete, will extend 30 miles south into Hays County. Width, grade, and surface type vary by location, but segments built by the Urban Trail Program are wide, smooth-surfaced, and suitable for all ages and abilities.
Sign up for email updates on the City's Violet Crown Trail Projects.
Violet Crown Trail System Overview
Due to coordination between Austin Transportation and Public Works Department, Capital Delivery Services, Austin Parks and Recreation, and the Hill Country Conservancy, many portions of Violet Crown Trail are completed and open to the public. These organizations are currently working on projects to expand and improve the Violet Crown Trail and build connections between completed sections.
Austin Transportation and Public Work's Urban Trails Program developed two projects within the Violet Crown Trail system: the Violet Crown Trail South and the Violet Crown North. Continue reading for more information about these completed projects.
 Learn more about the Violet Crown Trail:
Violet Crown Trail – South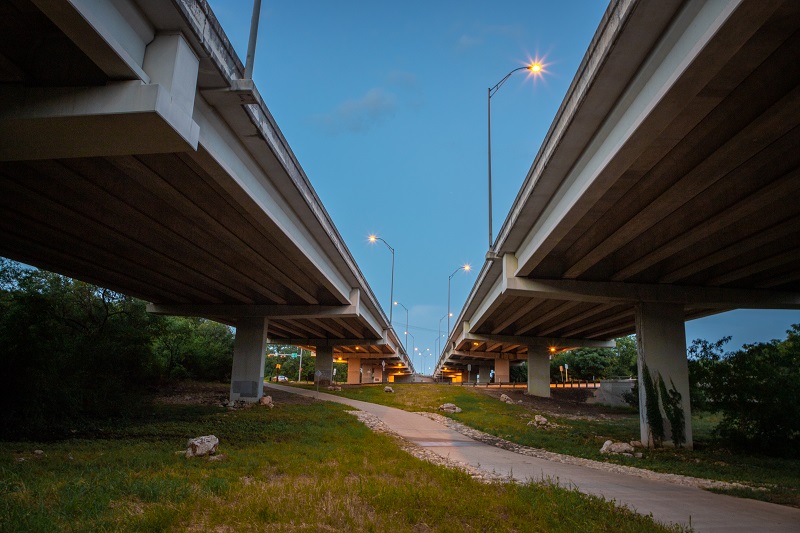 Designed and constructed by the Urban Trails Program, Violet Crown Trail – South opened in August 2018. This 0.76-mile long section of the trail is located between Convict Hill Rd and Dick Nichols District Park, just south of the Hampton Branch Public Library to Convict Hill Rd at Brush Country Rd. View a map of the Violet Crown Trail project limits here.
Parking is available at the Violet Crown Trail trailhead, located near the intersection of Convict Hill and Brush Country roads. This portion of trail is a paved surface designed for people walking and people on bikes.
Violet Crown Trail – North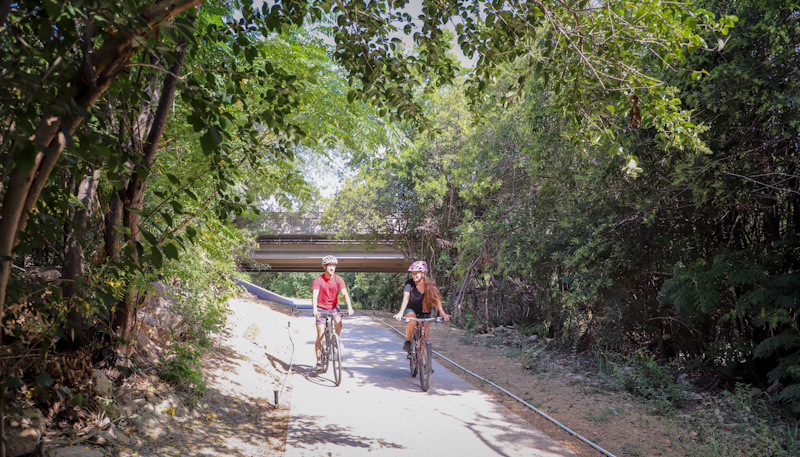 This one-mile section begins at Home Depot Boulevard and extends to Mopac, just north of William Cannon Drive. Construction on the Violet Crown Trail North was completed in July 2023. The project was delivered by the Capital Delivery Services Department on behalf of Austin's Urban Trails Program and made possible through funding from the 2016 Mobility Bond and a Capital Area Metropolitan Planning Organization grant.