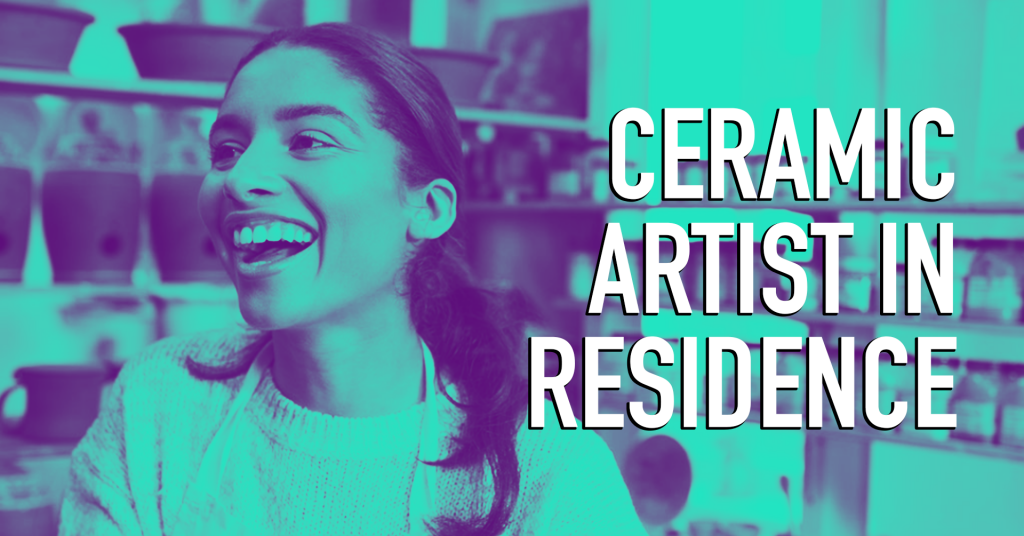 Visual Artist Residency Program 
The Visual Artist Residency Program strives to provide visual artists with the space, facilities, time and professional interaction that will foster and further develop their ideas, skills, abilities and focus as practicing artists. This is a work exchange program where resident artists are expected to create outreach opportunities within our community such as teaching workshops, giving public presentations, critiques and monitoring our independent study program and open studio hours. 
Residencies are six months, renewable up to a total of two years, and available for emerging and established artists in ceramics. Residency is open to visual artists who live in the Austin area; within Bastrop, Blanco, Burnet, Caldwell, Hays, Travis, or Williamson counties.
For questions about the Visual Artist Residency, please email HR Wright, Program Advisor at HR.Wright@austintexas.gov
---
Current Dougherty Visual Artist Residents
Ali Rex, Emerging Ceramic Artist
Resident Summer 2023

Ali is an architectural designer and educator originally from San Antonio, Texas. Her work straddles the line between playful and rigorous. She believes in the therapeutic power of clay and loves to share in the joys and struggles of it with any ceramic enthusiast she meets.

Gabriella Blasquez, Emerging Ceramic Artist
Resident Summer 2023

Gabriella Blasquez is a multimedia sculptor, fabricator, and artist assistant whose work focuses on memory, place, materiality, and heritage signifiers. Her work has been featured in group exhibitions in galleries such as Fancy Fancy in Austin, TX. Since 2015, Gabriella has been honing her fabrication skills such as welding, digital and analogue videography, woodworking, ceramics, and printmaking. Her fabrication work has been featured in Austin City Limits offshoot Chill Phases, Erik Siador's Sun Portal, Ender Martos' Paradigm Shift, and Steef Cromach's One Bad Monkey. Gabriella received her BA at Saint Edward's University in Austin, Texas.

Chelsea Biggerstaff, Emerging Ceramic Artist
Resident Summer 2023

Chelsea discovered her love of working with clay at age 8 when she walked into her first ceramic teacher's backyard studio. Since then she's had this itching feeling to create a backyard ceramic studio like the one of her childhood teacher. The pandemic allowed her to slow down, and pushed her to follow her intuition. She created a backyard studio, inspired her friends to create with her and now runs a female-identifying artist's collective called Backyard Bliss. Currently she creates small colorful functional pieces of pottery and creative experiences that spark joy and bring people back to that imaginative childhood space. When she is not in her studio, she manages the Faculty Development Office at Austin Community College where she uses her creativity, educational development background, and positive spirit to inspire and learn from the hardworking faculty at ACC.

Veronica Christianson, Emerging Ceramic Artist
Resident Summer 2023

Veronica majored in Studio Art at the University of Dallas in Irving, Texas, focusing on ceramics. Currently, she seeks to warm spaces by finding value in daily life—in the rolling Texas clouds, the delicate details of backyard plants, and moments like sitting with a delicious morning cup of coffee. She expresses these through organic, undulating sculptures, intricate and imaginative plants, and fingerprint-detailed functional wear. Through her work, she hopes to add inspiration to everyday moments and rituals.

Mellissa Tong, Emerging Ceramic Artist
Resident Summer 2023

Mellissa Tong is an international artist developing her style of functional art creations using time and space as sources of inspiration. She began her journey with clay over fifteen ebbing and flowing years ago in Vancouver, Canada to the Pacific Northwest then Minneapolis, Minnesota and finally to Austin, Texas molding differing times and places to become an evolving expression of diverse forms. She discovered clay as a means to calm her nervous system, to self-soothe, to play! and desires to bring that to others through her pieces.
Past Dougherty Visual Artist Residents
Katie Lehn, Emerging Ceramic Artist
Resident Spring 2019 – December 2021

Katie found her love for clay at the Tucson Clay Co-Op in Arizona. She immediately felt grounded while working on the wheel and found it to be a much needed creative outlet. What began as a casual hobby soon became a true passion she hopes to continue to develop and share. Katie is excited to devote more time and energy into her work and is grateful to be joining the Austin ceramic community through Dougherty Art Center.

Bonnie Brushwood, Established Ceramic Artist
Resident Fall 2019 – December 2021 

Bonnie earned her BFA at Texas State University. She toured all over Texas with an illusionist, then all over the country with a fire eater. Her serious side makes ceramics. Her ridiculous side makes comedy. She tours her ceramics. Also, she guested on Billboard Number One comedy albums. Check out her hit single, "The Most Expensive Guacamole" wherever you listen to music.

Regina McIlvain, Emerging Darkroom Photography Artist
Resident Fall 2019 – December 2021 

Regina McIlvain studied photography at Manhattanville College, UC Berkeley and privately in NYC, Tokyo and Toulouse (France). Over time she has concentrated her focus on fine art photographs of portraits and landscapes, either unembellished or mixed media. She has made the effort to capture endangered buildings, signs, landscapes before progress has overtaken them.

Adam Stratton

Adam Stratton, Established Ceramic Artist
Resident April 2019-March 2020

Adam began working with ceramics in 2002 at Pikes Peak Community College in Colorado and went on to the University of Hawaii to graduate with an M.F.A in 2010. Participating in the education, exhibition and practice of the visual arts has been a consistent part of his exploration in the medium of clay and visual arts. In Texas, he has continued to explore artistic research and is currently working as an art educator at the community college level.

Traci Ward

Traci Ward, Emerging Ceramic Artist
Resident September 2018-September 2019

Traci Ward is an emerging ceramist who creates artistic kitchenware and statement jewelry that is made with vegan-friendly practices. Each piece is an expression of color and form through clay and mixed media, and can be found at local Austin shops. When Traci is not elbow-deep in clay, she practicing yoga or spending an afternoon in an art museum.

Scott Paxton

Scott Paxton, Emerging Darkroom Photography Artist
Resident October 2019-October 2020

Scott Paxton is a photographic artist currently living in Austin, Texas. He gave up a hectic international engineering career to slow down and re-visualize the world around him. His photographs reflect his consistent attention to detail while observing the importance of the surroundings.

He creates photographs that are deliberately distorted during the taking of the photograph or during the printing process. By intentionally blurring parts of his images he moves away from the idea that everything is precise and perfect. The effects create an unspoken tension and may be created by ND filters, darkroom processing or even Photoshop manipulation. It is not unusual for Scott to mount or display images in an unorthodox manner by cutting and distorting the print. When shooting landscape & architectural subjects his preference is to use an Infra-Red digital camera resulting in Black and White prints with extreme contrast from which he creates digital negatives for darkroom or alternative processes.
 

Katy David

Katy David, Emerging Ceramic Artist
Resident June 2018-June 2019

Proud Austin native Katy David is known for working with clay, gouache and eggshells, creating abstract images and sculptural forms that evoke coral reefs, geological formations, and colorful landscapes. "I love creating work that invites touch" she says."I want the viewer to participate in the work, to imagine themselves fully sensate in a fantastical landscape of color, line and texture." She is currently represented by Troy Campa of Camiba Art Gallery.

Scott Simons

Scott Simons, Emerging Ceramic Artist
Resident June 2018 - December 2018

A fifth-generation Texan and 12-year Austin resident, Scott Simons works in large-scale oil paintings and hand-built porcelain. In his work, subtle architectural elements play against energetic, natural scratches and marks. The interplay and tension between man-made and natural has always been a source of inspiration for Scott. He's been included in a number of one-and-two person gallery shows and juried exhibitions, and is currently represented by Craighead Green Gallery in Dallas and Guthrie Contemporary Gallery in New Orleans.