The historic Oakwood Cemetery Chapel was constructed in 1914 to function as a mortuary chapel. Designed by Austin architect, Charles Page, the historic Gothic-revival chapel is located within Oakwood Cemetery, a City of Austin Historic Landmark, registered Historic Texas Cemetery, and National Register of Historic Places site. In the subsequent 103 years since its construction, the historic building suffered from uneven foundation settlement and deferred maintenance. Funded under the 2012 GO Bond funding for Cemeteries and the Historic Preservation Fund, PARD rehabilitated the building for use as a visitor's center and space for memorial services. The chapel reopened in 2018 and is programmed by PARD's Museums and Cultural Programs Division in partnership with the Cemetery Operations Division as recommended by the Historic Cemeteries Vision Plan.
For information about the Oakwood Chapel archeological project, please view this Frequently Asked Questions (PDF).
Recent News
November 10, 2021: Reinterment process began on November 15. View memo to Mayor and City Council.
November 16, 2021: Working closely with the Austin Parks and Recreation Department (PARD), the archeological team completed the mechanical scraping process to confirm that no unmarked burials were disturbed, confirming the reinterment location near the chapel that was identified in the 2017 community engagement process. As a result, the reinterment process will continue in the identified space at Oakwood Cemetery. 
November 17, 2021: PARD successfully reinterred the 36 displaced individuals at Oakwood Cemetery. The cemetery road is now open to vehicles, and PARD is in the process of removing the fencing.
November 29, 2021: At 6 p.m., the Oakwood Cemetery Chapel hosted Interfaith Action of Central Texas to conduct a blessing for the reburial of the men, women and children found during the Chapel's rehabilitation. More information below under "Next Steps" tab. View the program here.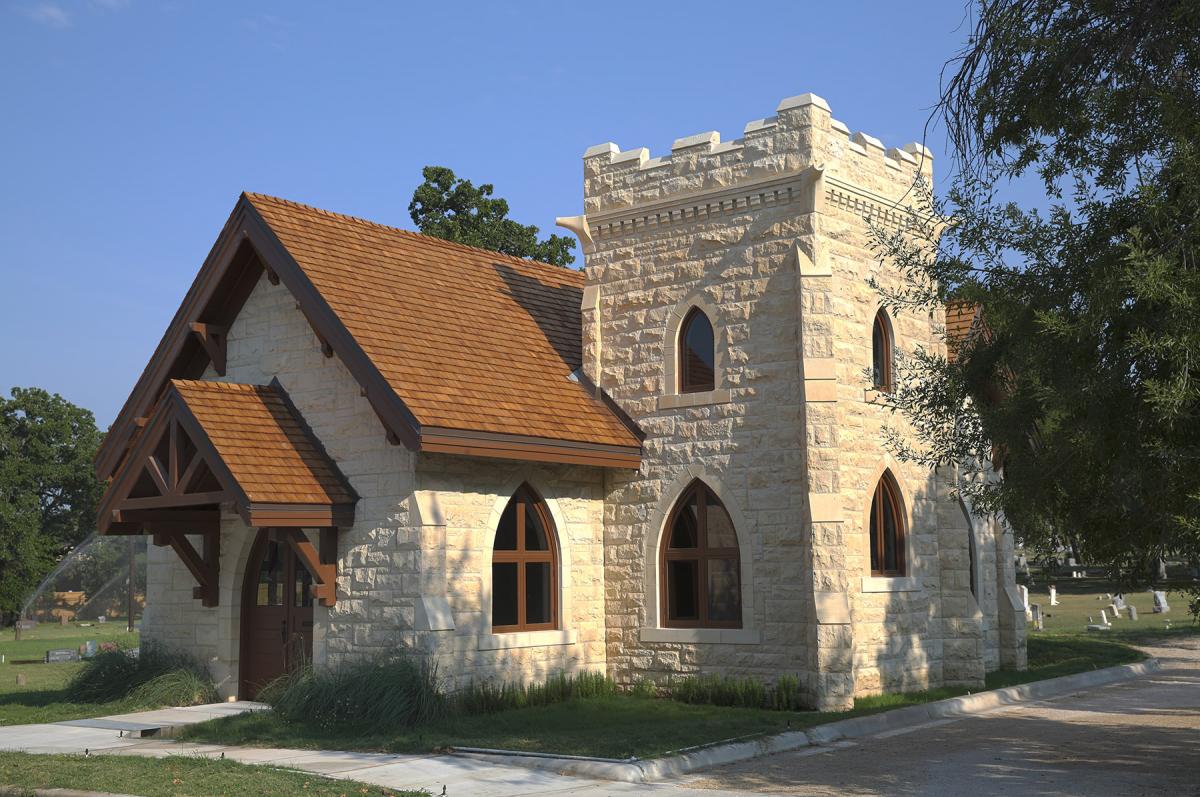 Project Description

Rehabilitation of the Chapel was completed in August 2018. The project included:

Structural stabilization of foundation Surface drainage improvements ADA site access improvements, including creation of one parking space behind Chapel and new sidewalk

The Chapel now hosts programming under the Museums and Cultural Programs Division as recommended by the Cemeteries Vision Plan. View more information on current programming here.

Rehabilitation of single unisex restroom
Mechanical, electrical, lighting overhaul
Restoration of interior and exterior finishes, including doors, windows, masonry, roof, plaster, etc.

The funding for the Oakwood Chapel Rehabilitation was made possible through Hotel Occupancy Tax (HOT) funding to support projects and initiatives that meet allowable uses as defined under Chapter 351 of the Texas Tax Code. HOT revenue is an essential tool for the promotion of tourism and supports the growth of the tourism, convention and hotel industry. PARD is an important partner in this effort as public parks, museums and cultural centers are among the top tourist attractions in the City.

Archeological Process Background Information

In 2016, during the rehabilitation of the Oakwood Cemetery Chapel, archeologists monitoring construction discovered human remains below where the chapel was built. Careful exhumation of these rediscovered individuals proceeded, and, under the Antiquities permit obtained by the Texas Historical Commission, the remains were transferred to bio-archeologists at Texas State University. The Texas State University burial context was provided by a non‐invasive analysis of the physical remains, which often provides demographic data, including race and ethnicity, gender and approximate age. In some cases, physical remains can also inform about cause of death and aspects of lifestyle, such as physical health, levels of nutrition or stresses endured. Further, artifacts may reveal aspects of material culture and possibly the cultural significance for those buried in this section. The process does not provide information about the individual identities of the people who were discovered.

The analysis of the remains, which date to the mid to late 1800s, is complete and the report is below. The report was developed by the archeological contractor for the Oakwood Chapel project, Hicks & Company Environmental/Archeological Consultants, and their sub-consultant, the Forensic Anthropology at Texas State University. The reports were also reviewed by the Texas Historical Commission.

Next Steps in Archeological Process and Community Connection

DNA Analysis

The DNA extractions process is now complete, and progress continues on the DNA analysis of the individuals who were exhumed during the chapel restoration. PARD notified City Council in a June 18, 2020 memo about an academic partnership with the University of Connecticut and the University of Texas to undertake DNA analysis, at no cost to the City of Austin, to better understand the lives of the men, women, and children who were discovered. The DNA analysis is underway following the issuance of an Antiquities Permit from the Texas Historical Commission in late fall of 2020. The analysis of DNA from the people who were exhumed offers a unique opportunity to learn more about their identities, familial connections, and life experiences. If the preservation of the DNA in the Oakwood Cemetery remains is sufficient to permit these analyses, living individuals who think they may have a familial connection may be able to submit a saliva sample to the University of Connecticut lab for DNA analysis, allowing relatedness to be assessed. As soon as feasible, PARD will provide further details to community members on how they may work directly with the University of Connecticut research team to explore whether they have a family relation to any of the exhumed individuals. The DNA extraction component of the project is now completed. 

The analysis component is a lengthy and complex process and may take more than 36 months. Additionally, the team is exploring undertaking isotopic analysis in conjunction with the DNA analysis, which may provide additional insights into the diets and regions of origin of the individuals.

Reinterment

An area near the chapel has been identified as a potential location for reinterment. This location is in alignment with a recommendation from the 2017 community engagement process. PARD erected protective fencing and begin the process on November 15, 2021, weather permitting, with the goal of completing the reinterment within two weeks.

On November 16, 2021, under careful monitoring by archeologist, mechanical scraping of the ground surface confirmed the selected sites are devoid of unmarked burials. 

The team's priority is ensuring individuals are reinterred carefully and expeditiously in a respectful and protective environment. Should the team be unsuccessful in identifying suitable locations for the 36 people within Oakwood Cemetery due to existing unmarked burials, an alternative location has been identified at Austin Memorial Park Cemetery. Regardless of burial location, the individuals will be honored at Oakwood Cemetery through a memorial or cenotaph. 

Blessing and Commemoration

On Monday, November 29, 2021 at 6:00 p.m., the Oakwood Cemetery Chapel hosted Interfaith Action of Central Texas to conduct a blessing for the reburial of the men, women and children found during the Chapel's rehabilitation. The service featured:

Simone Talma Flowers, Executive Director, Interfaith Action of Central Texas
Fr. Larry Covington, St. Theresa Catholic Church
Rev. Daryl Horton, Mt. Zion Baptist Church
Alan Garcia, accordion
Javier Jara, guitar

The program was held outdoors in front of the Oakwood Cemetery Chapel and can be viewed online here. A larger public memorial service will be held in 2022 after monument materials can be secured. Current supply chain issues are limiting the availability of materials. 

All Together Here Symposium and Exhibit

As part of the educational outreach for the Oakwood Chapel archeological project, PARD produced All Together Here: A Community Symposium for Discovery and Remembrance, a free online two-day symposium held in October 2020 for more than 300 registrants. The symposium featured sessions from 40 nationally-renowned archeologists, anthropologists, historians, and community activists about the archeological findings and comparative projects from around the country, and they further engaged the community in ideas for memorialization of the people who were found. The symposium sessions are featured online on PARD's YouTube Channel. PARD has also produced the All Together Here online exhibit about the archeological and bioarcheological findings.

Additional Information Regarding Archeological Process and Timeline

Mar. 6, 2017: Memorandum to Mayor and City Council (PDF)

Mar. 25, 2017: Community Meeting: Presentation at Community Meeting and Community Comments (PDFs)

Apr. 27, 2017: Oakwood Chapel Rehabilitation Project and Archeological Investigation Staff Report and Recommendation for Discovered Burials (Apr. 27, 2017) (PDF)

May 1, 2017: Memorandum sent to Mayor and City Council (PDF)

Dec. 13, 2019: Memorandum sent to Mayor and City Council (PDF)

Feb. 5, 2020: Memoranda sent to Historic Landmark Commission, African American Resource Advisory Council, Human Rights Commission, and Parks and Recreation Board (PDFs)

May 14, 2020: Memoranda regarding release of final reports sent to Mayor and City Council, Historic Landmark Commission, African American Resource Advisory, and Human Rights Commission (PDFs)

June 18, 2020: Oakwood Cemetery Academic Partnership for DNA testing

Oct. 9-10, 2020: "All Together Here" Community Symposium

Feb. 2, 2021: Oakwood Cemetery Updates

Nov. 9, 2021: Memorandum sent to Mayor and City Council (PDF) about next steps and reinterment process

Nov. 17, 2021: Reinterment process completed

Nov. 29, 2021: Blessing and Commemoration event

Dec. 15, 2021: Oakwood Cemetery Updates