Oertli Neighborhood Park is an undeveloped six-acre park located at 1238 Pearl Retreat Lane, near the intersection of Dessau Road and E Parmer Lane in Northeast Austin. Construction is anticipated in late 2022.
Project Update
Concept design plans for Oertli Neighborhood Park are now complete. The proposed plan includes a loop trail connecting the two entrances of the park with new shade trees throughout. At the north entrance, near Blaine Road, the park includes playground equipment with built in shade canopies and a large pavilion for groups and parties. The middle of the park has ample space for open play. An off-leash dog area with fencing located opposite of the play zones is also proposed. At the south entrance, near Pearl Retreat Lane, a new fitness area with shade trees and a lush lawn will welcome people to the park.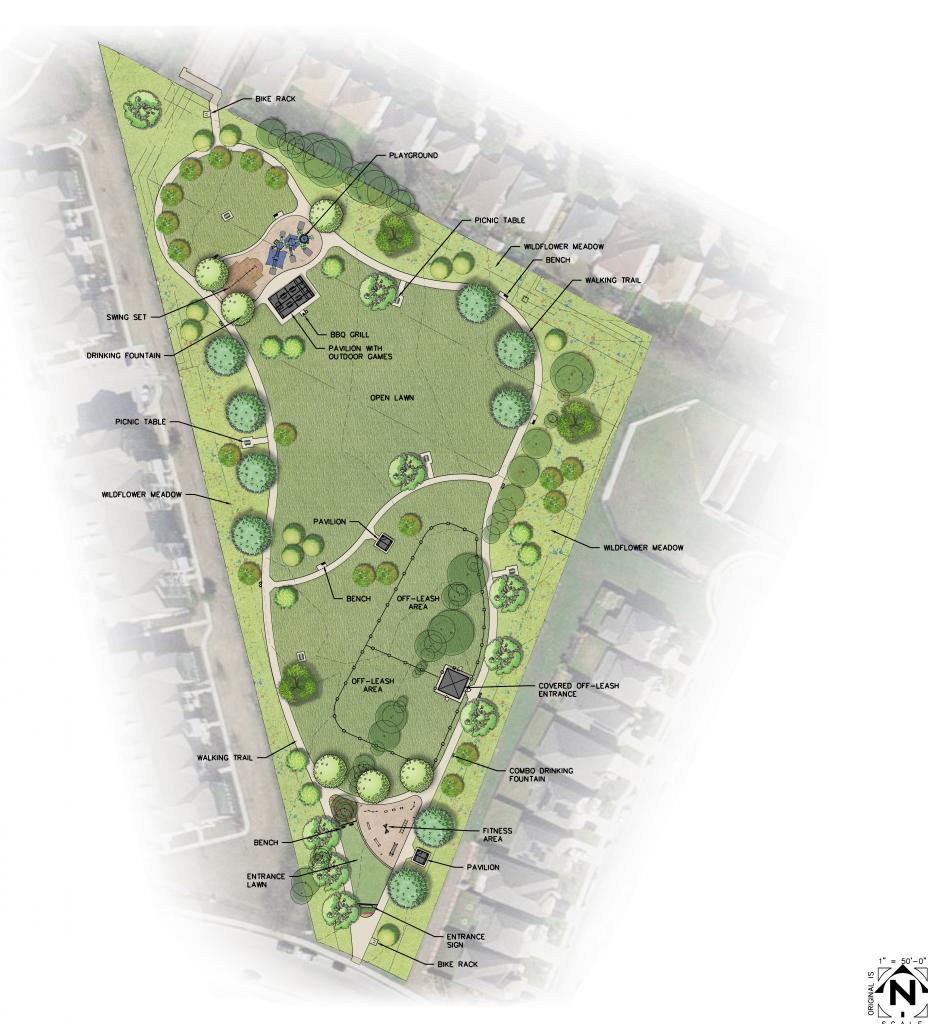 Background
The six-acre property is currently a vacant field divided by a fence row of trees. The park is surrounded by single family homes and apartments with access from Blaine Road and Pearl Retreat Drive. The neighborhood park was acquired through parkland dedication funding and will focus on providing park space to the community within a half-mile radius.
The property was historically a pasture, owned by the Oertli Family, who operated local dairy farms in Austin and Travis County from 1923-2001. A Texas Historical Marker is located on site, adjacent to Pearl Retreat Drive.
Project Description
The neighborhood park is expected to include a loop trail, picnic tables and benches, shade trees, play features and additional amenities in line with the needs of the community. The project will provide ADA accessible open space and amenities to the adjacent neighborhoods. PARD anticipates installing shade trees, walking paths, and identifying what active recreation is preferred by anticipated community park visitors.
Anticipated Schedule
Spring 2021: Community engagement and park concept design
Fall 2021: Site plan design and permit submission
Spring 2022: Bid solicitation, award, and contract execution
Fall 2022: Project construction
Fall 2023: Tentative Park opening
Community Engagement
PARD will reach out to community members and stakeholder groups within a half-mile radius of the park. Initial mail flyers will be distributed to engage the adjacent neighborhoods. The project webpage will be continuously updated with progress information and photos.
Community Meeting #1 (Virtual), March 17, 2021, 5:30 p.m.
Community Survey #1: View results
Community Meeting #2 (Virtual), May 19, 2021, 5:30 p.m.
Community Survey #2: Concept Development Survey: View results
To stay up to date with engagement opportunities, please sign-up here.
Funding and Resources
Project is funded by 2018 Prop C Parkland Improvements Bonds. Additional funding will be provided by Parkland Dedication Funds.
Contact Information
For questions or more information, please contact James Wheeler by email.