The Parks and Recreation Department is in Phase 2 of the concept plan implementation. The concept plan for Highland Neighborhood Park was completed in 2017 through input from community memberss and provides a vision for future development. Phase 1 of implementation was completed in 2019 and included the installation of a new playground. Phase 2 of implementation began with community input to further the park design and construction feasibility of this phase.
Phase 2 Project Description
The proposed scope for phase 2 of concept plan implementation may include: two 125' ball fields with lighting, a new site irrigation system, a loop walking trail, benches, a new drinking fountain, parking lot improvements and potentially utilities for a future restroom/community building. The design will reflect sensitivity for the Waller Creek watershed and provide green infrastructure opportunities in collaboration with the Austin's Watershed Protection Department. The project will participate in the City of Austin Arts in Public Places (AIPP) program, which will commission a permanent art installation within the park.
View the 2017 Concept Plan image and Concept Plan Report (PDF).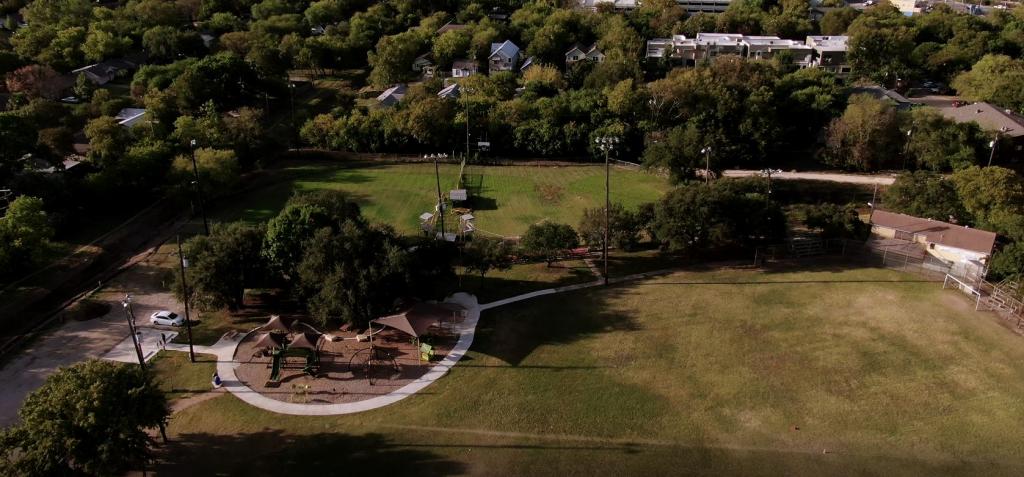 Phase 2 Anticipated Schedule
Community Engagement start: April 2021
Permitting and Construction Documents: Summer 2021
Construction Start: Spring 2022
Construction Completion: Spring 2023
Phase 2 Community Engagement
PARD held two virtual meetings in the spring of 2021. The purposes of the meetings was to develop the design of the concept plan further and to prioritize the scope of phase 2. Sign-up for updates and information.
Zoom Community Meeting #2
June 24, 2021, 5:30 p.m.
Community Survey: March 31 to April 25, 2021 (view summary of results)
Community members identified preferences between variations of park designs.
| | |
| --- | --- |
| Variation A (click image for more info) | Variation B (click image for more info) |
| | |
Virtual Community Meeting #1
March 31, 5:30 p.m.
Phase 2 Funding and Resources
This project will have an $800,000 construction budget funded through 2018 GO Bond and Park Land Dedication funding.
Phase 2 Contact Information
For more information or project questions, contact Patrick Beyer at (512) 974-9476 or by email.
Concept Planning Process and Phase 1 Implementation
View the final Concept Plan Report (PDF).
Phase 1 Implementation (2019)

 In 2019, PARD completed the installation of a new playground for Highland Park. The space features a shaded 5-12 play structure, a sand digging pit and several picnic tables.

Concept Plan Background (2015-2017)

On July 1, 2014 City Council approved the transfer of 7.46 acres of City-owned land located at 401 W. St. Johns Ave. from the Watershed Protection Department to the Parks and Recreation Department for the development of the park. Since 1970, the property has been utilized by the University Hills Optimist Club for youth sports activities.  The site currently contains two youth ball fields, a multi-use field, parking area, a concession building, storage and maintenance buildings. 

Council provided funding in the FY 2015 budget for concept planning efforts for the property.

The concept plan addressed the following elements: Site Analysis and Data Collection that will result in an Existing Conditions, Opportunities and Challenges Report; Public Outreach to develop the plans, including preliminary design concept options, a final concept plan, implementation strategy, budget estimates and funding strategies.

Council Resolution and Recommendations

Council Resolution directed community solicitation for ideas on the future use of the property.  Through stakeholder meetings and community needs, eight recommendations were made with support of Parks and Recreation Board (PARB) and proposed to City Council on July 1, 2014. View the recommendations.

Concept Plan Community Engagement (2016)

Community Meeting #1- November 17, 2016, 6:30-8:00, Location: Reilly Elementary

Community Meeting #2- February 10, 2016, 6:30-8:00, Location: Reilly Elementary School, 405 Denson Drive

Community Meeting #3: March 23, 2016, 6:30-8:00, Location: Reilly Elementary School, 405 Denson Drive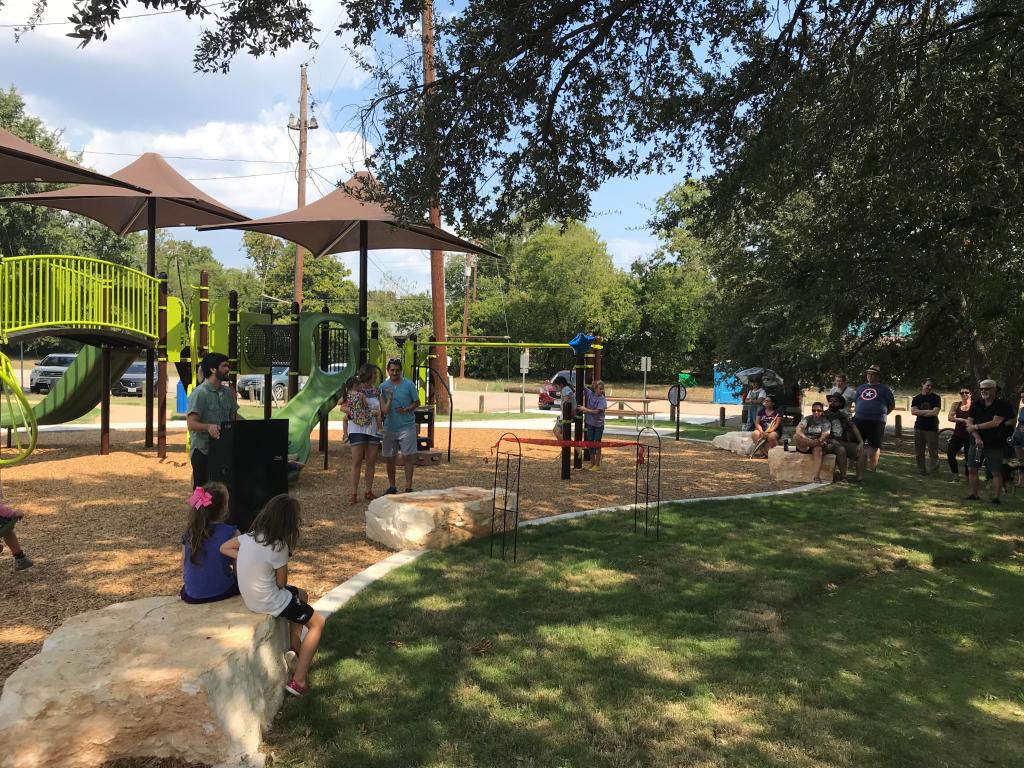 Phase 1 Ribbon cutting in 2019
For more information, contact Patrick Beyer at (512) 974-9476 or by email.