Austin Field Guides to Aquatic Plants and Wildlife
Our city is built within a natural environment full of amazing plant and wildlife species. Below is a list of 10 field guides we developed to help nature lovers and explorers, gardeners, anglers, and others identify some of the plant and animal species found in Austin's creeks, lakes and parks.
Plant Guides
1.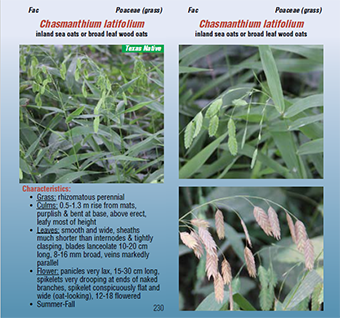 Central Texas Wetland Plants, is organized by plant family. Plants that have similar characteristics are grouped together so it's easy to identify a plant based on specific characteristics.
On the right, is a sample page on inland sea oats. The scientific name (Chasmanthium latifolium) is listed above the common names. Venture outside along creek banks and see if you can spot this oat-looking grass!
2. Central Texas Invasive Plants, is a guide for volunteers, land managers, and residents to identify plants that are not native to the Austin area, but are thriving and causing significant changes to our native ecosystems. The invasive plant species within this guide are organized by their plant form (trees, vines, grasses, etc.). This guide contains images and characteristics of invasive plants, as well as information about their preferred habitat, impact on our native species/ecosystems, the best strategy for their removal, and how they are spread to other areas.
Below, is a sample page about the highly invasive herb elephant ear (Colocasia esculenta) that can be spotted on the edges of many creek banks and ponds.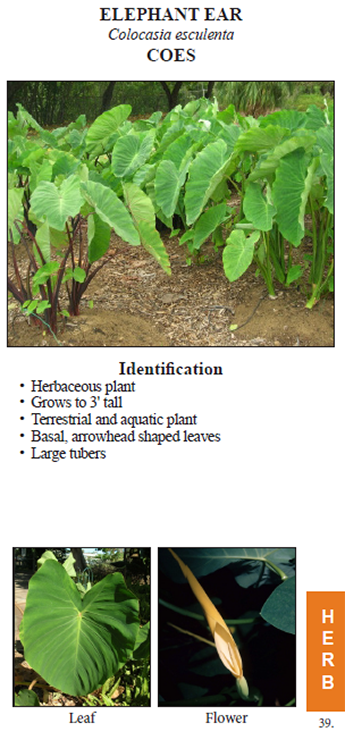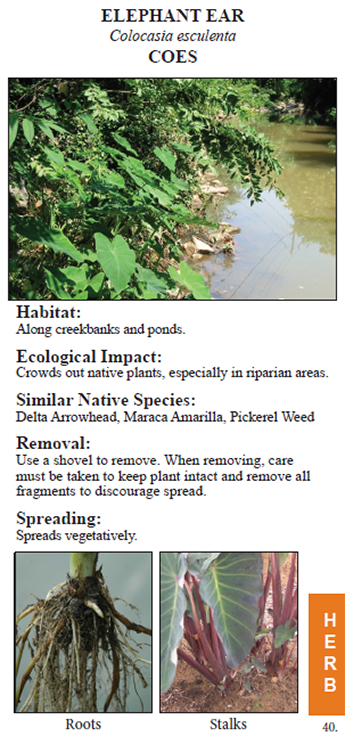 3. Native and Adapted Landscape Plants is a guide of native and adapted plants in Central Texas best suited for landscaping in this region. These plants require less water, fertilizer, and chemical inputs to keep them alive and beautiful in Austin's natural environment, which reduces the amount of fertilizer and chemicals that wash to our creeks and lakes. In the searchable database, simply select the characteristics of the plant you're looking for, and let the search engine find the species that fits the description.
Wildlife Guides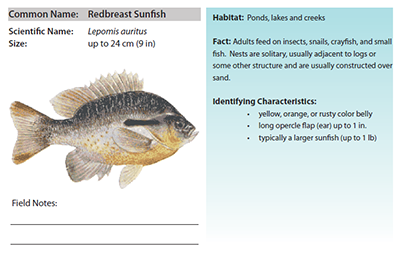 4. This Fish guide, lists common fishes found in Austin lakes and creeks, as well as, facts about the species' characteristics, habitat, diet, and nesting information.
For example, find a redbreast sunfish (Lepomis auritus) in a clear stream and record your observations about its behavior in the field notes section provided!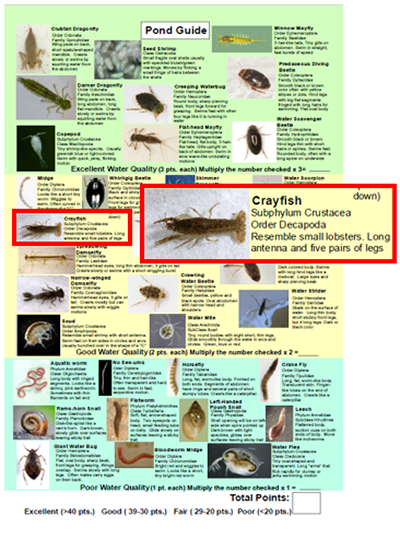 5. Pond invertebrates, is a guide to aquatic bugs that prefer still water, such as in ponds. The variety of species found in a pond can tell you a lot about that pond's water quality. This guide is divided into three categories: invertebrates that are found in poor water quality, good water quality, and excellent water quality. If the water quality is excellent, you should see species from each of the three categories. If the water quality is poor, you should only see species listed in the poor water quality category. 
Most of these invertebrates can be tiny, so bring a magnifier to identify the little guys. Crawfish (Subphylum crustacea) can be seen without a magnifier, so look around in standing water to spot one!
6. Stream invertebrates, is a guide to aquatic bugs that prefer flowing (rather than still) water. These invertebrates can be very small, so bring a magnifier to help you identify them. They're found underneath rocks in a riffle habitat, an area where shallow, steady moving water flows over the rocks within the creek. This habitat is high in oxygen, allowing these invertebrates to breathe. Similar to the Pond invertebrates guide, the Stream invertebrates guide is divided into the types of insects typically found in areas of poor, good, and excellent water quality. Search for a variety of these invertebrates in a riffle habitat - the results provide a good clue about the water quality in that section of the creek.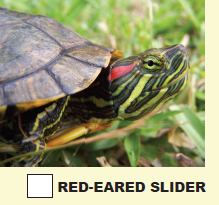 7. Lady Bird Lake Wildlife, is a guide to animals that live in and around Lady Bird Lake.
A variety of boat docks and rentals are available on Lady Bird Lake, so get out on the water to complete this scavenger hunt style field guide! Check the box for each species you spot. Start by trying to find a red-eared slider. You can also explore Lady Bird Lake on the beautiful hike & bike trail.  Go slow, and you'll get to see many species that you might normally run or bike past.
8. Guide to fish of Barton Creek, is a guide to the fish found in Barton Creek.   How many can you find?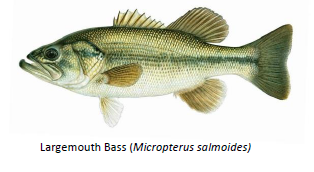 9. Common plants and animals along lower Waller Creek, is a guide to many of the species found in and along the portion of Waller Creek from 12th Street to Lady Bird Lake.  Explore the Waller Creek greenbelt and try to identify the common plants, birds, reptiles, and amphibians listed in this guide!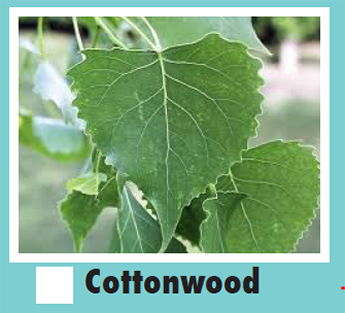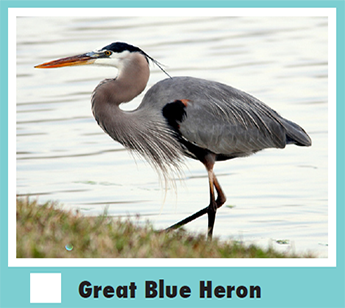 10. Common Wildflowers and Wildlife in Austin Parks, will help you identify colorful wildflowers and familiar wildlife in our city parks. This guide includes common wildflowers and animal tracks and scat, as well as marine fossils -evidence that Austin used be under an ocean 100-65 million years ago!