Sipping From Springs Can Make You Sick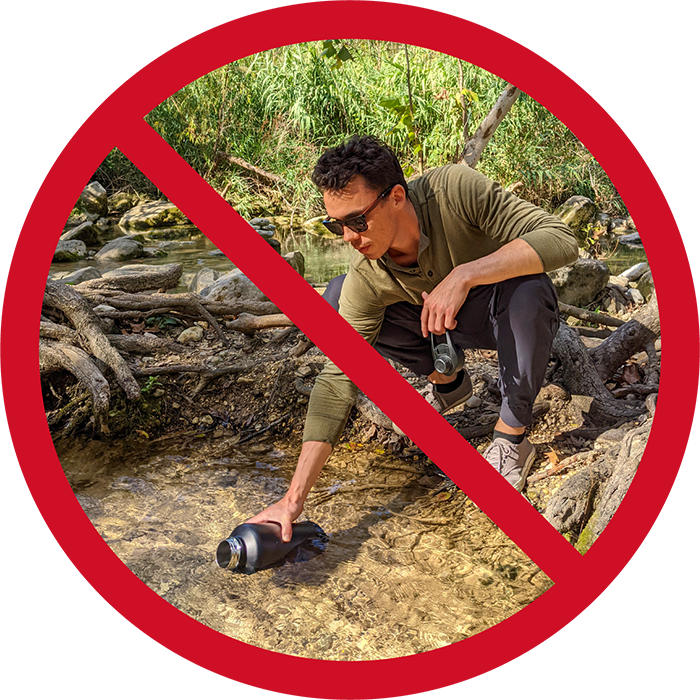 Have you heard that drinking untreated (or "raw") water from Austin's springs is good for your health? Unfortunately, it's not! Drinking water from springs, especially in urban areas, can make you sick.
The water in underground aquifers refills from rain and irrigation water that first flowed over the land. In urban areas, this water may flow over roads, parking lots, lawns, dog parks, or other contaminating surfaces.  As a result, this water typically contains bacteria, viruses, parasites, lawn chemicals, leaked gasoline, or other potentially harmful pollutants.
Many people believe that the water flowing from our springs is filtered while underground and safe for drinking. However, this water is either not filtered at all in areas where it flows through large cracks and holes, or it's not sufficiently filtered to be safe for human consumption. Water from most urban springs would not pass drinking water safety standards, especially after storms.
Despite the risks related to drinking spring water, Austin's springs remain special places and valuable ecological resources. We hope you will visit and enjoy Austin's beautiful springs. Protect springs by helping keep our land clean! Pick up pet waste, follow Grow Green gardening tips, and take other earth-friendly actions. And please don't drink directly from Austin springs! 
¿Ha oído que tomar agua sin tratar (o "cruda") de los manantiales de Austin es bueno para la salud? Lamentablemente, ¡no lo es! Tomar agua de los manantiales, especialmente en áreas urbanas, puede hacer que se enferme.
El agua en los acuíferos subterráneos se llena nuevamente con agua de lluvia y el agua que se usa para regar que pasa por la tierra. En las áreas urbanas, esta agua puede fluir por calles, estacionamientos, jardines, parques para perros y otras superficies contaminantes. Como resultado, el agua puede contener bacterias, virus, parásitos, químicos de jardinería, gasolina y otros contaminantes.
Muchas personas creen que el agua que fluye de los manantiales se filtra en el subsuelo y es segura para tomar. Sin embargo, esta agua puede que no sea filtrada  de ninguna manera en áreas donde fluye por grietas y huecos grandes, o no es lo suficientemente filtrada para que sea segura para el consumo humano. El agua de la mayoría de los manantiales urbanos no cumple con estándares de seguridad de agua potable, especialmente después de una tormenta.
A pesar de los riesgos asociados con tomar agua de ellos, los manantiales de Austin siguen siendo lugares especiales y recursos ecológicos valiosos. Esperamos que visite y disfrute los hermosos manantiales de Austin. ¡Proteja los manantiales ayudando mantener la tierra limpia! Recoja los excrementos de mascotas, siga los consejos de jardinería de "Grow Green" y tome otras acciones ecológicas. Y por favor, ¡no tome agua directamente de los manantiales de Austin!