A City of Creeks: Explore a creek in every Council District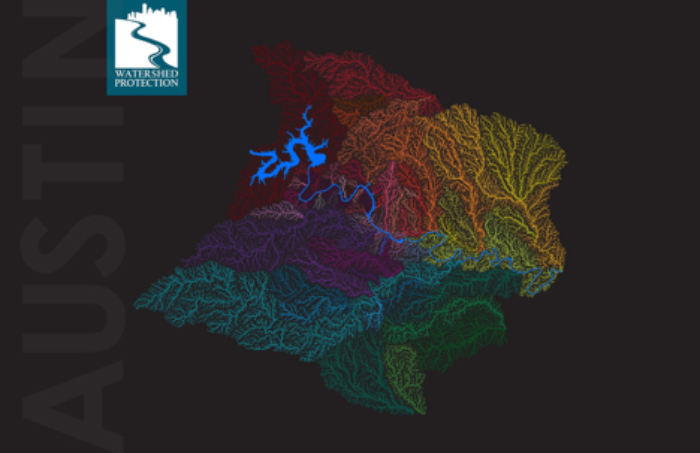 Think back…close your eyes and let your mind return to a day when you were young. You dipped your toes in a little stream, picked up rocks to find bugs, listened to frogs chirping. Austin is a city of creeks; thousands of miles of little creeks and larger creeks flow throughout the city. You can discover, explore, and enjoy many of these creeks. Even in the middle of the urban area, you just need to find the right place as some creeks may be a bit hidden from view. We invite you to go out to find and explore these creeks in each of Austin's 10 Council Districts.
District 1: Boggy Creek
Location: Boggy Creek Greenbelt, 1114 Nile Street, 78702
Boggy Creek meanders through the Boggy Creek Greenbelt near Nile Street and North Pleasant Valley Road. Stand at the pedestrian bridge to watch the creek flow or wade in to get your feet wet. Recently restored from a mostly concrete channel to a more natural setting that meanders with rocks and vegetation, riffles and pools, Boggy Creek is healing fast and its creekside forest is growing! If you feel adventurous, you can follow its path upstream throughout the greenbelt all the way to 12th Street near Downs Mabson Fields.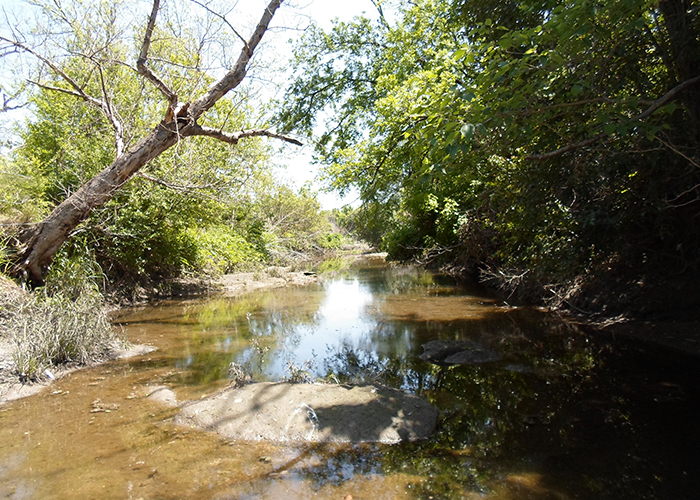 District 2: Onion Creek
Location: Onion Creek Greenbelt, 7001 Onion Creek Drive, 78744
One of our largest creeks traversing the city from east to west, Onion Creek offers many spots for exploration. Start at the Onion Creek Greenbelt, at the end of Vine Hill Drive and Onion Creek Drive.  This spot has a magnificent view and fun swimming holes to cool down in the summer months.  This area was converted to parkland and open space after being identified as a high-flood-risk neighborhood and going through a flood mitigation buyout process.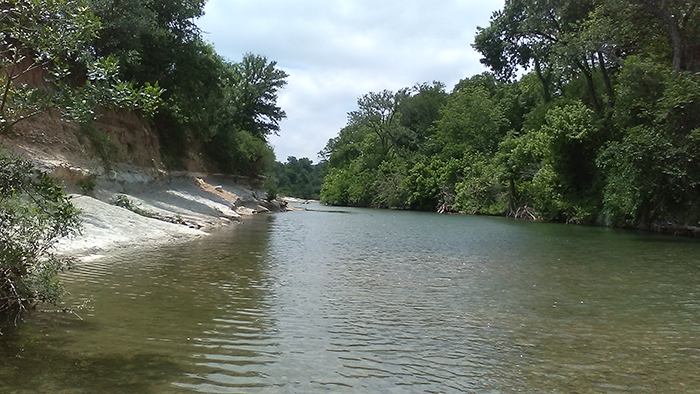 District 3: Oak Springs Tributary
Location: Boggy Creek, 3101 Oak Springs Drive, 78702
Walk quietly toward a little hidden Boggy Creek tributary and listen for the trickling spring located behind the Willie Mae Kirk Branch Library on Tillery Street near Oak Springs Road. Recently restored from a concrete channel that moved water from the Oak Springs (yes, an urban spring in the middle of the city), this area now features a beautiful wet pond with ducks and even a family of hawks nesting nearby. This special spot is a fully vegetated, meandering channel with plentiful native wetland plants and flowers.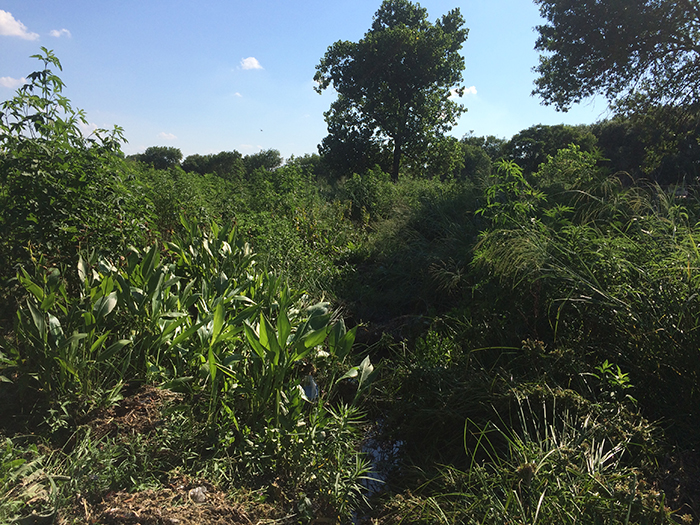 District 4: Tannehill Creek
Location: Bartholomew Park, 5201 Berkman Drive, 78723
Tannehill Creek flows year round directly through Bartholomew Park on Berkman Drive. Maintenance crews discontinued mowing along the creek in 2012, allowing willow and mulberry trees to grow back in force! Observe the creek and its Grow Zone from the pedestrian bridge or explore its path following the creek current. Discover the big bunchgrasses on its banks, watch the fish dart by, and pick up rocks to find what bugs are hiding from sight!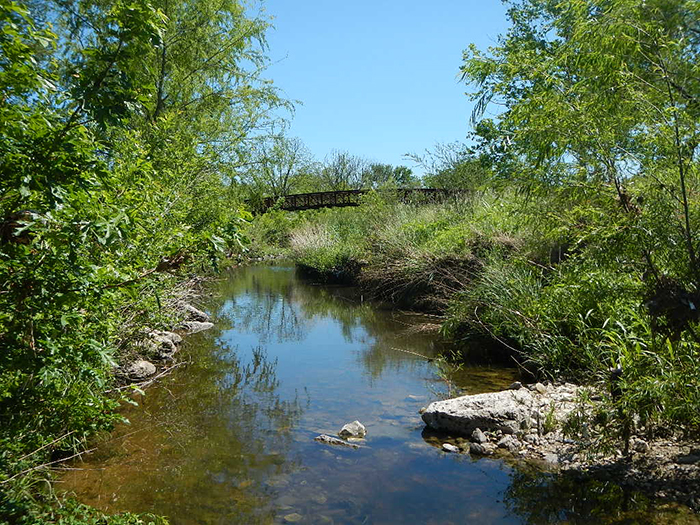 District 5: Slaughter Creek
Location: Parking lot near 702 Decker Prairie Drive, 78748
(from the parking lot, take the trail south) If you enter at the main entrance to Mary Moore Searight Park, you'll probably miss this hidden gem since it's a bit of a hike to the creek. However, a short downhill hike from a parking lot nestled in a residential area on Decker Prairie Drive may inspire you to explore the part of Slaughter Creek located near a dam. Upstream of the dam, the creek is wide and deep, ideal for fishing, canoeing, or bird watching. Adventure awaits downstream of the dam, a perfect spot to encounter frogs, turtles, great blue herons, and enjoy a sense of tranquility in the city.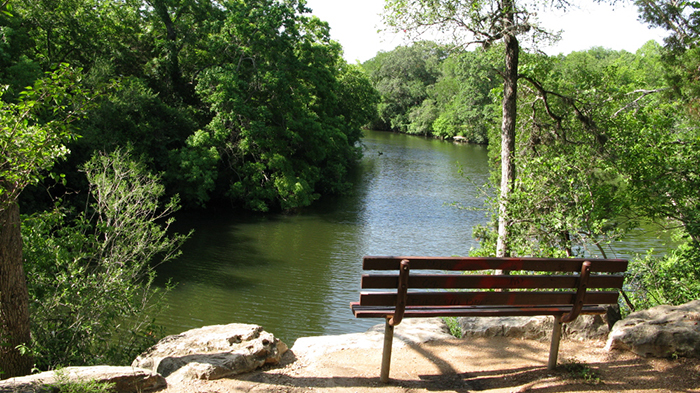 District 6: Bull Creek
Location: 11103 Callanish Park Drive, 78750
A hidden creek adventure awaits you at the Upper Bull Creek Greenbelt. A small easement at 11103 Callanish Park Drive leads you along a trail to this beautiful Hill Country creek. Close your eyes and listen to the peaceful running water or take off to explore and have fun discovering critters and plants along the stream.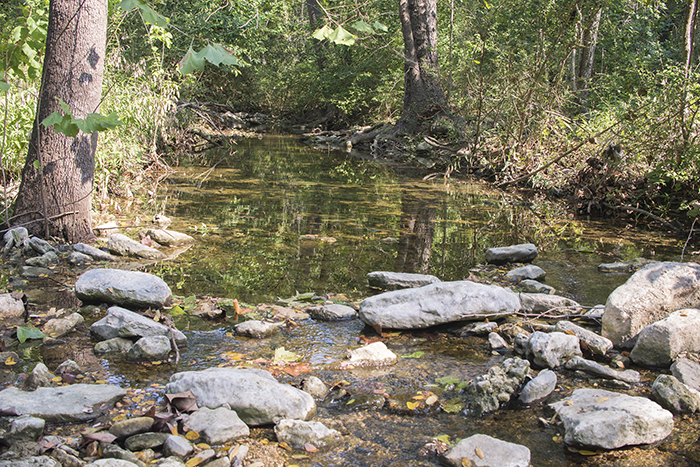 District 7: Shoal Creek
Location: 5601 Shoal Creek Boulevard, 78756
The Shoal Creek Greenbelt embraces the course of Shoal Creek as it meanders from north to south through the heart of our City. A small segment of the creek by Shoal Creek Boulevard near Shady Oak Court is growing strong after mowing ceased in 2012. This Grow Zone has wetland plants to discover at one of the stormwater outlets that was restored in 2014 to slow down the water before it reached the creek. Enjoy the young trees and wildflowers growing in this creekside Grow Zone.  Step in the water! Get your feet wet and listen to the rushing flow telling stories from upstream!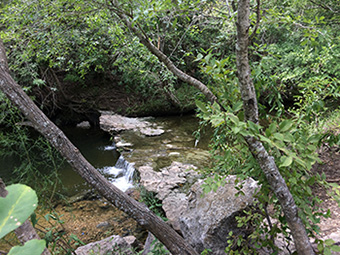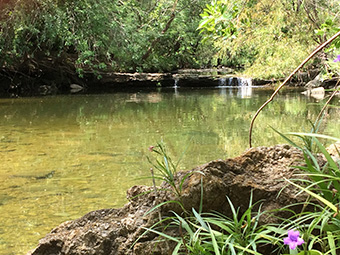 District 8: Slaughter Creek
Location: Circle C Metro Park, 6301 W. Slaughter Lane, 78749
Glance at Slaughter Creek as you cross over it when you enter the park from the main entrance.  Hike to an even better access point closer to Escarpment Boulevard where the trail merges with the creek.  This is a fabulous spot for wading in the cool clear water, swimming or sitting and reflecting.  During dry periods and drought, you'll find the creek bone dry due to its location in the Edwards Aquifer recharge zone.  Surface water in the recharge zone flows down into caves, cracks and sinkholes to help replenish our aquifer.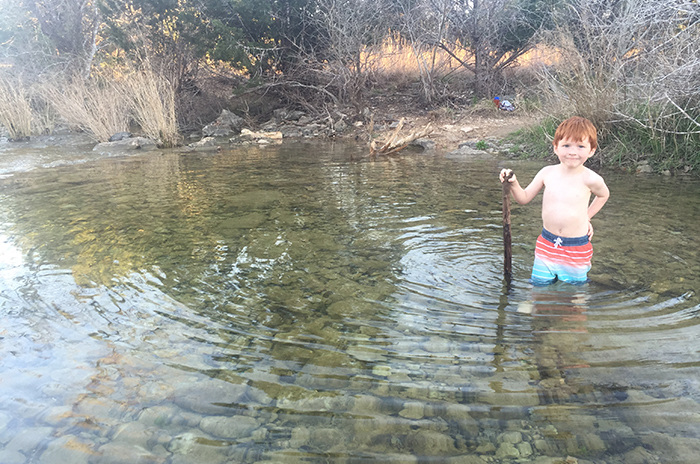 District 9: Blunn Creek
Location: Blunn Creek Preserve, 1200 St. Edwards Drive, 78704
The Blunn Creek Preserve is a beautiful site for hiking.  Get your feet wet and enjoy the surprising silence in this peaceful patch of nature that is surrounded by all the busy city streets nearby.  Along the east creek trail, head west on a trail leading to the creek and discover a little hidden gem where seeping spring water paints the rocks and young bald cypresses aim to the sky. 
District 10: Taylor Slough North
Location: Mayfield Park, 3505 W. 35th Street, 78703
Mayfield Park is known for brilliant peacocks wandering the property, so follow the birds to a scenic hiking trail near the entrance of the historic cottage.  Take the trail downhill, and once you get to a kiosk, turn left to the gently flowing creek.  Hop along stones across the creek and view the astonishing grotto overlooks along the hillside.