The Grow Zone Program Keeps Growing
The Mearns Meadow Grow Zone is a beautiful site and would love to be adopted by you!
The Mearns Meadow Grow Zone at Quail Creek Park.
The Mearns Meadow Grow Zone is tucked away in the southwest corner of Quail Creek Park. This park is adjacent to the Restore Rundberg neighborhood revitalization area and has recently been the focus of Keep Austin Beautiful's Beautify Austin initiative. 
(Trivia: The creek running through Quail Creek Park is actually Little Walnut Creek. There's a Quail Creek nearby, just on the other side of Rundberg Lane. Quail Creek runs parallel to Quail Creek Drive.)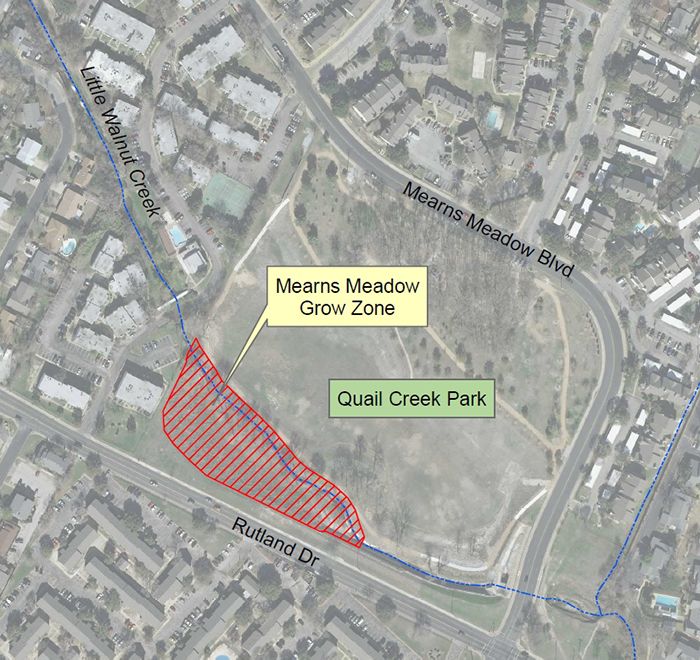 Wetland diversity on display at the Mearns Meadow Grow Zone.
While the Mearns Meadow Grow Zone area was still being regularly mowed, it was dominated by "weedy" annuals like ragweed and curly dock.  These are valuable plants in their own right (see this article on ragweed, especially!), but now that mowing has ceased all sorts of interesting things are popping up.  The area gets inundated with water from Little Walnut Creek whenever there is a decent rainstorm and this has encouraged the establishment of wetland-adapted plants at the site. 
A quick visit the other day revealed beneficial native plants like eastern gamagrass, switchgrass, water speedwell, knotweed, buttercups and spike rush.  That's all in addition to the green ash trees that have set up shop here in the past couple of years and are in the process of converting this area to a well-functioning woodland.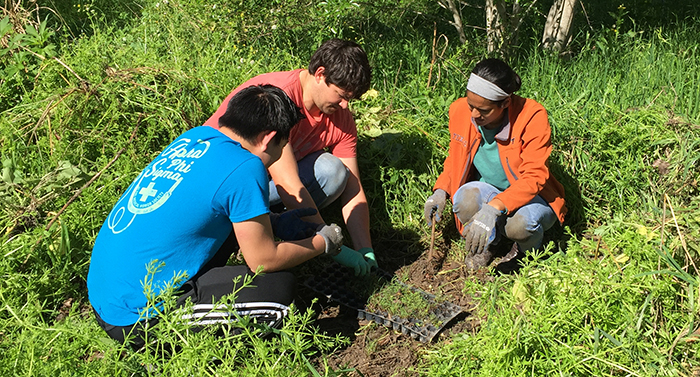 What is a Grow Zone?
The Watershed Protection Department's Grow Zone program identifies creekside areas in parks and on other City land that have been impacted by mowing, excessive foot traffic and the urbanization of our City's watersheds. In collaboration with the Austin Parks and Recreation Department, these areas are taken off the mowing schedule and allowed to recover naturally over time. Active volunteer involvement is a big part of the success story in our Grow Zones, so we also encourage volunteers to get out and get active in these areas. There are many opportunities to participate in this restoration process through our partners at Keep Austin Beautiful, Austin Parks Foundation and TreeFolks. Some of the activities include: planting native tree seedlings, seeding with native grasses and wildflowers and managing invasive trees.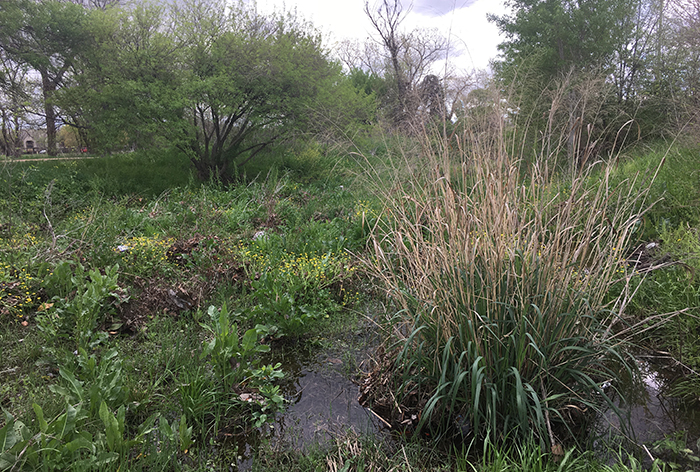 Volunteers planting native grasses at Mearns Meadow
Mearns Meadow is one of the more recent additions to our Grow Zone lineup and could definitely use more volunteers!
We would love to see someone adopt this Grow Zone through Keep Austin Beautiful's Adopt-a-Creek program. This program supports volunteer work in our local creeks. Folks start out doing four clean-ups per year, which is a great way to contribute to your community and to get to know your neighbors. Once people start in this program, they often find themselves wondering what else they can do. Watershed Protection provides a restoration template for planning additional activities. Adopt-a-Creekers who fill out this template and file it with our department are eligible for additional support, in the form of seeds, plants, seedling planting events and more.
If you are interested in working at this location, or have ideas for other creeks around town, contact Erin Cord at Keep Austin Beautiful for more information. If you want more information about the Grow Zone program or riparian restoration generally, contact John Clement with the Watershed Protection