Net-Zero Hero: Marcos Martinez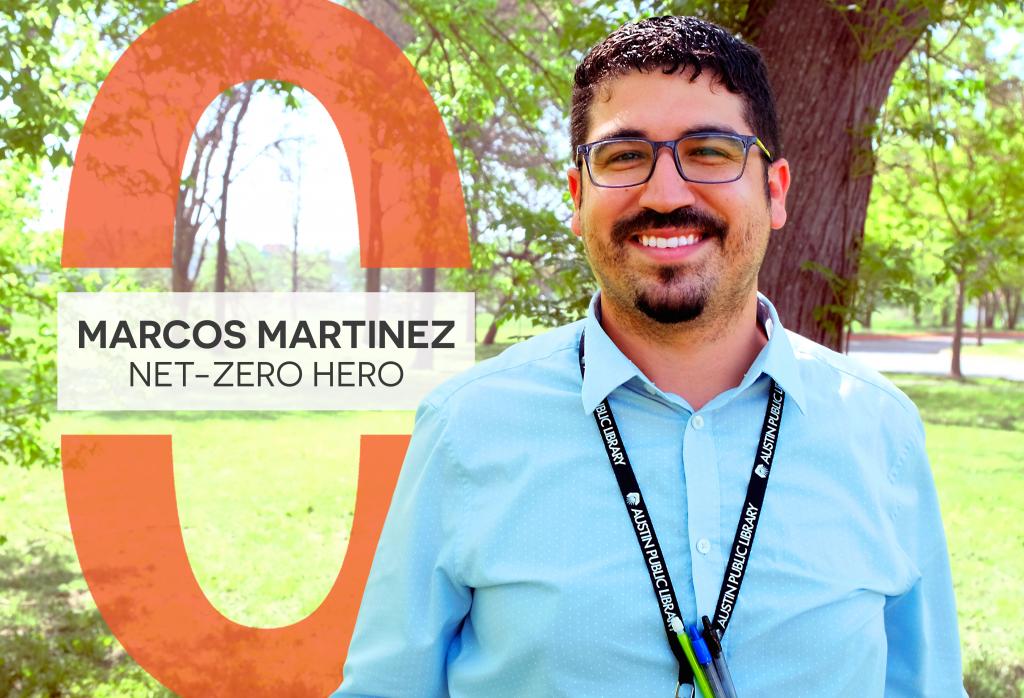 I'm helping to make Austin Net-Zero by connecting community members to resources both at the library and beyond.
In honor of National Library Week and National Gardening Month, we're excited to introduce our newest Net-Zero Hero: Marcos Martinez, Managing Librarian at the Little Walnut Creek Library! From serving on the Nature Smart Libraries initiative to starting a seed collection at his library, Marcos is doing his part to ensure all Austinites have a chance to reap the benefits of nature.
We met with Marcos at the Little Walnut Creek Branch Library to learn more about his work, passions, and his personal journey to sustainability.
---
What inspired you to take action?
I moved to Austin several years ago to start working at Austin Public Library as the Managing Librarian of the Twin Oaks Branch Library. Twin Oaks felt like a playground and lab. I was inspired by the building's design and layout to learn more about sustainable practices. These ideas were reinforced for me — and library visitors — by educational displays throughout the grounds.
My own zero-waste lifestyle journey began both professionally and personally when I read all about the City's zero-waste by 2040 and net-zero community-wide greenhouse gases by 2040 initiatives. After learning more, I was inspired to take incremental steps towards becoming more of a zero-waste practitioner at home, in my neighborhood, and while serving others at the library.
How did you do it?
Today, I manage the Little Walnut Creek Branch Library in north Austin. Here, I've incorporated elements of what my team and I built at the Twin Oaks Branch Library. Specifically, I launched the collection of stretch plastic and styrofoam to do our part as a business. When our library receives new books and media, the vendor ships them in plastic bags, and some of the items come packaged with styrofoam. Now, our team continually collects both of these types of materials and drops them off at the Austin Resource Recovery's Recycle and Reuse Drop-off Center.
To continue moving towards zero-waste, I recently activated our kitchen compost bin collector to divert staff's waste. I bring in compostable bag liners and then take them home to compost. To further support zero-waste initiatives throughout my community, I even became a Zero-Waste Block Leader.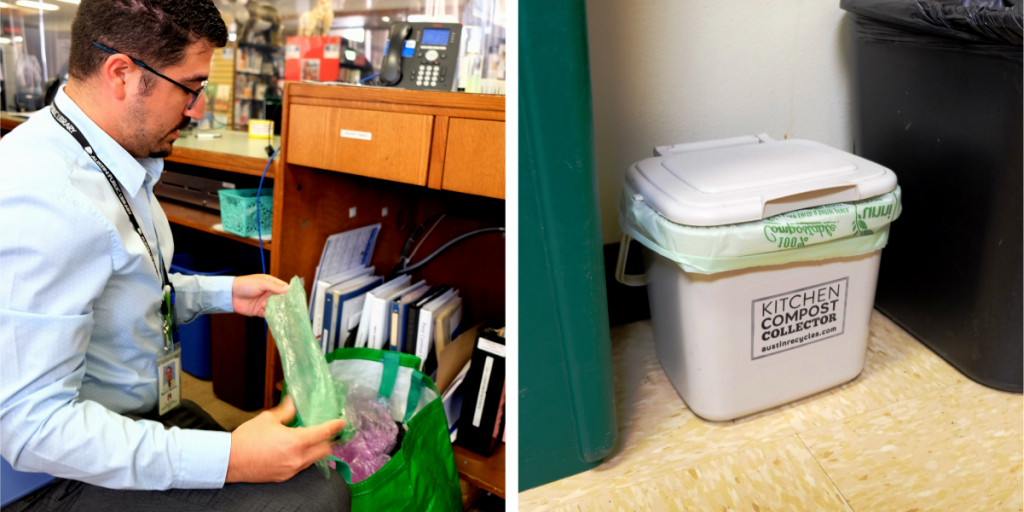 I also wanted to provide an opportunity that could address the fresh food desert in our area while expanding library programming and education in the environmental arena. In 2019, we launched a branch seed collection. We were inspired by the Central Library's Seed Collection, a project brought to life by Adult Services Librarian Katrin Abel. The seed collection at the Little Walnut Creek Branch Library became the first in-branch offshoot of this project.  
Today, the seed collection offers access to a variety of seed packets, all donated by residents in the community and local organizations like Central Texas Seed Savers. The collection allows anyone to take, or "check out," seed packets. The idea is to harvest seeds from your garden to bring back to the library for others to take next season. You can now find seed collections taking root at various Austin Public Library locations with the help of passionate library staff at these sites.   

As a library system, we naturally do our part in creating a zero-waste Austin by circulating our collection and funneling well-loved materials, such as books and DVDs, through our Recycled Reads Bookstore. Items are made available for resale at a discounted rate. We also collect batteries for recycling at all our locations.  
Aside from these well-established systems, our branch shares resources with other library locations through our version of a "buy nothing group". Using the Microsoft Teams platform, we offer up surplus items across branches, extending the life of furniture, consumables, and anything else that we can divert from heading to the landfill. My team and I now make it a practice to attempt to locate existing material by first checking in with this group before we set out to request a purchase.  
What's been most rewarding about getting involved in this way?
What's most rewarding is seeing the whole team of library staff at my branch come together to learn more about zero-waste practices, incorporate those practices into our daily routine, and extend all that information to community members interacting with the library.
With our seed collection, my team and I have taken this resource out to several community gardens in the zip codes we serve. Sharing seeds opens the door for conversation with community groups and between the neighbors who share their seeds from this collection.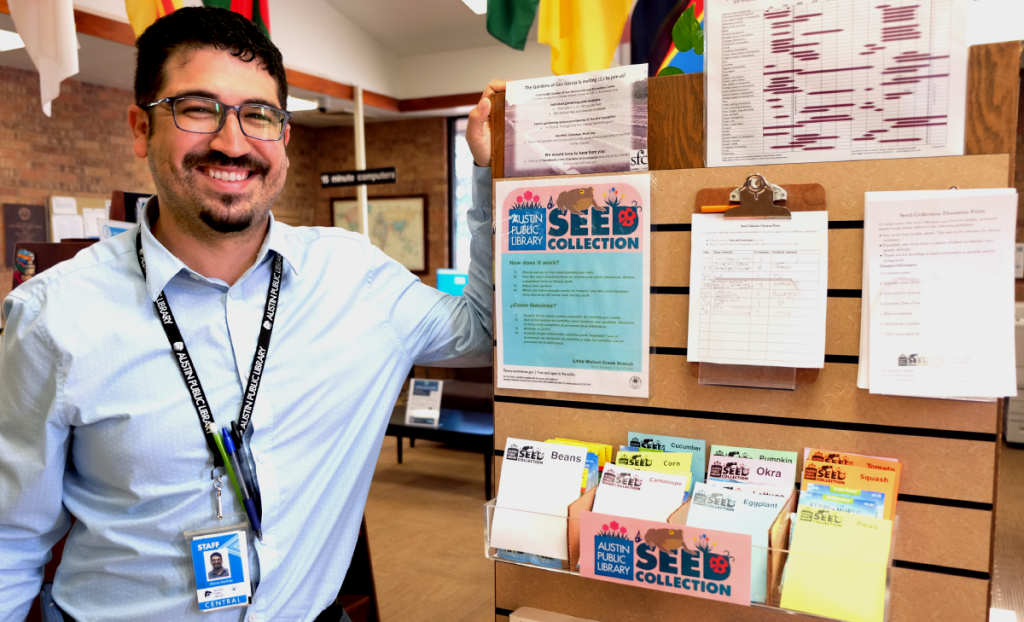 As a library staff member, I have the most rewarding job. I get to walk alongside a patron's journey to discovering and learning more through our library's collections, resources, and programs, as well as through the vast offerings from agencies serving our Austin community. I am able to model my involvement as a zero-waster and sustainability practitioner while helping others learn more about getting involved to whatever degree they feel most inspired.  
What's been the toughest part?
Moving upstream to reduce waste in the first place is most challenging, especially when this involves another party. For example, the Library orders new books annually, and we get them in so much stretch plastic from our vendor. I recently submitted a recommendation to our Library Administration about asking our vendors for alternative packaging to eliminate stretch plastic from the process. As the saying goes, "it is a 'no' already if you never ask." Even if we may not see a change immediately, the request can at least get more staff and vendors aware of the problem. Then, the problem can transform into an opportunity for us to do our part for future generations inheriting this planet.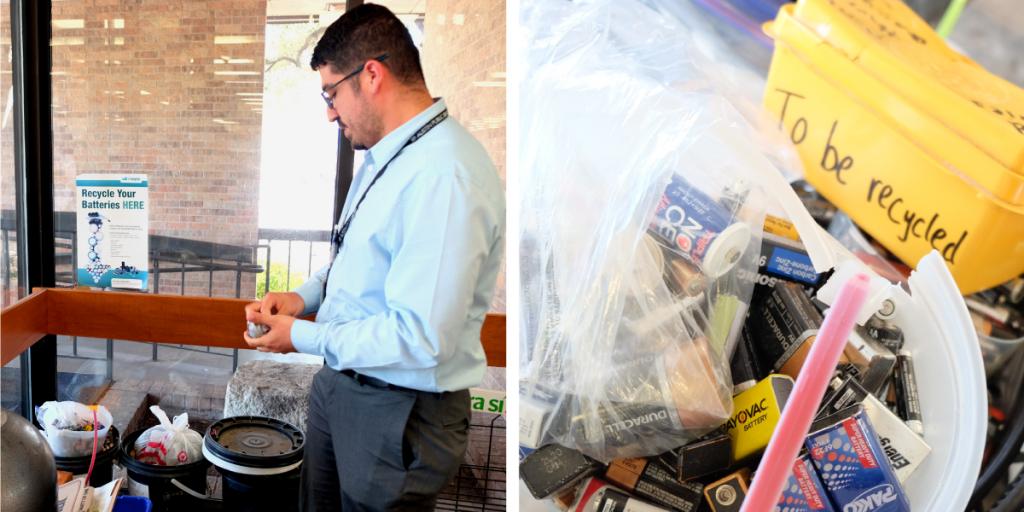 Shifting from internal challenges to external with a focus on community, the toughest part I think is finding opportunities to plug or weave zero-waste practices into conversations and programming happening at the library when there is such a saturation of information and competing priorities.  
What role do you think libraries can play in helping to foster nature in our city? Are there library resources you wish more Austinites knew about?
As libraries, we have the opportunity to help foster nature in Austin through programming for all ages and designing each person's road map for their journey. I think there is so much potential for our libraries to continue designing, or redesigning existing facilities, with sustainability features that can elevate our landscape both inside and outside.
Libraries are community assets where we can capitalize on the physical space to manage heat or educate youth about the value and importance of our urban tree canopy. We recently increased the urban tree canopy by planting additional trees at many of our library locations with funding from the City of Austin's Development Services Department Urban Forest Grant. This was part of our Nature Smart Libraries strategy, which is the newest strategy under Cities Connecting Children to Nature (CCCN) initiative. The CCCN initiative aims to close the gap in nature equity through policy, action plans, programming, and partnerships.   
Beginning this month (April), Jessica Tessler, who is our family librarian at Little Walnut Creek Branch Library, will be offering Garden Storytime. The events will take place on the second Saturday of each month at 9:30 am at the North Austin Community Garden, located on the premises where the North YMCA operates. This partnership aims to celebrate nature through stories, activities, and gardening for children and their adults.  
What advice do you have for others?
Every person is making their own path, and not everyone may be on the same level. Focus on you and what you are able and willing to do to get involved as an environmental steward. Take small steps. Remember that we are human, and we may make a mistake here or there and that's okay. Reflect on this moment. Think about where you are at and what you may already be doing. Celebrate that. Even if you feel like you may not be doing anything, reading this interview is already doing something to learn more! What is one action you may wish to take in your personal and/or professional life that builds on what you've done already?
Is there a book, documentary, or other piece of media you would recommend for folks wanting to learn more about these topics? What inspires you about this or why did you choose to share it?
One book on this topic that I enjoyed reading at the start of my journey was Zero Waste Home: The Ultimate Guide to Simplifying Your Life by Reducing Your Waste by Bea Johnson. She offers tons of easy tips on how to live sustainably and shares her experience with her family. You can check out this title with your Austin Public Library card in one of the following formats: book, e-book (English and Spanish copies available), and e-audiobook.  
Since April is National Gardening Month, if you're interested in learning more about gardening, I recommend checking out The Suburban Micro-Farm by Amy Stross. She is a permaculture expert, covering a full range of topics on gardening in a variety of spaces. This title is also available for check out from Austin Public Library in book or e-book format.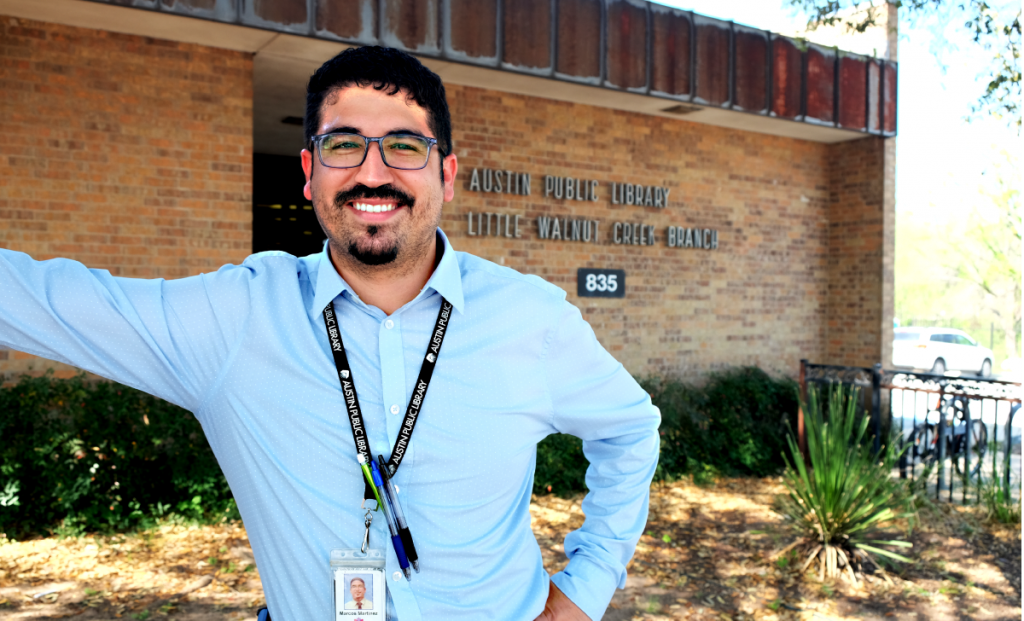 ---
You can visit Marcos and the team at the Little Walnut Creek Branch Library at 835 W Rundberg Ln, Austin, TX 78758. While there, be sure to check out the seed collection. And don't miss Garden Storytime on the second Saturday of each month at 9:30 am at the North Austin Community Garden. You can find the full library hours online.
To learn more about Austin's net-zero goal and explore actions you can take to support a greener community, view the Austin Climate Equity Plan.
Share your Net-Zero contributions with us on Twitter or Facebook and use #NetZeroHero. If you know a Net-Zero Hero (or heroes!) who should be recognized for their efforts, send your nomination to sustainability@austintexas.gov.