Protect Austin's Creeks and Barton Springs Pool!
This blog was updated in May 2019.
Highly destructive zebra mussels have invaded many popular Central Texas waters, and Austin's local creeks and Barton Springs Pool are now at risk.  Zebra mussels destroy local aquatic ecosystems and hurt visitors (including cutting people's feet and dogs' paws).  In Barton Springs Pool, an infestation also would likely significantly increase maintenance costs.
Spread the Message, Not the Mussels
People can easily spread this invasive species from one body of water to another without knowing it.  Young zebra mussels are invisible to the naked eye, and millions of them can live undetected on wet items for days and form new colonies when introduced into another body of water.  After each time you swim, float, fish, or play in any Austin lake and "Barking Springs (by Barton Springs Pool), it's important to:
Wash your swimsuit, water shoes, wetsuits, and towels in hot water and dry them thoroughly
Clean and dry all toys, coolers, rafts, buckets, and other items
Clean and dry your dog(s)
Help keep local creeks and Barton Springs Pool safe from a zebra mussel invasion!
For questions or more information contact Liz Johnston by email or phone (512-974-2619).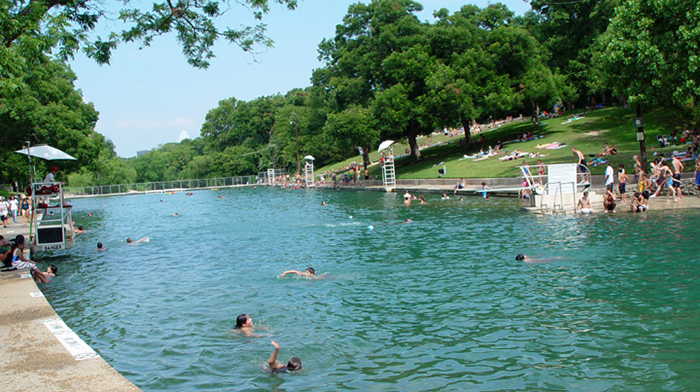 This blog was updated in May 2019.  Lake Austin, Lady Bird Lake Newest Additions to Statewide List of Infested and Suspect Lakes
Summary – Invasive zebra mussels have reached Austin and we need your help to prevent them from entering more Austin waterbodies. Clean, Drain, and Dry your boats and gear. This is true not only for motor boats, but even for canoes, kayaks, paddle boards, jet skis, fishing gear and bait buckets.
If you are a boater, you have likely heard about zebra mussels. This scourge of lakes and rivers has invaded North America's waterways, ruining beaches with their sharp edges, clogging water intake lines, increasing operating costs of municipal utilities, and causing top to bottom changes to aquatic systems.
Unfortunately, though they were once thought to be limited to cooler, northern climates, zebra mussels have migrated south and have found their way to Austin's lakes. It is now more important than ever that people who love using our lakes, like local boaters and paddle boarders, understand the effect their behavior might have on preventing the spread of zebra mussels into other Austin-area reservoirs.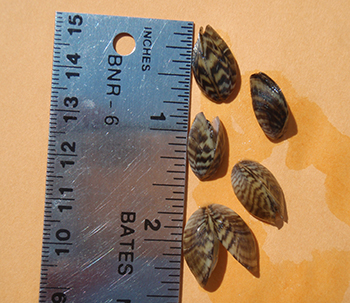 Zebra mussels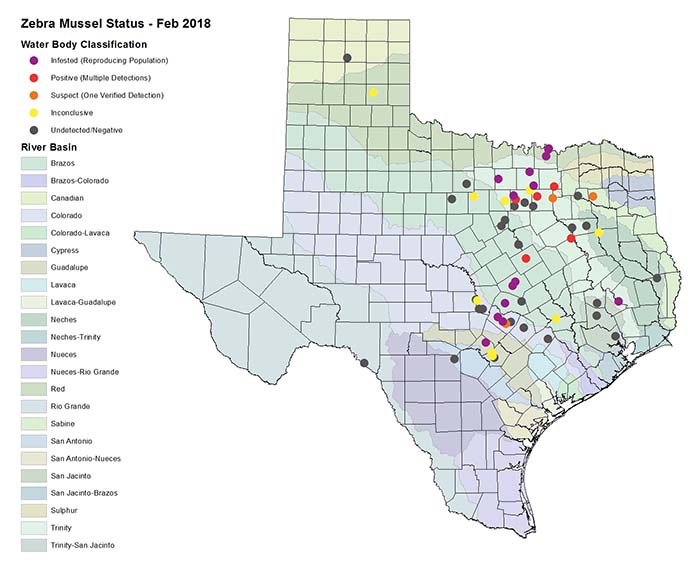 So what's the problem? Zebra mussels invade aquatic systems and drastically alter nutrient cycling. Wide-reaching infestations can significantly alter water quality, which in turn affects the types and numbers of other native aquatic species, including fish. They can cause recreational hardships by encrusting boat hulls and clogging motors, they damage navigation buoys and encrust docks and bulkheads, and they can cause serious maintenance issues for utility providers by clogging intake structures, thus increasing the cost of water. One study estimated the cost to the energy industry at 3.1 billion dollars between 1993 and 1999.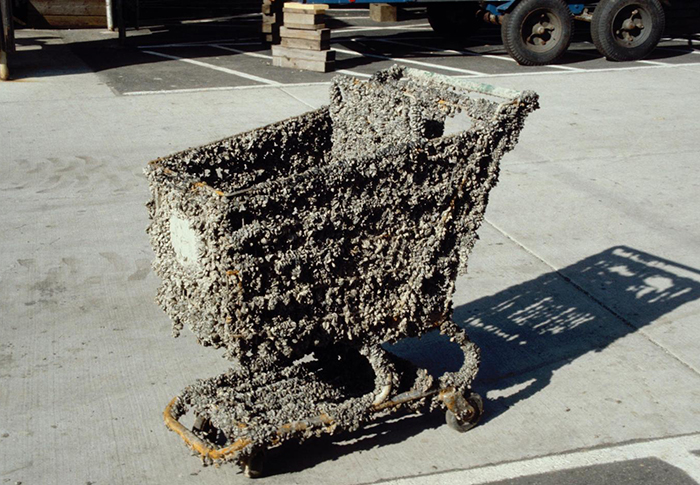 Shopping cart encrusted in zebra mussels after just a few months in infested water. Photo Credit James Lubner, U. of Wisconsin Sea Grant Institute, www.Bugwood.org
What about Austin? Zebra mussels have infested all of Austin's area reservoirs (Lake Austin, Lake Travis, Ladybird Lake, and Lake Walter E. Long). The Highland Lakes are a huge recreational boating draw and there are dozens of public boat ramps managed by various public entities, making the control of zebra mussels difficult to manage and placing the onus of responsibility on individual boats.
Now that zebra mussels have entered the Highland Lakes, water utility infrastructure on the lakes are being affected by clogging intake lines. Residential boat docks and bulkheads could be affected by thick encrustations of zebra mussels on the structures. Boats stored on the lakes could be damaged if zebra mussels encrust hulls or motors. Public beaches along the lakes could be littered with sharp, discarded shells.
What can we do?
Clean, Drain, and Dry your boat. This is true not only for motor boats, but even for canoes, kayaks, paddle boards, jet skis, fishing gear, bait buckets, swim suits, wet suits, and water shoes. Every time you leave a water body, your boat must be cleaned off, with water at least 140 degrees F, drained thoroughly from the motor, bilge, live wells, and bait buckets, and then dried. It is recommended that boats and trailers be dried an entire week before entering another body of water. Not only is it the right thing to do for our rivers, lakes, and streams, but it is also a class C misdemeanor to possess or transport zebra mussels, as well as other invasive aquatic species in Texas (hydrilla, anyone?) Please visit texasinvasives.org/zebramussels/ for more information on the proper cleaning and draining of boats.
Protect Barton Springs and Local Creeks.  Wet swimsuits, water shoes, and other gear can transfer the larvae from our local infested lakes to the pool, and once zebra mussel infest a waterbody, they are nearly impossible to eradicate.  There are several options for people who love visiting swimming holes.

Go to Barton Springs or local creeks BEFORE you to go a lake if you want to swim or play in more than one waterbody in a weekend.
Wash and dry any swim suits and gear that you've taken to local lakes before you bring it to Barton Springs or other swimming holes.
Keep two separate sets of swim suits and water gear.  Reserve one set for visits to Barton Springs and local creeks and use the other one for visits to local lakes.

Report it – Please report any new sightings to help track and manage this species.
Spread the word – Tell your friends and family about invasive species. Request or download educational materials and share these videos.
Join a Citizen Scientist program – Help track a wide variety of invasive plants and animals and learn more about Austin issues.
Other Resources
TexasInvasives.org Take Action!
Texas parks & Wildlife - Exotic and Invasive Species
USGS - Zebra Mussel and Quagga Mussel Information
Austin's Reservoir Resource
Austin Invasive Plants Management