For the first time in Austin's history, $300 million of the $7.1 billion Project Connect investment is dedicated to anti-displacement.
Austin Housing Finance Corporation (AHFC) and the City of Austin are investing in innovative new ways to address to keep Austin communities together. Community Initiated Solutions empowers organizations nearest to the problem to reduce residential displacement and create economic mobility opportunities for their most vulnerable communities along Project Connect corridors. 
Nonprofit organizations can apply for a range of investments to address key housing challenges for at-risk communities within 1 mile of Project Connect stations (see map).
Applications closed on June 27, 2022.
 Community Initiated Solutions Review Process
We are currently in the review process of the Community Initiated Solutions applications. The review process consists of three steps:
Completeness Check​: Applications were pre-screened by staff to ensure minimum requirements were met.  ​
Community Evaluation Panel​: Applications were reviewed by a community evaluation panel composed of practitioners, academics, and stakeholders from communities most impacted by displacement. The panels reviewed and scored proposals using evaluation criteria informed by the Nothing About Us Without Us report and tool. The review panels provided a list of scored, ranked proposals to a working group of the CAC.​
Review Panel​: A working group of the Community Advisory Committee will consider balances between funding categories and recommend proposals for funding to AHFC Board for final approval.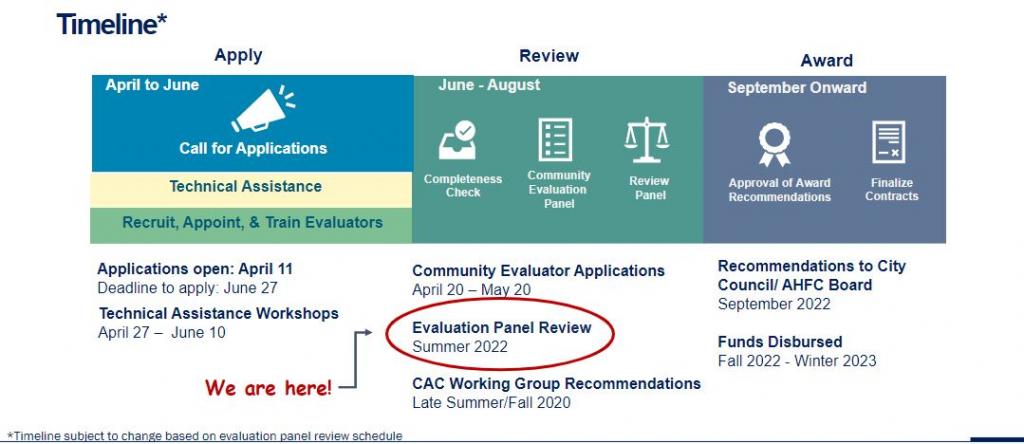 Complete requirements, eligibility, and funding criteria are available in Notice of Funding Availability (PDF) —updated May 24, 2022—for Community Initiated Solutions. 
Frequently Asked Questions (FAQs)

The following clarification document includes a summary of questions from the public received by the Austin Housing Finance Corporation as of May 17, 2022, with relevant responses.

Download Notice of Funding Availability Clarification Questions & Answers #1 (PDF)

Download Notice of Funding Availability Clarification Questions & Answers #2 (PDF)
---
Funding Priorities

The current funding round for 2022 includes up to $20 million for nonprofit organizations and partnerships that prioritize: 

Renter/tenant stabilization: Investments may include tenant legal services and representation, emergency rental assistance, education on fair housing laws and tenant rights, and other programs, services, and investments that prevent displacement by stabilizing tenants. 

 

 

Expansion and preservation of homeownership opportunities: Investments may include down payment and closing cost assistance programs, mortgage assistance, foreclosure prevention assistance, HUD-approved housing counseling, home rehabilitation and repair loans, existing community land trusts and housing cooperatives, and other programs, services, and investments that prevent displacement by expanding and preserving homeownership opportunities.

 

Other anti-displacement strategies: Investments that support economic mobility opportunities within the impacted area of Project Connect and help prepare the affected communities survive and even thrive in crisis.  Asset building strategies that facilitate access to capital, estate planning, financial capability (education and literacy), leveraging affordable housing to create good paying jobs and skill building labs, as well as other innovative models that preserve and expand the community's assets, and strengthen it through economic mobility opportunities may be considered.

 

Eligibility

The following factors may determine if your proposal is eligible for funding:

Priority Area: All investments must be focused within 1 mile of Project Connect stations (see map) in communities with vulnerable, active, and chronic displacement risk. Applicants must be one of the following:

Nonprofit organizations:

501(c)3 or 501(c)4 non-profit organization and a 

registered vendor

 with the City of Austin; or 
 

Partnerships:

Partnerships between nonprofit, for-profit, and community-based organizations. 

Partnerships must identify a lead organization responsible for coordinating the group's activities, including fiscal administration, reporting, quality control, and deliverable management. The lead organization must be a registered vendor with the City of Austin. The application must demonstrate how each partner organization will contribute to the goals and outcomes set forth in the proposal.

Note: Partnerships must identify a lead organization responsible for coordinating the group's activities, including fiscal administration, reporting, quality control, and deliverable management. The lead organization must be a 

registered vendor

 with the City of Austin. The application must demonstrate how each partner organization will contribute to the goals and outcomes set forth in the proposal

.

 

Applicants must not be on the City's debarment list. The City of Austin is prohibited from contracting with or making prime or sub-awards to parties that are suspended or debarred or whose principals are suspended or debarred from Federal, State, or City of Austin Contracts.   To be considered for funding, the application must be completed and signed.  Technical Assistance provided by the City is required for all vendors accepting contract awards  The selected recipient shall carry insurance for the duration of the Agreement and furnish a Certificate of Insurance, including all policy endorsements as evidence thereof to AHFC. Listed below are examples of insurance coverages the selected recipient may be required to obtain: 

Statutory Workers' Compensation and Employers Liability ( If Recipient's employees are working on AHFC property)


 

Commercial General Liability Insurance with a minimum bodily injury and property damage 


 

Business Automobile Liability Insurance (for all owned, non-owned and hired vehicles if the recipient uses any vehicles to perform its scope of work) 


 

Directors and Officers coverage 


 

Blanket Crime Policy 


 

Cyber Liability Insurance

Key Dates & Timeline

Application Deadline:June 27, 2022

 

 

---

How to learn more: Applicants interested in learning more are encouraged to watch this recorded virtual information meeting from Wednesday, April 20, 2022 or view the presentation from the meeting. 

 

Additional Assistance Workshops: Applicants can register to attend any of the in-person or virtual Technical Assistance Sessions by filling out the Community Initiated Solutions - Technical Assistance Sessions Form

Additional Resources

Project Connect Background

Project Connect is a citywide comprehensive rapid transit system that consists of expanded light rail and bus service, new Park & Ride facilities, and new neighborhood circulators. Over the next 13 years, federal and local funds will be utilized to build Project Connect.  

---

Funding

AHFC anticipates awarding up to 15 applications for the $20,000,000 and will select the Offerors that offer the best value to AHFC based on the published Evaluation Criteria and on final rankings. Evaluation Criteria are described in the Solicitation documents. The estimated program budget for the one-year initial term with two additional one-year optional renewals, renewable at the sole discretion of AHFC, is $20,000,000 to be distributed among the selected applications. Minimum amount will be $250,000. While it is anticipated that this amount will be distributed on a roughly proportionate basis among the selected Offerors, there is no guarantee of the number or the dollar value assigned to each Offeror, if any.  

You may submit a proposal for three (3) years funding understanding that if your proposal is selected, funding is approved for the first year only. Second and third years are extended based on outcomes, performance, and an updated budget.

Community Initiated Solution funds cannot be used for land acquisition and land development. See Anti-Displacement Funding for land acquisition and land development funding. 

Resources from April 20 Webinar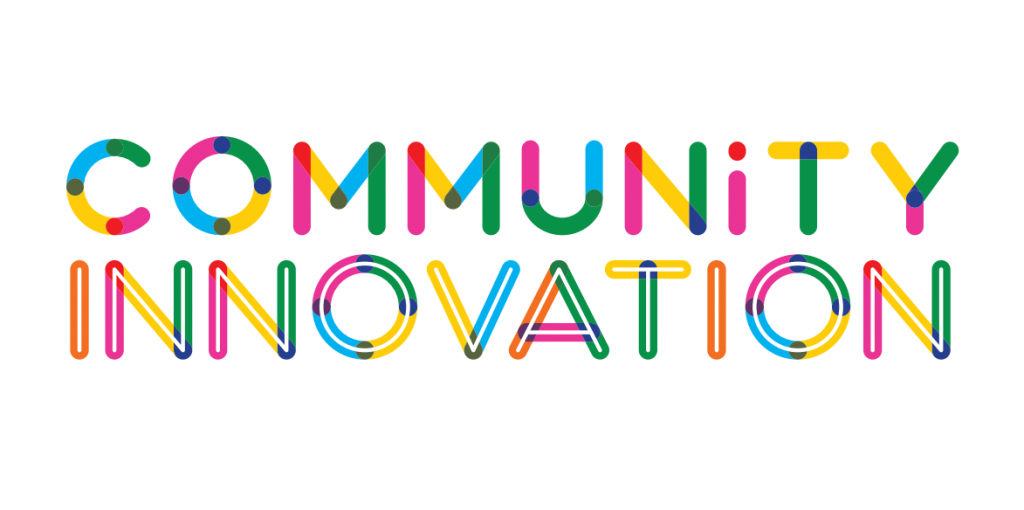 If you are interested in serving on a Community Evaluator Panel, visit AustinTexas.gov/Connect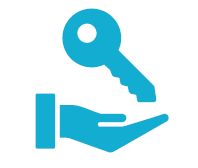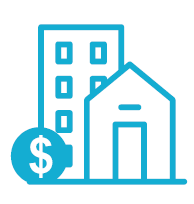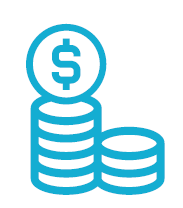 Accordion 1

Insert Spanish
Accordion 2

Insert Spanish
Accordion 3

Insert Spanish