Voters approved $300 million of anti-displacement funding in November 2020 as part of Project Connect. The City will invest these funds over 13 years. The chart below outlines the anticipated investments each year.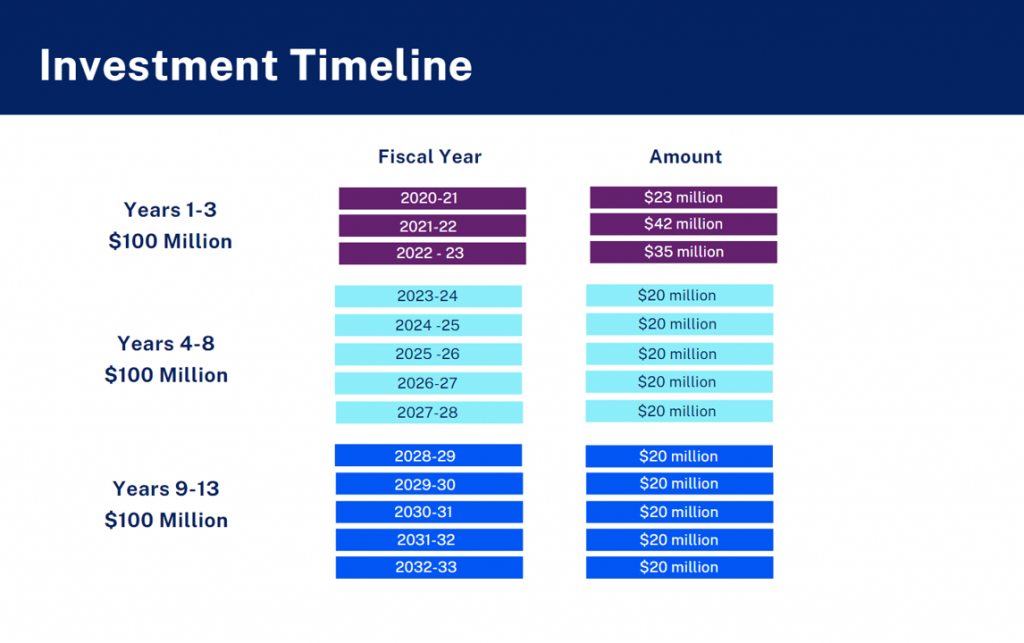 Initial investments for years 1 and 2 were divided into three focus areas—shown in the graph below. The Project Connect
Community Advisory Committee
is in the process of making recommendations for years 3-5.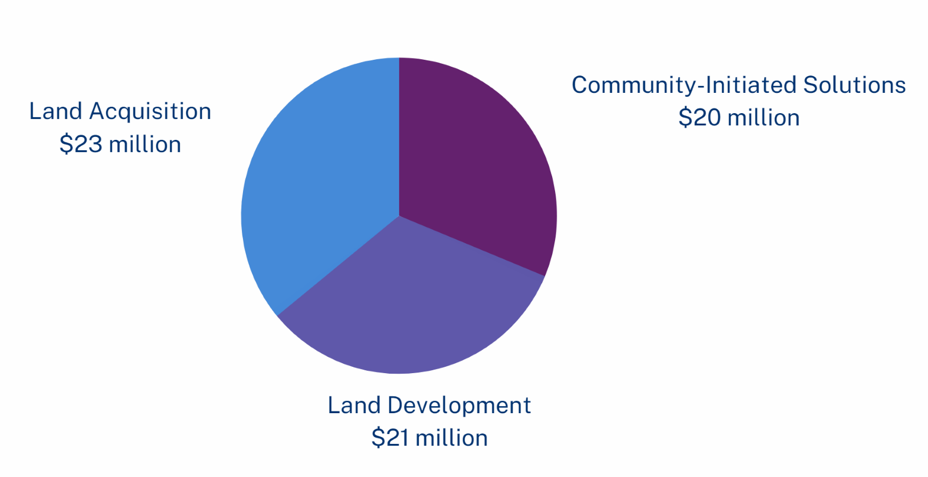 Community Initiated Solutions

$20 million is available for ideas that come from the community and focus on the needs of vulnerable neighborhoods. Nonprofit organizations and partnerships can apply for funding that will support initiatives designed to prevent the displacement of renters and homeowners and create economic mobility opportunities.

Community Initiated Solutions Review Process

We are currently in the review process of the Community Initiated Solutions applications. The review process consists of three steps:

Completeness Check​: Applications were pre-screened by staff to ensure minimum requirements were met.  ​

Community Evaluation Panel​: Applications were reviewed by a community evaluation panel composed of practitioners, academics, and stakeholders from communities most impacted by displacement. The panels reviewed and scored proposals using evaluation criteria informed by the Nothing About Us Without Us report and tool. The review panels provided a list of scored, ranked proposals to a working group of the CAC.​

Review Panel​: A working group of the Community Advisory Committee will consider balances between funding categories and recommend proposals for funding to AHFC Board for final approval.

 

 

 

Land Development

$21 million will support the acquisition, rehabilitation, and construction of affordable housing. The funds will provide private and nonprofit developers with state tax incentives and bonds and be administered through the City's Rental Housing Development Assistance (RHDA) and Ownership Housing Development Assistance (OHDA) programs. This funding is expected to be available in May 2022.  

Apply for Development Assistance

Council has approved the allocation of $21 Million from Project Connect for R/OHDA projects. The available funds add to other anti-displacement initiatives and advance the city's commitment to key housing challenges and to reducing transit-induced displacement pressures as part of Project Connect. Projects must be within one mile of a Project Connect transit corridor and include a policy for tenant or owner selection to prioritize persons that have been or are currently at risk of displacement. Developers wishing to access this fund must complete the Racial Equity component of the R/OHDA application.

Land Acquisition

$23 million is available for land acquisition. This includes $8 million in loans to eligible 501c3 nonprofit organizations through our new Community Acquisition Program to preserve and develop affordable housing as well as purchase small sites for future development. Applications opened in December 2021 and will remain open until all funds have been allocated. Remaining funds will be used by Austin Housing Finance Corporation to acquire multifamily properties and extend or preserve affordability along project connect lines.

Apply for land acquisition and affordable land development funding

The Project Connect Anti-Displacement Community Acquisition Program provides zero percent interest forgivable and non-forgivable loans that are available on a rolling basis: to 501c3 non-profits with experience renovating, constructing, leasing, and selling affordable housing in Austin  for the acquisition of vacant and improved property one acre or less in size, to be developed, renovated, leased, and sold as affordable housing to Low-Income households  in gentrifying areas no more than one mile from a proposed Project Connect bus or rail line.
 
Organizations interested in applying for funding should adhere to the program's guidelines(PDF) and submit a completed application(XLSM) to HousingDevelopment@AustinTexas.Gov. 
Questions regarding this Program may be made to HousingDevelopment@AustinTexas.Gov. 
 
This program is funded with Project Connect Anti-Displacement Funds approved by city voters as Proposition A on November 3, 2020. The City Resolution that created the Contract with the Voters for Proposition A may be found here: 
 
Funds for this Program are available for qualified non-profits for the 2021- 2022 fiscal year. 
 Los votantes aprobaron $300 milliones de fondos de anti-desplazamiento en noviembre de 2020 como parte de Project Connect. La Ciudad invertirá estos fondos en los próximos 13 años. La tabla a continuación muestra las inversiones anticipadas cada año.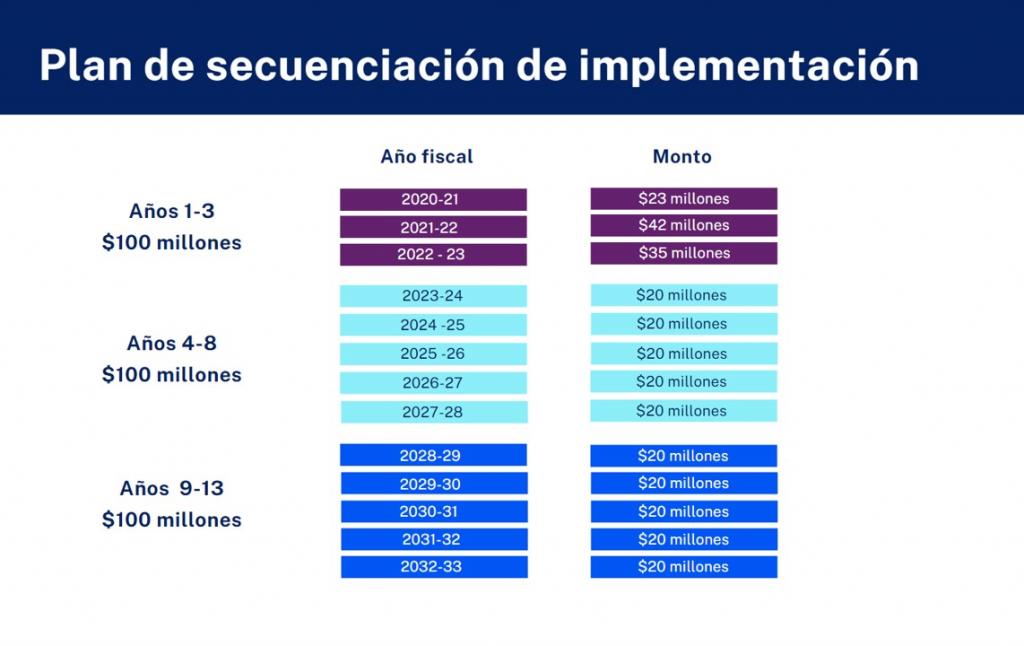 Nuestras inversiones iniciales fueron divididas en tres áreas de enfoque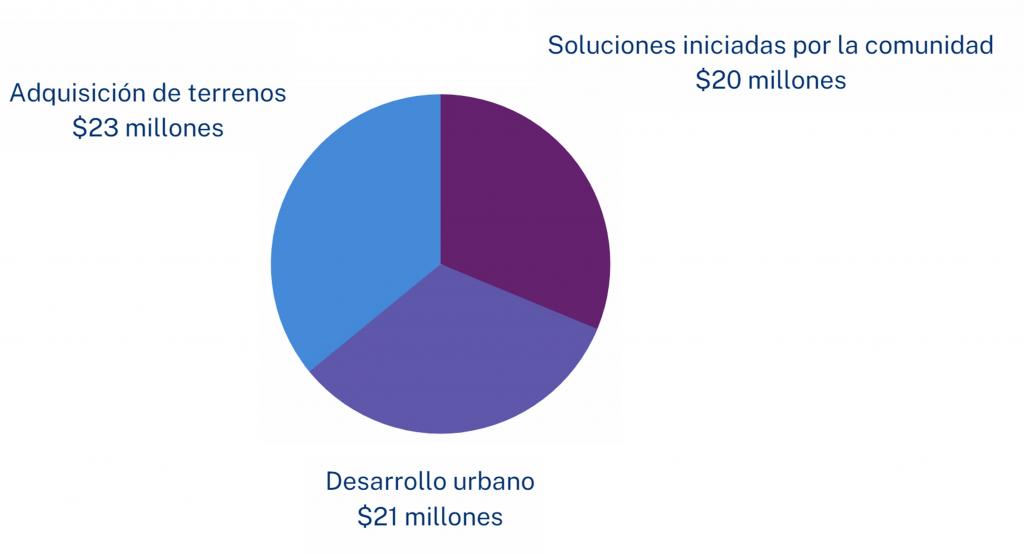 Adquisición de terrenos

Contamos con $23 milliones para la adquisición de terrenos. Esto incluye $8 milliones en préstamos para las organizaciones sin fines de lucro 501c3 que califiquen a través de nuestro nuevo Programa de Adquisiciones para la Comunidad (Web) para preservar y desarrollar terrenos pequeños para futuras construcciones. El periodo de solicitud comenzó en diciembre de 2021 y permanecerá abierto hasta que todos los fondos hayan sido asignados. La Corporación de Financiamiento de Viviendas de Austin utilizará los fondos restantes para adquirir propiedades multifamiliares y extender o preservar la capacidad de adquisición a lo largo de las rutas de Project Connect.

Desarrollo urbano

$21 millones apoyarán la adquisición, rehabilitación y construcción de viviendas económicas. Los fondos les proveerán a los constructores privados y sin fines de lucro incentivos fiscales estatales y bonos y serán administrados a través de los programas Rental Housing Development Assistance (RHDA) (Web) y Ownership Housing Development Assistance (OHDA) (Web) de la Ciudad. Se espera que este financiamiento esté disponible en mayo de 2022.

Soluciones iniciadas por la comunidad

Contaremos con $20 millones para ideas que vengan de la comunidad y se enfoquen en las necesidades de los vecindarios vulnerables. Las organizaciones y sociedades sin fines de lucro pueden solicitar los fondos que apoyarán las iniciativas diseñadas para prevenir el desplazamiento de inquilinos y propietarios y crear oportunidades de movilidad económica. Se espera que estos fondos estén disponibles en la primavera de 2022.

 

Los

fondos

restantes

se

usarán

para

administrar

el

programa

.