Overview
Austin voters issued a bold call to action when they approved a $300 million anti-displacement fund along with the Project Connect transit expansion. The Nothing About Us Without Us report (Web), map series (Web) and Racial Equity Anti-Displacement Tool serves as the guiding framework for investing these dollars. The report and map series lay out the vision and purpose of the Tool, describe how it was developed, demonstrate where it applies, and provide examples of how it can be implemented. The report is organized into five chapters, with an interactive scorecard in chapter 4. 
The process of developing the Tool prioritized the voices of people most impacted by displacement. Thirty community members were selected from 117 applicants to participate as Racial Equity Catalysts, contributing a total of nearly 950 hours. Catalysts participated in two training sessions and five policy workshops to co-create the Tool over four months. The Catalysts reviewed displacement data and gathered lessons learned from other cities that have experienced transit-induced displacement. 
The team of City staff who worked alongside the Catalysts is made up of representatives from a variety of departments including divisions within the Housing & Planning Department, the Equity Office, Project Connect Office, the Innovation Office and the Economic Development Department. 
Executive Summary (PDF) - English
---
Read the Report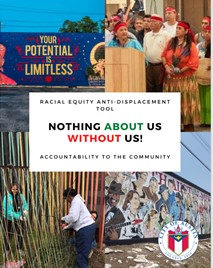 English ♦  Español  ♦  Tiếng Việt  ♦  العربية  ♦  한국어  ♦  简体中文  ♦  မြန်မာစကား  ♦  اُردُو  ♦  Français  ♦  हिंदी    
A continuous improvement process ensures that the Tool will become stronger through lessons learned using it. Changes to the Tool will be informed by feedback from the Catalysts and staff who created it, as well as the decision-makers and community members who use it.        
---
Using the Tool 
Key components of the Tool will guide the use of anti-displacement funding: 
Priority Places: Investments will be made in displacement risk areas within 1 mile of a Project Connect station. 
Priority Purposes: Investments will advance at least one priority purpose.  

Affordable housing 
BIPOC-owned businesses 
Minimize immediate BIPOC resident displacement 
High-quality jobs 
Cultural anchors 
Landbank 
Community power and capacity  
Strengthen tenant and homeowner rights  

Racial Equity Anti-Displacement Tool maps and dashboard: Investments will be informed by data on neighborhood conditions.  
Application and scoring criteria: The Tool will shape the scoring criteria for the Community-Initiated Solutions. 
Información general 
Los votantes de Austin emitieron un fuerte llamado a la acción al aprobar un fondo anti-desplazamiento de $300 millones junto con la expansión de transporte público de Project Connect. La Herramienta Anti-desplazamiento de Equidad Racial sirve de marco guía para la inversión de estos fondos. 
El informe y serie de mapas "Nada sobre nosotros sin nosotros" establecen la visión y propósito de la Herramienta, describen cómo fue creada, demuestran en qué áreas aplica y proveen ejemplos de cómo se puede poner en práctica. El informe está organizado en cinco capítulos con resultados interactivos en el capítulo 4. 
El proceso de creación de la herramienta le dio prioridad a las voces de las personas más afectadas por el desplazamiento. Se seleccionaron treinta miembros de la comunidad de 117 solicitantes para participar como Catalizadores de Equidad Racial, contribuyendo un total de casi 950 horas. Los catalizadores participaron en dos sesiones de capacitación y cinco talleres sobre políticas para colaborar en la creación de la herramienta en un periodo de cuatro meses. Los catalizadores revisaron los datos sobre desplazamiento y evaluaron las lecciones aprendidas por otras ciudades que han experimentado desplazamiento inducido por transporte público. 
El equipo del personal de la Ciudad que trabajó junto con los catalizadores está compuesto por representantes de una variedad de departamentos incluyendo divisiones dentro del Departamento de Vivienda y Planificación, la Oficina de Equidad, la Oficina de Project Connect, la Oficina de Innovación y el Departamento de Desarrollo Económico. 
Resumen Ejecutivo (PDF) - Español
---
Nada Es Nuestro Sin Nosotros: Herramienta Antidesplazamiento de Equidad Racial - Español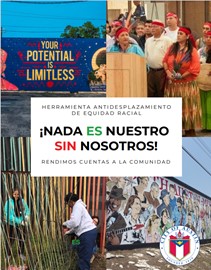 ---
Mapas de Antidesplazamiento de Equidad Racial
Un proceso de mejoramiento continuo garantiza que la Herramienta de Equidad se fortalezca a través de las lecciones aprendidas durante su uso. Los cambios a la herramienta se basarán en los comentarios de los catalizadores y de los empleados que la crearon, así como de los encargados de tomar decisiones y los miembros de la comunidad que la usen.    
Uso de la Herramienta 
Los componentes clave de la Herramienta guiarán el uso de los fondos anti-desplazamiento: 
Lugares de mayor prioridad: Se realizarán inversiones en las áreas con riesgo de desplazamiento en un rango de 1 milla de distancia de una estación de Project Connect. 
Propósitos de mayor prioridad: Se realizarán las inversiones para promover al menos uno de estos propósitos principales.  

Vivienda económica 
Negocios propiedad de personas de color (BIPOC) 
Disminución inmediata del desplazamiento de residentes de color (BIPOC) 
Empleos de alta calidad 
Anclas culturales 
Compra de terrenos 
Poder y capacidad de la comunidad  
Fortalecimiento de los derechos de los inquilinos y propietarios  

Mapas y panel de estadísticas de la Herramienta Anti-desplazamiento de Equidad Racial: Las inversiones se basarán en los datos sobre las condiciones de los vecindarios.  
Solicitud y criterios de puntuación: La herramienta le dará forma a los criterios de puntuación para las soluciones iniciadas por la comunidad.