The City of Austin values the creative industries as vital contributors to our community's character and prosperity. An economic impact study commissioned in 2011 estimates the total impact of gaming and digital media to be over $990 million, with projected growth over the next decade. The Department works to develop digital media and gaming in Austin in partnership with local economic development, workforce, and financing organizations.
Creative Content Incentive Program
The City of Austin offers incentives to qualifying film, television, video game, & visual effects projects equal to 0.50% of wages paid to local workers. Projects produced by an Austin-based company or which significantly promote Austin may be eligible for an additional 0.25% incentive for a total incentive of 0.75%.
For questions about this program, contact Joy Miller.
---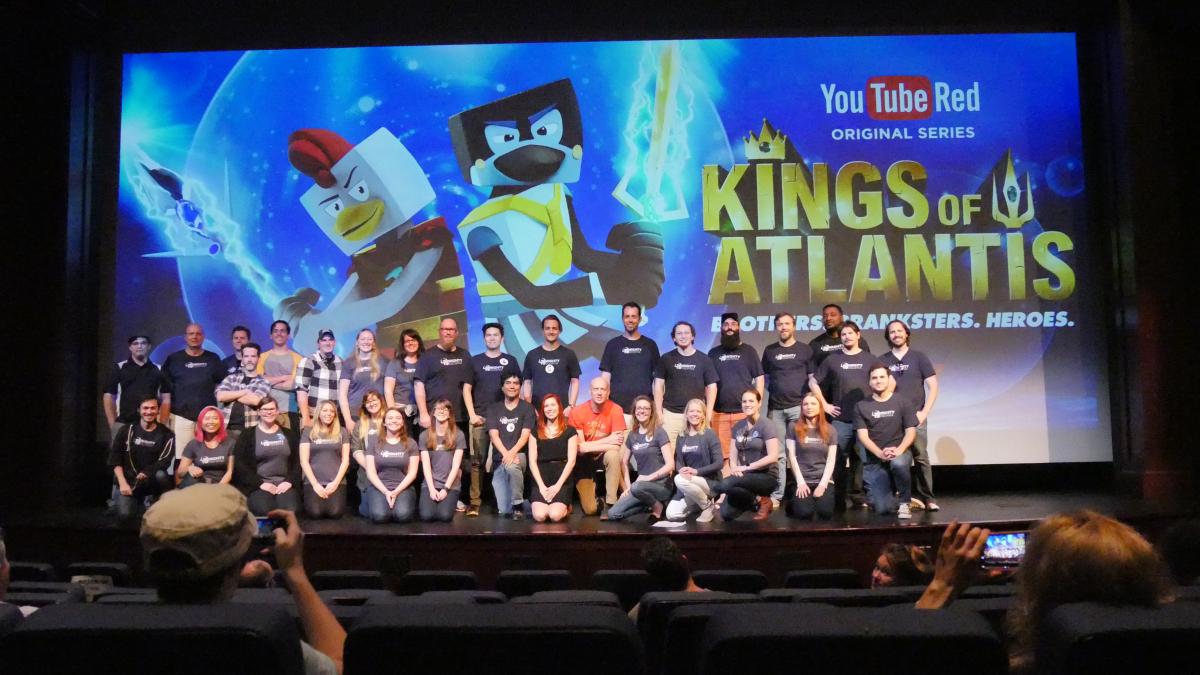 Mighty Coconut
Founded in 2014, Mighty Coconut is an Austin-based animation and visual effects studio specializing in original and branded content. Led by a creative team of industry veterans with a passion for combining stunning visuals and well-crafted narratives, the studio has brought to life countless film and television properties, interactive content, location-specific installations, as well as local and national commercials. We recently sat down with this dynamic team to learn more...
How did Mighty Coconut begin?
The inspiration to start our studio arose from the not-so-typical "destination-production" of our short film, "The OceanMaker." In 2013, writer/director Lucas Martell traveled with a small team of artists to an island off the coast of Belize to create the ten minute, fully animated film. Arriving state-side and creatively charged, we set out not just to finish the film and have it tour internationally, but also to keep the 'island family' together. Over the years the team has ebbed and flowed, growing in staff, experience, talent and projects with partners such as YouTube Red, Netflix, Rooster Teeth, STX and HBO.
Has have your goals changed over the years?
Like any creative content production company, we continue to evolve along with our industry. As technologies and the general business of entertainment rapidly morphs and changes, so must we. We've enjoyed exploring new storytelling mediums such as VR and AR interactive games. In just four years, we've created a pipeline that allows us to scale up and down as needed for the larger and smaller projects. At the end of the day, we love to tell great stories and that's the backbone of everything we do. Although animation is our bread and butter, we are known globally for project ideation, polished art, as well as VFX work for features and high-end commercials. Working with our boutique studio and its high end talent, we can create art that looks similar to that of a larger studio with a fraction of the crew, man hours, and with Austin pricing!
Please tell us about current projects that you find particularly exciting.
Our studio continues to do projects for all kinds of clients in the commercial, film, tv, and interactive space, and develop 2D and 3D animated projects. Some of our original projects include KINGS OF ATLANTIS, a premium family animated series for YouTube Red which debuted in 2017, and currently in development we have partnered with Academy Award winning actress and producer, Octavia Spencer, on an animated series based on a book series she wrote called Randi Rhodes Ninja Detective, and are working Haven Entertainment on an animated series based on the spin off book series, Missy Piggle Wiggle, which is a continuation of the classic Mrs. Piggle Wiggle books. On the feature side, SPIES IN DISGUISE is set to release in April 2019, adapted from Lucas Martell's 'Pigeon: Impossible' short, which stars Will Smith and Tom Holland. As for interactive, we partnered with Merge Cube to create a branching narrative AR game called '57° North' which released this past December, we are set to launch our first VR game called 'BallaNova' which debuted at SXSW 2018, and we just recently released a new AR game called Laser Mazer.
How has Austin contributed to Mighty Coconut's success?
Austin has changed so much in the last ten years that parts of our city are almost unrecognizable. However, the spirit of Austin has not changed. It is still a town full of 'triple-threats', creative people who have many talents and interests, who love collaborating on projects at our studio. Thankfully, there is still a sense of openness and energy in building partnerships. We've also seen a huge influx of talented people from areas such as LA, New York and abroad who bring great experience and vision. This has raised the level of productions for film, tv and web series creating a much more dynamic and multi-faceted ecosystem.
Previous Community Spotlights
Gordon Walton (ArtCraft Entertainment Inc.) - Gordon Walton Jr. is an American video game developer and executive producer who has worked with many North American online game companies, from Maxis and Electronic Arts, to Sony Online and Bioware...Continue Reading..
---
Digital Media and Gaming Resources