This project will repair and modernize the Old Lampasas Dam, located on a tributary of Bull Creek, off Spicewood Springs Road.  
Public Meeting
Thank you to everyone who attended the Old Lampasas Dam Modernization project public meeting on March 20. If you missed the meeting, below are links to the PowerPoint presentation and a recording of the meeting.
If you are unable to join online, you may call in to listen to the meeting. Call (346) 248-7799 and enter Meeting ID 857 8698 7063 when prompted. To request interpretation services, please contact us at least seven days before the meeting. The presentation will be shared online after the meeting.
Background
Built in 1980, the Old Lampasas Dam reduces the risk of flooding for about 30 structures and two roads downstream of the dam. In 2010, the primary outlet pipe of the dam was damaged during Tropical Storm Hermine. Due to the condition of the outlet pipe and poor construction materials, the embankment as well as the downstream slope has eroded and continues to do so when it rains. Numerous holes have formed on the upstream slope of the dam. The eroding slopes are unsafe.
Project Overview
The purpose of this project is to repair and modernize the dam to meet city and Texas Commission on Environmental Quality dam safety regulations and to improve water quality in Bull Creek. The project includes:
Replacing the damaged primary outlet
Improving the dam spillway
Modifying the shape and elevation of the embankment
Project Map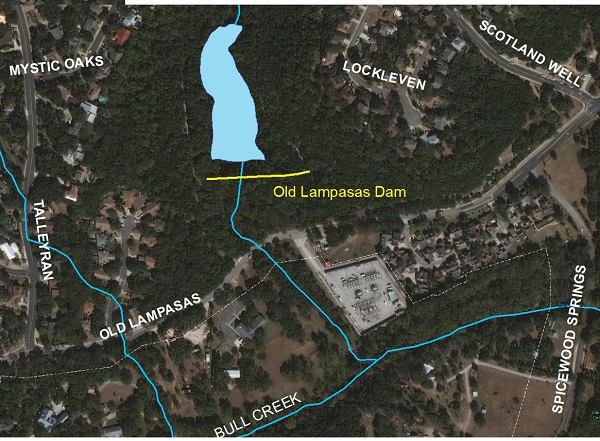 Timeframe and Cost
Our capital improvement projects take many years from start to finish. The process typically includes the following phases:
Preliminary Engineering – when a solution is identified and costs are estimated.
Design – when the details are worked out and construction plans drawn up.
Bidding and Permitting – when a contractor is hired and all permits are acquired.
Construction – when the project is built.
This project is currently in design with construction estimated to begin in 2024. 
It is estimated to cost $10.9 million.
Questions?
Please contact one of the following people: