Twelfth Encampment Clean Up Assists 60 Additional People; Over 470 Since 2021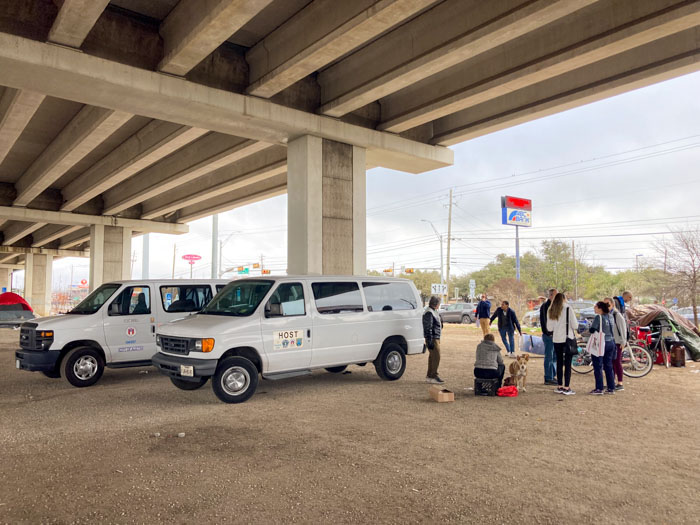 The City of Austin and partners helped a total of 60 people with resources to move from an encampment at Pack Saddle Pass and U.S. Highway 71 to temporary bridge shelters as part of the Housing-Focused Encampment Assistance Link (HEAL) Initiative.
HEAL carries out closures of homeless encampments that pose the highest public health and safety risks. People experiencing homelessness on site were offered transfer to shelter, and connection to housing resources. Through a cross-departmental effort, the City has developed a mobile encampment assessment tool that measures over 40 factors to prioritize encampments for HEAL intervention.
"The City's HEAL Initiative provides a compassionate response to homelessness, a safe move from encampments into shelter, plus a clear path to housing and services. HEAL continues to focus on resolving encampments with the highest health and safety risk factors," said City of Austin Homeless Strategy Officer Dianna Grey.
Since HEAL began in June of 2021, over 470 individuals have voluntarily moved from high-risk encampments to Southbridge and Northbridge shelters. Successful sheltering and resolution of the Pack Saddle Pass and U.S. Highway 71 encampments was a collaborative effort. The Austin Public Health Department and the Homeless Strategy Division worked closely with the Homeless Outreach Street Team (HOST), Integral Care, Austin Police Department, Austin Public Works Department, Austin Resource Recovery, Sunrise Homeless Navigation Center, the Austin Area Urban League, and other community partners.
Both encampments are now officially closed, and enforcement presence will be maintained while cleanup is conducted.
Returning public spaces to the intended use is an important element of the HEAL Initiative. The Austin City Council recently authorized negotiations with the Texas Department of Transportation to pursue a variety of pedestrian and aesthetic enhancements at the Pack Saddle Pass and U.S. Highway 71 location.
Austin City Council approved the HEAL Initiative in February 2021. The HEAL Initiative is one element of Finding Home ATX, a community-wide effort to dramatically reduce unsheltered homelessness in Austin.
 
To learn more about homelessness in Austin, please visit www.austintexas.gov/homelessness