City of Austin
FOR IMMEDIATE RELEASE
Release Date:
Contact: Homeless Strategy Division
---
Gaines Creek Greenbelt encampment near Violet Crown Trail now closed for cleanup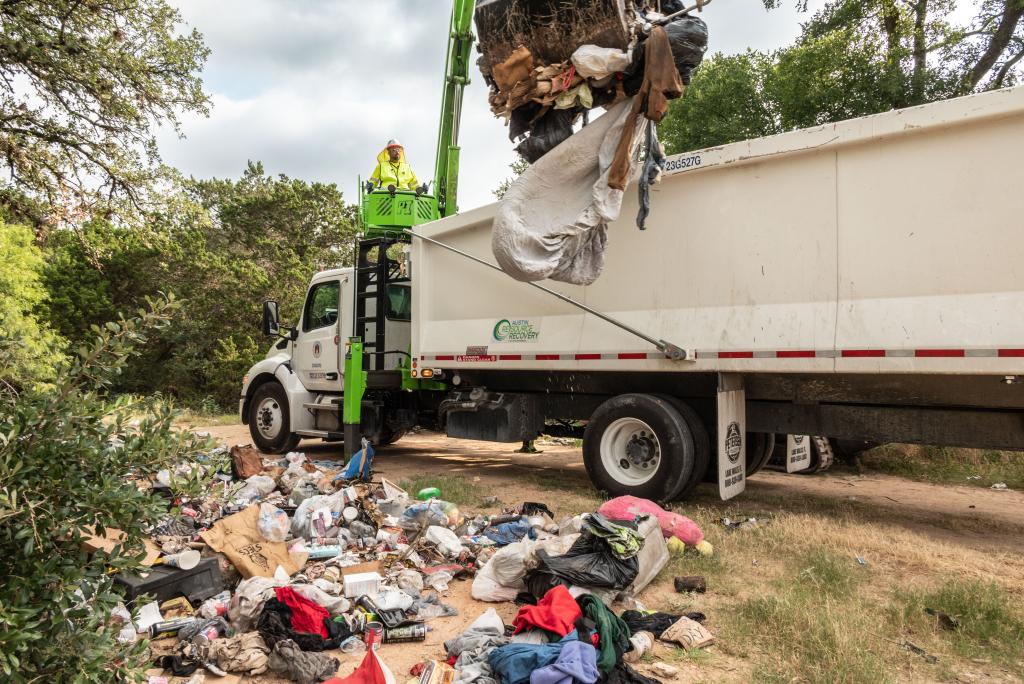 The City of Austin and partners have compassionately closed the Gaines Creek Greenbelt area encampment near the Violet Crown Trail. A total of 75 unhoused residents and approximately 30 pets were relocated from the encampment to the City-owned Northbridge shelter as part of the Housing-Focused Encampment Assistance Link (HEAL) Initiative last week.
HEAL carries out the closures of homeless encampments that pose the highest public health and safety risks. The Gaines Creek Greenbelt area encampment operation has required coordinated communication with nearby community stakeholders. Preparation for the closure has included doubling capacity at the City's Northbridge Shelter to accommodate additional HEAL program participants. People experiencing homelessness on site were offered transfer to shelter, and connection to housing resources.
This morning the encampment was formally declared closed, and a work zone has been designated while an extensive cleanup process is underway. The clean-up effort, which is expected to take several weeks, is being organized by the Parks and Recreation Department with substantial support from Austin Resource Recovery, the Austin Police Department, and a private contractor. Following conclusion of cleanup operations, the City of Austin Parks and Recreation Department will install perimeter fencing to deter future unlawful camping within the sensitive endangered migratory songbird habitat. The site is now subject to immediate public camping ordinance enforcement and the Austin Police Department will conduct periodic patrols.
"This clean up came at a critical time. As the peak summer heat approaches, it's a relief knowing almost 80 formerly unhoused Austinites will not have to endure living in extreme weather conditions. Wildfire risks will also be significantly reduced," said Mayor Pro Tem Paige Ellis.
"As we work on longer term efforts to combat homelessness in our community, the HEAL Initiative gives us a concrete way to resolve unsheltered encampments that pose the greatest risks for the community," said City of Austin Homeless Strategy Officer Dianna Grey.
Since HEAL began in June of 2021, 546 people have voluntarily moved from high-risk encampments to the City's Southbridge and Northbridge shelters. Successful sheltering and resolution of the Gaines Creek area encampment was a collaborative effort. The Austin Public Health Department's Homeless Strategy Division is working closely with the Homeless Outreach Street Team (HOST), Sunrise Homeless Navigation Center, the Austin Parks and Recreation Department, Austin Resource Recovery, the Austin Police Department and other community partners.
Austin City Council approved the HEAL Initiative in February 2021. The HEAL Initiative is one element of the City's broader efforts to address homelessness.
To learn more about homelessness in Austin, please visit www.austintexas.gov/homelessness