A harmful algae bloom occurs when Cyanobacteria, also called blue-green algae, produce toxins. Lady Bird Lake experienced a harmful algae bloom in 2019, which sickened and killed several dogs. There have been harmful algae blooms on Lady Bird Lake every year since then. We have also detected harmful algae on Lake Austin.
Current Status
August 17, 2023: Lab results from May and June indicate that toxic algae was already present in several locations at the beginning of summer. With the excessively hot and dry weather, creeks are drying up and flow from springs is low, which means that toxic algae mats are even more likely to be present in our waterways. Assume all algae may be toxic.
We have received lab results from sampling in May and June from both our regular monitoring program and from a scientific study of springs. There were no toxins in water samples, but all algae samples contained at least one of the following toxins: dihydroanatoxin, homoanatoxin, anatoxin, saxitoxin, cylindrospermopsin and microcystin. The sites with toxic algae include:  
Regular Monitoring Sites with Harmful Algae
Red Bud Isle on Lady Bird Lake

Vic Mathias Shores on Lady Bird Lake

Festival Boat Ramp on Lady Bird Lake

Jessica Hollis Park on Lake Austin
Springs Study Sites with Harmful Algae
Barton Springs Pool

Backdoor Spring on Barton Creek

Bluff Spring on Onion Creek

Harris Spring on a tributary to Onion Creek

Kizer Spring on Williamson Creek

Cold Spring on Lady Bird Lake
As more recent results become available, they will be posted on this website.
Symptoms and Reporting Suspected Illness
If you, a family member or pet have sudden, unexplained symptoms after swimming, contact your medical provider, veterinarian or the Texas Poison Control Center at 1-800-222-1222. Please also let us know by completing our form:
You can find information on symptoms on the Centers for Disease Control and Prevention's website, Illness and Symptoms: Cyanobacteria in Fresh Water. For more resources for physicians and veterinarians, please scroll down to the "Additional Resources" section of this page.
Caution: Enter Water at Your Own Risk
There is always some level of risk in a natural water body. In addition to algae, bacteria, parasites and other dangers may be present.
People and Pets
Do not drink water directly from natural water bodies.
Avoid contact with algae.
Rinse skin or animal fur after contact with water.
Do not allow dogs to lick their fur prior to rinsing.
Do Not Enter Water a Natural Water Body If:
Water is warm or stagnant or you see scum, film or algae.
There has been rain in the past three days.
There are lots of dogs present.
Note that people are not allowed to swim in Lady Bird Lake (Ord. 640611-C).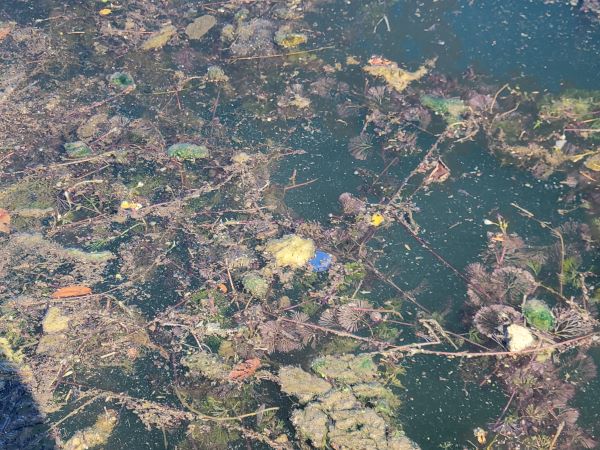 In this photo from Friday, September 17, 2021, Cyanobacteria is showing up as brown, yellow and blue blobs among Cabomba plants.
Testing, Monitoring and Mitigation
To understand trends with harmful algae, we monitor three sites on Lake Austin and three sites on Lady Bird Lake, visiting them every other week throughout the summer. We also monitor one site on Lake Walter E. Long, visiting it at least three times during the summer and fall. Please note that the monitoring program provides a snapshot of conditions at specific locations at specific points in time, and is not suitable for determining the safety of an area for recreational use. Environmental conditions may change rapidly between testing dates and conditions may vary throughout the lake. Negative results in a single sample do not necessarily indicate that an area is free of harmful algae.
We are treating specific areas of Lady Bird Lake to lower the nutrient levels in the lake. This may help reduce the amount of harmful algae. Learn more about Harmful Algae Mitigation.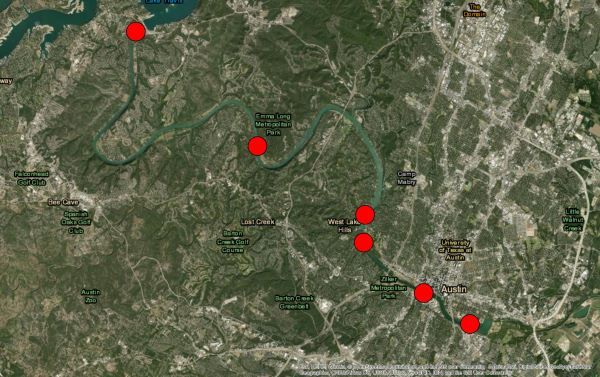 Red dots indicate biweekly monitoring sites for harmful algae.
Toxins and Previous Results
The list below shows the toxins that we have detected in algae and/or water since 2019. In most cases, the toxins were contained in the algae and not released into the water. Symptoms of exposure depend on the type of toxin, how the exposure occurred and how long the exposure lasted. See "Additional Resources" below.
Anatoxin-A
Cylindrospermopsin
Dihydroanatoxin-A
Homoanatoxin-A
Saxitoxin
Drinking Water
Austin Water regularly tests algae levels on Lake Austin and Lake Travis near their intake pipes and has not seen levels of concern for drinking water. Currently, Austin Water does not use Lady Bird Lake as a source for drinking water.
Other Bodies of Water
Stock ponds and stormwater ponds have the highest risk for harmful algae. Most are privately owned. Although these ponds may be attractive, their water quality tends to be poor and is not suitable for recreation at any time for either people or pets. 
We recommend avoiding water bodies that are warm and stagnant at any time. 
Lady Bird Lake and Lake Austin meet State of Texas contact recreation standards, which are based on bacteria levels.  
Cause and Type of Algae
Blue-green algae are one of the earliest forms of life and are common worldwide. Keep in mind:
There are many types of blue-green algae, but only some species can produce toxins. 
There are several different types of toxins possible. 
Even if a species is capable of producing toxins, that doesn't mean it will always do so. Generally, harmful algae need warm water, low flow and high levels of nutrients.  
Blue-green algae can be single cells spread throughout the water. When they form mats that are big enough to see, they usually look like dark green, slimy blobs. Mats can be on the bottom or floating on the top of the water. Blue-green algae are often mixed in with other types of algae.  
We are not aware of any human or pet health problems from harmful algae in Austin prior to 2019. Zebra mussels, flooding during the fall of 2018 and climate change are potential contributing factors to the harmful algae bloom in 2019. 
Additional Information
Resources for physicians
Resources for veterinarians
 
Resources for the public