Current Events and Productions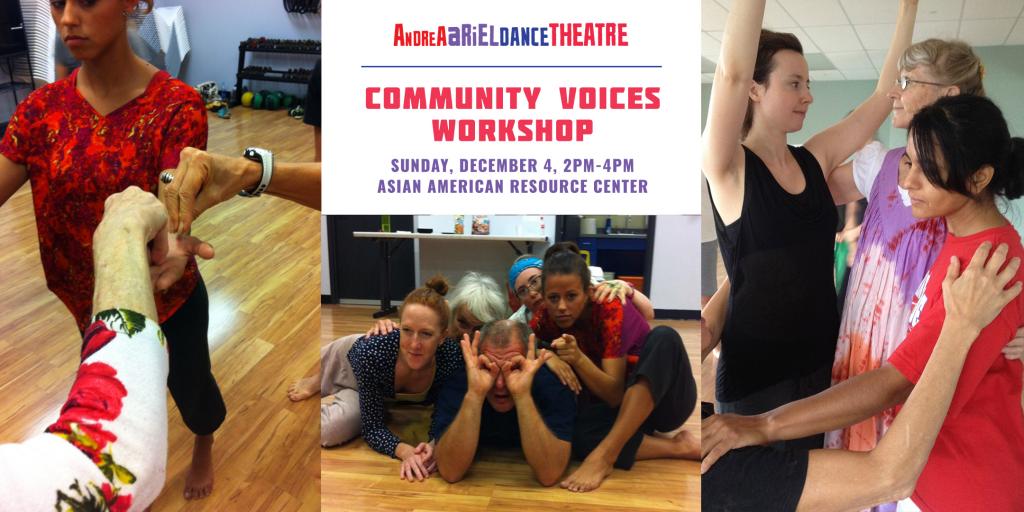 Community Voices Workshop with Andrea Ariel Dance Theatre 
Sunday, December 4, 2022 
2pm-4pm
Asian American Resource Center
Join Andrea Ariel Dance Theatre for this FREE community workshop offering a safe space to be creative, share stories, move, engage in meaningful dialogues with others, and explore innovative ways to connect with new people AND create something together. All movement-based activities are designed for participation and adaption for ANY physical ability or experience. Even while seated. No dance or theater experience is needed! We will play fun movement and theater games and explore other creative-based structures to engage in an investigation about things that are important to us. Community Voices creates an opportunity to bring perspectives and stories beyond our own, to listen and learn from each other. These workshops inspire and guide the creation of our work by nurturing a deeper connection to the community we live in.
Visit the Andrea Ariel Dance Theatre eventbrite page to register. 
---

Glass Half Full Theatre and Trouble Puppet Theatre present: The Austin Puppet Incident
Friday, December 9, 2022 at 8pm
Saturday, December 10, 2022 at 8pm
Dougherty Arts Center
The Austin Puppet Incident is a joint creation of Glass Half Full Theatre and Trouble Puppet Theater Company, with funding from the Puppet Slam Network. Local artists work in collaboration to create short pieces for adult audiences using a variety of puppetry techniques including shadow, hand and rod, tabletop, object, and physical theatre. API is a showcase of naughty, heartbreaking, harrowing, hilarious but always original stories through the medium of animated objects.
For more information on tickets, visit Austin Puppet Incident.