Carver Museum Digital Programming
We're bringing the Carver's programming into your home! The Museum is open by reservation via Eventbrite. Schedule a time to visit here.
To stay up to date on our latest programs, like us on Facebook, follow us on Instagram, and subscribe to our newsletter.
---
Small Black Museum: Artist Talk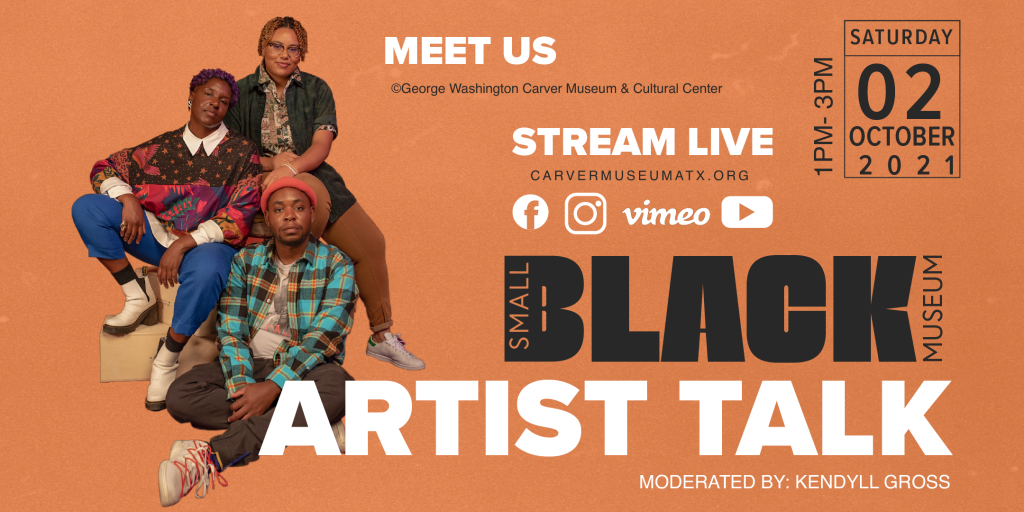 Join us on Saturday, October 2 from 1 – 3 p.m. for an artist talk featuring: Temitope Olujobe, Adrian Armstrong, and Hypatia Sorunke, the first artists to complete the Small Black Museum Residency Project. The talk will be moderated by Kendyll Gross, Education Coordinator at The Art Galleries at Black Studies at UT Austin, and will navigate through the body of work each artist produced during their residency to the culmination of their current exhibition show, Small Black Museum Residency Project Show Volume 1.
The artist talk will be hosted in the atrium of the Carver Museum. Limited seating available. RSVP on Eventbrite to reserve your seat. Patrons are strongly encouraged to wear masks inside of the museum and observe social distancing measures. This event is free and open to the public. If you can't make it, we will be streaming the event. 
NOW STREAMING
---
Screening of Crystal City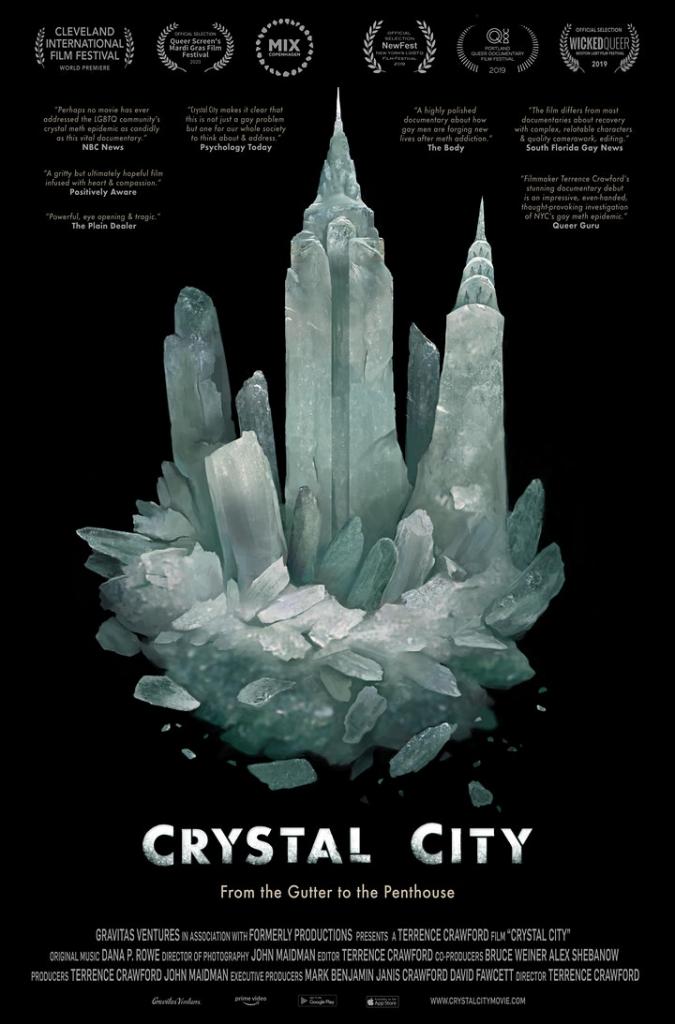 Join us at the Carver Museum Boyd Vance Theater for a screening of Crystal City on October 6, from 6-8 PM. Doors open at 5:30 PM.
Crystal City is a documentary that brings us closer to men in New York City who are working towards recovery from crystal meth. The film is 80 min. in length and we'll have a brief Q&A afterwards with experts who can weigh in and put the film's context into a local perspective and assist with resources available.
Trigger Warning: This film depicts heavy IV drug use. Viewer discretion is advised.
We will be seating at 50% capacity.
---
That's My Face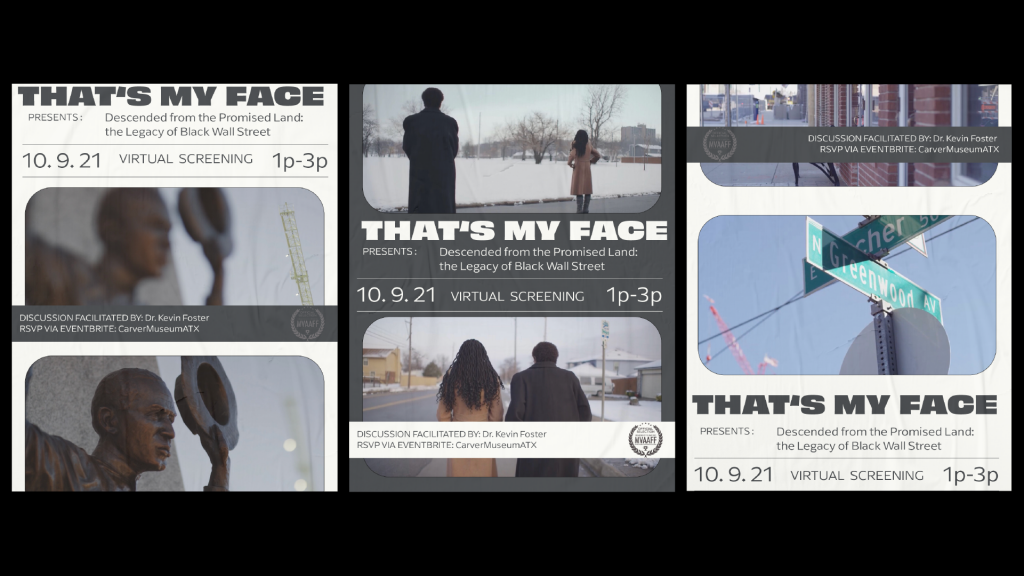 Join the Carver Museum for another That's My Face event on October 9 from 1-3 PM.
This month we will be viewing Descended From The Promised Land: The Legacy of Black Wall Street, a documentary film by Nailah Jefferson. Through the lens of Black Wall Street descendants Byron Crenshaw, Jacqueline Blocker, and Michelle Blocker, we draw a century-long thread from the Tulsa Race Massacre to the present, exploring the lingering economic, psychological, and emotional impacts that have undermined the rebuilding of the once-thriving community.
After the film, we will have a discussion facilitated by Dr. Kevin Michael Foster. Dr. Foster ​is an educational anthropologist currently serving as the Associate Chair for the Black Studies Department at The University of Texas at Austin. His passion is to bring research, teaching, and community engagement together to improve academic outcomes for African American and other students.
REGISTER FOR OCTOBER 'THAT'S MY FACE'
---
Carver Studio Art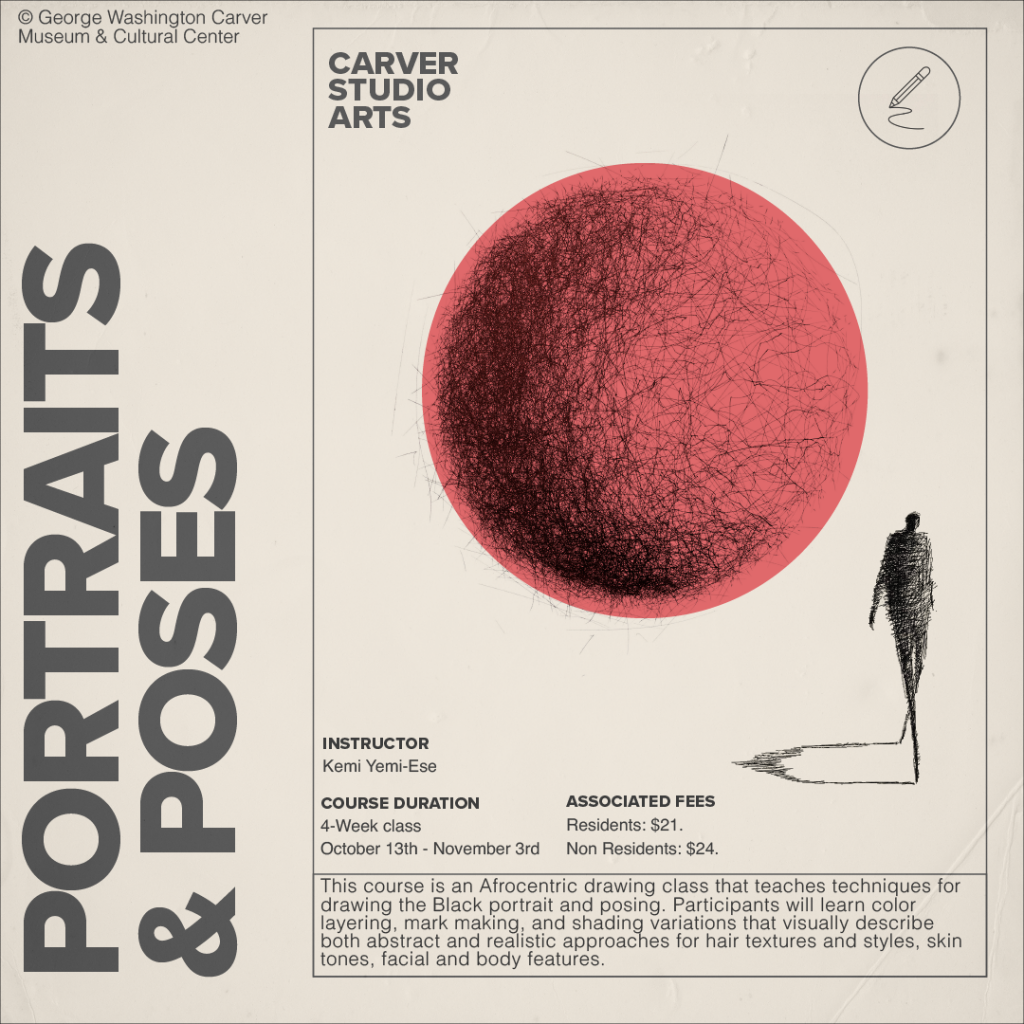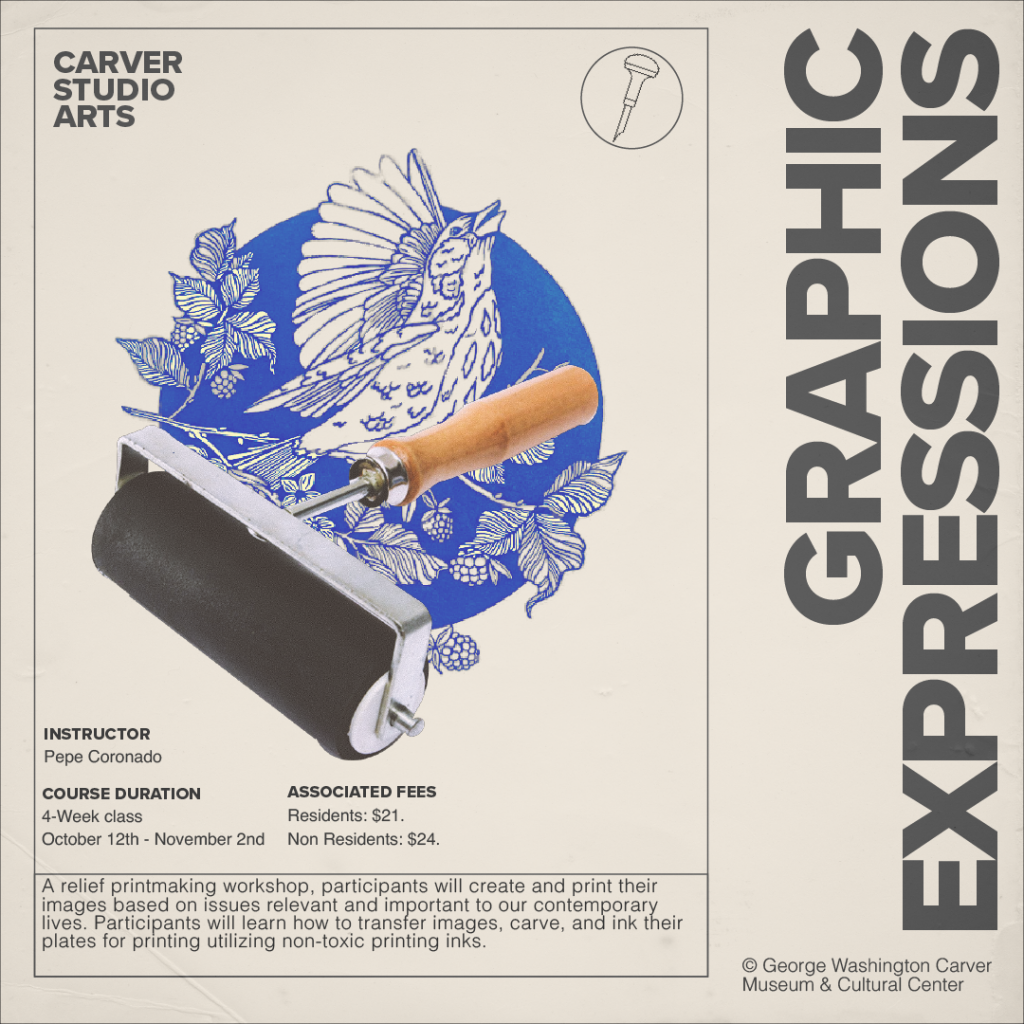 Join us for two different Carver Studio Art classes starting this month, Graphic Expressions and Portraits and Poses. Both classes are virtual and for adults 18+. 
Graphic Expressions is a relief printmaking workshop taught by guest instructor Pepe Coronado. Participants will create and print their images based on issues relevant and important to our contemporary lives. Participants will learn how to transfer images, carve, and ink their plates for printing utilizing non-toxic printing inks. Graphic Expressions will take place Tuesdays, October 12-November 2, 6:30-8:00 PM
Portraits and Poses is an Afrocentric drawing class taught by guest instructor, Kemi Yemi-Ese, that teaches techniques for drawing the Black portrait and posing. Participants will learn color layering, mark-making, and shading variations that visually describe both abstract and realistic approaches for hair textures and styles, skin tones, facial and body features. Portraits and Poses will take place Wednesdays, October 13-November 3, 6:30-8:00 PM 
If you have any questions, email Nicole Parker.
---
Folktales Book Club
Folktales Book Club is meeting October 15 from 6-8 PM. This month's book is The Sweetness of Water: A Novel by Nathan Harris. 

Those interested in joining this Black women's book club discussion can contact Peggy Terry at folktaleslitsociety@hotmail.com for the Zoom link.
---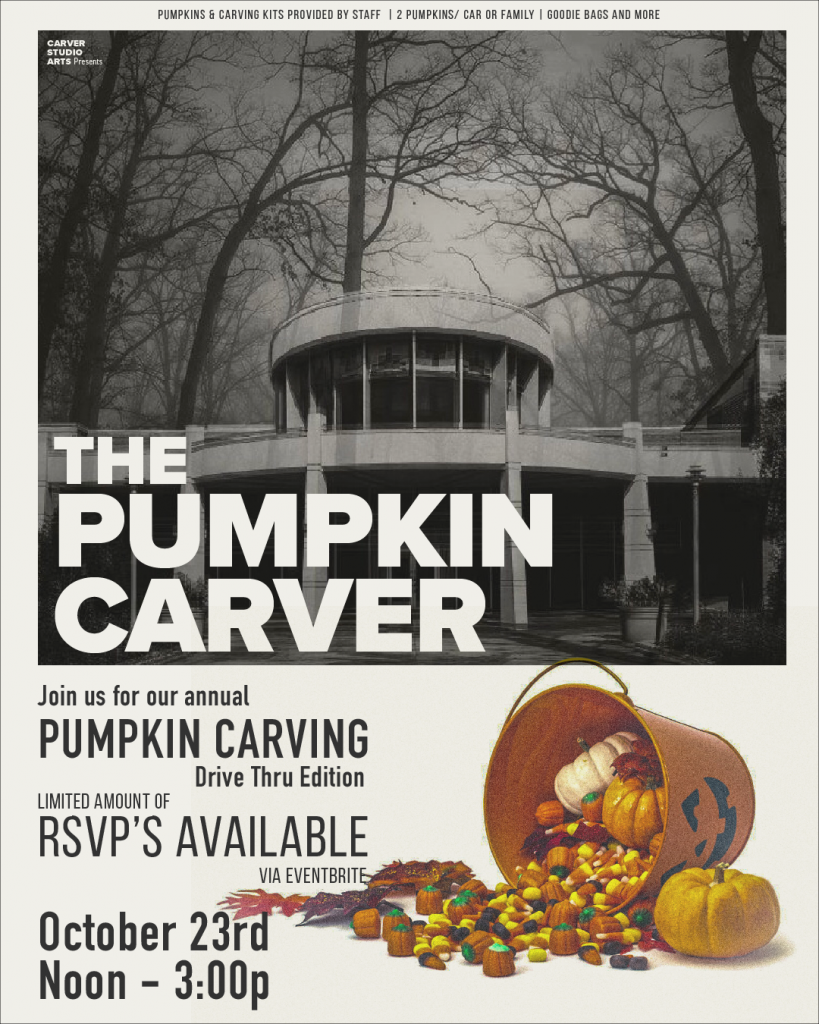 Join CarverMuseumATX for our Annual Pumpkin Carving-Drive Thru Edition on October 23, 12-3 PM. Free pumpkins & carving kits, goodie bags, and food with an outdoor photo area!
One ticket = one car. Each car/family will receive 2 pumpkins. For special requests for additional pumpkins for larger families or groups, call (512) 974-4926. Please reserve your pumpkins/space by Monday, October 18th.
---
 National Youth Summit: Gender Equity
The Carver will be a Resource Hub for the 2021 Smithsonian National Youth Summit on Gender Equity. We will feature zine-making as a tool for communication and civic action, and zine-making templates and curricular resources will be available at the museum! The Carver will also be streaming the live programs from our lobby, make sure you stop by and check it out!
The Summit will take place September 21 through October 12. For more information, click here.
---
September
Folktales Book Club

Folktales Book Club is meeting on September 17 from 6 - 8 PM. This month's book is When Justice Sleeps by Stacey Abrams. 

Those interested in joining this Black women's book club discussion can contact Peggy Terry at folktaleslitsociety@hotmail.com for the Zoom link.

Art Heals Festival 2021

 

The Carver is hosting the Art Heals Festival 2021 on September 26, to honor the City of Austin Proclamation for LGBTQ Suicide Awareness Day, and to recognize Black and Queer people doing amazing work in our city. Visit their site for more information.
Summer Camp
Stay Creative 2021

Stay Creative! Arts and Culture Summer Discovery Program returns again this summer!

Online registration dates: April 19-May16

Program dates: June 7-August 13

Register here.

Parks and Recreation Summer Camp

Austin Parks and Recreation's socially distant summer camp starts on June 21 and goes until August 13!

Registration dates: April 19-May 16

Register here.
Black History Month
Mom, Dad, and Tween Bookclub

Mom, Dad, and Tween Bookclub is back in February! In this book club, tweens can explore people, places, and ideas by reading new books. Join us on February 13 from 10:30am-12pm for a discussion on Stamped: Racism, Antiracism, and You by Jason Reynolds and Ibram X. Kendi.

Contact Yolanda King (facilitator) via email to yolanda@tangledpress.com to RSVP and receive the Zoom link.

That's My Face: The Man in Me

Isaac Rowe's "Man in Me: The Documentary" invites us on a heartfelt journey exploring boyhood and fatherhood, while recounting stories of pain and profound healing. "Man in Me" was the Capital City Black Film Festival's 2020 Official Selection for Documentary Film.  

Join us on February 13 from 1-4pm for a "That's My Face" screening of Man in Me as well as a discussion and Q&A with director Isaac Rowe!

Create & Heal: The Intersection of Art and Justice

Join CarverMuseumATX and Sade Lawson for the next talk in our Create & Heal series! Sade Lawson will discuss The Intersection of Art & Justice on February 18 at 7pm. Sade Lawson is a Texas-raised artist that touches on topics such as the power of feminine energy, confidence, and nature to mental illness and how art can be a way to process the array of emotions that we can experience because of that.

Create & Heal works to help our community process the senseless killing of Black and Brown people in America. We accomplish this by honoring the people we have lost and embracing the restorative and transformative power of art. Each session will be facilitated by Dr. Jacqueline Smith-Francis and open with libations from Iya Nailah I. Akinyémi-Sankofa.

RSVP here.

Folktales' Literary Bookclub

February's selection is "Promised Land" by Barack Obama.  Those interested in joining this Black women's book club discussion can contact Peggy Terry at folktaleslitsociety@gmail.com for zoom link.

BHM Kids Day + HBCU Day

Join CarverMuseumATX for Black History Month Kids Day+HBCU (Historically Black Colleges and Universities) Day on Saturday, February 27 beginning at 11 a.m.   

We will have live zoom sessions with Creative Action featuring Ellison and Bavu Blakes, co-authors of "El's Mirror," a Divine 9 (HBCU sororities and fraternities) Chat and HBCU Reps Presentation as well as a variety of fun, family-friendly activities inspired by this year's BHM Theme-The Black Family: Representation, Identity and Diversity.

You can purchase El's Mirror to read prior to the event here.

RSVP here! We are giving out special prizes/activity packets for first 20 attendees who RSVP.

Learn more about the event here!
Timbuktu Y.O.U. Virtual After-School Program

Digital Kickback

Black to the Future: Book Club
Small Black Museum: a podcast

 

Featuring stories from Black Austinites and contemporary shakers and makers, Small Black Museum is a podcast hosted by CarverMuseumATX. Our first episode, "Legacy, Legacy, Legacy!" features Stephanie Lang, Program Administrator for the Center for Community Engagement at the University of Texas at Austin. You can listen to it on Soundcloud.

Our next segment of Small Black Museum features husband and wife hip-hop duo Riders Against the Storm. We'll be dropping it in late May. Until then, stay curious and elevate your own living archive!

Cultural Aptitude

 

Cultural Aptitude is a conversation and training series designed to provide practical advice around navigating our new normal. Join us at 6pm on May 6 for a conversation with sustainability and self-sufficiency expert Christina Muhammad.

Phone conference info:

Phone number: 408-418-9388 // Access code: 622-275-062