Exhibits
CURRENT ARTIST GALLERY EXHIBIT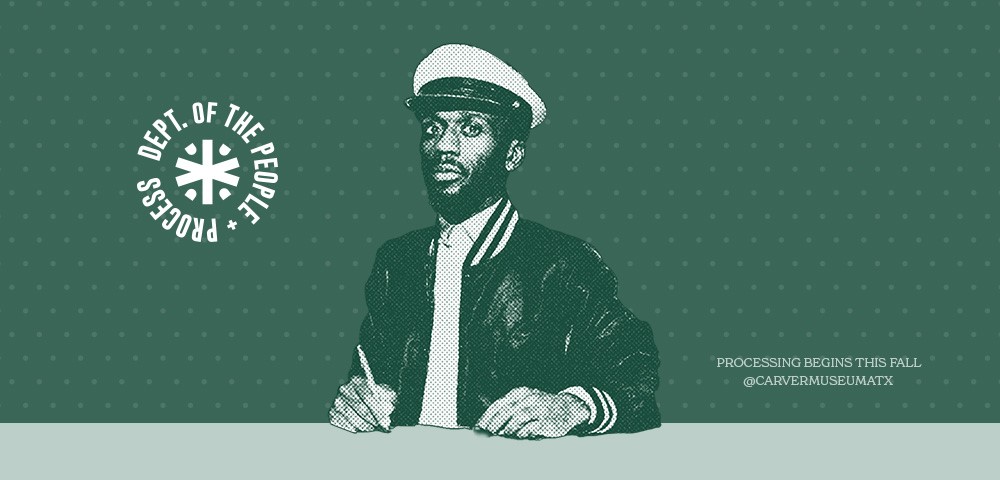 Supervised by multimedia artist Moyo Oyelola, a new branch of the Department of the People Plus Process, under the Division of False Authority, is on view November 3, 2022 - February 25, 2022. 
"What does it mean to register your security, your car, and your life away to a greater authority? We all do it every day. Who does bureaucracy serve and does structure create or crush personal freedom? When does power become an enemy of progress?" questions interdisciplinary and performance-based artist Moyo Oyelola in his upcoming exhibit, The Department of the People + Process. 
History, culture and art exhibits curated to educate and inspire. The Carver Museum has a core exhibit, two rotating art galleries, and four permanent exhibits honoring African-Americans in Austin and beyond.
CORE EXHIBIT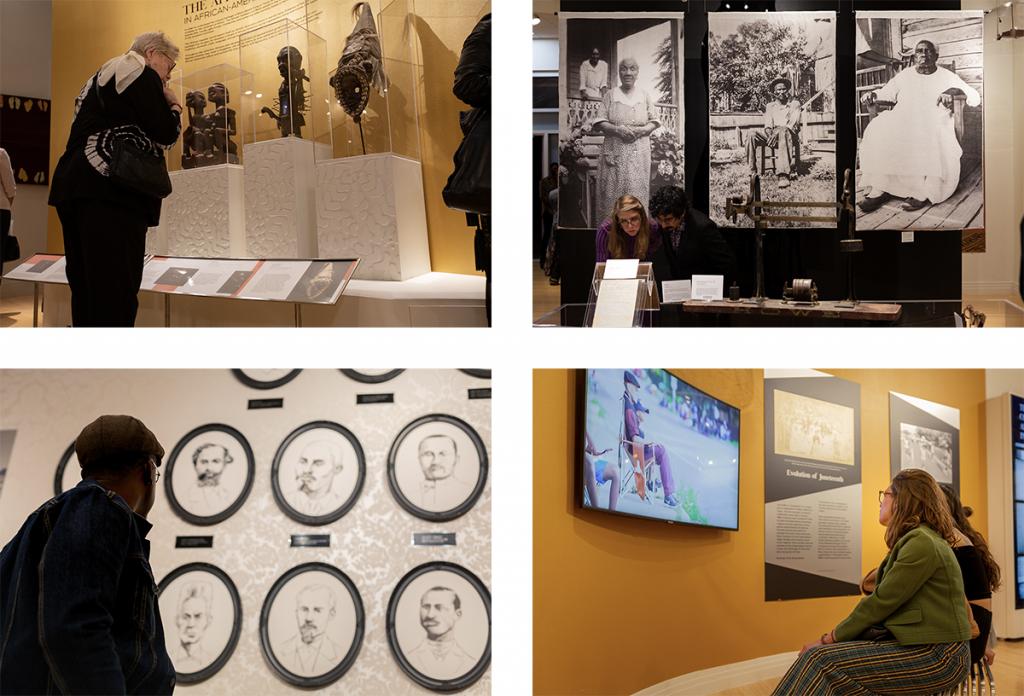 The African-American Presence in 19th Century Texas
The George Washington Carver Museum proudly presents its new core exhibit, The African American Presence in 19th Century Texas.
Presence succeeds the previous exhibit, Juneteenth: a Celebration of Freedom (installed in 2005), and highlights the transition from African civilizations, to bonded servitude, to a precious but ever so fragile freedom in the United States of America.
Presence has five different sections: the African Impulse in African American Culture, Slavery in Texas, African Americans in Texas Politics, Freedmen's Communities of Texas, and Juneteenth.
The exhibit is a dynamic multi-sensory experience for visitors that is structured to grow over time in response to ongoing research. Presence was built to evolve, just as Africans Americans have for generations.
PERMANENT EXHIBITS
Families Gallery

Our permanent exhibit on Austin African-American families highlights 10 families who have contributed greatly to the Central Texas landscape. From the area's first black settlements to some of this generation's strongest community leaders, this interactive gallery explores the history of Austin's African-American community and allows guests to present their own family stories for all to see.

L.C. Anderson High School Exhibit

Old L.C. Anderson High School and her alumnae. Anderson High School was the school that African Americans went to prior to integration in the Austin Community. This exhibit spotlights the prestige and accomplishments of the student body in sports, music, and academia through artifacts, oral histories, and yearbook imagery.

Freedom Plaza

Freedom Plaza is home to the Juneteenth Memorial Sculpture Monument, which opened to the public on June 27, 2015.  It is made up of five bronze figures that represent the story of Juneteenth and a paved timeline of the Black Presence in the Americas—from the Middle Passage to the Emancipation Proclamation that leads to the Bell of Freedom. The Juneteenth Sculptures were created by Eddie Dixon and Austin native, Adrienne Rison Isom.

Children's Gallery

The Children's Gallery, entitled Let's Pretend Dr. Carver!, is a hands-on look at famous African-American scientists and inventors. Children can  learn about some of history's most creative minds while seeing that they, too, can achieve great things when they put their own minds to work. We invite all visitors to become an inventor for a day!
---
 

PAST EXHIBITS
Small Black Museum Residency Volume I

featuring Temi Olujobi, Hypatia Sorunke, and Adrian Armstrong

This exhibition is a culmination of the Museum's first artist residency. Learn more about the inaugural cohort below:  

Temitope Olujobi: Nigerian-American Architect turned Game Designer originally from the suburbs of Baltimore, Maryland. They began their indulgence into all things 3D and digital art in the Second Life modification community making freakishly delightful virtual dwellings for some very eccentric gamers. Their desire to visualize the endless possibilities of future worlds has informed much of the digital artwork they have crafted in their career.

Hypatia Sorunke: Writer and visual storyteller whose work explores the links between culture, humanity, and power. Through portraiture, sound design, and video they reveal the many connections between nature and identity. This body of work creates space for deep reflection and hope. In a time where there are national conversations around land sovereignty, statehood, and citizenship—Sorunke creates space for their unique experience in America's evolving landscape.

Adrian Armstrong: Musician, painter, printmaker, and mixed-media artist from Omaha, Nebraska. Now based in Austin, Adrian's work explores Black identities and the perception of Black bodies in predominantly White American spaces. Some of the themes explored in Armstrong's work include mental health, systematic oppression, and erasure, nostalgia, and personal development. 

Special Consideration: Lise Ragbir, Dr. Eddie Chambers, Dawn Okoro, Studio Dzo, Dr. Awa Jhanga, Kahron Spearman, Kendyll Gross, Riley Reed, Dr. Moyo Okediji, Kaila Shedeen, Andrea Mellard, Shani Hebert, Eto Otitigbe, and Alissa McCain.

Perseverance: Works Inspired by the Word by Graylin Anderson

photo by Moyo Oyelola

Perserverance: Works Inspired by the Word

by Graylin Anderson

Featuring figurative works on paper and wood, Perseverance explores historical narratives of spirituality and resistance.

New Orleans-born Graylin Anderson began producing art in the late 1980s while serving in various branches of the United States Armed Forces. Before moving to Austin, Texas in 2002, Anderson's work was exhibited in art galleries and museums in Georgia, including the Savannah Art Association Gallery and the Ralph Mark Gilbert Civil Rights Museum. In recent years, Anderson's works have been exhibited in Austin's Black owned art spaces like Mitchie's Gallery, founded by the late community leader Joyce Adejumo.

Majele (Venomous) by Olaniyi Rasheed Akindiya (AKIRASH)

photo by Moyo Oyelola

Majele (Venomous)

by AKIRASH

Impacted by the forced separation of children from their parents at the U.S. Mexico border, Majele (Venomous) asks us to reckon with this dark moment in time. How can we heal the wounds, drain the venom, and live together in mutual respect and dignity?

AKIRASH is the recipient of numerous awards, grants, and fellowships including the Innovative Artist Award from the Mid America Artist Alliance (MAAA / NEA), Pollock Krasner Foundation Award, Santo Foundation, and Commonwealth Connection Award UK.
Grooves from the Deep and the space math of George Clinton

We were honored to exhibit the work of funk icon, extraterrestrial, and Afrofuturist, George Clinton at the Carver Museum ATX.

Through mixed-media paintings, Clinton teleports viewers to the inner-outer spaces of his imagination. Cameos of the mothership, the atomic dog, and other popular funk iconography emerge through cosmic equations. Inspired by the things we cannot yet see or imagine from the vantage point of earth, Clinton explores the nature of humanity, non-linear space-time, and unmappability.

Drawing inspiration from his music, and the funk that moves through it, Clinton creates cosmic cheat codes, maps, and portals for those interested in freeing their minds. As both artist and alchemist, his work lives between the bizarre and whimsical .

Clinton, known primarily for his music, cited Motown's assembly line of sound as his inspiration. He gradually put together a collective of over 50 musicians and recorded these ensembles during the '70s both as Parliament and Funkadelic. As a result of this synergistic approach to making music, Clinton and the Parliament/Funkadelic are some of the most widely sampled musicians in the world.

Clinton's distinguished career as a producer, writer, performer, and visual artist have stemmed from his relentless dedication to funk as an art form unto itself. His music is rooted in the traditions of New Orleans and Blues of the Deep South. Clinton took Funk to new heights. Blending elements of Jazz, Rock, Pop, Classical and Gospel into his productions, he developed an easily identifiable style affectionately called 'P-Funk.' Today, Clinton continues to evolve his creative expression, delving into the realm of visual art and expanding the horizons of his artistry.

Jamel

Shabazz

: Peace to the Queen

Carver Museum Presents the First Career Retrospective of iconic photographer Jamel Shabazz: Peace to the Queen. 

Legendary photographer, humanitarian, and educator Jamel Shabazz presents his first career retrospective, Peace to the Queen at the Carver Museum. The exhibit spans four decades of work by the artist and features portraits of women of color that are candid, artful, and often intimate. At a moment when Black and Brown women are more visibly leading the charge around movements for racial and economic justice—Peace to the Queen has materialized and aligned at a critical moment in American history and Jamel Shabazz's resurgent career.

Peace to the Queen signals a major turning point for the City of Austin-operated Carver Museum that has emerged as a formidable Black Arts institution in the Southwest region. Doctoral candidate at the University of Texas at Austin, Ja'nell Ajani is the lead curator of this groundbreaking collection of work by Jamel Shabazz. She is an alumna of Spelman College and has earned graduate degrees in African Studies and Studio Art/Photography from New York University.

Brooklyn native, Jamel Shabazz (b.1960) picked up his first camera at the age of 15 and began to document his peers. Inspired by photographers Leonard Freed, James Van Der Zee, Gordon Parks, and their compelling documentation of Black culture— he sought to build on the legacy of their work. Using the public spaces of New York City as his backdrop, Shabazz embarked on a journey to document and affirm the dignity of communities devastated by Reaganomics, the War on Drugs, and the continued criminalization of poor people. From this work, a hallmark style emerged along with some of his most iconic photographs.

Today, Jamel Shabazz's work extends far beyond the public streets, parks, and subways of New York City and includes a robust portfolio of commercial, fashion, documentary, and fine art photography that has been exhibited around the world.