What is Oak Wilt?
Oak wilt is a fungal tree disease that spreads rapidly and can kill oak trees.
The City provides resources and support your neighborhood can use to monitor oak wilt infections in your area, and to develop projects that increase the resilience of your tree canopy.
 

Learn the Signs of Oak Wilt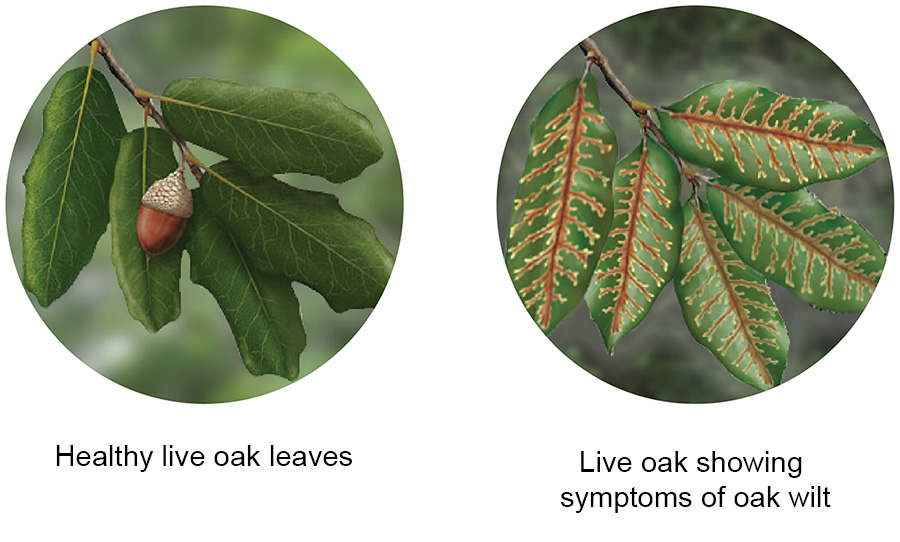 Are My Trees at Risk?
Any oak tree can get infected with oak wilt, and it can be difficult to prevent even when you take good care of your trees. In Austin, live oak is the most frequently infected tree.
Will My Trees Die?
When neighbors know about oak wilt and work together, they can save trees. While the oak wilt fungus will still spread through root systems even when trees are treated, a carefully timed fungicide injection can save oak trees.
Do I Have Oak Trees?
The following resources can help you identify what type of tree you have.
How Can We Control Oak Wilt?
Connect with Neighbors
Since oak wilt does not stop at property lines, and still spreads through the roots systems of treated trees it is best controlled when neighbors work together and share information about the location of infected trees and their treatment history. If you would like a presentation about oak wilt at neighborhood meeting that can help facilitate this conversation, please email a request to Keith Babberney.
Paint When You Prune
Most trees need pruning to achieve good form, but each cut is an opportunity for insects and disease to enter the tree. So, consider every cut carefully. Although you can prune at any time of year, the best time to prune oaks is July through January. That's when fungal spores are least likely to infect a tree. Always paint pruning cuts on oak trees. Any type of paint can mask the smell of a fresh wound from the beetle that can carry oak wilt spores.
Contact a Qualified Arborist
A Qualified Arborist can diagnose tree problems and provide treatment recommendations.
Is Oak Wilt in Your Neighborhood?
Additional Resources
Oak Wilt 101 – Nature in the City Blog
The Role of Red Oaks in the Oak Wilt Cycle – Nature in the City Blog
Learn more about oak wilt at TexasOakWilt.org