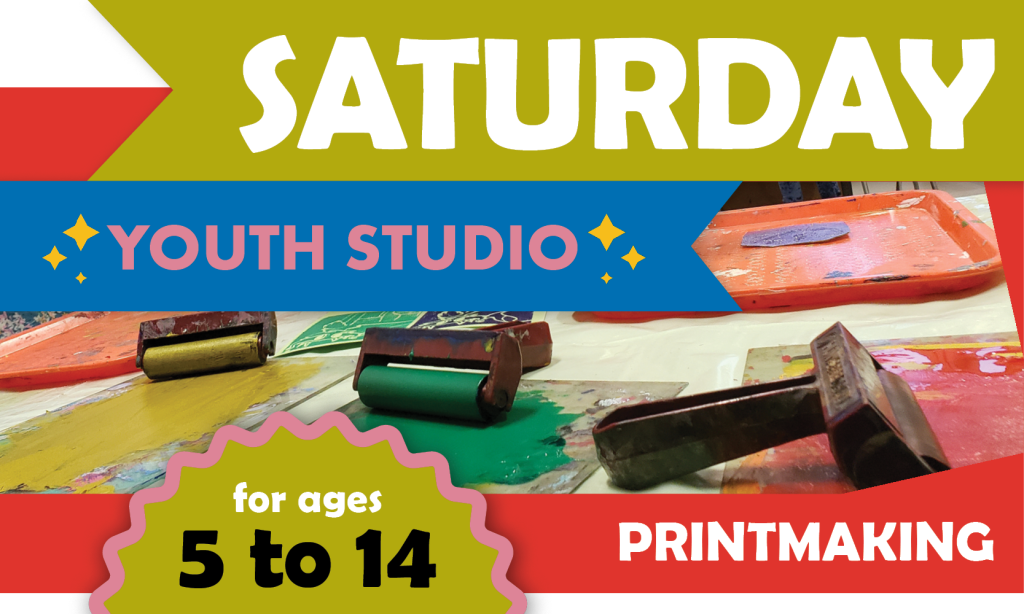 Saturday Youth Studio
The Dougherty Arts Center's Saturday Youth Studio helps provide young artists with experiences in various art mediums that they might not receive in conventional arts education. Each session will feature different projects so students can repeat classes month to month.
Youth Printmaking
Burnish with a baren. Roll ink with a brayer. Make marks with stamps. Crank a print through a tabletop press. Experiment with texture, color, repetition, and other elements and principles of art and design. Incorporate found objects, collage techniques, or drawing skills to compose work. Students will learn about and explore various printmaking processes to make their own unique or serialized art prints on paper or other substrates. Materials included.
Fee per 4-Class Session: $45 (Resident) / $55 (Non-Resident)
Printmaking Class Schedule

| Age | Class Time |
| --- | --- |
| 5 to 7 years | 1:00pm to 2:15pm |
| 8 to 10 years | 10:00am to 11:15am |
| 11 to 14 years | 11:30am to 12:45pm |
Session Dates
Spring 2023 Session Dates
Session
Day
Dates
February
Saturday

2/04/2023
2/11/2023
2/18/2023
2/25/2023

April
Satuday

4/08/2023
4/15/2023
4/22/2023
4/29/2023

May
Saturday

5/06/2023
5/13/2023
5/20/2023
5/27/2023
Online Registration
Registration opens Wednesday, January 18, 2023!
10am for City of Austin Residents
1pm for Non-Residents
---
Registration
Have Further Questions? Need Additional Assistance?
Program Forms & Documents
For more information and required materials to register for and attend City of Austin Parks and Recreation Department programs, click the image link below for the Centralized Program Documents website:

Other Program Forms:
Youth Class Request Form - For a student to be placed in a different camp or class than he/she is assigned; otherwise, students are placed in camps and classes according to their age by birth date
Youth Friend Request Form - For students who wish to be placed in the same camp or class together; only one request per student is permitted, subject to approval by program administration
Financial Aid
Click the image link below to visit the Parks and Recreation Department's Financial Aid website:

Inclusion Services
The City of Austin is committed to compliance with the Americans with Disabilities Act. Reasonable modifications and equal access to communications will be provided upon request.
If you or your student require assistance for participation in our programs or use of our facilities, please contact the Inclusion Unit at:
For more information, visit the Inclusion Unit website.