Community groups and event organizers use Street Banners as a cost-effective, high-impact, place-based tool for engaging the public, promoting events, raising awareness and communicating key messages.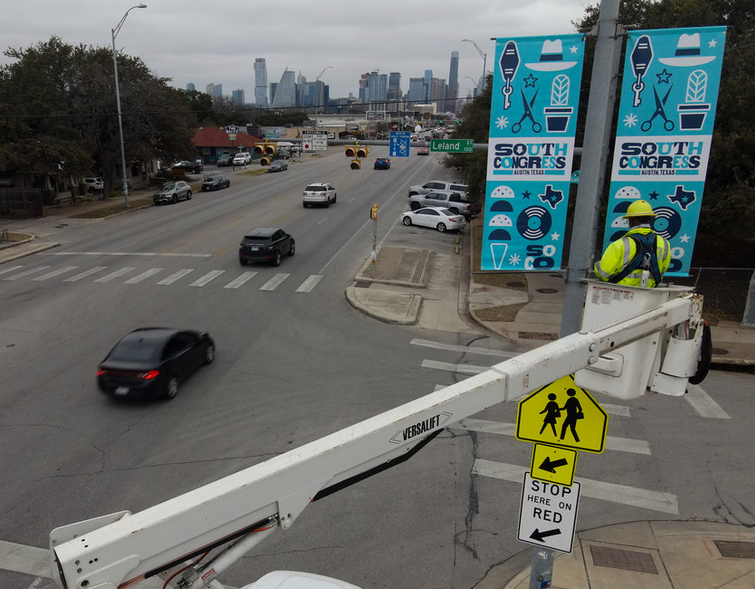 Eligibility
Event organizers, nonprofit groups, public and governmental agencies, and public information campaigns may display Street Banners on City lampposts to promote charitable, educational, arts, community, and public interest activities and events. City code prohibits the use of banners for commercial advertising or political campaigns.
Street Banner Types
Lamppost Banners: Vertical banners are installed on streetlight lampposts, in defined districts Downtown and around Austin. Lamppost banners make a big visual impact, creating a buzz around Downtown and in business districts where thousands of people see them each day.
Over-the-Street Banners: Over-the-street banners reach thousands of people daily on high-visibility roadways. They offer an affordable way for nonprofits to raise awareness for their mission, get people out to events, and raise funds for charitable causes.
Fees
We enjoy working with customers to create banner installations that meet their budgets. Don't hesitate to contact us to discuss your needs.
The City fee covers the necessary permit, staff services for consultations and reservations, and the installation and take-down services for your banners for a 2-week installation period. Customers provide the banners.
Lamppost Banner: $200/pole week 1, $100/pole week 2+
Over-the-Street Banner: $600/location per two-week period
Need help with costs? Pursue a banner sponsor.
Questions
Contact us at ATXStreetBanners@austintexas.gov or (512) 974-9395.
FAQS
Check out the FAQs to see if your question is answered (scroll to the bottom).
Mission
The Street Banner Program provides a service to community nonprofits, arts and cultural groups, and other organizations that need an effective tool to promote events and public information of interest and benefit to Austinites and visitors. Street banners enhance the streetscapes of Austin, by adding a vibrant element that enlivens key corridors and the mobility experience for pedestrians, cyclists, transit users, and drivers. For Downtown and key districts, centers, and corridors, street banners strengthen a sense of place and district identity.