The City of Austin requires multifamily property owners or managers with five or more units to ensure that their residents and employees have convenient access to recycling. Multifamily properties include apartments, condominiums, dormitories, assisted living facilities and nursing homes.
Who is responsible?
The property owner and manager are responsible for meeting the City's recycling requirements. Typically, the person who oversees the contract for landfill trash and recycling submits the recycling plan.
What do I need to do?
1. Submit a recycling plan
You must submit a recycling plan every year starting October 1. This plan is a report of how the property meets all of the recycling requirements below. You will need these items to fill out your recycling plan:
An invoice or contract receipt from your licensed hauler(s) with:

The size, number and location of your outdoor landfill trash and recycling dumpsters or carts.
How often your landfill and recycling dumpsters or carts are picked up

Your property ID from your previous records or a letter/email from Austin Resource Recovery.
Information about how and when you educate your residents and employees on your recycling program.

2. Offer recycling
Multifamily properties are required to provide sufficient recycling capacity to their residents and employees:
Provide single-stream recycling, which allows these five materials to be put into one container: paper, cardboard, metal, glass and hard plastics.
Provide equal capacity for recycling and landfill trash; or provide 24 gallons of recycling capacity, per unit, per week.

Use the capacity calculator to determine if you meet the requirement.
Preventing landfill trash by reusing, repurposing or donating items could also help you meet this requirement.

You must provide enough recycling capacity to avoid overflow at convenient locations for residents and employees.
3. Provide convenient access
All outdoor recycling dumpsters and carts must be 25 feet or less from all landfill trash dumpsters and carts.

If needed, contact your licensed hauler to move the dumpsters at your property.

If you provide indoor landfill trash and recycling collection service, you are required to group them together and label them in at least two languages.

4. Post signs 
Recycling dumpsters and carts must feature the chasing arrows recycling symbol.
All outdoor dumpsters, carts and collection points must:

Be labeled with the type of waste stream.
List of which materials are accepted in the container.
Be written in both English and Spanish.

Post indoor signs in common areas on your property.
5. Educate residents and employees
Provide education to residents and employees that:
Shows what materials are accepted in landfill, recycling and/or organics containers;
Shows where all landfill, recycling and/or organics containers are located;
Is provided in print or electronically and written in 2 languages;
Is provided within 30 days of hire or move-in, each year and when there are program changes; and
Document when you provide education to your employees and residents.
To meet this requirement:
---
Check out our multifamily recycling video playlist to learn more: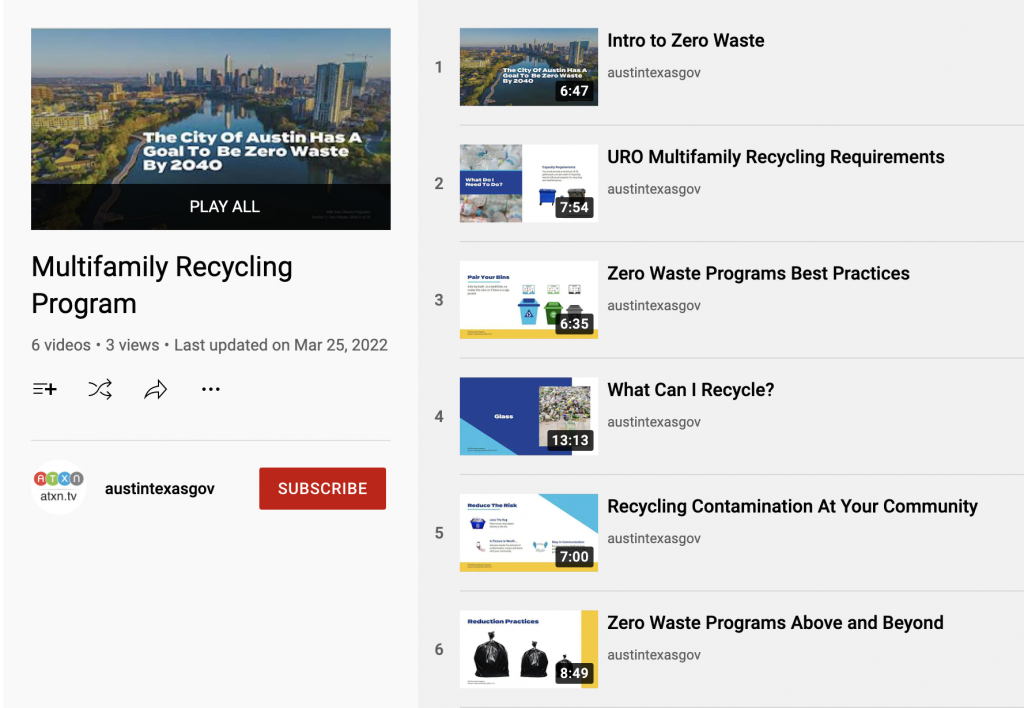 ---
What if I have a food permit through the City of Austin?
If you have a food permit, you are also required to fill out an organics plan.  
---
The Universal Recycling Ordinance (URO) supports Austin's zero waste goal. The goal of the ordinance is to increase the life of local landfills, reduce harmful environmental impacts and encourage economic development.
Violations of the Universal Recycling Ordinance (Austin City Code Chapter 15-6) are a Class C misdemeanor, punishable by fines up to $2,000 per day, per offense.