You have local knowledge about the best ways to walk, bike, or roll within your community. With your insight, we can better plan for the future of Austin's sidewalks, urban trails, and bikeways.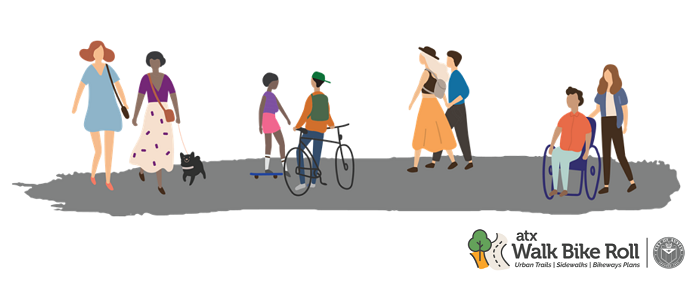 What's Happening Now
We are currently reviewing feedback received on the Public Input Map. All public input will be evaluated to develop and improve plans for urban trails, bikeways, and sidewalks – including improved street crossings.
Past Public Outreach
ATX Walk Bike Roll Survey: 4,411 people gave input on a survey that was open from August 10 - September 26. View the ATX Walk Bike Roll Survey Summary. 
Community Ambassador Program: learn what insights our community ambassadors gained from August – December 2021 in the ATX Walk Bike Roll Community Ambassador Phase 1 Report.
ATX Walk Bike Roll Public Input Map: An online mapping tool was open from January 18 - March 7, 2022. The map asked residents to pinpoint where they'd like to see improvements to Austin's walking and biking routes. We're currently reviewing this feedback.
Review Past Meetings and Materials
Other Ways to Get Involved
Sign up for the ATX Walk Bike Roll newsletter to receive updates and learn about opportunities to get involved. 
If you have any suggestions or would like to share information about how we can participate in your organization or community meeting, we'd love to hear from you. Please email us at: spuente@cultural-strategies.com
Together we can find ways to increase travel choices in Austin.