You have local knowledge about the best ways to walk, bike, or roll within your community. With your insight, we can better plan for the future of Austin's sidewalks, urban trails, and bikeways.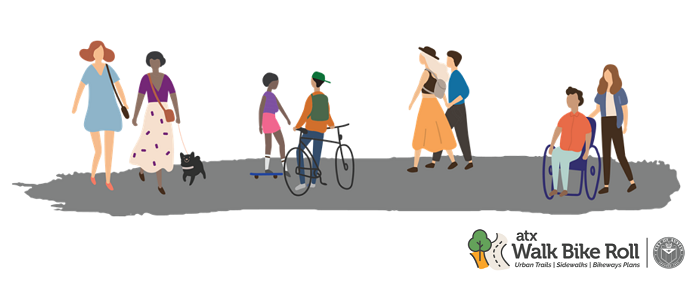 What's Happening Now
Visit ATX Walk Bike Roll: Choosing Our Path Virtual Open House to 

Help Determine the Future of City's Pedestrian and Bicycle Routes
ATX Walk Bike Roll is at a key moment and making major decisions about how the City should move forward in planning for the future of Austin's mobility, and needs residents to help decide on this future!
Visit ATX Walk Bike Roll: Choosing Our Path virtual open house to:
View three ways urban trails and bikeways could be built in the future. Help us decide what types of connections we should prioritize in order to have the greatest positive impact for people walking, biking, or rolling.

Learn about

Shared Streets

,

 a way to build safer places to walk in less time and at a lower cost than sidewalks. Tell us if you want to see more Shared Streets in Austin.

Rate how important pedestrian street crossings are at select locations to help us determine where to build first.
Give feedback on transportation policy questions, which focus on equitable ideas that could make getting around more affordable for residents
After you view the virtual open house, visit our online survey in English or Spanish and give feedback by October 23.
Meet Our Team in Person
We will be tabling at the following locations and would love to chat with you!
Sat. Sept. 17th, 2022 from 6 to 10:00 p.m.: "15th Annual Viva Mexico Celebration" at Emma S. Barrientos Mexican American Cultural Center
Sat. Sept. 24th, 2022 from 11 to 3 p.m.: "North ATX Good Neighbor Fest" at 601 W Braker Lane 
Tues. Oct. 4th, 2022 from 6:30 to 8 p.m. Colony Park "National Night Out" at Turner Roberts Rec. Center, 7201 Colony Loop Drive 
Sat. Oct. 22, 2022 from 9:30 a.m. to 3 p.m. "Hopefest 2022" at Northeast Early College High School,

7104 Berkman Drive
Past Public Outreach
Review Past Meetings and Materials
Other Ways to Get Involved
Sign up for the ATX Walk Bike Roll newsletter to receive updates and learn about opportunities to get involved. 
If you have any suggestions or would like to share information about how we can participate in your organization or community meeting, we'd love to hear from you. Please email us at: spuente@cultural-strategies.com
Together we can find ways to increase travel choices in Austin.