Oh My Gourd: Creepy Zero Waste Décor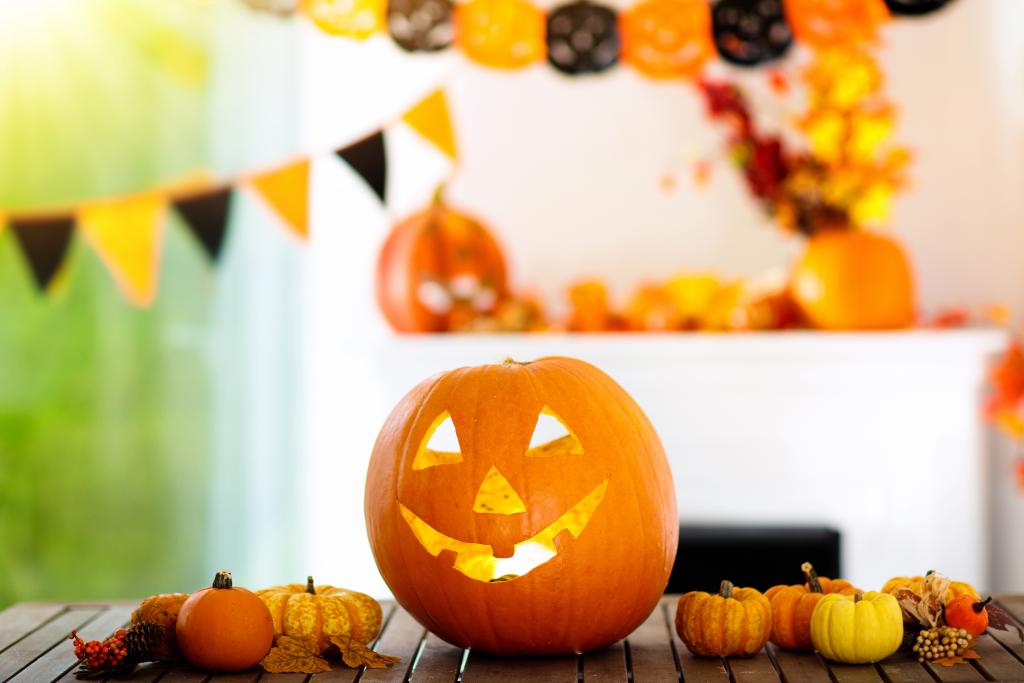 By: Keri Greenwalt
Many people love Halloween, and getting festive can add to the fun, but it doesn't need to add to the landfill, or subtract from your wallet. There are ways to spook up your space without creating waste, or unnecessary spending. Here are some ideas to help you decorate with natural items, rather than synthetic ones. Many of these items can even be left up right through Thanksgiving:
Pumpkins and gourds
Pumpkins and gourds are always a good choice for Fall decor. Carve jack-o-lanterns or simply leave them in tact and use them to jazz up your home, both inside and outdoors. Small groups of tiny pumpkins and gourds look great on both a mantle and a doorstep.
If you decide to carve some spooky designs, don't toss the insides. Use the pumpkin to make a tasty pie or other pumpkin spice dessert. Clean the seeds, add seasoning and bake for a savory zero waste snack.
Do your carving on top of a few sheets of newspaper for easy cleanup. Simply roll the whole thing up and toss it in your green composting cart when you're done.
When you no longer need the pumpkins and gourds you can simply compost them in your green cart. If they're not moldy, and you keep chickens, they would love it. Pumpkins are a healthy source of vitamins, minerals, protein and calcium for chickens and they go crazy over them. Just break the pumpkin in half so the chickens can get in there. The National Wildlife Federation also has some additional tips on how to feed pumpkins to animals, if you are in search of more ideas.
Hay bales and corn stalks
Use other natural decorations like hay bales or dried corn stalks to add some flare to your space. These items can instantly spruce up your home for Halloween and Thanksgiving, alike.
Use hay to stuff a hat and some old clothes to craft a scarecrow.
When you're done, hay and corn stalks can be donated to a farm as snacks and bedding for horses, chickens or other animals. Use hay as mulch in a garden. You can also compost these items in your green cart. Just be sure everything fits in the cart with the lid closed. Old clothing can be donated or recycled through the City's Clothing and Housewares Curbside Collection Program.
Dried leaves and sticks
A bundle of thin sticks can double as a witch's broom. You can also use dried leaves as decorations. Scatter them with pumpkins and gourds on your mantle or select a few pretty ones to add to your table's centerpiece.
Leaves can actually be good for your lawn, too. When you are done, simply place the leaves back on your lawn and mulch them with your lawnmower as you mow the lawn. Remember not to rake or blow leaves or grass into the streets. This is prohibited by City ordinance. Instead, if you choose to remove them, place leaves in your green composting cart or in lawn and leaf bags and set out with your weekly curbside composting collection.
---

Use stuff you already have
Take items you already have and give them a new life as spooky décor.
Repurpose sheets and old T-shirts to create ghosts.
Black nylons and wire hangers can be crafted into spooky bats.
Use construction paper or other paper to cut out the shapes of bats, pumpkins and ghouls to decorate the inside of your home. Recycle them when you're done.
A simple Internet search will turn up a whole slew of kids' craft ideas you can complete with empty toilet paper rolls. Make the creepiest Frankenstein, bats, ghosts witches and goblins.
Use any shipping boxes that were delivered to your door to create creepy tombstones, pumpkins and witches. Just cut them into shapes and add paint or marker. Recycle them when your festivities are over.
Forgo the plastic pumpkin bucket and repurpose a pillowcase as a trick-or-treating bag. You can even decorate it with fabric paints or permanent markers to make it go with your costume.