What's the Royal Buzz about Pollinators?
Summary: Austin needs more pollinators and you can help by taking the pollinator challenge and planting pollinator treats!
Here's the Buzz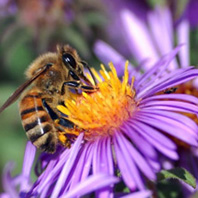 Pollinators are crucial to the production of fruits and seeds for many plants, both wild and cultivated - from apples to beans, cantaloupes to olives, plums to pumpkins, cotton to sunflowers. In the U.S., we owe an estimated $30 billion worth of products per year to the services that pollinators provide.
North America has pollinators ranging from bees, hummingbirds, butterflies, moths, beetles, flies, and even nectar-feeding bats. All depend on good habitat: food, water, cover, and space. However, pollinators are increasingly at risk from habitat loss, pesticides, and disease. In just the last 10 to 20 years, we have seen drastic population declines of honey bees, native bees, and many butterflies such as the monarch butterfly.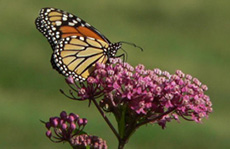 Conservationists are rallying around the monarchs as a flagship species to represent the needs of healthy pollinators. The autumn generation of North American monarchs consists of true long-distance migrants, travelling from the upper Midwest up to 3000 miles down through Central Texas to reach their wintering grounds in Mexico. A new generation migrates back through Central Texas in spring on their way back north. Monarchs depend on milkweed plants during their caterpillar stage, and a wide variety of nectar-rich flowers as adults.
Austin Responds
The White House released a Presidential Memorandum on June 20, 2014, establishing a Pollinator Health Task Force. One of the Task Force's goals is to increase and improve pollinator habitat. Austin's City Council passed a resolution May 19, 2015, to incorporate native milkweed into city-owned properties, preserve lands, parks, and open spaces.
In response to City council's milkweed resolution, the Watershed Protection Department (WPD) has begun including milkweed seeds in green stormwater infrastructure such as rain gardens and in seed mixes used in Grow Zones. WPD's Grow Zone program removes mowing in areas along creeks. Native grass and wildflower seeds are added to improve the diversity and ecological function of these areas, which enhances habitat for pollinators.
Austin Water's Wildland Conservation Division protects over 40,000 acres of native landscapes where pollinators thrive. Wildlands are actively managed with prescribed fire to restore thousands of acres of native grassland. This work also increases wildflower diversity critical for monarchs and other pollinators such as native bees. Native plants, including several species of milkweed, are abundant on Wildlands and efforts are underway to collect some seed of these native milkweeds so that populations can be established on other City lands.
Austin's Parks and Recreation Department (PARD) manages over 19,000 acres of developed and undeveloped parkland, including 260 parks, 22 preserves, and 39 greenbelts. Developed parkland is regularly maintained and mowed for recreational use, though undeveloped parkland is especially suitable for pollinator habitat. PARD staff has been discussing reducing or adjusting the existing mowing schedule in some areas to better accommodate the milkweed seed window to allow for volunteer seed collection. PARD's Wildlife Austin program has facilitated two trainings with a Monarch Watch conservation specialist for PARD mowing staff and nonprofit partners to learn to identify milkweed.
Milkweed and pollinator gardens are open to visitors at PARD's Austin Nature and Science Center and at Zilker Botanical Gardens, especially the popular Butterfly Garden and Trail.  Zilker will be hosting the annual Monarch Appreciation Day on Saturday, September 12, 2015, from 10am to 4pm.
Take Action
Here are a few more resources to get you started.
http://monarchjointventure.org/images/uploads/documents/MilkweedFactSheetFINAL.pdf
http://www.pollinator.org/PDFs/NAPPC.Monarch.broch.ver8.pdf
http://zilkergarden.org/about/events/MonarchDay/index.html