May 22, 2018 - 04:00 pm CDT
Take a moment to read the headline of this New York Times article then participate in the poll below.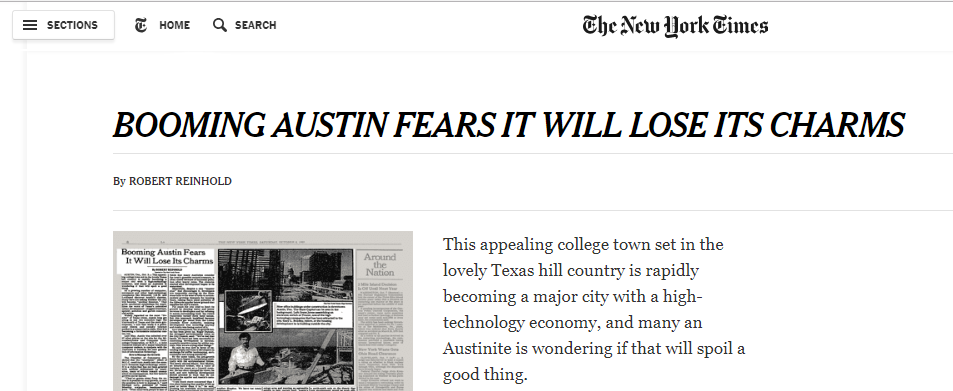 click "see previous responses" to view what other people are guessing
---
If you guessed a date less than 30 years ago, you wouldn't be the only one. The New York Times article entitled "Booming Austin Fears It Will Lose Its Charms" was published on October 8, 1983. This article is eerily relevant today and telling of Austinites' long-standing love and protectiveness of our city. It also points out how our conversations about growth are starting to sound like a broken record.
Highlights from this blast from the past include:



- fears that Austin will become another Houston meaning unbridled urban development, clogged freeways, sprawl, pollution, and garish commercial strips





- Austin being widely regarded as the most livable of Texas cities





- a desire for a long-range road map to see beyond the weekly battles over zoning and development that consume the City Council





- discussion of how the city's previous attempt to limit growth backfired by occurring nevertheless and in ways that Austin couldn't control





- references to being a town with a conscience and Austin's granola army





- calls to embrace growth, manage it, and benefit from it





- reminders that low density equates to high cost





- former Councilmember John Treviño's warning against building an elitist community and excluding certain communities' ability to live in the city
If like us, you find yourself experiencing a bit of déjà vu, you would agree that many of the article's major points still resonate in today's Austin. Austinites today certainly are concerned about increasing unaffordability and commute times. We are worried about damaging our natural resources and losing the character of our historic neighborhoods. Longtime residents mourn the loss Austin's weirdness. Nevertheless, Austin has managed to hang on to enough of its charms over the past three decades to nearly triple our population1. Austin is frequently cited as one of the best places to live, not only in Texas, but in the country. We are praised for our strong job market, outdoor recreation, startup scene, retiree-friendliness, you name it! As long-time Austinites tend to focus on their perception of what we lose as we gain newcomers, our newest neighbors flock to this city full of hope and excitement for the opportunities Austin holds for them. They see a city booming with creativity, innovation, prosperity, live music, small businesses, and alluring natural beauty.
| | |
| --- | --- |
| We face many of the same questions that were posed in 1983, but we have the ability to step out of the time loop we appear to be in. For one, we now have a "long-range road map" for Austin. The Imagine Austin Comprehensive Plan, adopted unanimously by Austin City Council in 2012 and created with input from thousands of Austinites, established a community vision for the city for the next 30 years and lays out a framework to help us realize it. Imagine Austin outlines a way to embrace and manage growth so that we can grow gracefully and retain the things that we love about our city. It points us towards becoming a city of complete communities, where the necessities of life are affordable and accessible to all. | |
Over the next few months, we will be sharing a series of related blogs touching on the subject of Austin's growth and planning. These hopefully will serve to spark conversations and encourage deeper thought around Austin's past, present, and future. For now, we would like to leave you with some discussion questions for you, your friends, family, neighbors, classmates, co-workers, community members, and others:



- What are Austin's charms?





- Which issues in 

the article

 are still prevalent in Austin today? Why?





- What challenges are new in Austin today that didn't affect us in 1983?





- What makes a city "livable" to you?





- What could we gain as a city when we grow? What could we lose as we grow?





- Is it possible to limit growth in Austin? Should we try to limit growth in Austin? What are some potential consequences we may face?





- What are things you wouldn't trade about Austin for anything? What are some tradeoffs that you consider in order to experience a better Austin?
All Blog Posts
May 12, 2014 - 10:51 am CDT
There is not one simple answer to the Housing + Transit equation. A rewrite of the guidelines to the Federal Transit Administration New Starts program favors comprehensive solutions. Previous…
Apr 17, 2014 - 01:12 pm CDT
Creating a vision today will help ensure that private and public redevelopment over the next twenty (or more!) years will transform the South Central Waterfront to increase walkable connections…