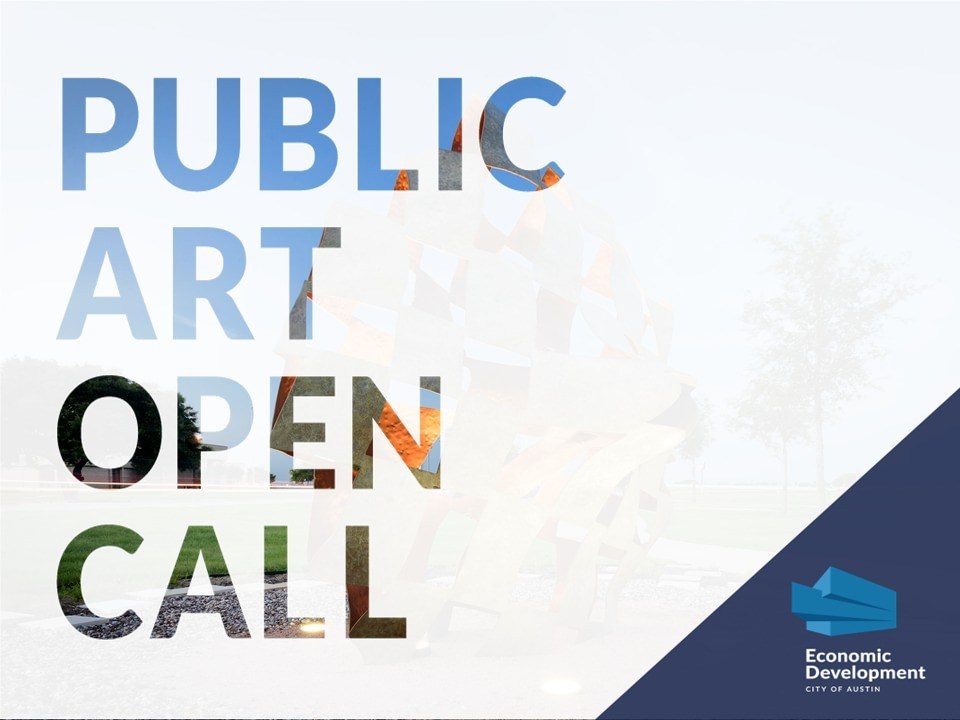 Austin Arts in Public Places (AIPP) Open Call
Link to Apply
Texas-based artists and artist-led teams are invited to submit qualifications to be considered for design, fabrication, and installation to create one or more site specific artwork projects to be located at the ESB-MACC, located downtown Austin, 600 River St, Austin, TX 78701.
The City of Austin Economic Development Department Art in Public Places Program will launch several public art opportunities on November 6, 2023.
Art in Public Places staff will host a virtual artist information meeting to address questions about the projects and application process on Nov 15, 2023, at 6:00 PM CST.
Apply for current open calls to artists at: https://www.publicartist.org/austinaipp/
November 2023 Artist Calls:
Palmer Events Center
Family Violence Shelter & Protection Center
ESB Mexican American Cultural Center
Curious? Join us! Questions? Contact ryan.runcie@austintexas.gov.
The City of Austin Economic Development Department provides leadership and management for the City's cultural arts programs and for the development of arts and cultural industries through its Cultural Arts Division. The Art in Public Places program acquires and maintains works of art for City facilities through commissions, donations, and loans for the cultural enrichment of Austin's community.
The City of Austin is committed to compliance with the Americans with Disabilities Act. Reasonable modifications and equal access to communications will be provided upon request. For assistance, please contact Michelle McLaren at 512-974-9053 or Relay Texas 7-1-1


La Mujer Mosaic Mural

Watch the video!
The Emma S. Barrientos Mexican American Cultural Center is proud to inaugurate the newest public art installation on our property: the La Mujer mosaic mural. The mural is located at 600 River Street where the Southeast edge of the MACC meets the Ann and Roy Butler Hike & Bike trail, at Ladybird lake. It is accessible outside fo the construction fencing, and is easily viewed from the trail. This mural was created by participants in the ESB MACC's Caminos teen leadership program. Please visit the mural- its is open for viewing 24/7, located outside the construction fencing at the ESB MACC. Mural Location On Google Maps.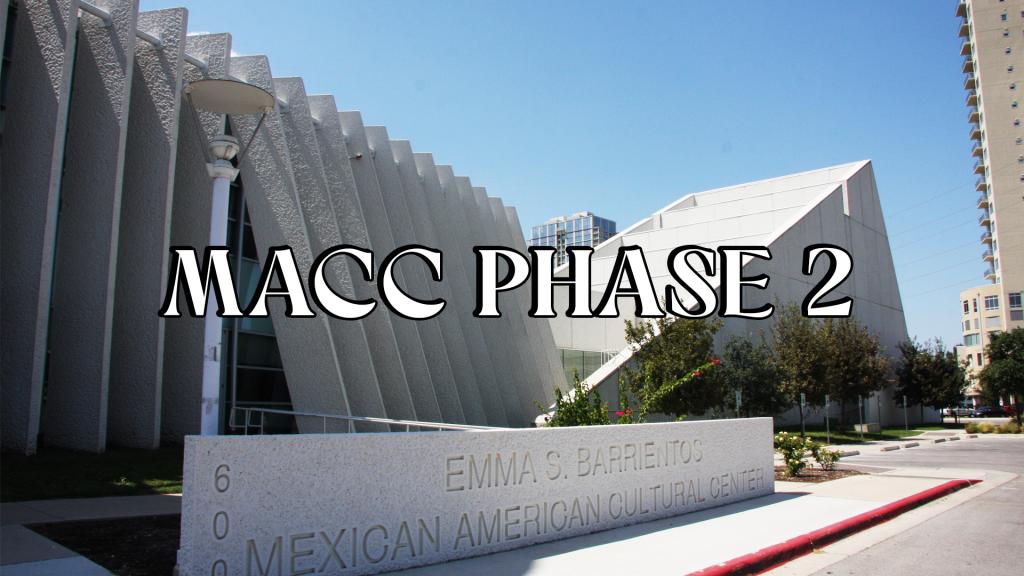 The ESB MACC has entered Phase 2 of the 2018 Facility Expansion Plan (2018 Plan) approved by City Council. Phase 2 includes expansion and renovation of the facility in addition to site improvements in order to meet the growing needs of the community. Learn more about Phase 2 on the Project Page and discover how Phase 2 relates to the past, present, and future of the MACC in the Phase 2 Online Exhibit. This exhibit is also available in Spanish: Ver Fase 2 en Espanol.
Do you want to join a MACC Board Meeting? https://www.austintexas.gov/MaccBoard
Do you have program feedback? Tell us at www.MACCsurvey.net.
When is the MACC closing?

The ESB MACC building closed to the public in January 2023. The MACC building will be closed in 2023 and 2024, and the anticipated opening year is 2025.

What are the plans for the building expansion?

Ongoing updates about the Phase 2 plans, including the schematic drawings for the building, can be found on the Phase 2 Project Page. The ESB MACC also created an online exhibit about Phase 2 that chronicles the history of our building plans and shows drawings of the new plans. View the History of the MACC Building Online Exhibit. This exhibit is also available in Espanol.

Where will programs take place when the building is closed?

Great question! We will continue to have our regular programs and events, even when our building is closed.

We will be moving all of our programs to other sites for two years: 2023-2024. We won't be able to use our building for those two years, but we will have a new opportunity to host programs in other places, especially in underserved areas of Austin.

Some of the locations that will host our programs include the Austin libraries, Dove Springs Recreation Center, Carver Museum, and Asian American Resource Center.

You can see updated locations for our programs at this page: MACC Programs and Events.

Would you like to host a program?  Email MACCEVENTS@austintexas.gov and tell us the program(s) you would like to host and when!

Who should I contact if I want to host a MACC program?

If you would like to host a program, email MACCEVENTS@austintexas.gov and tell us the program(s) you would like to host and when!

Will the MACC have a temporary office during the closure?

Yes – The MACC temporary office will be located at the Dougherty Arts Center. It is located at 1110 Barton Springs Rd, Austin, TX 78704.

Will the phone number to the MACC change?

No – the main line (512) 974-3772 will still be answered during normal business hours.  You may also leave a detailed voicemail and MACC staff will return your call as soon as possible. 

What's Happening with 64 Rainey Street, the "Pocket Park" Outside the MACC?

There has been a community engagement process for this park, read more here: https://www.austintexas.gov/news/64-rainey-street-pocket-park-rainey-street-historic-district

For access to livestreams and other digital programs, follow us on Facebook at @ESBMACC and Instagram at @ESBMACC. 
View precorded digital programs at MaccSurvey.net. They are free and accessible to anyone who wants to learn more about Mexican-American and Latinx arts & culture.
You'll find lesson plans, performances, presentations, online art galleries, instructional videos, and more! Make sure to take a look at our Signature Events!
Did you view one of the digital programs? Let us know by filling out our 5-minute Program Survey!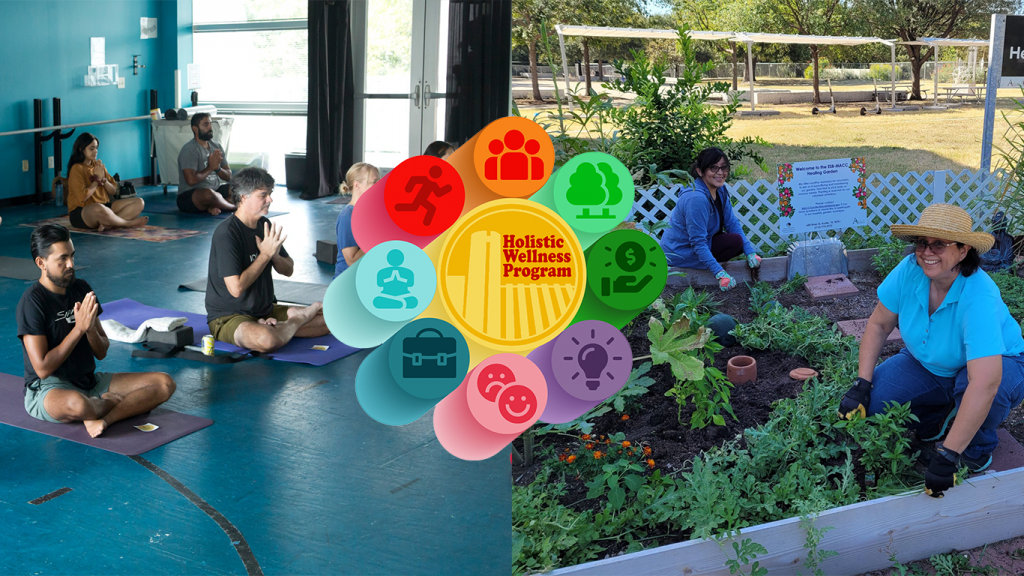 The Holistic Wellness Program attends to the needs of the total person while remaining rooted in our Latino/Mexican American cultural identities. True wellness is a combination of Physical, Social, Environmental, Financial, Intellectual, Emotional/Mental, Occupational, and Spiritual aspects and, like the diversity of our people, deserves to be nourished and cultivated to enrich individual lives and uplift our community. View the Holistic Wellness Program calendar in English or Spanish. 
At the ESB-MACC Healing Garden we grow herbs, fruits and vegetables that can be used for everyday meals and health. If you are interested in gardening or sharing in our harvest, join us for one of our workdays. Check out our Garden brochure in English or Spanish, and our Garden webpage in English or Spanish. For more information, contact us at maccwellness@austintexas.gov
Access our previous brochures: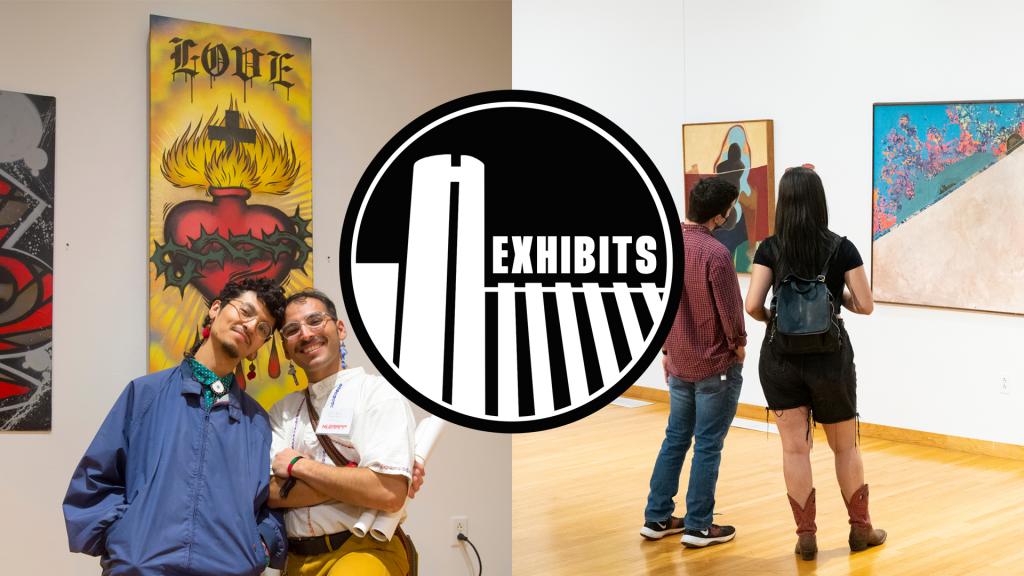 THE MACC GALLERIES ARE CURRENTLY CLOSED FOR CONSTRUCTION. Our center houses two galleries, featuring local, regional and national Latino/a artists. The Community Gallery is located downstairs at the entrance to our Auditorium, and the large Sam Z Coronado Gallery is located upstairs, at the elevator.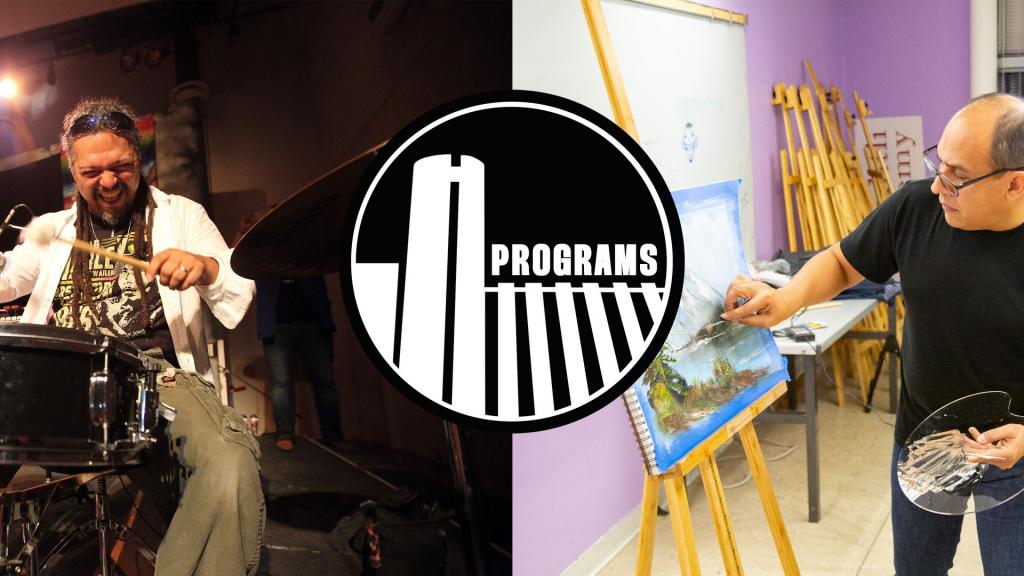 We are proud to produce our annual events, work with community organizations and partnerships and co-produce collaborations with Latino organizations that are free and open to the public. Download a collaboration request form here. LAAP is a developmental program for Latino arts organizations and artists in all disciplines that provide arts and cultural programming to the Austin community.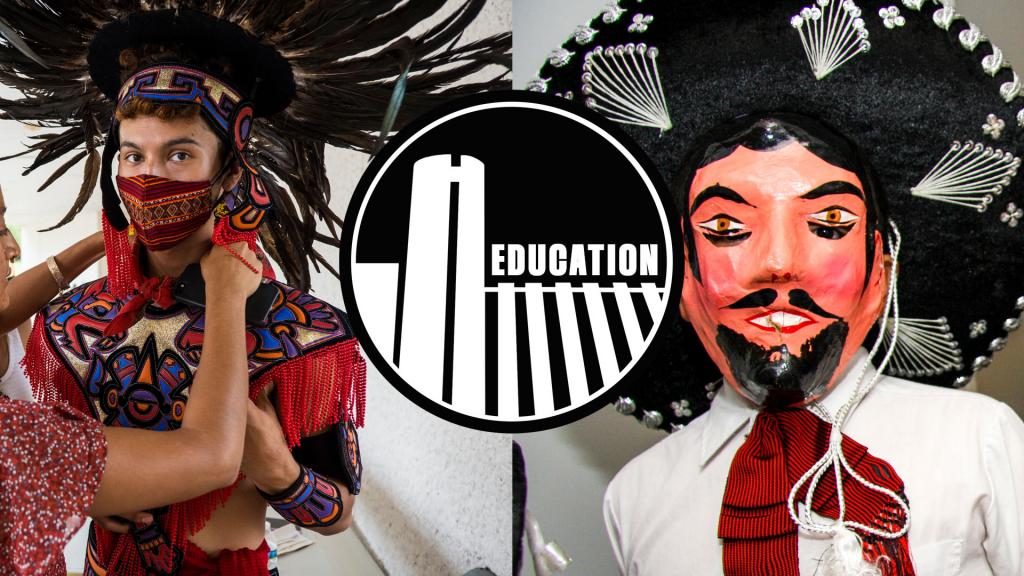 We provide a variety of cultural arts classes and camps for adults and youth. Download the MACC Coloring Book! Call (512) 974-3772 or email macceducation@austintexas.gov.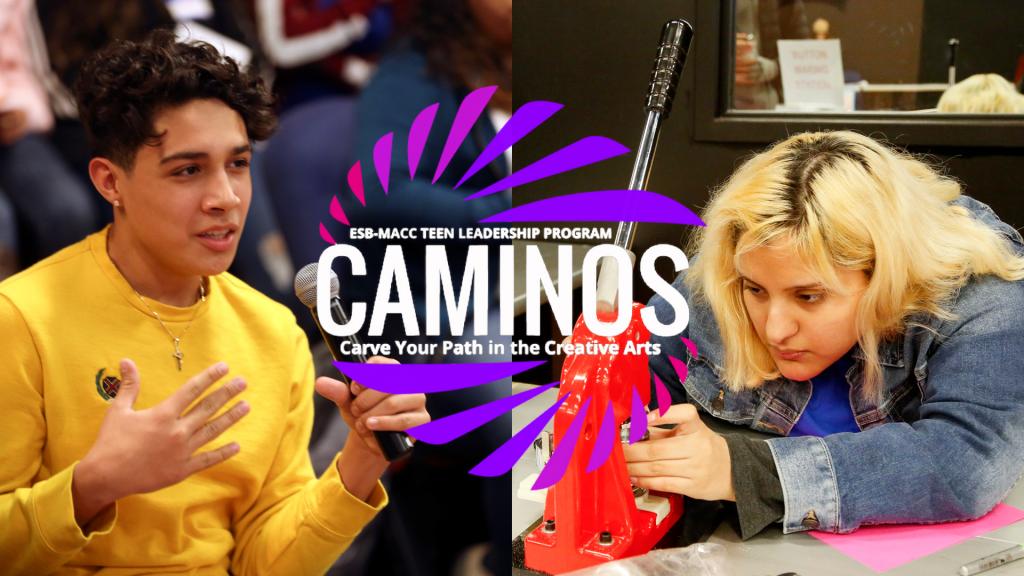 The ESB-MACC 's Caminos program empowers Austin-area teens to carve their own path in the creative arts.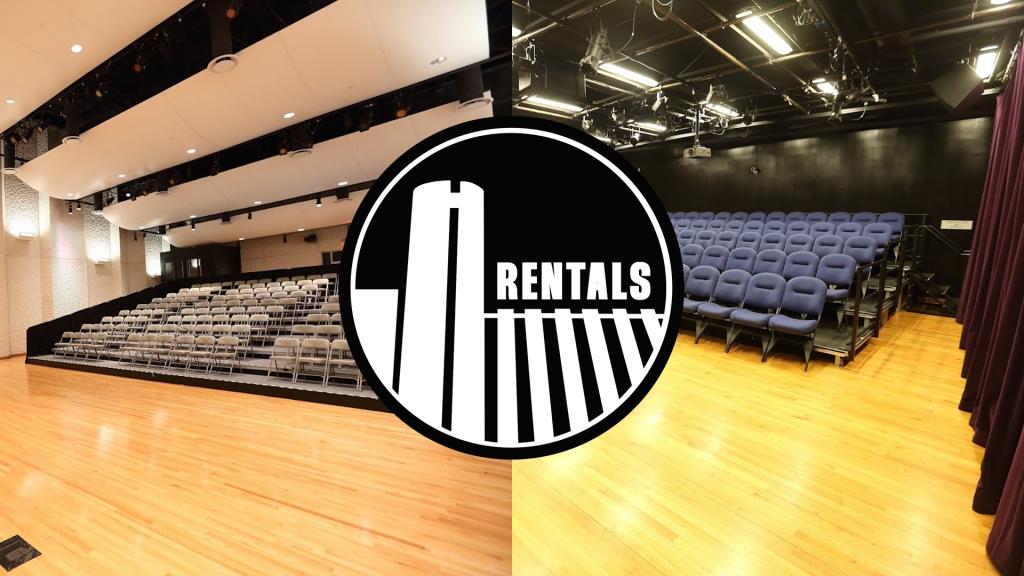 THE MACC IS NOT ACCEPTING RENTALS AT THIS TIME.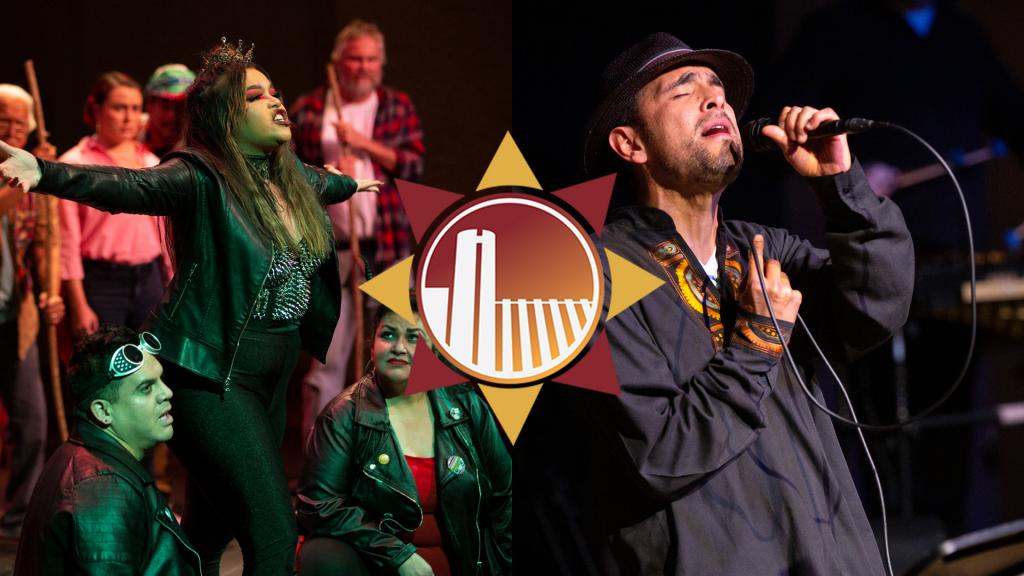 The Latino Artist Access Program (LAAP) provides Latinx artists from all artistic disciplines the space and community to share their work with the public. Space can be used for rehearsals, performances, workshops or to create small-scale works of art. The ESB-MACC is proud to promote the events and programs of these talented artists. Check out the LAAP Artist Page!