What is Pickleball?
A paddle sport created for all ages and skill levels. The rules are simple and the game is easy for beginners to learn, but can develop into a quick, fast-paced, competitive game for experienced players. It's a game for everyone!
In consultation with the Austin Public Health Department and the public health authorities, the following amenities are currently open:
Outdoor Pickleball Courts
Indoor pickleball courts inside recreation centers are available by reservation only due to COVID-19.  Please call your local center to reserve a time slot.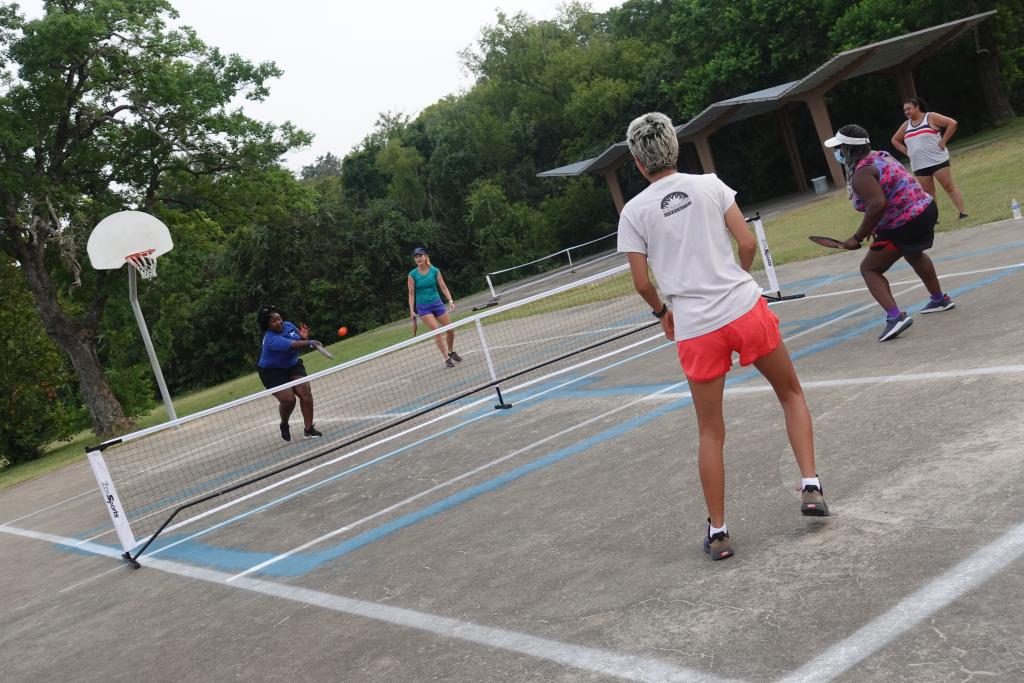 Pickleball has evolved from original hand made equipment and simple rules into a popular sport throughout the US and Canada.
The Basics
A fun sport that combines many elements of tennis, badminton and ping-pong.
Played both indoors or outdoors on a badminton-sized court and a slightly modified tennis net.
Played with a paddle and a plastic ball.
Brief History Pickleball was invented in 1965 on Bainbridge Island, a short ferry ride from Seattle, WA. Three dads – Joel Pritchard, Bill Bell, and Barney McCallum -whose kids were bored with their usual summertime activities are credited for creating game.
The Court
A pickleball court is the same size as a doubles badminton court and measures 20×44 feet. In pickleball, the same court is used for both singles and doubles play.
The court is striped similar to a tennis court with right and left service courts and a 7-foot non-volley zone in front of the net (referred to as the "kitchen").
Austin Parks and Recreation Department Pickleball Courts
Site Name
Courts
Days and Times
Additional Notes
Dick Nichols Park
8011 Beckett Rd.
5 outdoor
 
Free.  2 tennis courts (lighted) that are shared with 4 pickleball courts. Additionally, there is one volleyball court (not lighted) that will be shared with one pickleball court.  Download Multi-sport net system instructions (PDF)
Dittmar Recreation Center
1009 W.

Dittmar

Rd. 
(512) 974-6090 
4 indoor
 
Tuesdays 6-9p.m.
Saturdays 10a.m.-2p.m.
Free.  Reservation needed
George Morales Dove Springs Recreation Center
5801 Ainez Dr.
(512) 974-3840 
3 indoor
Mondays - 9a.m. - 12p.m. Wednesdays - 6p.m. -8p.m.
Free open play pickleball for all skill levels.  No equipment or reservation needed.
Givens Recreation Center
3811 E 12 St.
(512)974-2430
2 outdoor
Monday / Wednesday 6p.m.-7p.m.
Free.  Pickle ball instructional program. Currently being offered as a free program to gauge community interest but will transition to a paid instructional program next year in the Spring.
Gus Garcia Recreation Center
1201 East

Rundberg

Lane
(512) 978-2525
3 indoor
 

Tuesdays: 10a.m. – 12p.m.

Thursdays: 10a.m. – 12p.m.

Saturdays: 10a.m. – 12p.m.

Sundays: 12:30 – 2:30p.m.

Free.  First come first serve by reservation only
Hancock Recreation Center,
811 E. 41st St.
(512) 978-2335
2 outdoor
Monday-Friday, 6:15p.m. - 8:15p.m.
Free.  2 outdoor lined courts shared with basketball court, net not provided, first come, first serve
Northwest Recreation Center
2913 Northland Dr.
(512) 974-6972
3 indoor
Monday / Wednesday 10:30a.m.-1:30p.m. 
Free.  Reservation Needed
Pan American Neighborhood Park
2100 E. 3rd Street
(512) 978-2425
3 outdoor
 
Free.  3 lighted outdoor courts with permanent nets. Free and first come, first serve.
Rosewood Neighborhood Park
2300 Rosewood Ave.
(512)978-2465
2 outdoor
 
Free.  2 outdoor courts shared with tennis courts, net not provided.  First come, first serve.
South Austin Recreation Center, 1100 Cumberland Rd.
(512) 978-2440
4 indoor and 2 outdoor
Indoor – Mondays 6p.m. -8:30p.m.; Fridays 12p.m. - 3p.m.(starts May 6, 2022); Outdoor 7a.m. – 10p.m. everyday.
Free.  4 indoor courts – no reservation needed, no equipment needed, all skill level.
Outdoor- first come first serve.  Download Flyer.
Austin Tennis Center, 7800 Johnny Morris Road, 8 lighted outdoor courts with permanent nets that shares use with "Quick Start" junior tennis. Call 512-928-8119 for availability and fees.
Little Zilker Neighborhood Park, 2016 Bluebonnet Lane,  2 outdoor courts shared with tennis courts, net not provided, first come, first serve
Mt. View Neighborhood Park, 900 Middlebie Road, 2 outdoor courts shared with tennis courts, net not provided, first come, first serve