The AARC's Community Art Exhibit Program displays artworks year round that celebrate the diverse and dynamic cultural heritage, history, identity and creativity of Asian American Pacific Islanders. Exhibits are displayed on a quarterly schedule.
Due to the recent spike in COVID-19 cases, the AARC will be closed to the public beginning on Friday, July 3. Read more here. Visit our Digital Programming Page for virtual exhibits and online programs for the public.
---
Current Exhibits
Summer 2020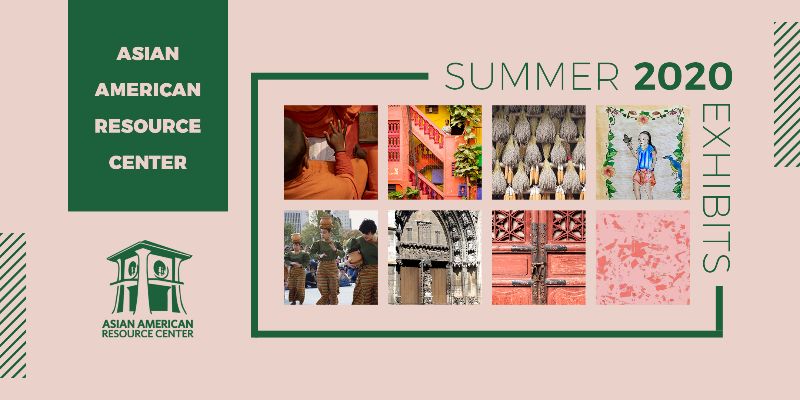 View our summer 2020 exhibits online!  Even though our facility is still closed to the public due to the recent spike in COVID-19 cases, we invite you to visit our summer 2020 community art and historical exhibitions virtually! Keep reading to learn more about the collections and where to view.
Reinventions, A Senior Art Show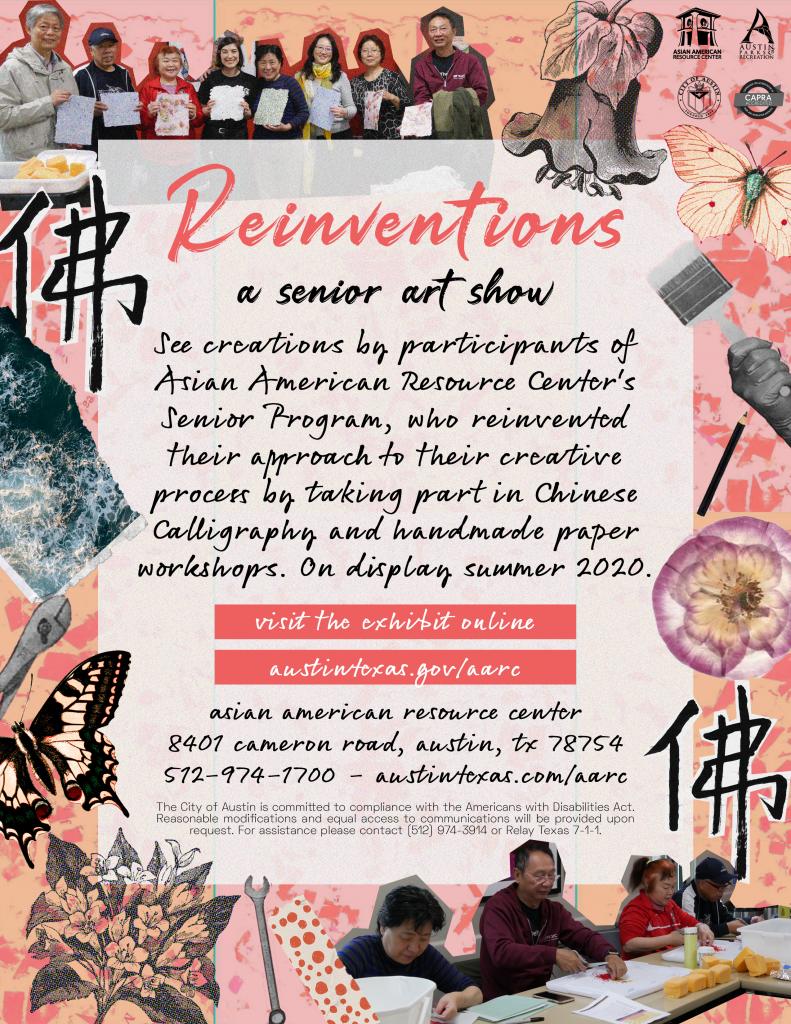 Senior Program participants explored art forms and inventions in Chinese Calligraphy and handmade paper workshops offered by the AARC. During these workshops, the participants explored ideas of self-reinvention by trying new things.  AARC's Heritage Artist Laureate, Mr. Huang, guided participants in the practice of traditional Chinese Calligraphy over the course of four classes. Ancient Chinese characters developed independently of other early written languages. In the handmade paper workshops, program participants made their pieces from a variety of recycled material from AARC's facility
Colonized Women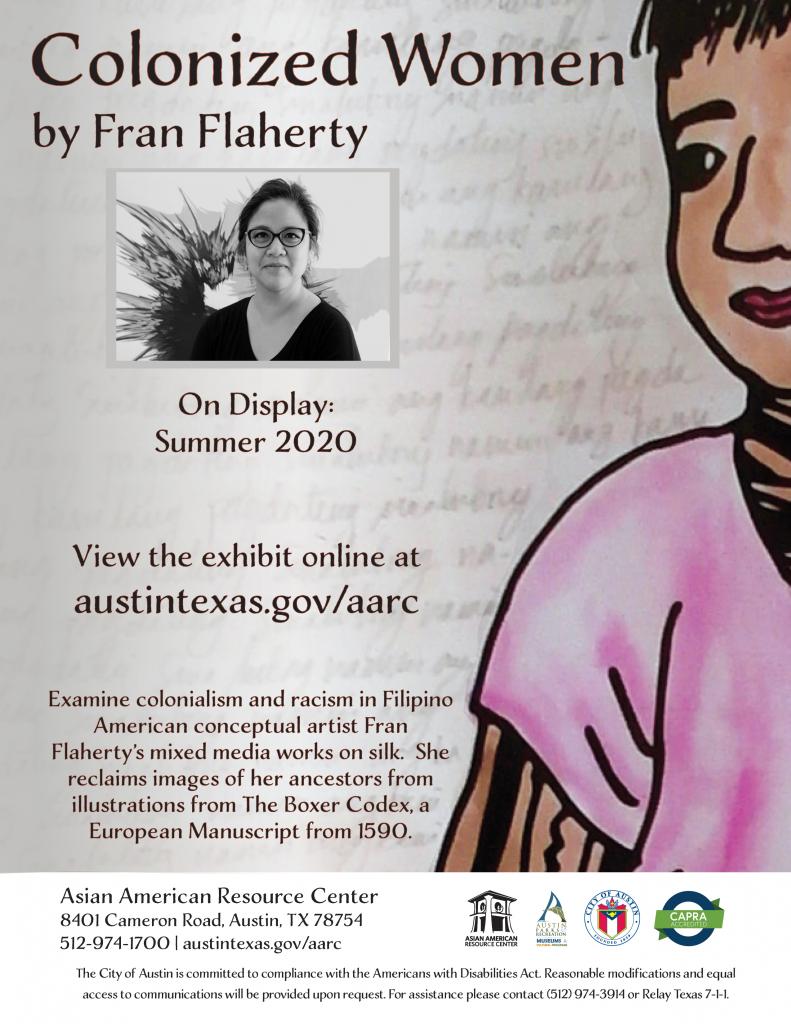 "Though we are individually free, there are still chains that we cannot see." – Fran Flaherty
Conceptual artist Fran Flaherty examines racism, its roots, and the position of European colonizers in relation to her indigenous ancestors in the Philippines.  Her mixed media works on silk aim to reclaim images of women depicted in The Boxer Codex, a manuscript from 1590, in a way that she, a descendant, deems fit.
Doors
Enter the diverse world of architectural thresholds through the lens of photographer Peter Shen. His collection of doorways encompasses a variety of designs from all around the world. Shen focuses on the design and functionality of the entryways to explore the many methods that builders and architects have used to manage the flow of visitors. Shen's approach to this series reflects his affinity for curating collections of art and antiques and his background as a scientist.
Visions of Asia
Depart on a Visual Journey to three distinct locations in Asia with Visions of Asia. Join three Central Texas photographers as they chronicle their personal experience of the picturesque beauty of scenery in Guilin, China; the vibrant urban energy of Chennai, India; and the religious rituals of devotees at the Ganges in Allahabad, India.
Semi-Permanent Installations

Prayer Phone

Zen Garden | Semi-Permanent Art Installation

Prayer Phone, a handmade altar with a disconnected phone, is an invitation to the public to "call" their deceased loved ones while giving offerings and prayers. This project reflects a common custom of many Asian traditions: commemorating ancestors and venerating the spirit world.

Two essential elements compose this installation. The old fashioned phone is a symbolic artifact that represents humanity's desire to connect and communicate with others. Its historic form evokes passage of time. By contrast, the spiritual act of lighting incense symbolizes the following: sacredness when the element of air is ignited, purification of the environment's energy, and blessings in return for offerings. These two elements combine to help connect the earthly to the heavens.

This project is inspired by an episode of This American Life featuring stories about Telephone of the Wind in Otsuchi Town, a small seaside town in northeastern Japan. An iconic English telephone phone booth connected to nowhere was repurposed, and people began "calling" family members lost during the tsunami caused by the 2011 Great Japan Earthquake. Telephone of the Wind became a public space for people to grieve for their lost loved ones. In response, Prayer Phone shares in the deep tradition of respecting spirits and coexisting with entities beyond the physical realm, as well as providing a physical space and an outlet to feel connected with the departed.

Past 2020 Exhibits

Courage To Be - Explore the history of how Saheli, an anti-domestic violence community group, has worked to pursue a cycle of peace and become the first organization of its kind in the U.S. South to serve the Asian community. 
Shen's Precious Clocks and Watches
Gingko Walk
Kingdom Arts

Past AARC Exhibits
---
Helpful Documents and Links