AARC Exhibits
The AARC's Community Art Exhibit Program displays artworks year round that celebrate the diverse and dynamic cultural heritage, history, identity and creativity of Asian American Pacific Islanders. Exhibits are displayed on a quarterly schedule.
New Spring/Summer 2023 Exhibits on View
---
Current Exhibits and Programs
VEENY REVILLA "Sad Girls" | April 24 - July 7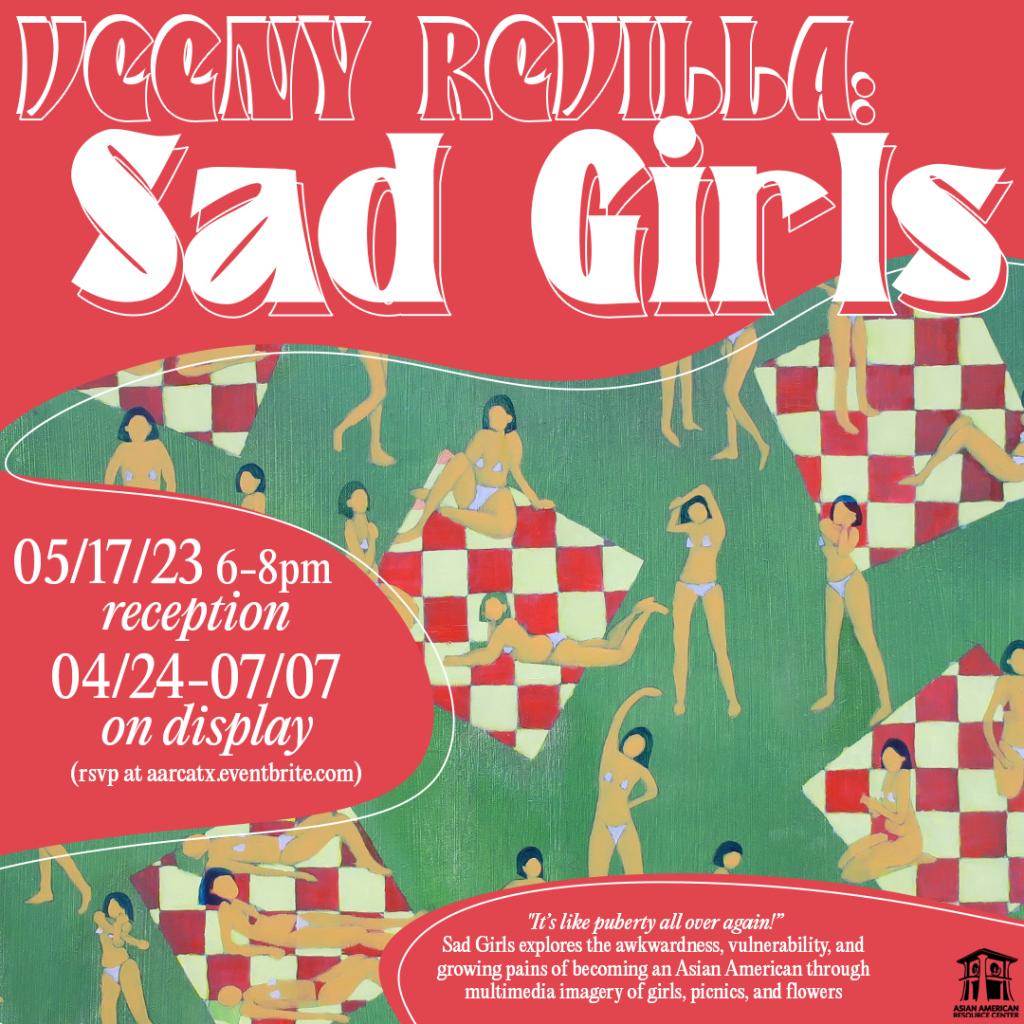 "It's like puberty all over again!
Sad Girls explores the awkwardness, vulnerability, and growing pains of becoming an Asian American through multimedia imagery of girls, picnics, and flowers. Sad Girl is an alter ego created by Veeny Revilla in 2020 while studying for her U.S. citizenship test. This fictional persona is often portrayed in underwear and in various unflattering poses, using contemporary Internet aesthetics reflective of Generation Z. Sad Girl is an extension of Veeny Revilla created to explore her identity referencing semi-autobiographical moments."
Veeny Revilla is a visual artist creating paintings and digital illustrations of colorful worlds and fun characters inspired by her Filipino roots. Her interest in art started at an early age coming from an extended family of carpenters and construction workers in the Philippines. As a creative mentee under Creative Futures Collective x Soho House Austin 2023, she has made bold moves learning creative direction with an entrepreneurial spirit. Revilla graduated with a Bachelor of Fine Arts in Painting from the University of Texas at San Antonio, and is currently assistant teaching a design boot camp at the University of Texas at Austin.
Afterworld: Zen Garden | April 24 - July 7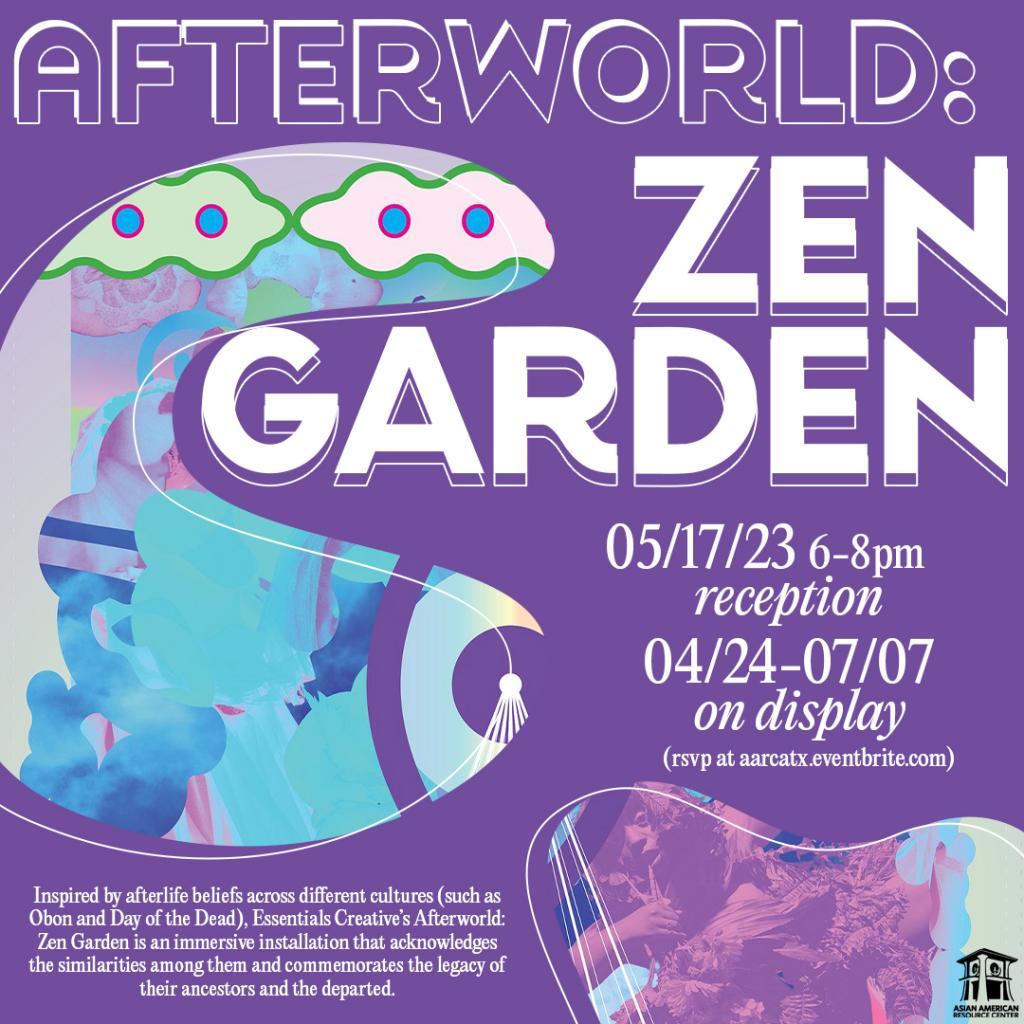 Essentials Creative's Afterworld: Zen Garden, is an immersive installation that seeks to celebrate multiculturalism and diversity. Our inspiration comes from afterlife beliefs across different cultures, like Obon and Day of the Dead, acknowledging the similarities among them and commemorating the legacy of our ancestors and the departed. Our collective experiences as Asian/Latin American artists motivate us to create artwork that celebrates and honors the stories and identities of people from diverse backgrounds. Afterworld is a space of inclusivity and understanding, where visitors of all ages and backgrounds can come together to recognize and appreciate the commonality of our shared experiences, and gain a deeper understanding of one another.
Essentials Creative is a multi-disciplinary collective that creates holistic applied arts experiences. Our multi-faceted projects draw from a wide range of disciplines, including photography, fashion, graphic design, video, projection, animation, music, and installation. Despite the involvement of multiple Essentials members in each piece, we always maintain a unified vision of experimentation, fluidity, and diversity.
We provide a platform for underrepresented artists to express themselves and find support in their field. We actively seek emerging talent, innovative voices, and untold narratives, and celebrate collaboration with other creatives. As a collective, we are committed to embracing artists of color, women, and members of the LGBTQ community.
Perlas ng Austin: A Celebration of the Central Texas Filipino Community Through the Arts | April 24 - July 7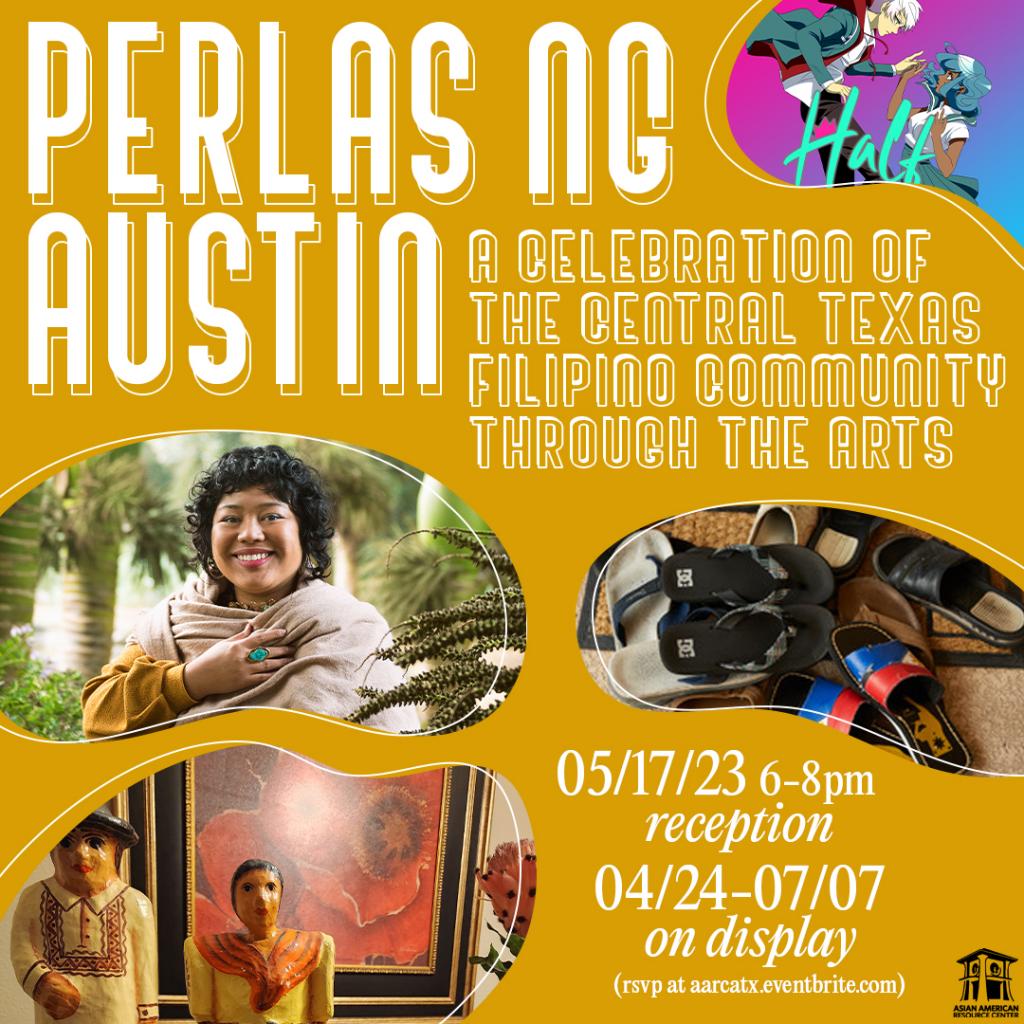 Perlas ng Austin: A Celebration of the Central Texas Filipino Community through the Arts is a unique revisitation of the fall/winter 2020 exhibit, Perlas ng Austin: The Pearls of Austin: A Celebration of the Central Texas Filipino Community. Its original Filipino-American Curators, Susan Fifer and Tonee Sinsay-Carpio (in collaboration with the Austin Filipino-American Association (AFAA), the Asian American Resource Center, and the Austin History Center's Asian American Community Archives Program) reclaimed the term, "The Pearl of the Orient" (a Spanish colonial phrase applied to the Philippines in the 1700s), to describe Austin's local Filipino-American community. This exhibit featured a physical assemblage and a virtual showcase of archival images, documents, cultural items, and memorabilia from the AFAA Records (AR.2011.019), Susan Fifer Papers (AR.2012.029), Filipino-related Austin Files at the Austin History Center, and individuals from the Filipino community to detail the history and vibrancy of Central Texas' Filipino-American Community.
Through the collaboration and curation of Filipino-American curator, Tonee Sinsay-Carpio, this new revisitation of the 2020 virtual exhibit shines a light on Contemporary Central Texan Filipino Artists, whose work in this exhibit interacts with themes of cultural identities, meanings, representation, personal narratives, and mythologies.
Permanent and Semi-Permanent Installations
Lotus

Lotus by Sunyong Chung and Philippe Klinefelter, 2013
granite, handmade ceramic tiles


 

Lotus is a large site specific sculpture created by Art in Public Places commissioned artists Sunyong Chung and Philippe Klinefelter for the Asian American Resource Center (AARC), and is located in the entrance plaza overlooking heritage live oaks.

Chung created an intricate and lively 12' diameter mosaic of a lotus, made of hand-colored and hand-crafted dimensional tiles, which Klinefelter surrounded with seven 9' tall hand-carved granite "petals" gracefully reaching toward the sky. Klinefelter also carved the lotus's seed pod at the center of the mosaic from granite, which doubles as a gently flowing fountain. According to feng shui principles, the placement of the fountain near the AARC entrance creates positive chi, or energy, for the building. The lotus, native to Asia, was chosen as inspiration for the sculpture because of its symbolic attributes of harmony, purification and healing.

Prayer Phone

Prayer Phone | Semi-Permanent Art Installation

Prayer Phone, a handmade altar with a disconnected phone, is an invitation to the public to "call" their deceased loved ones while giving offerings and prayers. This project reflects a common custom of many Asian traditions: commemorating ancestors and venerating the spirit world.

Two essential elements compose this installation. The old fashioned phone is a symbolic artifact that represents humanity's desire to connect and communicate with others. Its historic form evokes passage of time. By contrast, the spiritual act of lighting incense symbolizes the following: sacredness when the element of air is ignited, purification of the environment's energy, and blessings in return for offerings. These two elements combine to help connect the earthly to the heavens.

This project is inspired by an episode of This American Life featuring stories about Telephone of the Wind in Otsuchi Town, a small seaside town in northeastern Japan. An iconic English telephone phone booth connected to nowhere was repurposed, and people began "calling" family members lost during the tsunami caused by the 2011 Great Japan Earthquake. Telephone of the Wind became a public space for people to grieve for their lost loved ones. In response, Prayer Phone shares in the deep tradition of respecting spirits and coexisting with entities beyond the physical realm, as well as providing a physical space and an outlet to feel connected with the departed.
Past Exhibits
Past 2023 Exhibits

Past 2021 - 2022 Exhibits

ArtsResponders: Social Practice Responds to COVID-19 Featuring Lizzie Chen and Kengo

Tradition's Rebirth in Modern Austin

Creative Highlights Video Series

Past AARC Exhibits