Overview
The Independent is a public-private partnership between the City of Austin and a private development team to create a mixed-use tower on a City block under the terms of a 2010 Master Development Agreement.  The developers purchased the block on November 24, 2015, and began demolition and construction immediately.  By January 2019, the 58-story tower with 363 condominiums and 13,500 square feet of ground-floor retail will be occupied.  The tiered tower design draws worldwide attention, and the project supports many of Austin's values by contributing to sustainability, open space, affordability, local businesses, public art and trails.  The Economic Development Department's Redevelopment Division manages the Seaholm District on behalf of the City. 
Public Benefits
Job Creation
Approximately 500 construction jobs
Ground-floor retail, reserved for local businesses (actual jobs created - to be determined)
Public Art - $100,000 contribution to Seaholm Art Wall
Affordable Housing Trust Fund:  $20+ million
Contribution of $2.5M based on square footage
Dedication of portion of City property taxes (approximately $18M over 30 years)
Trails/Connectivity
Create and maintain public plaza on 3rd Street
Create and maintain improvements along Shoal Creek trail
Sustainability
AE District Cooling (chilled water) participant
LEED Gold Rating (seeking)
History
In 2005, Austin City Council directed staff to relocate the Energy Control Center (ECC) so that the block could be incorporated into the Seaholm District. (Austin Energy's offices moved to the new System Control Center.)  The site was commonly known as "ECC" or "Block 24," which references its location in the Austin City Map of 1885.  In 2008, after a competitive bidding process, Council selected Constructive Ventures, Inc. (CVI), a local firm widely recognized for its commitment to design, sustainability, and the community, to develop the property into an iconic, mixed-use tower with multiple public benefits. On November 4, 2010, the City and CVI entered into a Master Development Agreement (MDA) that outlined terms and conditions under which the block would be sold and redeveloped.  On March 25, 2016, CVI transferred its ownership interest to Austin Independent (GP), LLC, an affiliate of Aspen Heights, as allowed in the MDA.  The owner entity continues to be 3rd & West, LP.
Project Description
The Independent's glass-clad, tiered design is an iconic addition to the Austin skyline and will be the tallest residential building in Austin, and west of the Mississippi River.  The building stacks 1 million square feet of space – 363 condominiums, residential amenities and ground-floor retail – on 1.7 acres.  The building is the largest participant in Austin Energy's innovative District Cooling program, and the project team seeks LEED Gold Rating.   The developers will improve Shoal Creek trail adjacent to its site and redevelop the 3rd Street right-of-way into a public plaza.  The condominium owners will maintain these areas.  The 13,500 square feet of ground-floor retail is reserved for local businesses.  At the 2016 sale for $14.5 million, the developers also contributed $100,000 to the Seaholm Art Wall.  When a majority of owners have purchased their condos, the developers will contribute to the City $2.5 million to support affordable housing citywide and $1 million for infrastructure. 
Austin City Council pledged a portion of its property tax (at least 40%) from redeveloped land to affordable housing solutions; initial projections of such transfers from The Independent total $18 million by 2050. The Independent is a major milestone in the City's efforts to create a vibrant, walkable, ecologically sensitive downtown.  Block 24 was the last tract -- and most visible high-rise -- in the 85-acre Seaholm District.
Related Links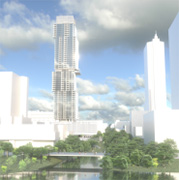 Photo Rendering - Rhode:Partners