Save the Date! Summer 2023 Registration
Early Registration opens Saturday, February 18th.
Online Registration opens Saturday, February 25th.
For more information, scroll down to our Registration section.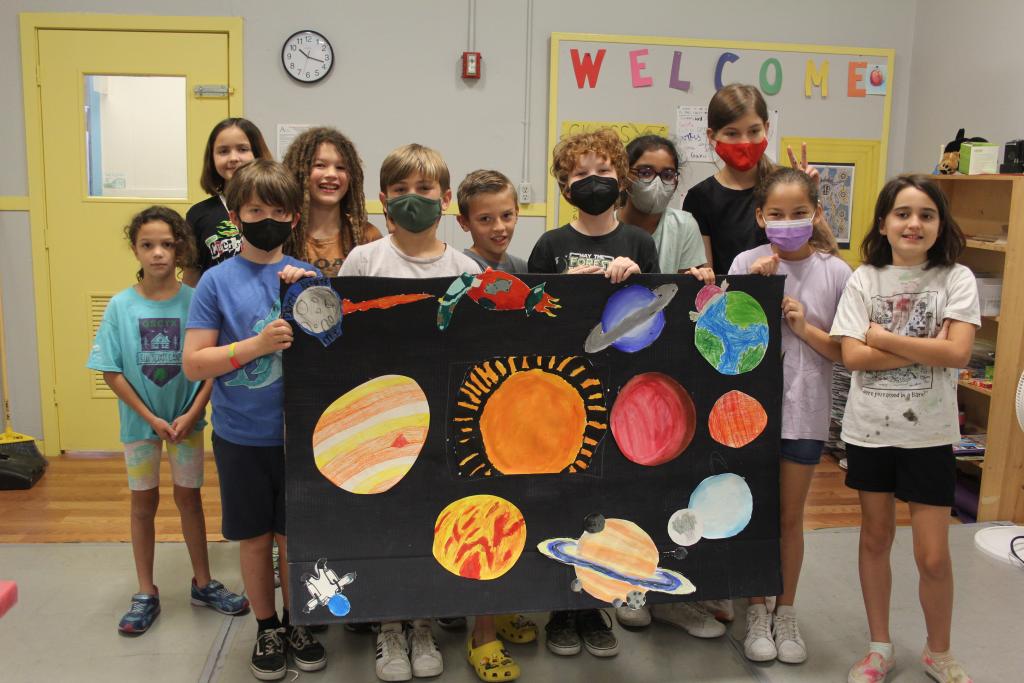 Summer Art Escape
Overview
This summer, our theme is Curiosities! Throughout each camp day, our Instructors will lead students through fun, age-appropriate, TEKS-based activities covering a variety of visual and performing arts mediums. Make art, friends, and memories as you explore a world filled with odds and ends, bits and bobs, and all kinds of curious collections.
Summer Art Escape will meet daily from Monday through Friday during each week-long session, starting at 7:30am and ending at 6:00pm. Unstructured free play will be held from 7:30am to 9am, allowing for staggered arrival times, and from 5pm to 6pm, so pickup does not interfere with planned class lessons. Student breaks during the day include active play. We may go outside, weather and heat index permitting. Students should bring two (2) healthy snacks (AM, PM), a lunch that does not require refrigeration or heating, a water bottle, closed-toe shoes, and art/movement appropriate clothing. Students will be grouped by age.
City of Austin staff, facilities, and students will follow the most current Austin Public Health COVID-19 safety guidelines.
Program Information
For Ages: 5 to 12 years old
Dates: Weekly from June 6th through August 11th, see session dates below.
Times: Monday through Friday, 7:30am to 6:00pm
Fees:
$140 per week for City of Austin Residents
$220 per week for non-residents
Pre-registration is required. Program space is limited.
Session Dates
Summer Art Escape 2023 Session Dates
Session
Start
End
Skip
Days in
Session
Payment
Due In Full
Session 1:
Jun 5 - Jun 9
6/05/2023
6/09/2023
None
5
5/15/2023
Session 2:
Jun 12 - Jun 16
6/12/2023
6/16/2023
None
5
5/22/2023
Session 3:
Jun 20 - Jun 23
6/20/2023
6/23/2023
6/19/2023
4
5/30/2023
Session 4:
Jun 26 - Jun 30
6/26/2023
6/30/2023
None
5
6/05/2023
Session 5:
Jul 3 - Jul 7
7/03/2023
7/07/2023
7/04/2023
4
6/12/2023
Session 6:
Jul 10 - Jul 14
7/10/2023
7/14/2023
None
5
6/20/2023
Session 7:
Jul 17 - Jul 21
7/17/2023
7/21/2023
None
5
6/26/2023
Session 8:
Jul 24 - Jul 28
7/24/2023
7/28/2023
None
5
7/03/2023
Session 9:
Jul 31 - Aug 4
7/31/2023
8/04/2023
None
5
7/10/2023
Session 10:
Aug 7 - Aug 11
8/07/2023
8/11/2023
None
5
7/17/2023
Deposits
A non-refundable deposit of $20 per participant per session will reserve the spot at the time of registration.
Any remaining balance is due by 5:00pm 21 days prior to the start of the enrolled session.

If not received by that date/time, the spot and deposit will be forfeited.
Waitlist
Participants that register after the program has filled can be added to the waitlist.
No fee is required to be added to waitlist.
Program fees are only refunded in full if the class is canceled by the Parks and Recreation Department.
---
Registration
Early Registration
Early Registration is available for City of Austin residents who qualify for financial aid or adaptive/inclusion services.
By phone (512-974-4000) or In-Person
Opens Saturday, February 18th at 10am
Ends Friday, February 24th at 5pm
If you need to apply:
Register Online
Dougherty Arts Center is a Cultural Center.
Online Registration for Cultural Centers will open on:
Saturday, February 25th at 10am (non-residents at 2pm).
For more about City of Austin Summer Camps, visit austintexas.gov/summercamp.
Clicking this image banner will take you to the Online Registration Portal:


Have Further Questions? Need Additional Assistance?
Program Forms & Documents
For more information and required materials to register for and attend City of Austin Parks and Recreation Department programs, click the image link below for the Centralized Program Documents website:

Other Program Forms:
Youth Class Request Form - For a student to be placed in a different camp or class than he/she is assigned; otherwise, students are placed in camps and classes according to their age by birth date
Youth Friend Request Form - For students who wish to be placed in the same camp or class together; only one request per student is permitted, subject to approval by program administration
Financial Aid
Click the image link below to visit the Parks and Recreation Department's Financial Aid website:

Inclusion Services
The City of Austin is committed to compliance with the Americans with Disabilities Act. Reasonable modifications and equal access to communications will be provided upon request.
If you or your student require assistance for participation in our programs or use of our facilities, please contact the Inclusion Unit at:
For more information, visit the Inclusion Unit website.