The Old Bakery, a registered national landmark, has graced Congress Avenue since 1876, when it was built by Swedish immigrant Charles Lundberg.
When Lundberg sold his bakery to his young Swiss apprentice in 1906, the newly-named Maerki Baking Company continued to be a popular cornerstone of the Austin community, welcoming politicians, famous faces, visitors and residents alike through the front door until the business closed in 1936.
The giant oven and the wooden baker's spade remain as reminders of the building's story.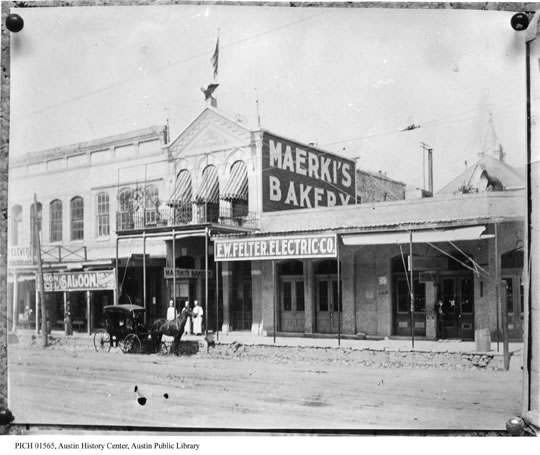 After the Maerki Baking Company shuttered its doors, The Old Bakery & Emporium building was used for a number of other businesses and changed hands frequently until it was rescued from demolition in 1963 by the combined efforts of the Austin Heritage Society and the Junior League, who offered $12,500 for restoration.
The Old Bakery & Emporium opened in October of 1976, as a co-sponsored project of the Senior Programs Section of the Austin Parks and Recreation Department and the First Lady's Volunteer Program of the Texas Center for Volunteer Action. The state later deeded the building and property to the City of Austin in 1980.
Now owned by the City of Austin, The Old Bakery & Emporium functions as an art gallery, artisan emporium, visitor and information center, and historical center that celebrates not only Austin's immigrant history, but also the diversity and artistic vision of artisans over the age of fifty.
For more information about the history of the Old Bakery and the Lundberg family please click here. 
To learn more about Swedish-American cultural heritage in Austin please click here.