We are thrilled to announce our upcoming art exhibit ABSTRACT RHYTHMS
Abstract Rhythms encompasses the work of three artists who met through their common love of art: Joseph Jay, Malina Cipleu, and Larry Akers. 
Although working in different mediums, their art is connected through a sense of harmony, rhythm, and fluidity. The artists invite the viewer to tune into the cadence of the artworks and to find the relationships between light and sound, pattern and rhythm that infuse these works. 
SAVE THE DATE! 
When: April 8th, 2023 from 1 - 5 pm
What: Abstract Rhythms Opening Reception
Where: Old Bakery & Emporium, 1006 Congress Ave. Austin, TX 78701
Both the opening reception and the exhibit are free to attend. Abstract Rhythms will be on display at the Old Bakery & Emporium through May 13th, 2023
Click here to RSVP to the Opening Reception!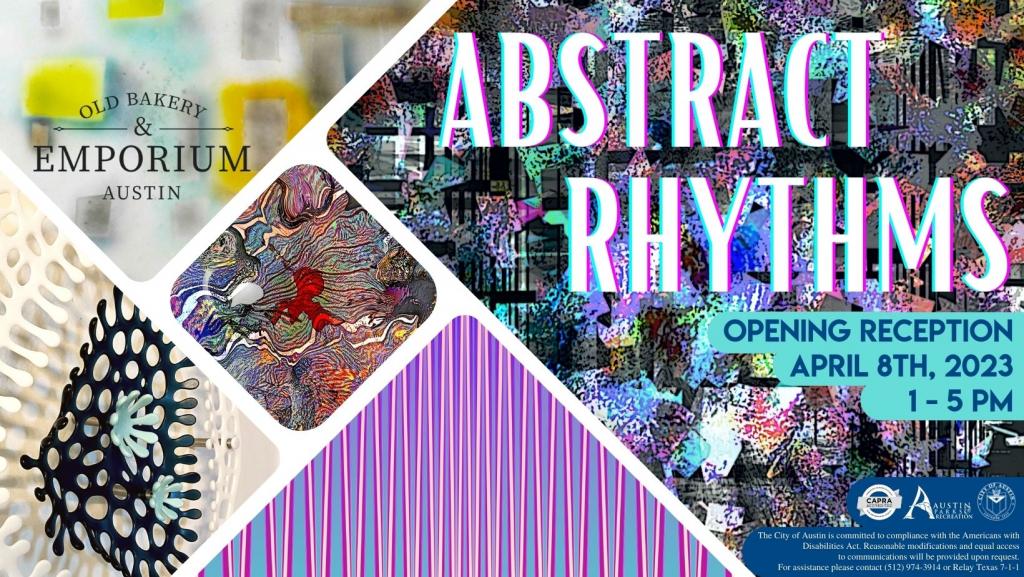 ---
Become a Consignor

We are currently reviewing work of new consignors and would love to welcome new creators into our Old Bakery & Emporium family!
The Old Bakery & Emporium welcomes artists and artisans who work in a large range of mediums. Our store features work from Austin creators who are age 50+, and whose work embraces the one-of-a-kind aspect of handmade art and items. We are especially looking for traditional crafts that express any and all cultural heritages, for example: weaving, beadwork, leather work, jewelry, metal work, embroidery, woodwork, etc.
To be considered an Artist Consignor, one work must present handcrafted work, as well as meet our age requirement.
To receive additional information about becoming an Artist Consignor, please email Herlinda Zamora. 
---
Stay In Touch with the Old Bakery & Artisan Emporium
Sign Up for Our Monthly Newsletter
Past Events: