The Old Bakery & Emporium will be playing a special role in this year's annual Holiday Stroll presented by the Downtown Austin Alliance.
On Saturday, December 3rd from 5 pm – 10 pm the Old Bakery will be hosting the first public engagement event to get community feedback for a new mural on the south-facing wall of the park located at 1006 Congress Ave in Austin, Texas.
Community members will learn about the project and share their vision for a new mural. The event will feature several opportunities for people to provide feedback and share their vision including an online poll, a life-sized timeline of the building's history, and a downtown mural coloring book where people can draw and share their vision for the new mural.
This event welcomes folks of all ages and includes several fun and festive activities for the whole family including:
photo opportunities with Santa

ornament decorating craft table

winter wonderland featuring igloos for exploring
Join the Old Bakery and the Downtown Austin Alliance Foundation and share your vision for the next downtown mural!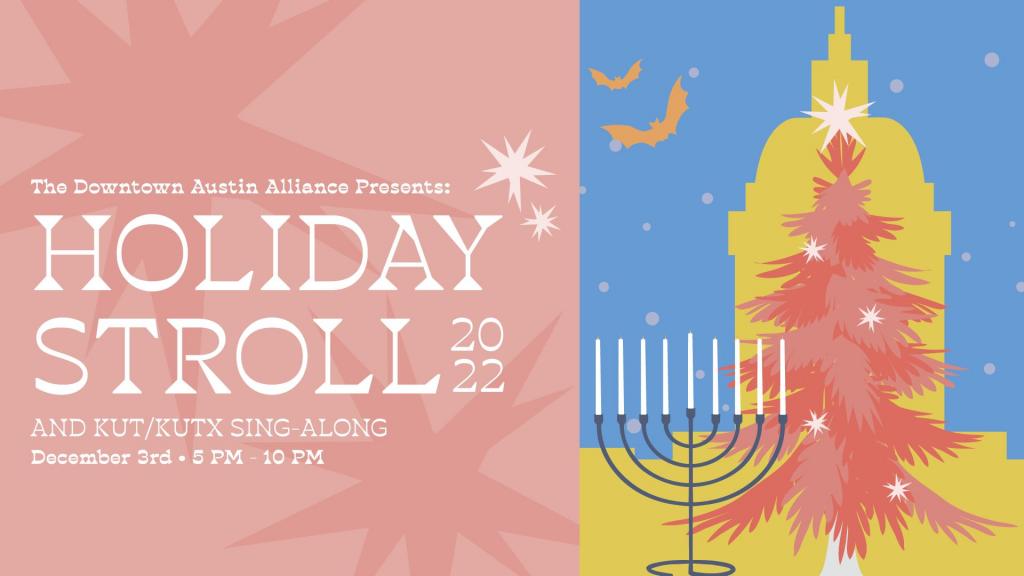 ---
Become a Consignor

We are currently reviewing work of new conisgnors and would love to welcome new creators into our Old Bakery & Emporium family!
The Old Bakery & Emporium welcomes artists and artisans who work in a large range of mediums. Our store features work from Austin creators who are age 50+, and whose work embraces the one-of-a-kind aspect of handmade art and items. We are especially looking for traditional crafts that express any and all cultural heritages, for example: weaving, beadwork, leather work, jewelry, metal work, embroidery, woodwork, etc.
To be considered an Artist Consignor, one work must present handcrafted work, as well as meet our age requirement.
To receive additional information about becoming an Artist Consignor, please email Herlinda Zamora. 
---
Stay In Touch with the Old Bakery & Artisan Emporium
Sign Up for Our Monthly Newsletter
Past Events:
Tom Lea Combat Warrior Art Opening - 10/22/22

The exhibition will highlight twelve giclee prints of Tom Lea's works and photographs from the Tom Lea Institute in El Paso, Texas. The Tom Lea Combat Warrior Art exhibit focuses on Tom Lea's Life Magazine WWII series. The exhibition also includes U.S. combat veteran and Director & Founder of AVAFest, Glenn Towery. 

Furthermore, the exhibit will feature work from combat veterans Peter Buotte, Lorenzo Quinonez, Kurt Ritterpusch, Franklin Mendez, Raphael Melis, Ben Freeman, and Patrick Redbird. 

Ceremonial Performance: 

Traditional American Indian Veterans Association

Event Speakers:

Moderator: Mike Warren from FOX 7 Austin
Adair Margo: Founder of the Tom Lea Institute spoke about How Tom Got the War Out of his Head
Holly Packard Cobb Executive Director & Producer of the Tom Lea Insitute provided an introduction to Tom Lea's WWII Art video presentation
Event Producer and Honorable Judge Bill Stubblefield spoke about Tom Lea's historical importance
Event Producer and Founder of AVAFest, Glenn Towery, spoke on the event's meaning
MidSummer Festival - Summer 2022

 

MidSummer Festival


Saturday, June 25, 2022
at the Old Bakery & Emporium
1:00 PM - 4:00 PM

Brought to you by the Old Bakery & Emporium and Oakwood Cemetery Chapel!
 

• Try traditional Swedish strawberry cake from The Fika Table Bakery
• Be entertained by Swedish Magician Bertil Fredstrom "Black Bert" and his jugglers
• Learn the difference between gnomes (tomte) and trolls from Amy Evenson
• Help break open a Swedish Dala Horse piñata and sign-up to win one to take home
• Make a flower crown and wear it just like people at festivals in Sweden do
• Listen to Swedish music
• Cool off with delicious paleta (frozen pop) from Mom & Pops

This is an indoor and outdoor FREE public event.
Fun for the whole family!
 


 

The MidSummer Festival is the final event in the To Fika series. The series was done by the Oakwood Cemetery Chapel. In Swedish culture, Fika is a daily cultural tradition in which people stop working and spend time with colleges, coworkers and friends over coffee and sweets. Fika is about companionship, fellowship, chatting and socializing.

To learn more about Swedish immigrants that helped build Austin read the beautifully researched digital exhibit by Oakwood Cemetery chapel: To Fika.