2nd Annual MidSummer Festival
Saturday, June 24th, 1 - 4 pm
Our annual Midsummer Festival honoring the Old Bakery & Emporium's Swedish American heritage will be held on June 24th, 2023 from 1 -4 pm!
Mark your calendars and get ready for FREE fun for the whole family!
The festival will include multiple Swedish events and activities, including:
Live Music by Scandinavian folk artists Mira Dickey & Ian Files (1:30 - 2:15 pm)
Traditional & contemporary Swedish and Scandinavian songs by the Norrsken Three ("Norrsken" is Swedish for "Northern Lights") (2:30 - 3:15 pm)
Live demonstration of Swedish flat-plane wood carving
Swedish treats by Fika Table
Flower crown-making station
Traditional Swedish maypole
Dala horse piñata's (3:30pm)
We look forward to celebrating with you!
Click here to RSVP on Eventbrite
FREE Parking will be available in the Governor's Mansion parking lot behind the Old Bakery & Emporium. Guests can enter the parking lot from 10th Street between Congress and Colorado St. (please note that 10th street is one-way headed west)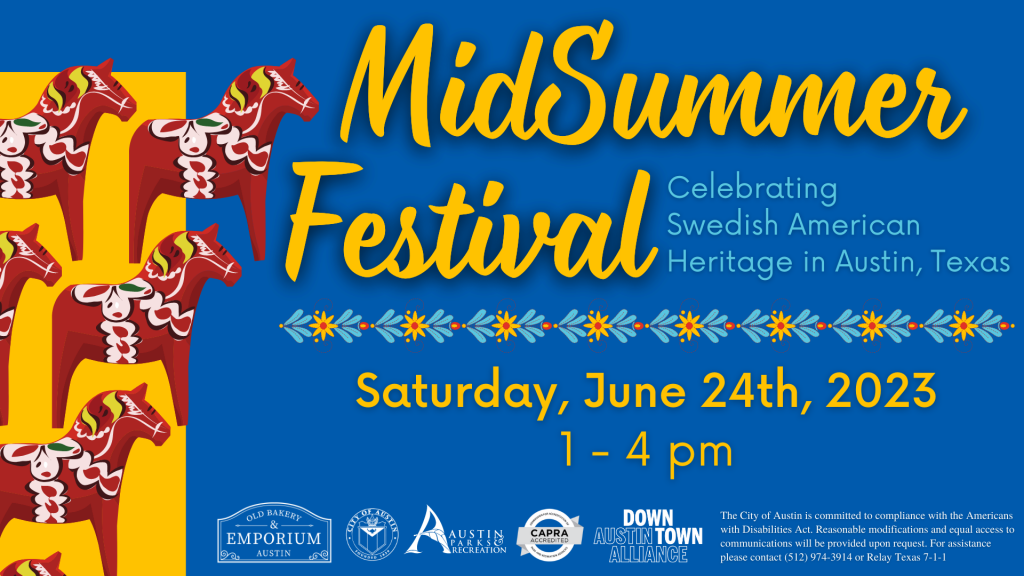 ---
Empire's Echo Closing Reception
Saturday, August 12th, 1 - 4 pm
Anne Bobroff-Hajal & Craig Campbell use art to explore legacies of conquest, resistance, & endurance in the context of the Russian Empire.
Visitors are invited to dialogue with the history of Russia, whose "great and terrible projects" over centuries can also help us understand Putin's invasion of Ukraine today. This exhibition sets the quiet resonance of day-to-day life on the periphery of the Russian Empire against the fevered aristocratic competition at its autocratic Moscow center.
Campbell's "Agit Kino: Tell Them We Are For Peace" focuses on Indigenous peoples of subarctic Siberia. The installation features historic photographs and a tent cinema inspired by the early 20th-century Agitprop tents used by itinerant Bolshevik projectionists to screen news, propaganda, and entertainment for nomadic peoples.
Bobroff-Hajal's large, comical but deadly serious, icon-like works, influenced by animation and graphic novels, contain hundreds of individually-painted, 3-inch high portraits of Russians from serfs to princes. Their stories are "narrated" by zany Tsarist "godparents," across centuries of often brutal Tsarist and Soviet autocratic history, shaped by the specific geography on which they live.
The exhibit will be displayed June 1st - August 12th, 2023 at the Old Bakery and Emporium at 1006 Congress Ave. Austin, TX 78701
Click here to RSVP for FREE on Eventbrite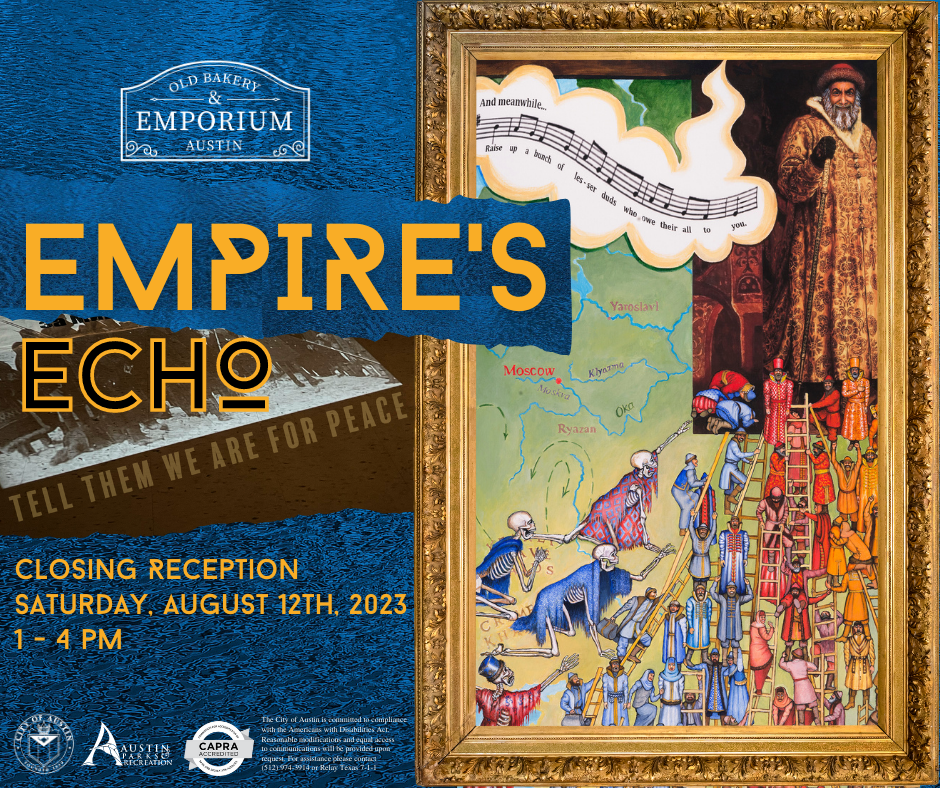 ---
Old Bakery Park Mural Project
The City of Austin Parks & Recreation Department and the Old Bakery & Artisan Emporium are partnering with the Downtown Austin Alliance to transform Old Bakery Park.
This Community Activated Parks Project will include an active community engagement process to explore ideas about how to revitalize this downtown greenspace through a new Writing on the Walls mural that tells the story of this area of Austin.
Give your feedback to let us know what you'd like to see in this future downtown mural.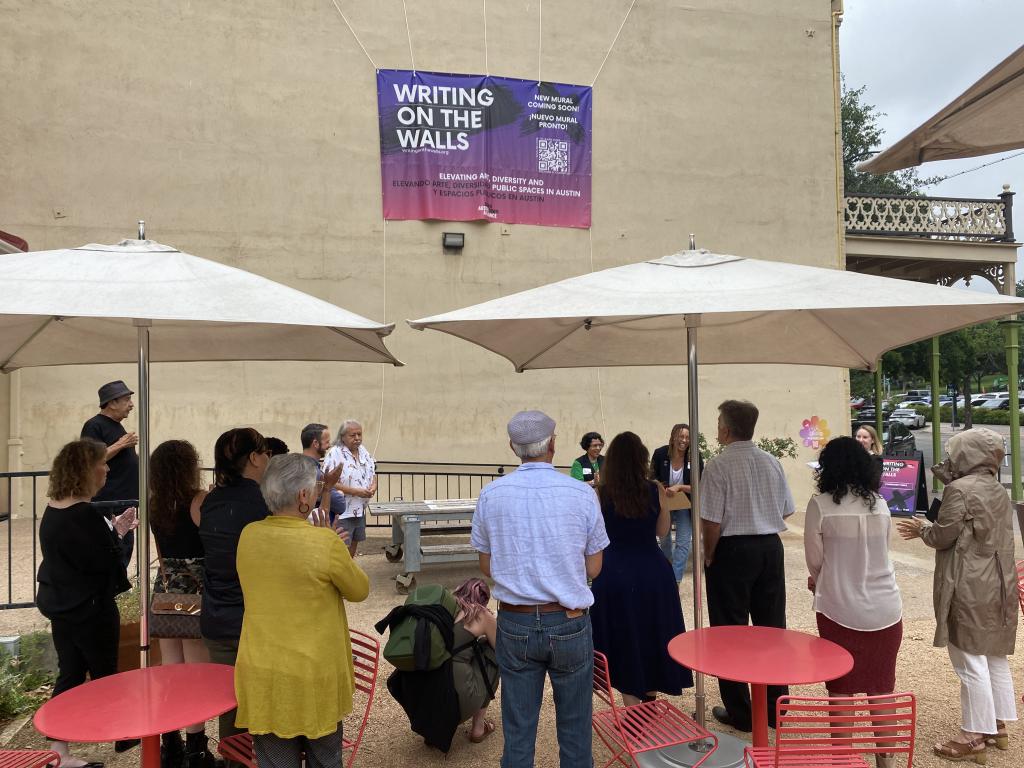 Thank you to the talented artists and local leaders who have joined our community engagement events regarding this project so far.
Your feedback is valuable, and we look forward to working together to create a beautiful new mural!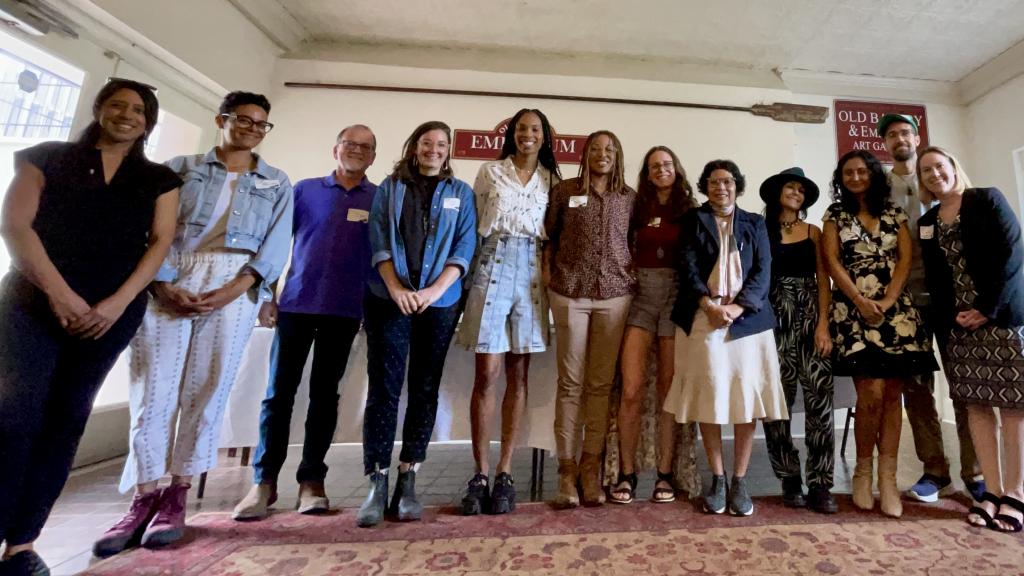 ---
Call for Art By Military Women!
The Old Bakery & Emporium has partnered with Austin Veteran Artist Festival to bring you a new exhibition entitled Military Women Surviving. 
We are currently accepting submissions of art in all mediums created by active duty or veteran military women that live in the greater Austin area.
To apply please send 3-5 images of your work with an artist statement to herlinda.zamora@austintexas.gov by August 4th, 2023
There is no fee to apply. 
The exhibit will take place at the Old Bakery & Emporium at 1006 Congress Ave in Austin, Texas, and open on November 4th, 2023.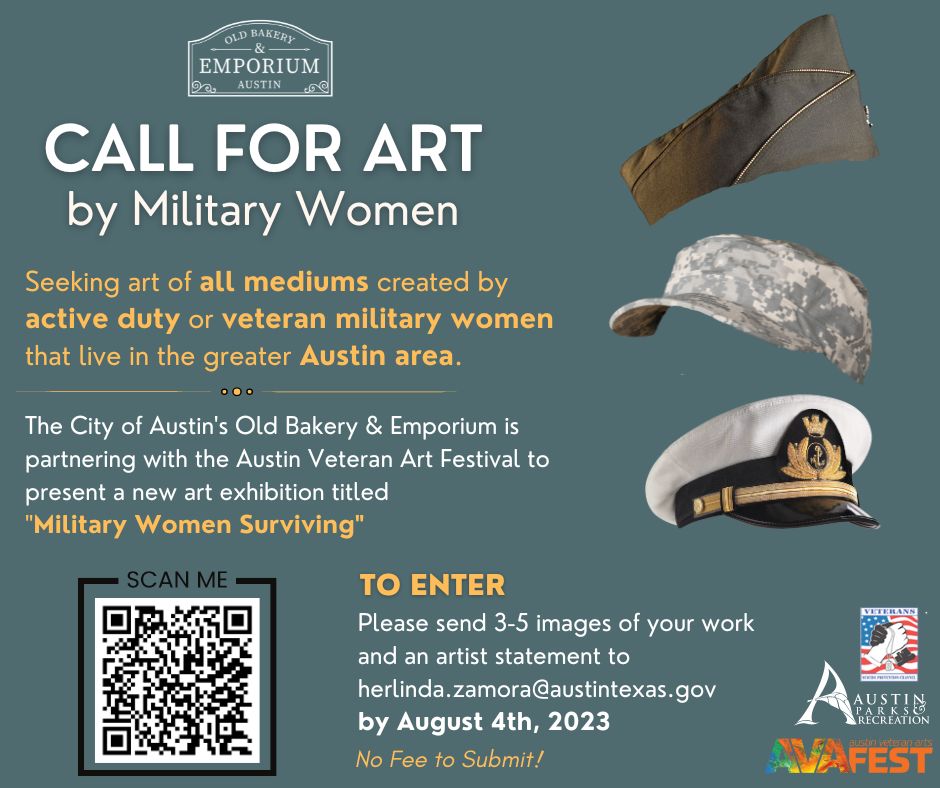 Online gallery: The accepted artists agree to allow their art to become part of an online gallery operated by the Austin Veteran Arts Festival (AVAFest) and the Veterans Suicide Prevention Channel (VSPChannel), a 501c3 nonprofit organization that is chaired and founded by Glenn Towery and the creators of AVAFest. 
For more details contact:
AVAFest Curator/Judge: Juanita Cole Towery, Secretary of the Veterans Suicide Prevention Channel
Executive Producer: Glenn Towery
Learn more about AVAFest & VSPChannel:
Roku Television Channel: www.veteransartsandwellnessnetwork.org
Website TV Channel: www.vspchannel.vet/now-showing/the-vsp-channel
---
Become a Consignor

We are currently reviewing work of new consignors and would love to welcome new creators into our Old Bakery & Emporium family!
The Old Bakery & Emporium welcomes artists and artisans who work in a large range of mediums. Our store features work from Austin creators who are age 50+, and whose work embraces the one-of-a-kind aspect of handmade art and items. We are especially looking for traditional crafts that express any and all cultural heritages, for example: weaving, beadwork, leather work, jewelry, metal work, embroidery, woodwork, etc.
To be considered an Artist Consignor, one work must present handcrafted work, as well as meet our age requirement.
To receive additional information about becoming an Artist Consignor, please email Herlinda Zamora.
---
Stay In Touch with the Old Bakery & Artisan Emporium
Sign Up for Our Monthly Newsletter
Past Events: