Art Gallery at the Old Bakery
The Art Gallery features exhibits by Austin-area artists who are 50+ years old. Our curated exhibits include artwork of all mediums and celebrate Austin's rich artistic and cultural diversity. 

Paths of Light: A Sculptural Exploration of Color & Light
by Andrea Loomis & Larry Akers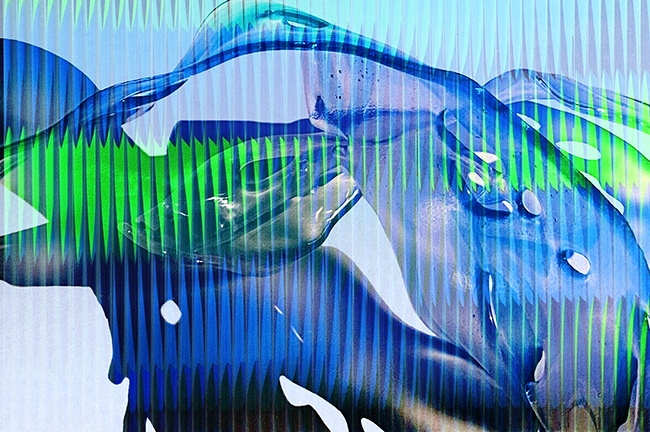 DUE TO POPULAR DEMAND the exhibit has been extend through JULY 16, 2022!
Light. Color. Translucence. Refraction. Transparency. Shadow. Transformation. Pattern. Illumination. Form.
Humans are attuned to the interactions of light with material. This exhibit focuses on sculptures that explore and highlight these interactions and how we perceive them. How far do the paths of light reach into our minds and emotions?
The artwork of both Andrea Loomis and Larry Akers shares not only this exploration as common ground; their work also shares a grounding in science and mathematics. Their visual language is based on a kinetic relationship between light, the art objects that make light visible, and the viewer.
Glass, metal, and acrylic materials bend, shape, color, filter, and arrange light into images of powerful expression and fascinating geometry.
Andrea Loomis' kiln-formed glass work focuses on the emotional strength of light. Her abstract sculptures are colorful and organic; they form relationships with their shadows. The dynamics of light and color, shape and shadow create intriguing moments of interplay between stillness and activity. This effect is heightened by the paradoxical delicacy and strength of glass itself and reflects the connection between our inner and outer worlds.
Larry Akers' artworks in patterned materials and illumination generate highly kinetic moire effects that respond to a viewer's movements and shifts of focus. They invite interaction, posing questions about geometry and the very nature of visual perception. A series of his layered works replace typical framing glass with arrays of acrylic bars that transform background patterns. In small pieces, this creates a three-dimensional palette of surprising depth and activity. In larger pieces the acrylic refracts simple geometric tessellations into complex re-representations.
---
Out of the Comaleros by Mary Ann Vaca-Lambert

Mary Ann Vaca-Lambert is a native Texan, currently living in Austin. After getting a cancer diagnosis Mary Ann used the process of creating art quilts as a method of healing and relaxation. Her techniques evolved, as she beat the odds doctors gave her by years. Mary Ann has always found inspiration all around her, even in typically mundane tasks, like trips to the grocery store or spotting a moth sitting on a door frame. Her quilts have been in many juried art shows.

Mary Ann worked for the City of Austin, for Parks and Recreation/Museums & Cultural Programs Division at the Emma S. Barrientos Mexican American Cultural Center and Dougherty Arts Center.

Click here to visit here to view the digital exhibit: Out of the Comaleros.

Come see these three quilts from the exhibit in person at the Old Bakery & Emporium:

"La Virgen de Guadalupe" 

"Green Card Garden"

"Golden Hour Self-Portrait"
Vessel as Metaphor: Ceramic Works by Suzanne Shield-Polk

Exhibit ran February 2 - March 26, 2022

BIOGRAPHY

Suzanne Shield-Polk grew up in Austin. She realized early on that I loved art. She first studied ceramics at Southwest Texas State University, worked as a production potter in San Marcos, then, went on to complete a B. F. A. in Art History at the University of Texas, Austin. After graduation, Suzanne relocated to California, where she embarked on a career in set decorating and art direction for the motion picture industry. She left the film industry to teach art and focus on her work as a visual artist while completing a Master of Fine Arts degree in Ceramics, Sculpture, and Video at California State University, Northridge. Suzanne returned to Texas to establish and head the ceramics department at the new Lone Star College (LSC), Cy-Fair Campus, in Houston. After many years at LSC, she moved to San Marcos to open her own studio, where she is producing ceramics and sculptural forms in several media. Suzanne offers instructional workshops in a variety of ceramic processes and the medium of Encaustic Wax for both two and three-dimensional applications. Her work has been exhibited in Texas and nationally.
The Eyes of Central Texas
Artwork presented by the Artists of Central Texas (ACT)


 
The ACT group is comprised of artists currently living in central Texas who exhibit annually.  This exhibit showcases figures, still life, and landscape subjects with very different artistic treatments and reveals the creative spirit of the artists through eyes of Central Texas.

The ACT artists featured in the gallery are Karen Sherman, Beverly Dennis, Mary Schwindt, David Schwindt, Diane Fraser, Kevin Middleton, Jennifer Polnaszek, Jack Puryear, and Monica Puryear.
 
 

AVAFest

- Austin Veteran Arts Event

The City of Austin Parks and Recreation Department's Division of Museums & Cultural Programs was proud to once again partner with Austin Veteran Arts for AVAFest 2021.

This year, the art of Veterans, Active Service members and their families were showcased at locations across the city. The eight artists that exhibited at The Old Bakery and Emporium were Glenn Towery, Raul Valdez, Christina Green-Martinez, Juanita Towery, Gene Berry, Violet Nicklen, Peter J. Buotte, and Clarence Ranzau.

Meandering Lines - Caroline Walker

    

Shelter in Place, 2020                    Phototropism, 2018

Meandering Lines is an exhibit that explores Walker's otherworldly collage paintings, where meandering lines are a theme throughout the work. These lines can represent organic shapes in nature, a path through life, or interconnectivity of humans and the environment. In her sculptural work she bends the edges of sheet metal into flowing organic lines that play off the straight lines of the Baltic birch plywood it is paired with.
American Music Series - Rick Steinburg

     

32-20 Blues (Robert Johnson), 2018                       Candy Man (Reverend Gary Davis), 2017
Evolution of an Artist - Marcela Kourkova

    

Futuristic Home, 2020                            Free Form, 2019

Let's Face It - Lauryl Eddlemon

    

Party Girl, 2020                                                         Moonlit Dream, 2020