Art Gallery at the Old Bakery
The Art Gallery features exhibits by Austin-area artists and art organizations who are 50 years old or greater. Our curated exhibits include artwork of all mediums and celebrates Austin's rich artistic and cultural diversity. Located on the third floor of The Old Bakery & Emporium in the heart of downtown Austin, overlooking the Capitol and the Governor's Mansion.

Gallery Exhibits
Meandering Lines - Caroline Walker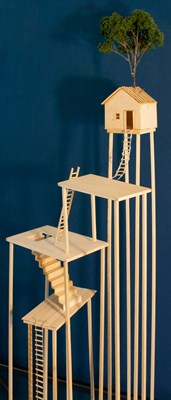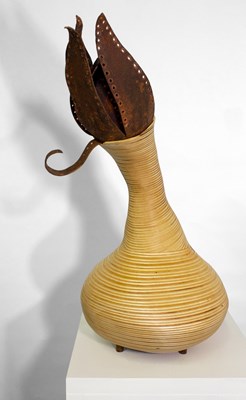 Shelter in Place, 2020                    Phototropism, 2018
Meandering Lines is an exhibit that explores Walker's otherworldly collage paintings, where meandering lines are a theme throughout the work. These lines can represent organic shapes in nature, a path through life, or interconnectivity of humans and the environment. In her sculptural work she bends the edges of sheet metal into flowing organic lines that play off the straight lines of the Baltic birch plywood it is paired with.
---
American Music Series - Rick Steinburg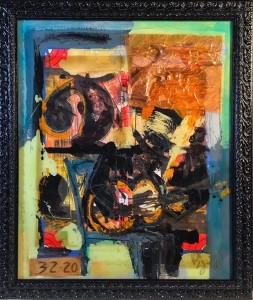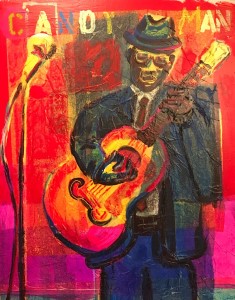 32-20 Blues (Robert Johnson), 2018                       Candy Man (Reverend Gary Davis), 2017
In this series, Steinburg is attempting to honor his musical influences and he has found beauty in the faces of the musicians and a deeper connection to their music and stories of their lives, which has enriched both his music and his art.His love of the guitar is in play here; whether by representing the types of guitars used by the artists, the use of found objects that are fragments from broken guitars that represent the shape or details of the instrument, or an expressionist use of more abstract shapes that suggest the guitar. 
---
Evolution of an Artist - Marcela Kourkova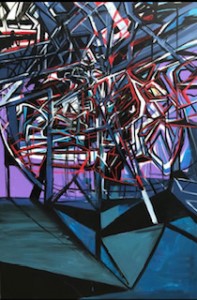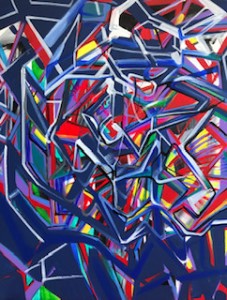 Futuristic Home, 2020                            Free Form, 2019
Marcela Kourkova's exhibition displays her evolution as an artist, drawing inspiration from socialist brutalism, art nouveau, and a recent turn toward Asian influence that stems from her travels in Japan, which she says clarified her artistic goals and abstract direction. "In my abstract paintings," she explains, "I explore line, shape, space, and color. I make many lines and shapes and I look for ways to twist, turn, and connect them to create interesting angels and dimensions. Creating problems and solving them is one of my primary goals from which I learn and discover new ways of critical thinking."
---
Let's Face It - Lauryl Eddlemon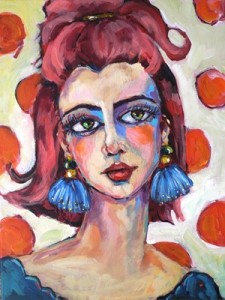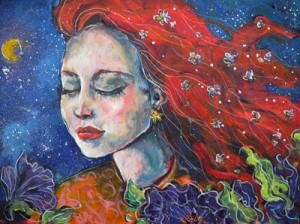 Party Girl, 2020                                                         Moonlit Dream, 2020
Lauryl Eddlemon's love of folk art inspires her bold, expressive style and rich colors in the faces she paints. "I've always enjoyed painting a variety of subject matter — landscape, still life, figural, abstract, etc.," Eddlemon explains. "But a funny thing happened shortly after facemasks became mandatory in 2020: the only thing I wanted to paint were portraits. I became fascinated with faces because I missed them. Generally, I just felt disconnected from people. So, I sat in my studio and stared endlessly at the faces on my canvasses."
---
Virtual Art Exhibits
Still/Life by Jennifer Hill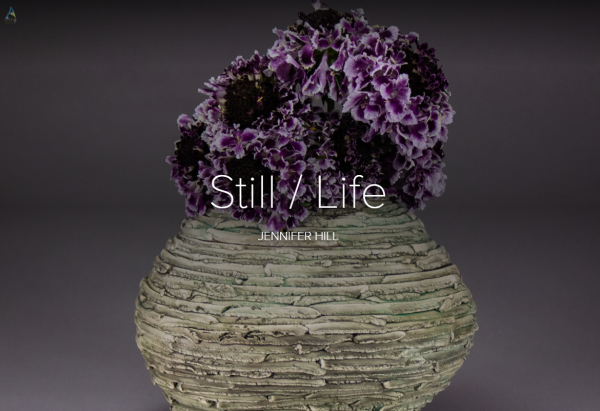 All You Have to do is Look by Jan Frazier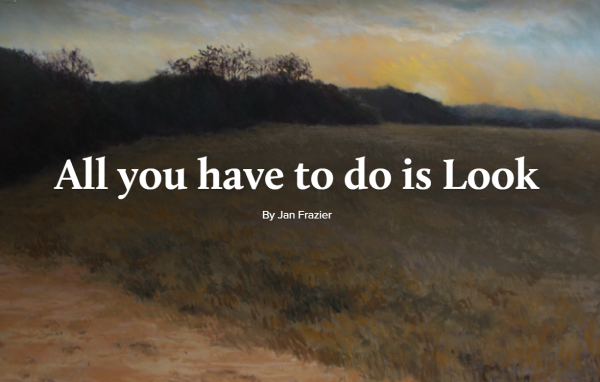 ---

---