Art Gallery at the Old Bakery
The Art Gallery features exhibits by Austin-area artists who are 50+ years old. Our curated exhibits include artwork of all mediums and celebrate Austin's rich artistic and cultural diversity. 

Franklin Mendez: A Retrospective of Paintings
On Display August 26th - October 21st 2023
The exhibition will showcase decades worth of work from local Austin artist Franklin Mendez.
Franklin Mendez is an Austin-born Marine Corps and Vietnam Veteran with a civilian career spanning 35 years in the corporate art world. This unique combination of lifelong experiences has produced an impressive and diverse collection of work.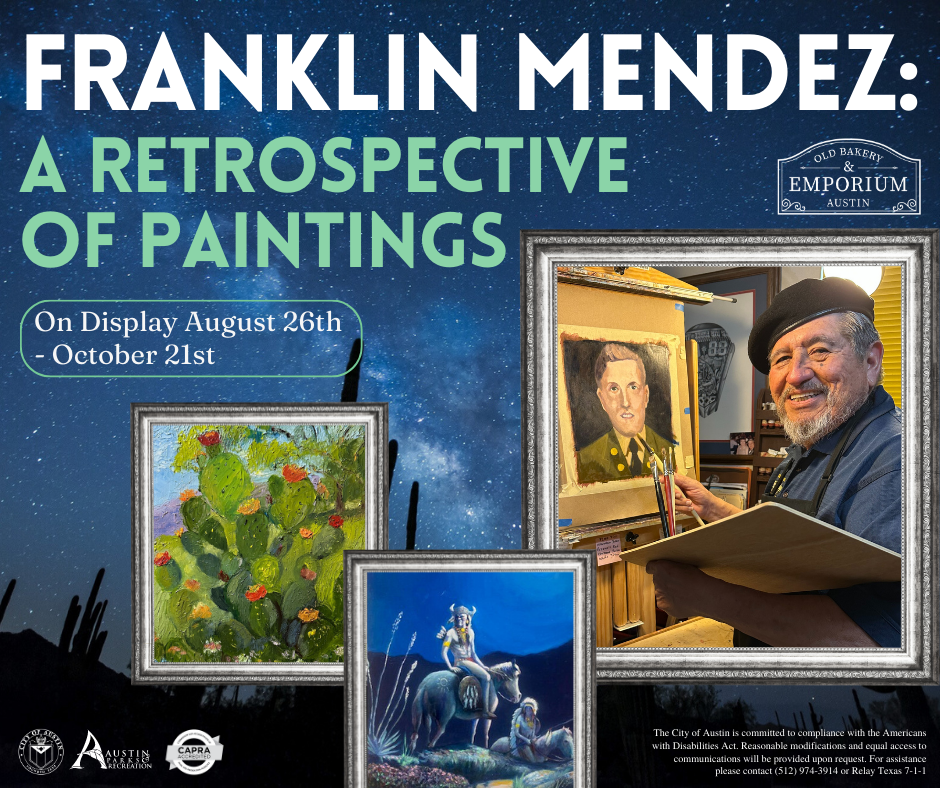 "I'm 78 years old and I am still painting every day. I wake up with a purpose in life. I want to continue learning as there is so much to learn. I paint to heal my invisible wounds and my hope is that others may find healing in my art. 
Every painting is an exploration of the unknown. Even though I have painted many varied compositions, each brush stroke in every painting is still a dedicated and deliberate attempt to learn. The process of learning art is in your eye and at your fingertips."
- Franklin Mendez
---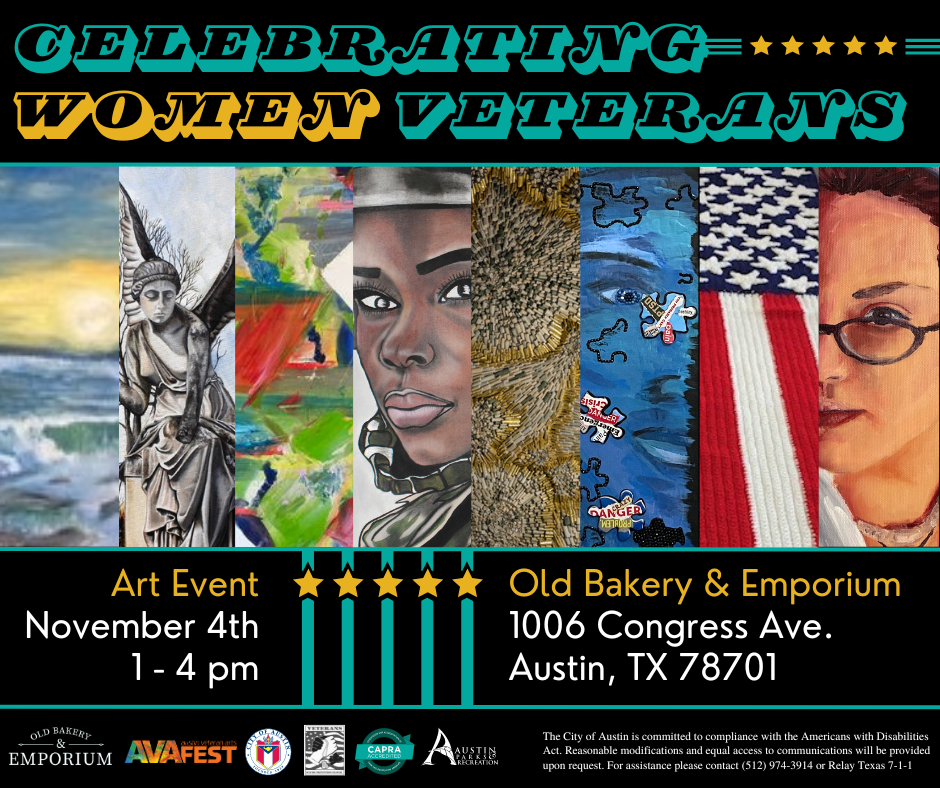 COMING SOON: "Celebrating Women Veterans"
Opening November 4th, 2023
The Old Bakery & Emporium has partnered with the Austin Veteran Artist Festival to bring you a new art exhibition entitled "Celebrating Women Veterans". 
The exhibition will open on Saturday, November 4th, 2023, and will be marked by an opening reception from 1 - 4 pm.
The exhibit features the work of eight unique Austin women artists
who are military veterans.  
This special art exhibit celebrates the 75th Anniversary of the Women's Armed Forces Integration Act, which allowed women to become permanent, regular members of the US armed forces in 1948. 
---
Empire's Echo - Summer 2023

Empire's Echo

A dual exhibition by Anne Bobroff-Hajal and Craig Campbell

Anne Bobroff-Hajal and Craig Campbell use their art practices to explore legacies of conquest, resistance and endurance in the context of Russia's Empire.

Visitors are invited to dialogue with the history of Russia, whose "great and terrible projects" over centuries can also help us understand Putin's invasion of Ukraine today. This exhibition sets the quiet resonance of day-to-day life on the periphery of the Russian Empire against the fevered aristocratic competition at its autocratic Moscow center.

 

 

Campbell's "Agit Kino: Tell Them We Are For Peace" focuses on Indigenous peoples of subarctic Siberia. The installation features historic photographs and a tent cinema inspired by the early 20th-century Agitprop tents used by itinerant Bolshevik projectionists to screen news, propaganda, and entertainment for nomadic peoples.

Bobroff-Hajal's large, comical but deadly serious, icon-like works, influenced by animation and graphic novels, contain hundreds of individually-painted, 3-inch high portraits of Russians from serfs to princes. Their stories are "narrated" by zany Tsarist "godparents," across centuries of often brutal Tsarist and Soviet autocratic history, shaped by the specific geography on which they live.

The exhibit will be on display from June 1st - August 12th, 2023. 

Join us on Saturday, August 12th from 1 - 4 pm for the closing reception!

The exhibit and closing reception are free to attend and will take place at the Old Bakery & Emporium located at 1006 Congress Ave. Austin, TX 78701.
Abstract Rhythms - Spring 2023

 We are thrilled to announce our current art exhibit ABSTRACT RHYTHMS

Abstract Rhythms encompasses the work of three artists who met through their common love of art: Joseph Jay, Malina Cipleu, and Larry Akers. 

Although working in different mediums, their art is connected through a sense of harmony, rhythm, and fluidity. The artists invite the viewer to tune into the cadence of the artworks and to find the relationships between light and sound, pattern and rhythm that infuse these works. 

The gallery & museum is free to attend. Abstract Rhythms will be on display until May 13th, 2023.

 

 

 Walking in My Shoes: The Art of Robert R. Jones

 

Walking in My Shoes: The Art of Robert R. Jones

On display January 14th, 2023 - March 18th, 2023

The exhibition will showcase the work of artist Robert R. Jones, as the Old Bakery recognizes and highlights African American art during Black History Month. 

"Walking In My Shoes" is an artistic exploration into the notion of walking in someone else's shoes. This perspective shift gives the viewer a different angle from which to experience love, entertainment, and empathy.

The exhibition is free to attend!

 
Tom Lea Combat Warrior Art

​Tom Lea Combat Warrior Art Exhibit:

October 22 - December 17, 2022

The exhibition will highlight twelve giclée prints of Tom Lea's works and photographs from the Tom Lea Institute in El Paso, Texas. The Tom Lea Combat Warrior Art exhibit focuses on Tom Lea's Life Magazine WWII series. The exhibition also includes U.S. combat veteran and Director & Founder of AVAFest, Glenn Towery.

Furthermore, the exhibit will feature work from combat veterans Peter Buotte, Lorenzo Quinonez, Kurt Ritterpusch, Franklin Mendez, Raphael Melis, Ben Freeman, and Patrick Redbird.

About Tom Lea:

Tom Lea was born on July 11, 1907 in El Paso, Texas. In 1924, Lea moved to Chicago to study at the Art Institute, only to leave to paint murals in the Chicago area. After a brief trip to Europe, during which he studied paintings by masters such as Eugène Delacroix and Piero della Francesca, Lea returned to Chicago and eventually moved to Santa Fe, New Mexico, where he created illustrations for New Mexico magazine.

In 1936, he moved back to El Paso to paint murals for the Texas Centennial celebration and compete for government-sponsored mural projects. He won competitions for post office murals in Washington, D.C., La Crosse, Wisconsin, and Odessa. During World War II, as an artist-correspondent for Life Magazine, Lea traveled to China and throughout the Pacific.

Back home in El Paso after the war, he became one of the country's leading book and magazine illustrators, particularly of Western scenes. When he began to lose his sight in the 1990s, Lea shifted to a more abstract style and continued painting the landscape of his beloved Southwest. He died on January 29, 2001 in El Paso and is buried at the Texas State Cemetery in Austin, Texas.     
CONTACT: paintings by Clint Atkinson

August 6th-September 24th 2022

Artist Statement:

"Contact" is a show about human contact, eye as well as physical contact, the moment of intimate sharing. The paintings' protagonist make eye contact. I want you to feel challenged to engage with the work. 

My goal as an artist is to create emotive paintings and drawings that combine impactful figurative compositions with equally powerful surface work. I place imporance on both the overt figurative compostion and surface mark making. When successful, the figure rides between being destroyed and help together by its richly worked surface. 

There is text in my larger work, which serves multiple purposes, as a surface mark (for text can only be read as "on the surface"), and as the communication of a thought, though this is often subverted by the text being partially destroyed. I work faily large for this reason. When I work on a smaller scale, the mark making is forced to become more refined. 

My work is narrative, but remains open ended as to meaning. Viewers will always bring their personal context. I strive to deliver authentic feeling, a personal truth to which the viewer can connect. 

About Artist Clint Atkinson:

Artist, Clint Atkinson lives and works in Austin, Texas. He has been exhibiting in Austin since 2018. 

Although born in New Orleans, Louisiana, Atkinson spent his early years in Guatemala. His family then returned stateside and he spent the rest of his formative years in Houston and Corpus Christi, Texas. Atkinson moved to Canada after serving three years active duty as a Photographer's Mate in the US Navy. He earned his BFA, with honors, from the University of Victoria, British Columbia, and his MFA from Concordia University, Montreal, Quebec, Canada. In between degrees he attended the Winter Session of Independent Study at the BANFF Center for the Arts, Banff, Alberta, Canada. 

Atkinson's work is in the collections of the Canada Council Art Bank, Ottawa, Ontario, and the Surrey Art Gallery, British Columbia, Canada as well as in private collections in Canada and the United States. 
Paths of Light: A Sculptural Exploration of Color & Light by Andrea Loomis & Larry Akers

 

Light. Color. Translucence. Refraction. Transparency. Shadow. Transformation. Pattern. Illumination. Form.

Humans are attuned to the interactions of light with material. This exhibit focuses on sculptures that explore and highlight these interactions and how we perceive them. How far do the paths of light reach into our minds and emotions?

The artwork of both Andrea Loomis and Larry Akers shares not only this exploration as common ground; their work also shares a grounding in science and mathematics. Their visual language is based on a kinetic relationship between light, the art objects that make light visible, and the viewer.

Glass, metal, and acrylic materials bend, shape, color, filter, and arrange light into images of powerful expression and fascinating geometry.

Andrea Loomis' kiln-formed glass work focuses on the emotional strength of light. Her abstract sculptures are colorful and organic; they form relationships with their shadows. The dynamics of light and color, shape and shadow create intriguing moments of interplay between stillness and activity. This effect is heightened by the paradoxical delicacy and strength of glass itself and reflects the connection between our inner and outer worlds.

Larry Akers' artworks in patterned materials and illumination generate highly kinetic moire effects that respond to a viewer's movements and shifts of focus. They invite interaction, posing questions about geometry and the very nature of visual perception. A series of his layered works replace typical framing glass with arrays of acrylic bars that transform background patterns. In small pieces, this creates a three-dimensional palette of surprising depth and activity. In larger pieces the acrylic refracts simple geometric tessellations into complex re-representations.
Out of the Comaleros by Mary Ann Vaca-Lambert

Mary Ann Vaca-Lambert is a native Texan, currently living in Austin. After getting a cancer diagnosis Mary Ann used the process of creating art quilts as a method of healing and relaxation. Her techniques evolved, as she beat the odds doctors gave her by years. Mary Ann has always found inspiration all around her, even in typically mundane tasks, like trips to the grocery store or spotting a moth sitting on a door frame. Her quilts have been in many juried art shows.

Mary Ann worked for the City of Austin, for Parks and Recreation/Museums & Cultural Programs Division at the Emma S. Barrientos Mexican American Cultural Center and Dougherty Arts Center.

Click here to visit here to view the digital exhibit: Out of the Comaleros.

Come see these three quilts from the exhibit in person at the Old Bakery & Emporium:

"La Virgen de Guadalupe" 

"Green Card Garden"

"Golden Hour Self-Portrait"
Vessel as Metaphor: Ceramic Works by Suzanne Shield-Polk

Exhibit ran February 2 - March 26, 2022

BIOGRAPHY

Suzanne Shield-Polk grew up in Austin. She realized early on that I loved art. She first studied ceramics at Southwest Texas State University, worked as a production potter in San Marcos, then, went on to complete a B. F. A. in Art History at the University of Texas, Austin. After graduation, Suzanne relocated to California, where she embarked on a career in set decorating and art direction for the motion picture industry. She left the film industry to teach art and focus on her work as a visual artist while completing a Master of Fine Arts degree in Ceramics, Sculpture, and Video at California State University, Northridge. Suzanne returned to Texas to establish and head the ceramics department at the new Lone Star College (LSC), Cy-Fair Campus, in Houston. After many years at LSC, she moved to San Marcos to open her own studio, where she is producing ceramics and sculptural forms in several media. Suzanne offers instructional workshops in a variety of ceramic processes and the medium of Encaustic Wax for both two and three-dimensional applications. Her work has been exhibited in Texas and nationally.
The Eyes of Central Texas
Artwork presented by the Artists of Central Texas (ACT)


 
The ACT group is comprised of artists currently living in central Texas who exhibit annually.  This exhibit showcases figures, still life, and landscape subjects with very different artistic treatments and reveals the creative spirit of the artists through eyes of Central Texas.

The ACT artists featured in the gallery are Karen Sherman, Beverly Dennis, Mary Schwindt, David Schwindt, Diane Fraser, Kevin Middleton, Jennifer Polnaszek, Jack Puryear, and Monica Puryear.
 
 

AVAFest

- Austin Veteran Arts Event

The City of Austin Parks and Recreation Department's Division of Museums & Cultural Programs was proud to once again partner with Austin Veteran Arts for AVAFest 2021.

This year, the art of Veterans, Active Service members and their families were showcased at locations across the city. The eight artists that exhibited at The Old Bakery and Emporium were Glenn Towery, Raul Valdez, Christina Green-Martinez, Juanita Towery, Gene Berry, Violet Nicklen, Peter J. Buotte, and Clarence Ranzau.

Meandering Lines - Caroline Walker

    

Shelter in Place, 2020                    Phototropism, 2018

Meandering Lines is an exhibit that explores Walker's otherworldly collage paintings, where meandering lines are a theme throughout the work. These lines can represent organic shapes in nature, a path through life, or interconnectivity of humans and the environment. In her sculptural work she bends the edges of sheet metal into flowing organic lines that play off the straight lines of the Baltic birch plywood it is paired with.
American Music Series - Rick Steinburg

     

32-20 Blues (Robert Johnson), 2018                       Candy Man (Reverend Gary Davis), 2017
Evolution of an Artist - Marcela Kourkova

    

Futuristic Home, 2020                            Free Form, 2019

Let's Face It - Lauryl Eddlemon

    

Party Girl, 2020                                                         Moonlit Dream, 2020