What happens when I report a code violation?
When you report a possible code violation to 3-1-1, the Code Department receives a service request and a code case is created. A code inspector will investigate. If they confirm a violation, they will notify the property owner and work with them to resolve the violation within a stated timeframe. If the property owner does not voluntarily resolve the violation within the timeframe, they may receive a citation.
Remember, you can always report a code violation anonymously.
How long will it take for Austin Code to respond?
The Austin Code Department uses an automated system which sets clear expectations for response times to customer concerns. Response times are set based on considerations such as time-sensitivity and risks to life safety.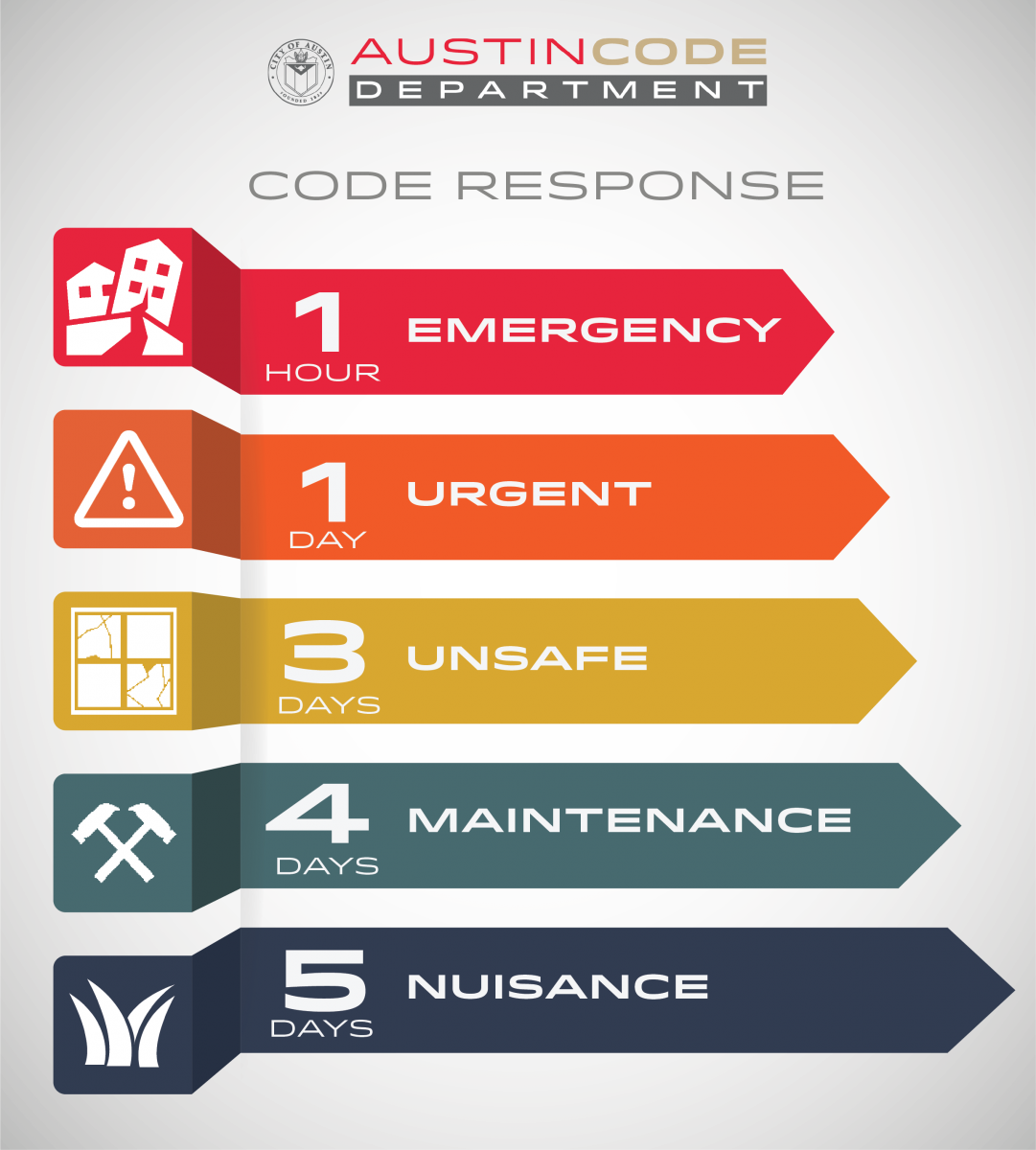 1 Hour - Emergency: Imminent Danger / Life Safety
1 Day - Urgent: High-Risk Hazard / Time-Sensitive
3 Days - Unsafe: Land Use / Structural
4 Days - Maintenance: Property Maintenance / Use
5 Days - Nuisance: Other Violations such as Tall Grass and Standing Water
What can I do after a code case is created?
Once a case has been created, here are additional steps you can take:
Check the status of your case: Visit Citizen Connect to search for cases by address, case number or various region filters. 
Talk to a Code inspector: Call our dedicated phone line Code Connect at 512-974-2633 to get answers for general code questions and updates on your existing cases. Or find your assigned inspector.
---
Still have questions about reporting a violation? Call our Code Connect line at 512-974-CODE [512-974-2633].
Denuncie una infracción del código
llamando al 3-1-1
, utilizando
la aplicación de 3-1-1
o
enviando un informe en línea
.
Siempre puede denunciar de forma anónima
. Para obtener más información sobre violaciones del código, consulte esta
lista de infracciones comunes del código
o busque el
Código de Ordenanzas de Austin
.
¿Qué sucede cuando denuncio una infracción del código?
Cuando informa sobre una posible violación del código al 3-1-1, el Departamento de Códigos recibe una solicitud de servicio y se crea un caso de código. Un inspector de código investigará. Si confirman una infracción, notificarán al dueño de la propiedad y trabajarán con ellos para resolver la infracción dentro de un plazo establecido. Si el dueño de la propiedad no resuelve voluntariamente la infracción dentro del plazo, puede recibir una multa.
Recuerde, siempre puede denunciar una infracción del código de forma anónima.
¿Cuánto tardará El Departamento de Códigos de Austin en responder?
El Departamento de Códigos de Austin utiliza un sistema automatizado que establece expectativas claras para los tiempos de respuesta a las denuncias de los clientes. Los tiempos de respuesta se establecen en función de consideraciones como la sensibilidad al tiempo y los riesgos para la seguridad de la vida.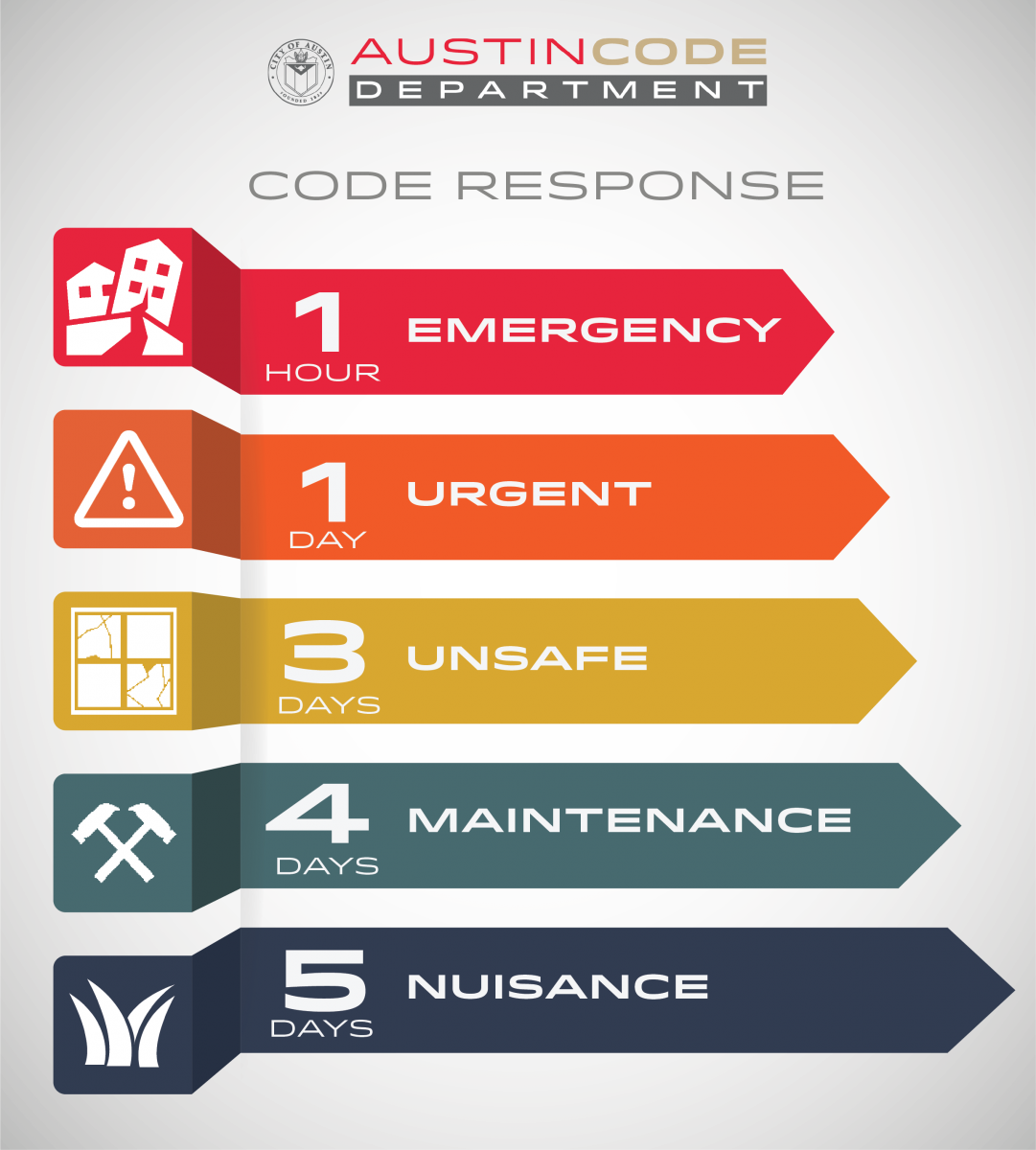 1 hora - Emergencia: Peligro inminente / Seguridad humana
1 día - Urgente: Peligro de alto riesgo / Sensible al tiempo
3 días - Inseguro: Uso de terreno / Estructural
4 días - Mantenimiento:  Mantenimiento/uso de propiedad
5 días - Molestias: Otras infracciones, como cesped alto y agua estancada
¿Qué puedo hacer después de que se crea un caso de código?
Ya que haya un caso, aquí hay pasos adicionales que puede seguir:
Verifique el estado de su caso: visite Citizen Connect para buscar casos por dirección, número de caso o varios filtros de región.
Hable con un inspector de códigos: llame a nuestra línea telefónica dedicada Code Connect al 512-974-2633 para obtener respuestas a preguntas generales sobre códigos y actualizaciones sobre sus casos existentes. O busque a su inspector asignado.
---
¿Aún tiene preguntas sobre cómo denunciar una infracción o cómo responde el Código de Austin a las denuncias? Llame a nuestra línea Code Connect al 512-974-CODE [2633].