Learn about common Austin Code violations and how City of Austin codes and ordinances protect our health and safety. Report suspected violations by calling 3-1-1, using the 3-1-1 app, or making a report online. Once reported, a service request will be created for code enforcement and the matter will be investigated.
Five common code violations on residential properties are:
If you are a renter, here are some tenant resources for identifying and reporting violations in your home.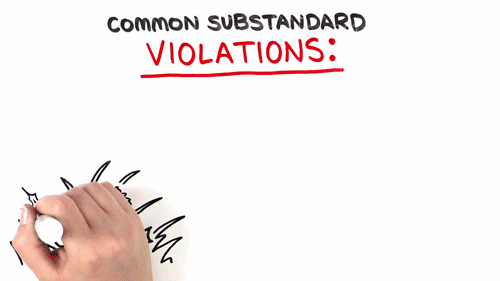 ---
The following is a list of common code violations and how to recognize them. Please keep in mind that this list does not include every possible code violation. Visit the Municipal Code Library for a complete listing of Austin codes and ordinances. If you have questions, call Code Connect at (512)-974-2633 [512-974-CODE].
For issues outside the scope of Code Compliance enforcement, the Austin Municipal Court provides a way for individuals to file complaints with the court. Examples of those complaints include insurance violations, noisy animals, loud music, traffic code, city code, and criminal violations. Learn more about filing a citizen complaint.
Common Code Violations
Austin residents may not accumulate trash, debris, brush, filth, carrion, or any other unsightly, objectionable, or unwholesome matter on their property. It is also a code violation to store any material on a vacant lot.

Garbage and unwanted items must be disposed of in regulated areas. In addition to designated trash containers, there are several landfills in the Austin area where you may dispose of items that you no longer want for a fee. Leaving these items anywhere else is considered illegal dumping.

Code Compliance pursues two goals with illegal dumping: ensuring the dump site is cleaned up and catching the violator. If caught, violators may be required to clean up the dump site and pay a fine. However, cleaning up the dump site is ultimately the responsibility of the property owner even if they are not the violator.

Business and Industry Regulations

Businesses and industries must have all required City approvals such as permits, site plans, inspections and certificates of occupancy. These regulate many aspects of the business, such as the number of parking spaces, type of lighting, type of signage, plumbing requirements, etc. If there has been a change in a local business that is affecting your neighborhood or home, the business may not be in compliance. View permits issued to specific businesses.

Mobile Vendors

Mobile vendors may not be located on residential private property or property zoned LO (Limited Office), NO (Neighborhood Office) or GO (General Office) per City Code 25-2-812 - Mobile Food Establishments. On the right of way, mobile vendors are regulated by the Austin Transportation Department and the Austin Police Department.

Running a Business from Home

Home businesses are highly regulated. Businesses that cannot be run from home include auto repair shops, contractor's yards, adult-oriented businesses and retail businesses. You also may not store commercial vehicles at your home.

Adult-Oriented Businesses

Adult-oriented businesses, like all businesses, must be located in the appropriate zone. In addition, they must not be located within 1,000 feet of a church, school, public park, public playground, licensed daycare or a lot where another adult-oriented business is located. You may not run an adult-oriented business from your home.

Any structure that is used for residential purposes and uses gas or fuel-burning appliances (and/or has an attached garage that connects to the structure) are required to install and maintain carbon monoxide (CO) detectors. Not having appropriately placed CO detectors in these structures is a code violation.

If there is a gas or fuel-burning appliance inside the bedroom or inside an attached bathroom to the bedroom, then the detector must be placed inside the bedroom. Detectors must also be installed outside of each separate sleeping area in the immediate vicinity of the bedrooms, when the gas or fuel-burning appliance is outside the bedroom and/or there is an attached garage that connects to the dwelling unit. A gas or fuel-burning appliance includes, but is not limited to: a water heater, furnace, space heater, stove, oven, boiler and/or a fireplace.

Download our English and Spanish flyers (PDF 225KB) to learn more.

Property owners or their agents must get a permit to construct, enlarge, alter, repair, demolish or move a structure. In addition, they must get a permit to change the use of a structure (for example, to change a residence into an office). Failure to obtain an appropriate permit may result in enforcement action. View all permits issued by the City.

Dangerous/Fire-Damaged Structures

Dangerous structures must be made safe or demolished. Dangerous conditions include potential structural failure, exposed electrical wiring, and abandoned, open structures. Vacant buildings must be adequately secured by fencing and/or boarding.

When a building is damaged in a fire, code enforcement sends an investigator to assess the damage and ensure the building is adequately secured. Fire-damaged buildings must then either be repaired or demolished to meet code standards.

Fences must be in sound condition and at an appropriate height. On a corner lot, fences must not block the view of traffic at the intersection. In residential areas, solid fences may not be more than 6 feet tall with two exceptions:

If the fence is around a pool or another hazard and if permission from all adjoining neighbors is filed with the City, then a residential fence may be 8 feet tall.
If the fence is between a residence and a commercial property, it may be 8 feet tall.

A garage sale may not be held at the same property more than four days per calendar year or at a property participating in a residential tour. More than four garage sales per calendar year is a violation of the City Code and is considered a home-based business. In addition, signs advertising the garage sale may only be posted on the property where the sale is occurring for no more than three consecutive days.

 

Garbage carts must be returned to their storage area on private property by 10 p.m. on the designated collection day. They should be placed at the curb by 6:30 a.m. on collection day but not prior to 8 p.m. the evening before.

Grass and weeds must be kept below 12 inches. Letting grass and weeds grow taller than 12 inches creates unsanitary conditions and is also a code violation. City code (City of Austin Code 10-5, Article 2) requires that grass and weeds be maintained below 12 inches.

Keeping grass and weeds short is an important way to prevent rodents, insects and stagnant water from developing as a result of overgrowth. When grass and weeds are maintained below 12 inches, our community not only looks better, but is cleaner and safer. 

Property owners are obligated to maintain their properties to the minimum standards set by the Uniform Housing Code and the Dangerous Building Code. This is especially important for rental properties. Examples of common violations include but are not limited to:

heating problems

plumbing

problems

electrical

problems

structural hazards

infestation and other unsanitary conditions

issues with exterior walls, such as lack of weather protection and cracks

You may not post a sign in the right of way or on public property. In residential areas, you may post the following signs on private property temporarily:

Contractors' signs 

Garage or yard sale signs

Neighborhood meeting signs

Political signs

Real estate signs

Off-premise signs are prohibited. For example, a garage sale sign can only be placed where the sale is taking place, or a house for sale sign can only be placed on the property where the house is being sold. In non-residential areas, all signs must be on private property. Signs that are illegally placed in restricted areas are called bandit signs (PDF 3MB) and should be reported to 3-1-1.

A permit is required for a permanent sign, such as a business sign. The City has a sign ordinance (Chapter 25-10 Sign Regulations) that regulates all signs, including political campaign signs. The City does not regulate the content of billboards.

Stagnant water is a breeding ground for mosquitoes. Property owners must drain stagnant water on their properties. Typical sources of stagnant water include pools in disrepair, tires, and buckets. Mosquitoes only need a teaspoon of water to breed. During warmer months, mosquitoes can develop in as little as three days. In addition to itching, mosquito bites can lead to diseases like Zika and West Nile Virus.

For more information about ways to reduce mosquitoes around your property, download our flyer (PDF 1.5MB).

 

Swimming Pools

Swimming pools in residential areas must be enclosed by an approved fence. In addition, swimming pools must be maintained to prevent them from holding stagnant water. The City of Austin's Health and Human Services Department regulates public pools and pools at apartments, hotels and motels.

 

Property owners must trim trees that hang over the street. There must be at least 14 feet of clearance at the curb line. The Public Works Department handles trees that fall and block the right of way.

There are a number of regulations that concern the storage of vehicles in a residential area.

There must not be more vehicles stored at a residence than there are licensed drivers. Additional vehicles must be in the garage.

All vehicles must be functional, with the exception of antique vehicles or recreational vehicles. One vehicle under repair for less than 60 days is allowed.

Residents may keep two antique or recreational vehicles, such as a boat or RV, screened behind a 6-foot wood or masonry fence.

Only one commercial vehicle (with a capacity less than one ton) may be stored at a residence.

Please report junked or abandoned vehicles to 3-1-1.
Infracciones 

comunes

 de código en Austin
Infórmese sobre las infracciones comunes de código en Austin y sobre cómo los códigos y ordenanzas de la ciudad de Austin protegen nuestra salud y seguridad. Denuncie posibles infracciones llamando al 3-1-1 o presentando una queja en línea (en inglés). Una vez presentada, se creará una solicitud de servicio para el Departamento de Códigos y se investigará el asunto.
Cinco infracciones comunes del código en propiedades residenciales son
el césped alto
el trabajo sin autorización
la basura y los desperdicios acumulados
las condiciones antihigiénicas
los problemas con las paredes exteriores
Si es un inquilino, aquí hay algunos recursos para inquilinos para identificar y denunciar infracciones en su hogar.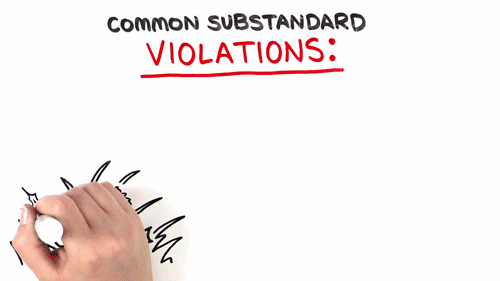 Aquí hay una lista de infracciones comunes del código y cómo reconocerlas. Tenga en cuenta que esto no es una lista completa de posibles problemas de código. Visite la Biblioteca de códigos municipales para obtener una lista completa de los códigos y ordenanzas de Austin. Si tiene preguntas, comuníquese con Code Connect al 512-974-CODE (512-974-2633).
Para asuntos fuera del alcance de lo asignado al Departamento de Códigos de Austin, el Tribunal Municipal de Austin proporciona una manera para que las personas presenten denuncias ante el tribunal. Ejemplos de esas denuncias incluyen incumplimiento de pólizas de seguro, animales ruidosos, música a alto volumen, el código del tráfico, el código municipal e infracciones penales. Obtenga más información sobre cómo presentar una denuncia.
Infracciones comunes del código
Basura y escombros acumulados/tirar basura ilegalmente

Los residentes de Austin no pueden acumular basura, escombros, maleza, inmundicia, carroña o cualquier otro asunto desagradable, objetable o insalubre en su propiedad. También es una violación del código almacenar cualquier material en un baldío.

La basura y los artículos no deseados deben eliminarse en áreas reguladas. Además de los contenedores de basura designados, hay varios basureros en el área de Austin donde puede deshacerse de los artículos que ya no quiere por una tarifa. Dejar estos artículos en cualquier otro lugar se considera vertido ilegal.

La aplicación del código persigue dos objetivos con los vertidos ilegales: garantizar que el baldío se limpie y atrapar al infractor. Si los atrapan, se les puede exigir a que limpien el baldío y paguen una multa. Sin embargo, la limpieza del baldío es, ultimadamente, responsabilidad del dueño de la propiedad, incluso si no es el infractor.

Regulaciones comerciales e industriales

Las empresas y las industrias deben contar con todas las aprobaciones municipales requeridas, como permisos, planos, inspecciones y certificados de ocupación. Estos regulan muchos aspectos del negocio, como la cantidad de espacios de estacionamiento, el tipo de iluminación, el tipo de señalización, los requisitos de plomería, etc. Si ha habido un cambio en un negocio local que está afectando su vecindario u hogar, el negocio puede no estar operando legalmente. Vea los permisos emitidos para negocios específicos.

Proveedores móviles

Los vendedores ambulantes no pueden estar ubicados en propiedades privadas residenciales o propiedades zonificadas como Oficina Limitada (LO por sus siglas en inglés), Oficina del Vecindario (NO por sus siglas en inglés) u Oficina General (GO por sus siglas en inglés) según el código de la ciudad 25-2-812 - establecimientos móviles de alimentos. En el derecho de paso, los vendedores ambulantes están regulados por el Departamento de Transporte de Austin y el Departamento de Policía de Austin.

Dirigir un negocio desde casa

Los negocios desde casa están altamente regulados. Los negocios que no se pueden administrar desde casa incluyen talleres de reparación de automóviles, patios de contratistas, negocios dirigidos a adultos y negocios minoristas. Tampoco puede almacenar vehículos comerciales en su hogar.

Negocios dirigidos a adultos

Los negocios dirigidos a adultos, como todos los negocios, deben estar ubicados en la zona apropiada. Además, no deben estar ubicados a menos de 1,000 pies de una iglesia, escuela, parque público, patio de recreo público, guardería con licencia o un lote donde se encuentre otro negocio dirigido a adultos. No puede administrar un negocio dirigido a adultos desde su hogar.

Detectores de monóxido de carbono

Cualquier estructura que se utilice para fines residenciales y utilice aparatos que queman gas o combustible (y/o tenga un garaje adjunto que se conecte a la estructura) debe instalar y mantener detectores de monóxido de carbono (CO por sus siglas en inglés). No tener detectores colocados apropiadamente en estas estructuras es una infracción del código.

Si hay un aparato que quema gas o combustible dentro de una habitación o dentro de un baño adjunto a la habitación, entonces el detector debe colocarse dentro de la habitación. Los detectores también deben instalarse afuera de cada área para dormir en las inmediaciones de las habitaciones, cuando el aparato que quema gas o combustible está fuera de la habitación y/o hay un garaje adjunto que se conecta a la unidad de vivienda. Un aparato que quema gas o combustible incluye, pero no se limita a: un calentador de agua, un horno, un calefactor, una estufa, una caldera y/o una chimenea.

Descargue nuestros folletos en inglés y español (PDF 225 KB) para obtener más información.

Construcción sin permiso

Los propietarios o sus agentes deben obtener un permiso para construir, ampliar, alterar, reparar, demoler o mover una estructura. Además, deben obtener un permiso para cambiar el uso de una estructura (por ejemplo, para convertir una residencia en una oficina). Falta de obtener un permiso apropiado puede resultar en una acción de cumplimiento. Ver todos los permisos emitidos por la Ciudad.

Estructuras peligrosas/dañadas por el fuego

Las estructuras peligrosas deben asegurarse o demolerse. Las condiciones peligrosas incluyen posibles fallas estructurales, cableado eléctrico expuesto, daños graves por incendios y estructuras abiertas y abandonadas. Los edificios vacíos deben estar adecuadamente asegurados con cercas y/o tablas. La Ciudad de Austin hace cumplir el Código Uniforme de Vivienda y el Código de Construcción Peligrosa para regular las estructuras peligrosas.

Cuando un edificio resulta dañado en un incendio, el Departamento de Códigos envía a un inspector para evaluar el daño y asegurarse de que el edificio esté adecuadamente asegurado. Los edificios dañados por el fuego deben repararse o demolerse para cumplir con los estándares del código.

Cercas

Las cercas deben estar en buenas condiciones y a una altura adecuada. En un lote de esquina, las cercas no deben bloquear la vista del tráfico en la intersección. En áreas residenciales, las cercas sólidas no pueden tener más de 6 pies de alto con dos excepciones:

Si la cerca está alrededor de una piscina u otro peligro y si todos los vecinos contiguos dan su permiso y lo presentan a la Ciudad, entonces una cerca residencial puede tener 8 pies de alto.

Si la cerca se encuentra entre una residencia y una propiedad comercial, puede tener una altura de 8 pies.

Ventas de garaje

No se puede realizar una venta de garaje en la misma propiedad más de cuatro días por año calendario o en una propiedad que participe en un recorrido residencial. Más de cuatro ventas de garaje por año calendario es una infracción del Código de la Ciudad y se considera un negocio en el hogar. Además, los letreros que anuncian la venta de garaje solo se pueden colocar en la propiedad donde se realiza la venta durante no más de tres días consecutivos.

Botes de basura dejados en la acera

Los botes de basura deben devolverse a su área de almacenamiento en propiedad privada antes de las 10 p.m. en el día de recogida designado. Deben colocarse en la acera a las 6:30 a.m. el día de la recolección, pero no antes de las 8 p.m. la noche anterior.

Césped o maleza de más de 12 pulgadas

El césped y las malezas de más de 12 pulgadas de altura se consideran una condición antihigiénica y una violación del código. El código de la ciudad (Código de la Ciudad de Austin 10-5, Artículo 2) requiere que el césped y las malezas se mantengan por debajo de las 12 pulgadas.

Mantener los cortos es una forma importante de evitar que se desarrollen roedores, insectos y agua estancada como resultado del crecimiento excesivo. Cuando el césped y la maleza se mantienen por debajo de las 12 pulgadas, nuestra comunidad no solo se ve mejor, sino que también es más limpia y segura.

Viviendas en condición subestándar

Los dueños de propiedades están obligados a mantener sus propiedades según los estándares mínimos establecidos por el Código Uniforme de Vivienda y el Código de Construcción Peligrosa. Esto es especialmente importante para las propiedades de alquiler. Los ejemplos de violaciones incluyen, pero no se limitan a:

problemas de calefacción

problemas de plomería

problemas eléctricos

peligros estructurales

infestación y otras condiciones antihigiénicas

problemas con las paredes exteriores, como falta de protección contra la intemperie y grietas

Señales

No puede colocar un letrero en el derecho de paso o en propiedad pública. En áreas residenciales, puede colocar los siguientes letreros en propiedad privada temporalmente:

letreros de contratistas
letreros de venta de garaje
señales de reunión de vecinos
signos políticos
signos de bienes raíces

Los letreros fuera de propiedad privada están prohibidos. Por ejemplo, un letrero de venta de garaje solo se puede colocar donde se realiza la venta, o un letrero de casa en venta solo se puede colocar en la propiedad donde se vende la casa. En áreas no residenciales, todos los letreros deben estar en propiedad privada. Los letreros que se colocan ilegalmente en áreas restringidas deben informarse al 3-1-1.

Se requiere un permiso para un letrero permanente, como un letrero comercial. La ciudad tiene una ordenanza de letreros (Capítulo 25-10 Reglamento de letreros) que regula todos los letreros, incluidos los letreros de campañas políticas. La Ciudad no regula el contenido de carteleras.

Agua estancada

El agua estancada es un caldo de cultivo para los mosquitos. Los propietarios deben drenar el agua estancada en sus propiedades. Las fuentes típicas de agua estancada incluyen piscinas en mal estado, llantas y baldes. Los mosquitos solo necesitan una cucharadita de agua para reproducirse. Durante los meses más cálidos, los mosquitos pueden desarrollarse en tan solo tres días. Además de la picazón, las picaduras de mosquitos pueden provocar enfermedades como el zika y el virus del Nilo Occidental.

Piscinas

Las piscinas en áreas residenciales deben estar rodeadas por una cerca aprobada. Además, las piscinas deben recibir mantenimiento para evitar que retengan agua estancada. El Departamento de Salud y Servicios Humanos de la Ciudad de Austin regula las piscinas públicas y las piscinas en apartamentos, hoteles y moteles.

Las ramas de árboles que bloquean el derecho de paso

Los propietarios deben podar los árboles que cuelgan sobre la calle. Debe haber al menos 14 pies de espacio libre en la línea de la acera. El Departamento de Obras Públicas se encarga de los árboles que caen y bloquean el derecho de paso.

Almacenamiento de vehículos

Hay una serie de normas que se refieren al almacenamiento de vehículos en una zona residencial.

No debe haber más vehículos almacenados en una residencia que conductores con licencia. Los vehículos adicionales deben estar en el garaje.

Todos los vehículos deben ser funcionales, con la excepción de vehículos antiguos o vehículos recreativos. Se permite un vehículo en reparación por menos de 60 días.

Los residentes pueden mantener dos vehículos antiguos o recreativos, como un bote o un vehículo recreativo, protegidos detrás de una cerca de madera o mampostería de 6 pies.

Solo se puede almacenar un vehículo comercial (con una capacidad inferior a una tonelada) en una residencia.

Reporte los vehículos desechados o abandonados al 3-1-1.