Share a ride by carpooling or vanpooling! You need just one or more passengers to create a carpool.  To find someone to ride with, talk to coworkers, neighbors and friends. You might even ask the Human Resources office at your work site to help find someone that lives within your zip code.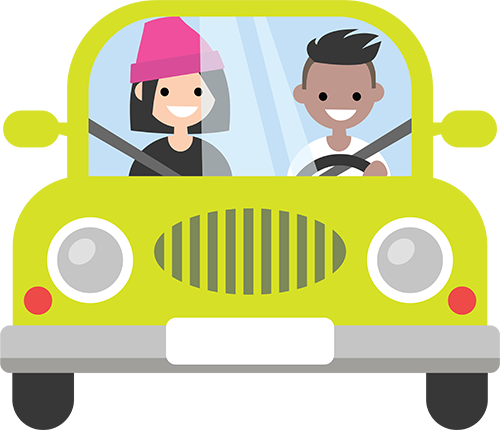 myCommuteSolutions
Looking for a carpool buddy? Check out myCommuteSolutions, which is a carpool matching and trip-planning tool for the Austin area.  You can search for bike routes, discover transit routes and log your commute.  The myCommuteSolutions site has an easy tracking system through the commute calendar, which enables users to follow their cost savings, calories burned, fuel saved and pollution reduction.  To connect with potential carpool buddies, you can log on to myCommuteSolutions.com, and create a profile that will allow you to use the free carpool matching service.
A key feature of myCommuteSolutions is the ability to set up custom sites for business and employees can search for carpool buddies within your organization.  Have your employer contact Commute Solutions to create their own custom ride-matching sub-system and find a co-worker to carpool with! This is available to both individuals and businesses at no cost.
The myCommuteSolutions site serves Bastrop, Burnet, Caldwell, Hays, Travis, and Williamson Counties.
MetroRideShare
MetroRideShare provides eligible groups of 5 to 12 riders with a month-to-month vanpool lease agreement, including insurance, maintenance, 24-hour roadside assistance and an optional fuel purchasing program.
The MetroRideShare program is sponsored by Capital Metro. MetroRideShare provides the services necessary for you to enjoy a comfortable, convenient and economical commute to work.
To start or join a vanpool, register with MetroRideShare or call 512-477-7433 (RIDE) to get started. MetroRideShare will also help find your vanpool match.
Waze Carpool
Waze Carpool is a program that allows people to share rides going the same way. You can choose to carpool with only coworkers or with new friends along your route.
Metropia App
Metropia's DUO feature streamlines and incentivizes social carpooling. DUO reduces the in-app pairing process to a single tap on the passenger's smartphone, making it possible for commuters to instantly begin their trip without exchanging contact information or searching through profiles. DUO's engaging variable rewards program employs gamification elements to encourage frequent, ongoing use. Read more about DUO here or download the app for iPhone or Android.
Universities and Colleges
The University of Texas encourages carpooling by offering reserved carpool spaces, reduced permit fees, Share Passes, and automatic enrollment in the Guaranteed Ride Home program.
Austin Community College offers registered carpools with exclusive, convenient parking spaces on campus before 10 a.m.
Texas State University offers a number of transportation options and resources for students, faculty, staff and visitors.
Ride-share Etiquette
DO:
Communicate with your fellow carpoolers. If you're running a few minutes late, call them and let them know. If you can't carpool on a particular day due to a schedule conflict, give your carpool partners ample notice so they can make other arrangements.
Drive safely at all times.
Keep your vehicle clean and in good condition.
Respect any other restrictions the carpool has agreed on, such as smoking, eating or drinking.
Arrange compensation. Take turns driving the carpool equally, or share fuel costs with those who live farther away.
DON'T:
Make a habit of being late.
Ask your carpoolers to make extra stops along the way so you can take care of personal errands. The carpool is meant to help everyone with their commutes, period.
Bring up controversial topics like religion or politics unless you know your fellow carpoolers well. While some people enjoy debating the issues, others may prefer a quieter commute.
Have lengthy cell phone conversations while you're in the car/vanpool.
---
Do you know of another resource that should be added to this list? Email AustinMobility@AustinTexas.gov
This website is not an endorsement of the listed companies, but a resource for residents and visitors.