Welcome to the Permitting and Development Center (PDC) 
The new Permitting and Development Center (PDC) opened its doors in July 2021, offering a new take on the development experience and complementing the growing range of virtual options that are now available for the Austin community. 
The PDC brings together resources and expertise from multiple City departments that provide permitting and development services for the Austin community. The facility is designed to provide a seamless development process, all in one place, for residential and commercial customers who prefer in-person services

Know Before You Go: Doing Business at the PDC 
Appointment Required for DSD Services 
Most departments at the PDC require appointments. The PDC Appointment Scheduler currently offers virtual appointments for customers, beginning the next business day. Same-day appointments are unavailable, and appointment timeframes vary depending on the type of service requested.
If you are unable to schedule an appointment online, please call our appointment line at 512-978-4504, Monday - Friday, 7:45 am - 4:45 pm.
NOTE TO APPLICANTS: Appointments for application submittals are not currently available. Visit our Digital Development page for online submittal instructions.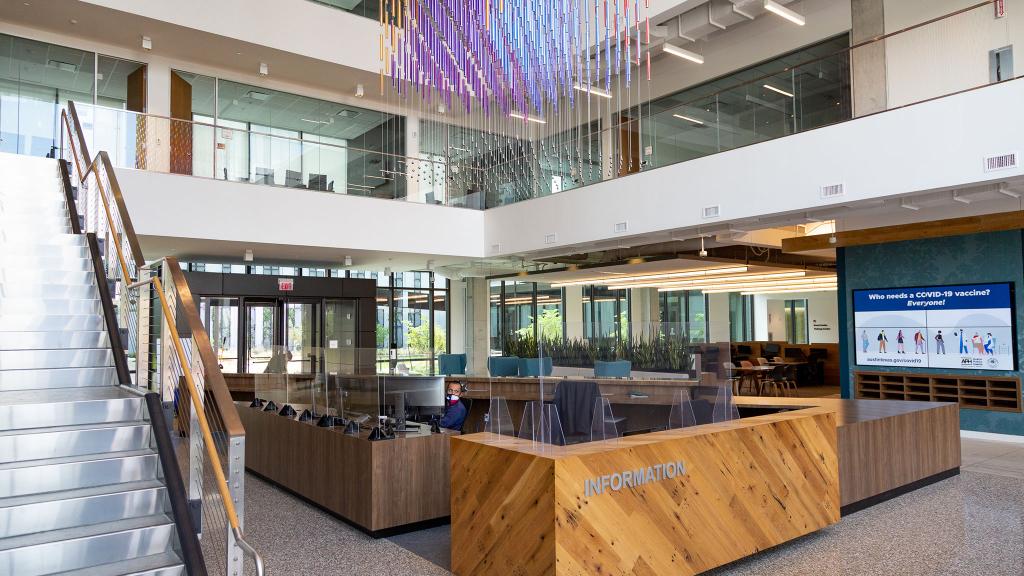 Getting There
PDC Address: 6310 Wilhelmina Delco Drive, Austin, Texas 78752
Easy Access
The PDC is located just four miles from downtown, and three miles from the University of Texas at Austin. It is easily accessible using IH-35, US-290, or US-183.
Highland is also adding trails, bike-friendly streets, and connections to the MetroRail station that will enhance the existing transportation infrastructure.
Bus Routes
MetroRail
Red Line: service between Leander and downtown Austin
High-Frequency Routes
801: MetroRapid, limited-stop service
7: Metrobus Local, local-stop service    
300: Metrobus Local, local-stop service
Regular Routes
337: Metrobus Local, service in outlying areas
350: Metrobus Local, service in outlying areas
324: Metrobus Local, service in outlying areas
1: Metrobus Local, service downtown
Walk and Bike
Beyond transit and driving, you have some eco-friendly ways to access the new PDC and explore the area.
Many surrounding streets have dedicated bicycle lanes and sidewalks to support walkability.
The nearby Red Line Trail is accessible from near the new PDC. This trail, which is part of a City of Austin mobility initiative, is expected to expand in the coming years. Access the Red Line Trail from either the Highland Station end or from the Lamar Blvd. end. The trail provides a 0.7-mile one-way distance for walking, biking, and everything in between.
To learn more about new ways to get to the building, visit the Commute Solutions website. 
For more information on public transportation near the PDC, visit the Austin Capital Metro website.
Parking
The PDC includes six levels of on-site parking for customers and employees, including 20 EV charging stations on Level 2. There will be no charge for parking during the first several months of operations. Please keep in mind that only Level 1 has 8 feet of clearance for taller vehicles. Other levels only have 7 feet of clearance.  
COVID

Safety

Please note: Under the latest orders enacted by the City of Austin and Travis County, an individual over the age of two is REQUIRED to wear a face covering while present on or in City and County property unless expressly exempted in Section 2 or by a City or County policy applicable to the premises or facility. 
Within a short walk from the PDC:
Highland Station (Red Line MetroRail)
The Linc
Gold's Gym
Austin Community College Highland Campus
Galaxy Highland 10 Theatre
Red Line Trail
Checking In 
Please arrive 10-15 minutes before your scheduled appointment to allow time for check-in.  
Appointment Check-In  
Reception: The receptionist checks you in and contacts staff to escort you to your appointment. Meet staff near the elevators at least five minutes before your scheduled appointment. 

Self Check-In (DSD only at this time): The check-in kiosk, located in the waiting area, allows you to check in online for your appointment. Staff escorts are still required when you arrive for your appointment. 

Help: For appointment assistance, please call 512-978-4504.
Paying for Services 
Online Payments 
Customers may continue to pay for services online, using a credit card, through the Austin Build + Connect portal. 
In-person payment options 
Cashier: Cashiers can accept payment (credit cards only) at the Service Center. The PDC Appointment Scheduler allows customers to "get in line" to make a same-day payment. 

Kiosk: A new kiosk will accept on-site cash payments. 
About the PDC Facility
Location: 6310 Wilhelmina Delco Drive, Austin, Texas 78752 (Off Middle Fiskville Road, south of E. Highland Mall Blvd.)
Hours:  7:45 a.m. – 4:45 p.m. 
Dining and Coffee: The Sterling Bistro Coffee Shop is open 7 a.m. – 3 p.m., Monday through Friday, offering popular coffee drinks and quick, healthy grab-and-go dining options. Additional on-site dining options will be available as building activity increases.  
Building Notes: The PDC is the first City of Austin facility built and operated to WELL Building Standards, which include design and operational features to support well-being. Plenty of natural light, healthy food options, and other amenities reflect this commitment. 
Appointment Phone: 512-978-4504
Safety Notes: Several features and procedures are in place to help keep customers and staff, including protective barriers, high-quality air filtration, and a payment kiosk for cash payments. Social distancing and masking are encouraged throughout the facility as an additional precaution.