Designing a Cheerful and More Sustainable Future: An Austin Green Business Leader Spotlight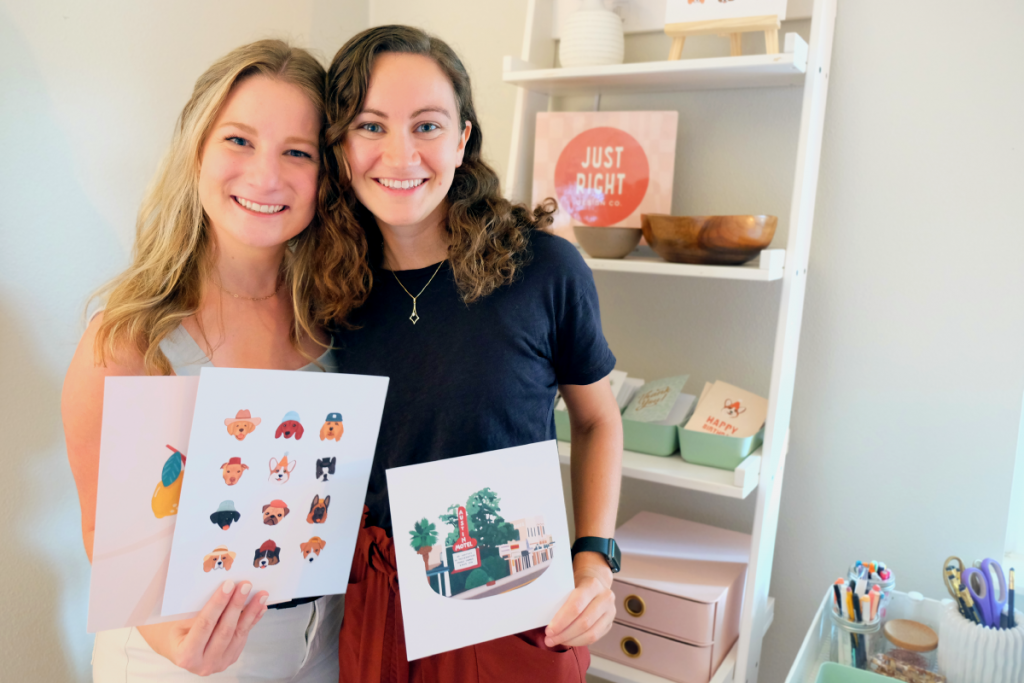 In the fall of 2021, Ashleigh Straub and Claire Dollen landed on an idea that felt just right. At the time, Ashleigh was hoping to purchase greeting cards from Claire. Claire had dabbled with the idea of selling her artwork, but the business aspects stressed her out. Within a few weeks of their initial conversation, Ashleigh approached Claire with an offer. As Claire describes it, "She approached me and was like, 'Okay, mull this over: what if we did it together? We could team up and use our different strengths?'"
Ashleigh and Claire had met several years earlier while studying at Elon University in North Carolina. Claire is a native Austinite and illustrator who studied graphic design. She moved back to Austin upon graduating because, "it's a great place to be a creative person." Ashleigh, a business major, also found her way to Austin after graduating and quickly reconnected with Claire. With Ashleigh's offer, Just Right Design Co. was born.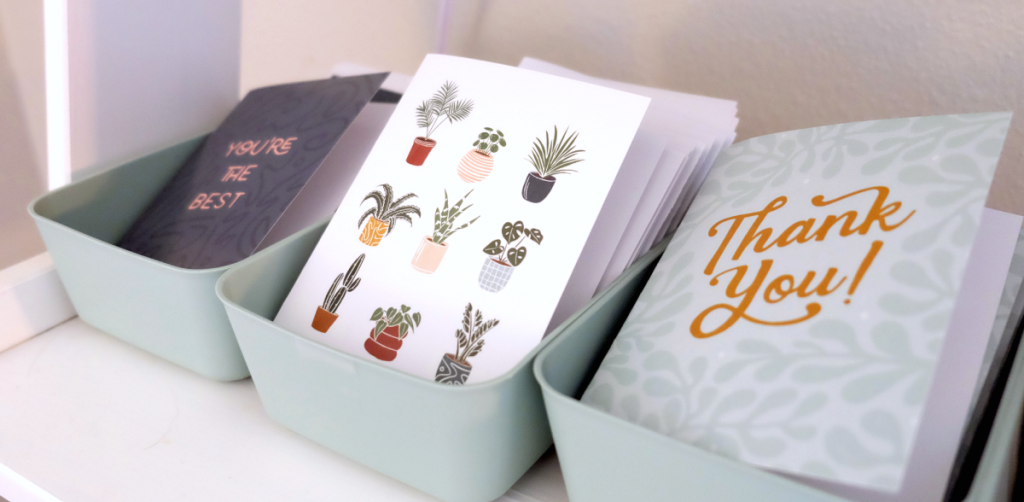 Greeting cards ready for packaging at Just Right Design Co.'s home studio.
Just Right Design looks beyond adorable corgi stickers and Austin-themed art prints. Throughout their business, Claire and Ashleigh have found ways to center sustainable practices. "When we were starting the business, we recognized that we were going to have a larger footprint than we have right now as two individuals," says Ashleigh. "There is only one earth that we live on, and we want to do whatever we can to make sure that it is as clean, safe, and sustainable as possible."
For Ashleigh and Claire, this meant putting time and research into finding solutions that were sustainable and scalable. "Pretty early on we walked into a card store together and saw an entire wall lined with plastic wrappers that were going to be thrown away minutes after the cards were purchased," Ashleigh shared. "It felt so unnecessary."
Just Right Design packages cards in recyclable cardstock belly bands and online orders are sent in biodegradable glassine bags as alternatives to single-use plastics. After learning that the recyclable shipping labels they were originally using had unrecyclable liners, they researched alternatives and have now transitioned to a fully zero-waste option.
"We're taking that extra step and doing the research on how to execute our vision in the right way," says Claire. "It is possible and that's been really rewarding."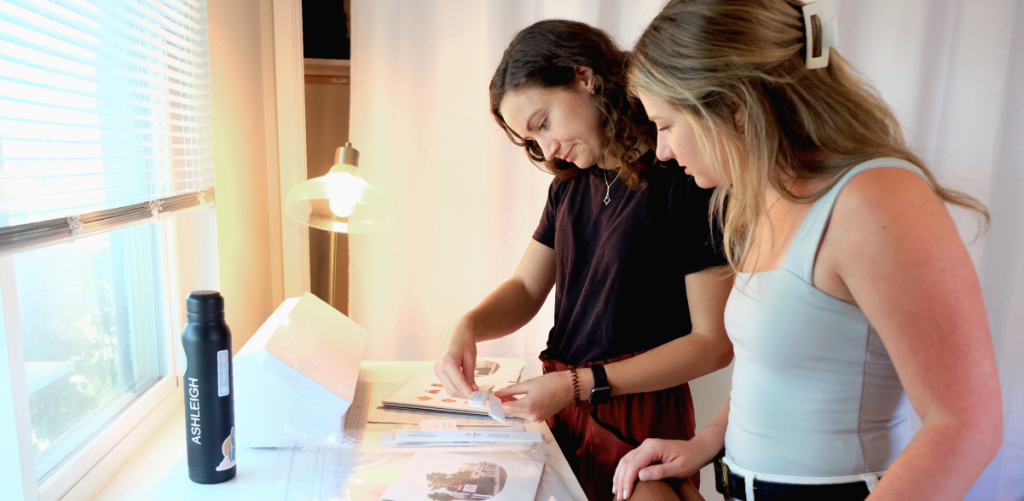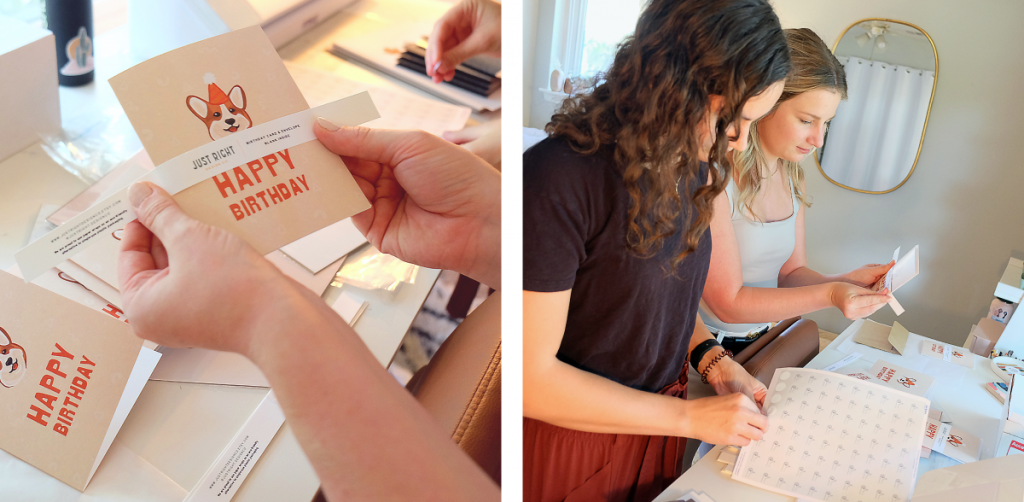 Claire and Ashleigh work on packaging greeting cards in recyclable belly bands.
This summer, the City of Austin welcomed Just Right Design into the Austin Green Business Leaders program in recognition of the many ways they are working to address the climate crisis and protect our environment. What advice do the owners of Just Right Design have for other businesses trying to adopt sustainable practices? "Figure out what's important to you and don't compromise on it," says Ashleigh. "It's so worth it, can differentiate your business in a really good way, and your customers are going to appreciate it."
"Just because an option isn't initially clear, doing the research is worth it," Claire adds. "Opportunities do present themselves and digging one level deeper is always worth it to execute what you want."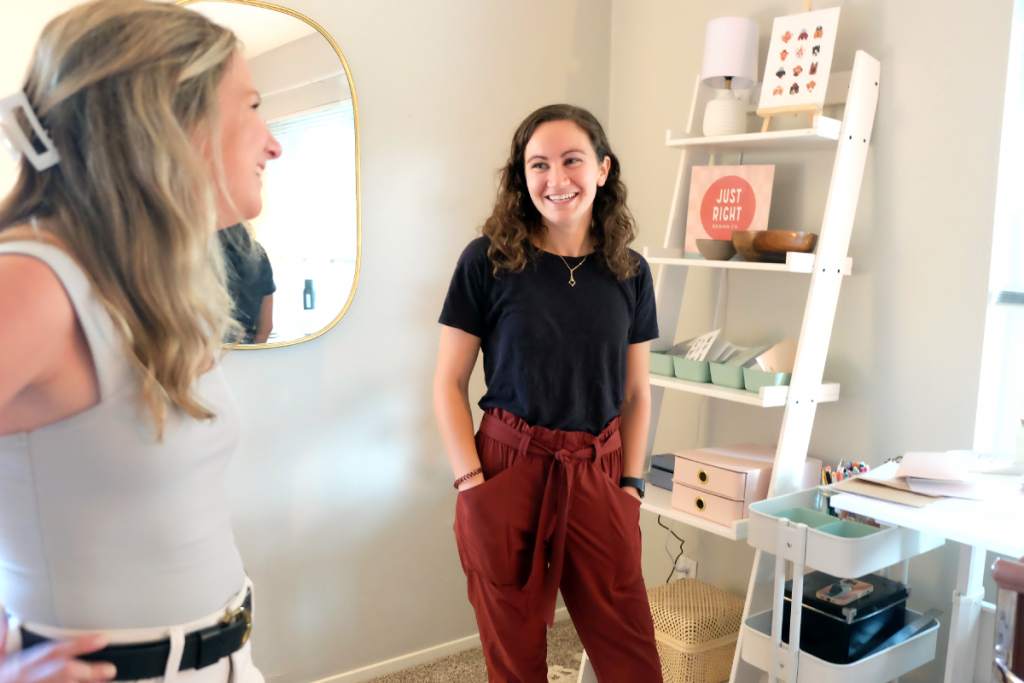 ---

Is your business a green business?
If so, we encourage you to join Just Right Design Co. by becoming an Austin Green Business Leader. Austin Green Business Leaders get recognized for doing good work in our community. Learn more.