Net-Zero Hero: Skye Howell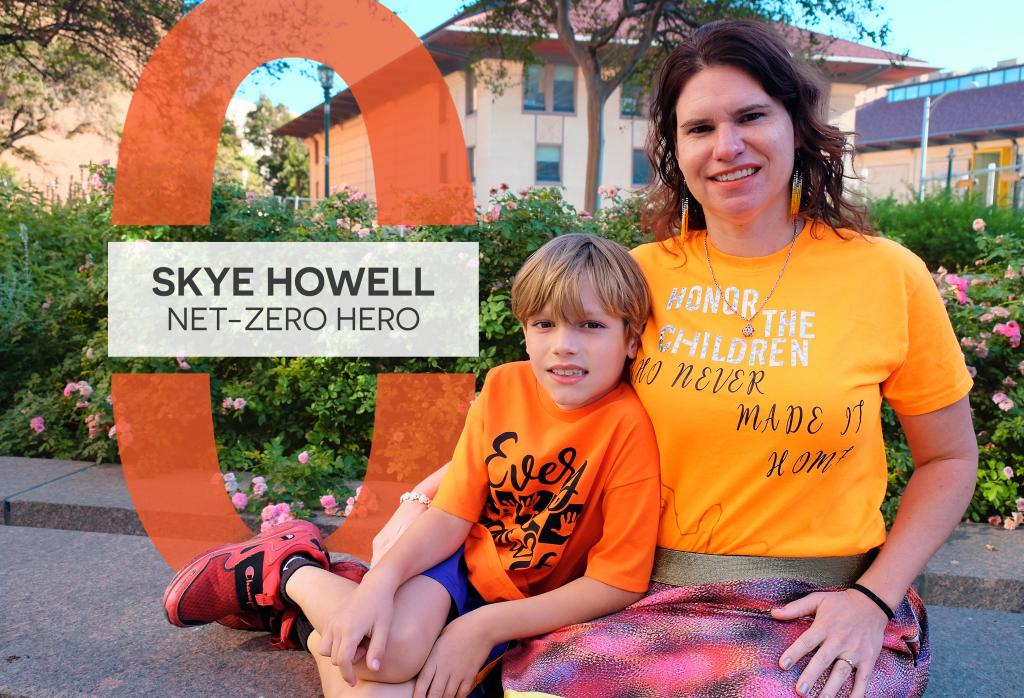 I'm

helping to make Austin Net-Zero by co-creating community spaces for sharing Native American and Indigenous heritage through cultural programs, advocacy, and partnerships.
In recognition and celebration of Indigenous Peoples' Day (October 10), we're excited to introduce our newest Net-Zero Hero: Skye Howell. Skye is Potawatomi and Ottawa, a proud mother, and a passionate community organizer. She proudly serves on the board for the Great Promise for American Indians, which each November hosts the Austin Powwow, the largest one-day powwow in the United States. 
We met with Skye during the Native American Heritage Day celebration at the Bullock Museum to discuss Native culture, Indigenous communities in Austin, and ways all Austinities can learn more about local Indigenous culture.
---
What inspired you to take action?
My Dad and his siblings were removed from our family through a forced adoption, like thousands of Native children prior to the passage of the Indian Child Welfare Act in 1979. My brother and I grew up without knowing our Dad's side of the family, our Potawatomi and Ottawa language, or our cultural traditions. My father and I have been working for decades to find our family and reclaim what has been stolen. Reconnecting in community has been important to our healing journey. Throughout my education, Native people were relegated to the distant past and represented in stereotypical ways. I want my son and his peers to have a different educational experience. As parents, my husband Casey and I want our son to be proud of who he is and for his cultural heritage to be visible at his school and within our community.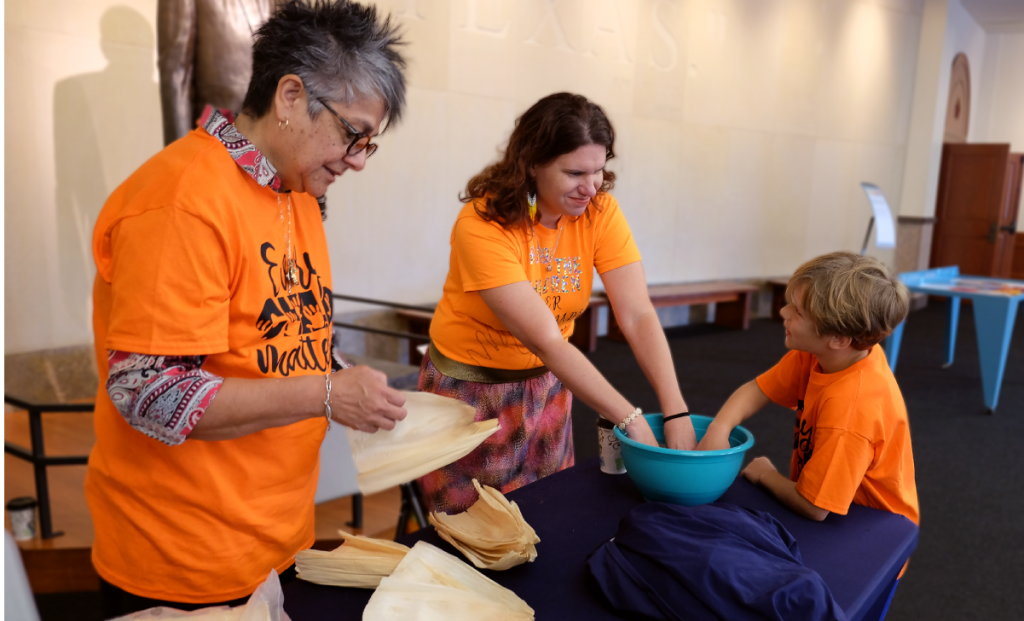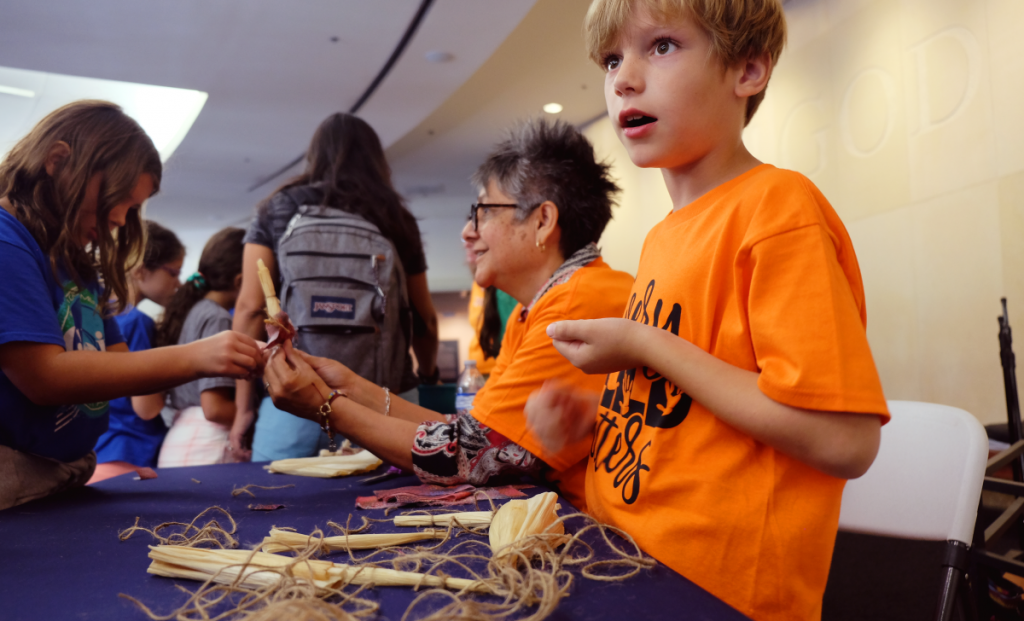 Above: Skye, her son, Zoran, and friend, Leonar Vargas, prepare for making corn husk dolls during Native American Heritage Day. Below: Zoran speaks with fellow students about how to create corn husk dolls.
How did you do it?
I love to connect with people and build bridges to deepen community relationships. While teaching students success courses at Austin Community College in 2017, I reached out to Equity Officer, Dr. Stephanie Hawley, for support in offering programming for students during Native American Heritage month. She encouraged me to partner with local organizations serving Native families in our community. I worked with ACC professor and author of An Indian among los Indígenas: A Native Travel Memoir, Ursula Pike, member of the Karuk tribe, and UT Vice Chancellor, Dr. Nichole Prescott, citizen of the Miami nation, to connect with Great Promise for American Indians and PODER to host a film screening of the Mayors of Shiprock. During this time period, I also met Dr. Tekina-Eirú Maynard who is a teacher, Taino elder, and the Director of the Puerto Rican Cultural Center to partner for a community Earth Day celebration. From these programs, friendships were formed, and we continue to collaborate on various community cultural events.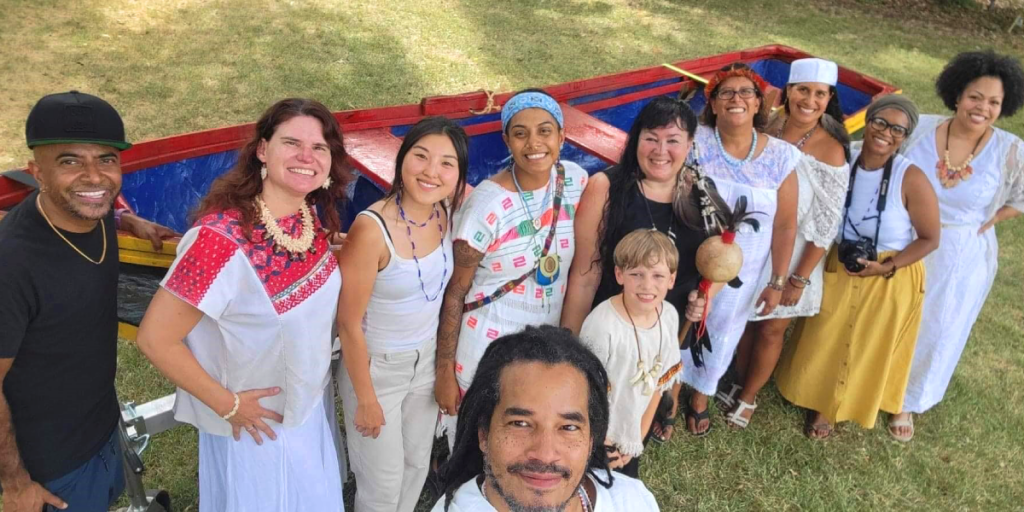 Skye (second from left) with members of the Yara for Taino and Guaytiao community of the Puerto Rican Cultural Center. Photo courtesy of Skye Howell.
What's been most rewarding about getting involved in this way?
I am honored to have the opportunity to serve our community with amazing people. On the board of Great Promise for American Indians, we work with local school districts and in the community to share Native culture and  advocate for student programs and resources. My family is a part of the Yara for Taino and Guaytiao, an Indigenous community through the Puerto Rican Cultural Center. Through our consulting firm Full Humanity, my partners Nicole Bell, Tiffanie Harrison, Jaquita Wilson, and I provide education sessions and form community partnerships to support racial justice. At Wildflower UU church, we offer community circles and film screenings to support healing and solidarity around Native issues. My son is proud to be Potawatomi, Ottawa, and German, and he has opportunities to share our culture with his class and during community programs.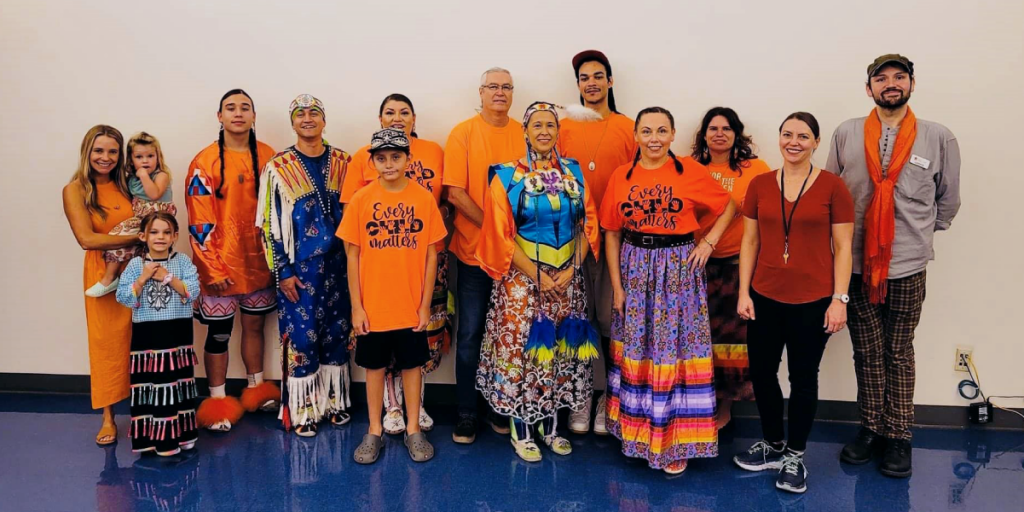 Members of the Great Promise for American Indians community at the Native American Heritage Day celebration. Orange shirts were worn on September 30 to honor the National Day for Truth and Reconciliation, which raises awareness about the removal and forced adoptions of Native children from their families. Photo courtesy of Skye Howell.
I have gotten to know cultural teachers who have also become good friends including Robert Bass, Executive Director for GPAI; Nan Blassingame, member of the Cheyenne and Arapaho tribes; Melanie Sais of the Standing Rock Lakota Sioux tribe; Amy Taulman, who is Lipan Apache; Dr. Tekina-Eirú Maynard, Director of the PRCC, and Rich Vasquez, who are both Tainos ofBorikén. We support each other and work to uplift Native culture — to increase visibility and celebrate our Native community in Central Texas. With each special event or program, our community grows and we help to educate people about important issues.

Great Promise for American Indians Program Director, Nan Blassingame, Cheyenne and Arapaho, speaks at the Bullock Museum. Many of the outfits worn in performances during the celebration were made by Nan. 
What's been the toughest part?
During the pandemic, our organizations lost vital funding with city budget cuts. Great Promise for American Indians, the Puerto Rican Cultural Center, the Indigenous Cultures Institute, and Red Salmon Arts are small nonprofits serving our local Native and Indigenous community. If we aren't able to offer programs and support community spaces, our culture may be lost in just one generation. Great Promise for American Indians lost an important elder, Huanani Bass, who was the wife of Robert Bass, our Executive Director. It's been challenging to re-emerge, but we are rebuilding our programs and reconnecting in community. Having access to cultural arts funding through the City of Austin has been helpful to our work, and is something everyone can advocate for. You can also help by donating to our nonprofits so we can continue to offer free and low-cost cultural arts programs.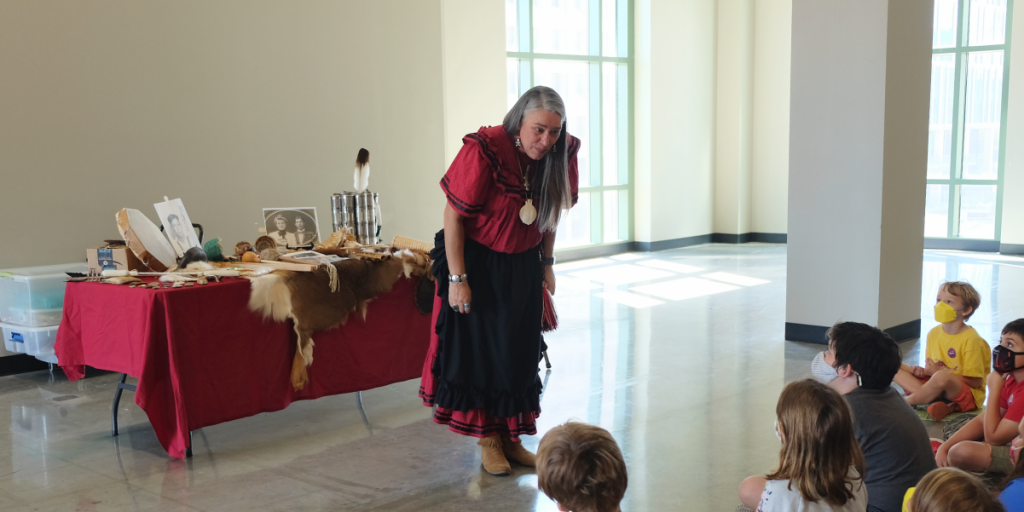 Amy Bluemel, a Chickasaw storyteller, shares a tale with students during Native American Heritage Day.
What do you wish more Austinites knew about Indigenous communities locally?
We have a vibrant and active Native community here in Central Texas. We have many celebrations happening this fall that are open to anyone who wants to learn more about Native culture. The Yara for Taino and Guaytiao is hosting an Indigenous Peoples Day celebration on Sunday, October 9. For over 25 years, Great Promise for American Indians has hosted the Austin Powwow and American Indian Heritage Festival and hosts monthly potlucks. This year the Powwow will be on November 12 at the Travis County Expo Center. The Indigenous Cultures Institute hosts the Sacred Springs Powwow the first weekend in October annually in San Marcos. The Chickasaw Community Council of Central Texas also offers special events and programs.
Historically, there have been many tribes who migrated across Texas including the Comanche, Caddo, Carrizo (Ca re so), Comecrudo (Co-me cru-tho), Chickasaw, Delaware, Huichol (We-chol), Mescalero Apaches, Karankawa, Osage, Eastern Pueblo (Pwe-blo), Tonkawa, and one of the oldest known tribes to this region is the Coahuiltecan (Kwa-wheel-teh-can). There are three federally recognized tribes in Texas including the Alabama-Coushatta (Coo-shat-ta) Tribe of Texas, the Kickapoo Traditional Tribe of Texas, the Ysleta Del Sur (Es-let-ta-del-sur) Pueblo (Pwe-blo). We have two state-recognized tribes in Texas including the Lipan Apache Tribe and the Texas Band of Yaqui (Yawk-E) Indians. There are many others who we may not have recorded. Take time to learn more about our history and enjoy our community events.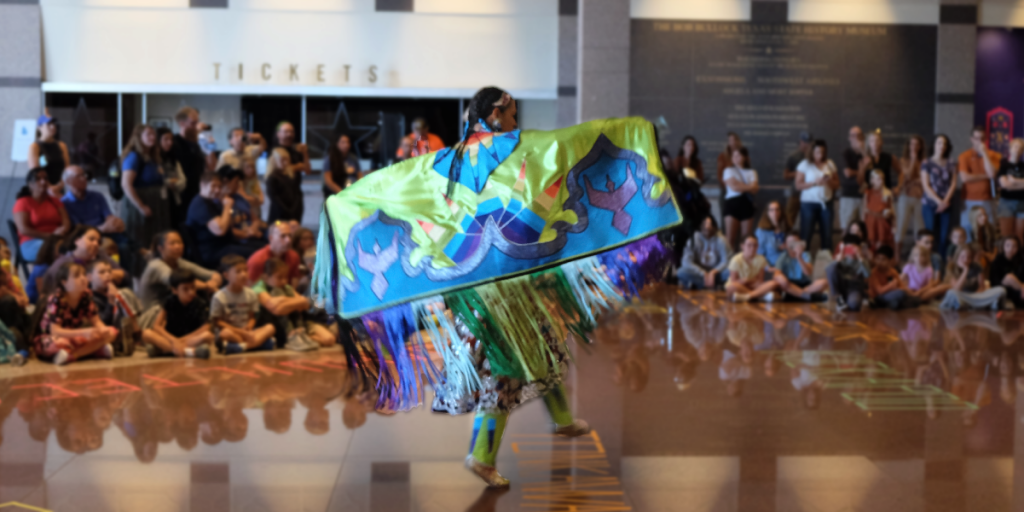 Above: Performers at the Native American Heritage Day celebration, from left to right: Tania ScreamingEagle, Hidatsa/Mandin, and Brody ScreamingEagle, Eastern Band Cherokee and Ojibwe; Clayton Bass, Hawaiian; Nichole Pavatea, Hopi/Navajo. Below: Amy Taulman, Lipan Apache, performs the fancy shawl dance.
Is there a book, documentary, or other piece of media you would recommend for folks wanting to learn more about these topics?
Red Salmon Arts is dedicated to the development of emerging writers and the promotion of Chicana/o/x, Latina/o/x, and Native American literature. They provide outlets and mechanisms for cultural exchange and sharing in the retrieval of a people's cultural heritage with a commitment to social justice. They have a wonderful collection of books, media, and special programs. Check them out!  
What advice do you have for others?
If you are Native American or have Indigenous heritage and are seeking community, there are so many ways to get connected here in Central Texas. If you have become disconnected from family or detribalized, we welcome you. Everyone should take the time to learn more about the truth of our shared history and the contributions of our Native community to help sustain and support Native culture.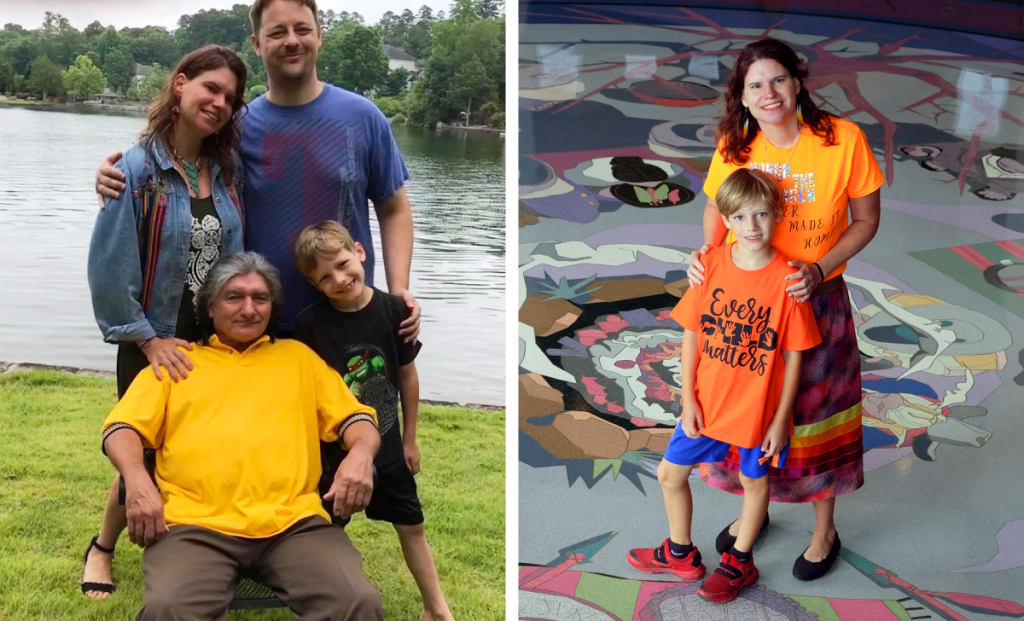 Left: Skye with her husband, Casey, son, Zoran, and father, Raybow Mark. Photo courtesy of Skye Howell. Right: Skye and Zoran stand on a tile mosaic showing Texas's history at the Bullock Museum.
---
Learn more about the upcoming Austin Powwow, happening on November 12, and the work of the Great Promise for American Indians. 
To learn more about Austin's net-zero goal and explore actions you can take to support a greener community, view the Austin Climate Equity Plan.
Share your Net-Zero contributions with us on Twitter or Facebook and use #NetZeroHero. If you know a Net-Zero Hero (or heroes!) who should be recognized for their efforts, send your nomination to sustainability@austintexas.gov.