Net-Zero Hero: Erika Thompson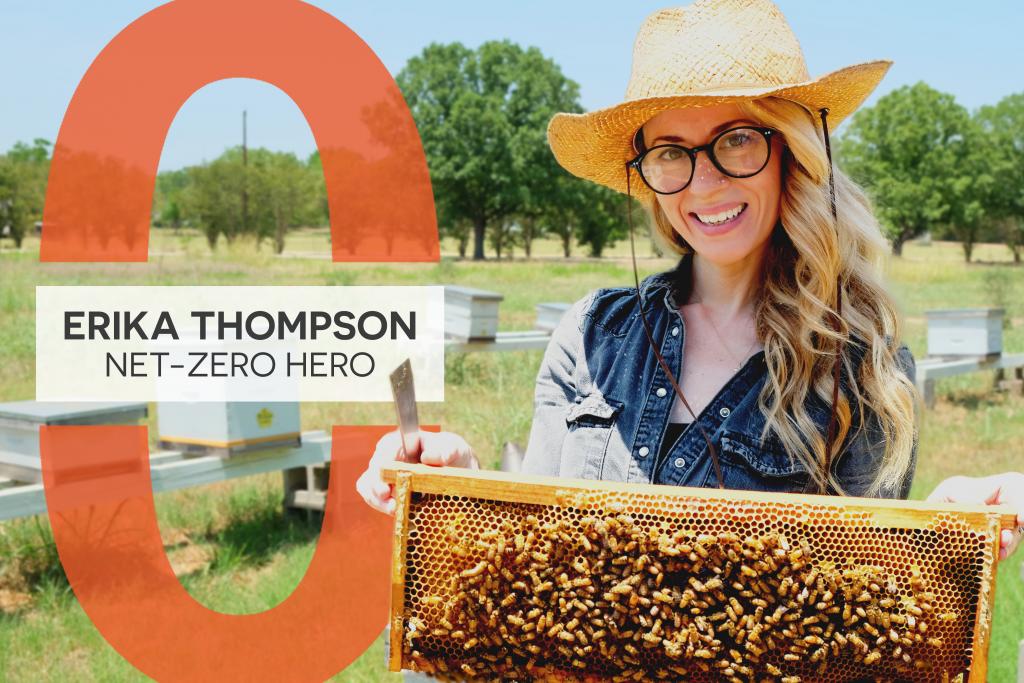 I'm helping to make Austin Net-Zero by saving the bees!
In celebration of National Honey Bee Day on August 20, we buzzed up to Elgin to meet with local beekeeper, viral TikToker, and our newest Net-Zero Hero: Erika Thompson!
Erika has been interested in insects for as long as she can remember, routinely asking her parents for books on bugs as a kid. In 2014, she founded Texas Beeworks, which seeks to put "hives before honey." Since its founding, Erika and her work have amassed a large public following, with her being featured on such shows as Good Morning America, The Ellen Show, and Jeopardy. As a native Texan and graduate of UT, Erika continues her work locally. Earlier this year, she supported an Austin City Council initiative helping designate Austin as a Bee City USA Affiliate.
We met with Erika to talk about her passion for beekeeping, what it means for Austin to be a Bee City USA, and ways we all can support native bee species.
---
What inspired you to take action?
I was inspired to take action the very first time I put on a bee suit, went into a beehive, and saw the way that honeybees work together for the collective good of their colony — and for the good of our planet. Bees are remarkable creatures, and they are directly responsible for creating biodiversity on our planet and for maintaining food security for so many plants and animals, including humans.
But bees are suffering. They are feeling the impacts of climate change, habitat loss, industrial agriculture, poor nutrition, and the use of pesticides. And all of those things have one thing in common — us.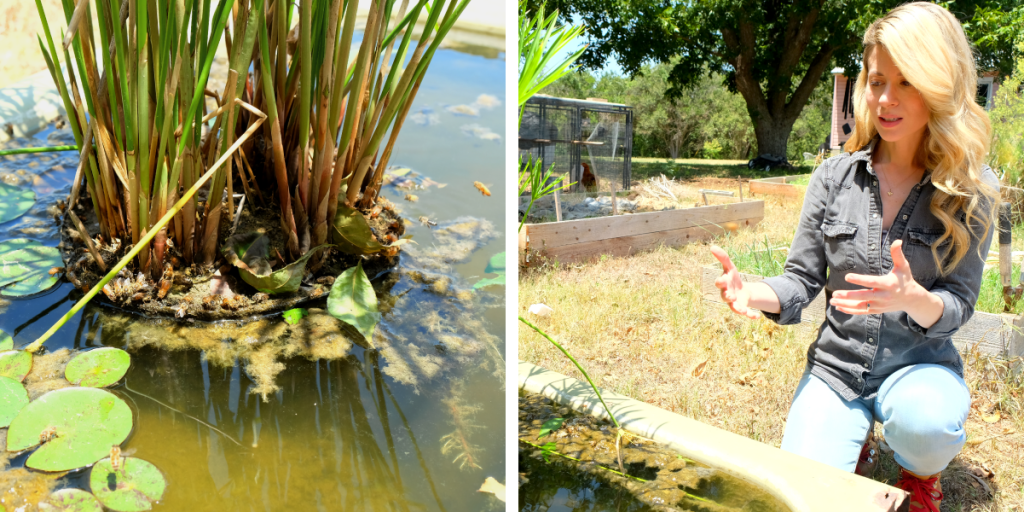 Left: Bees hover around a water feature at Erika's home.  Right:  Erika explaining the importance of providing water for bees.
How did you do it?
As a beekeeper, it's my job to be a steward for the bees and to do whatever I can to help them. A few years into my beekeeping journey, I realized that the most meaningful way I can help bees every day is by rescuing colonies that have built their hives in places where humans can't or don't want to live alongside them. I offer free bee removal services to the people and bees of Austin and Central Texas. I relocate the bees so they can continue to do the important work they do, but in a place that's safer for them and for people. 
I feel it's also part of my job as a beekeeper to educate people about bees. I share videos online of my bee removal work and all the amazing things I get to see inside the hive. I feel incredibly fortunate to have amassed a following of over 11 million bee lovers who follow my bee-work online, and that gives me a great deal of hope for the bees.
What's been most rewarding about getting involved in this way?
The most rewarding part of this work is when someone tells me that I changed their mind about bees or helped them overcome their fear of bees. I often hear folks tell me that they used to run away from any bee they saw, but after watching my videos, they now admire bees and will even stop to watch them foraging on a flower.
I hope that people will start to care more about bees because I think when people care about something, they feel compelled to help and protect it.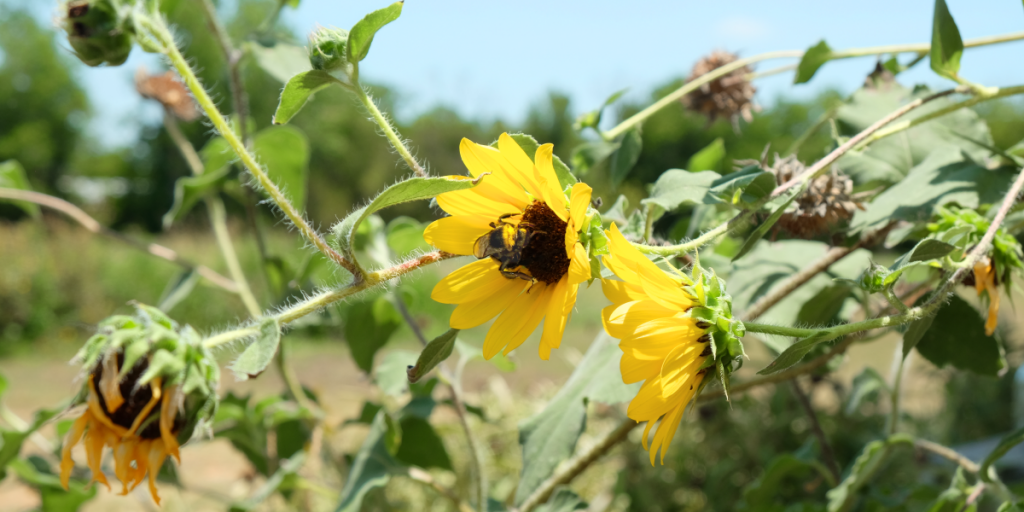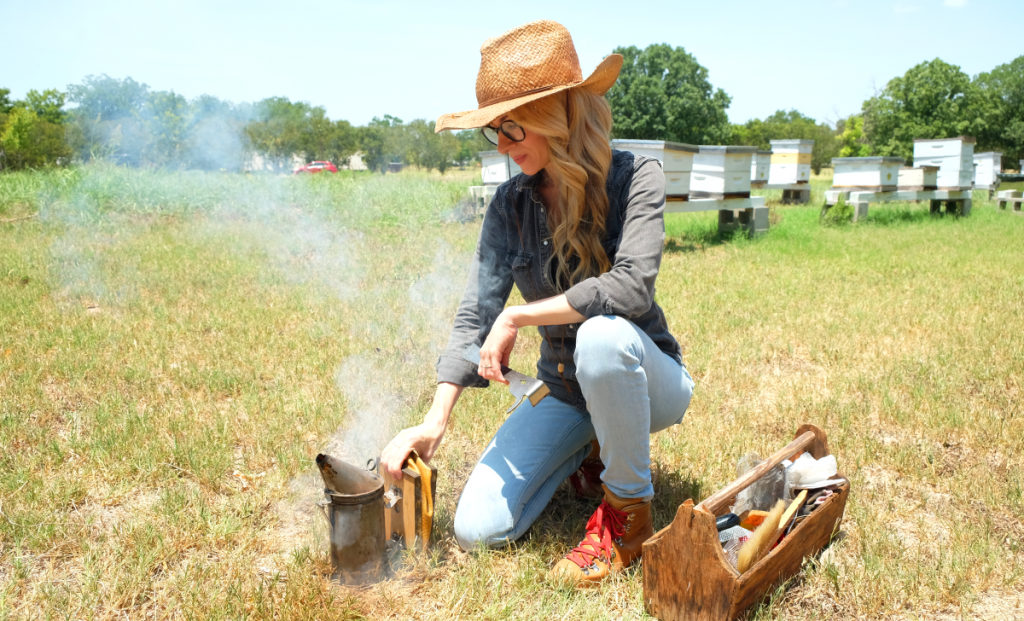 Above:  A bee gathers pollen on a flower in Erika's garden. Below: Erika prepares her smoker to check on the hives.
What's been the toughest part?
I'm trying to change how people think about an entire species, which has been the most challenging part. Bees have been villainized and monsterized for so long. While we should have a healthy fear of bees because they have the potential to be very dangerous, we should also have a healthy understanding and respect for bees. The truth is that most bees don't want to sting you. They just want to do their work and contribute to their colony.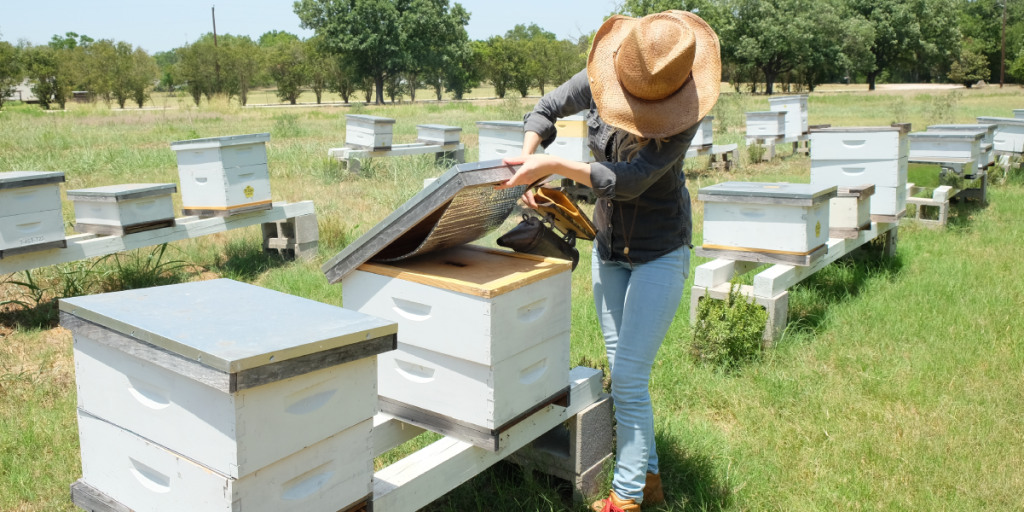 Erika adds smoke to a hive. Smoke helps to calm the bees during hive inspections.
This year, Austin became a

Bee City USA

. Can you tell us about your involvement in this process and what you hope the designation will mean for our Austin community? How can other Austinites get involved?
I think designating Austin as a Bee City USA is the most meaningful commitment that Austin has ever made to protecting bees and preserving their habitats. 
I had a very small part in Austin becoming a Bee City USA — we have leaders on our City Council to thank for recognizing the importance of bees and the importance of Austin becoming a Bee City USA. Council Member Vanessa Fuentes reached out to me to ask me to support the initiative, and the next day I was at City Hall speaking in front of the City Council and raising awareness for the cause. And I'm proud to say that our City's leaders voted unanimously that day to approve the initiative.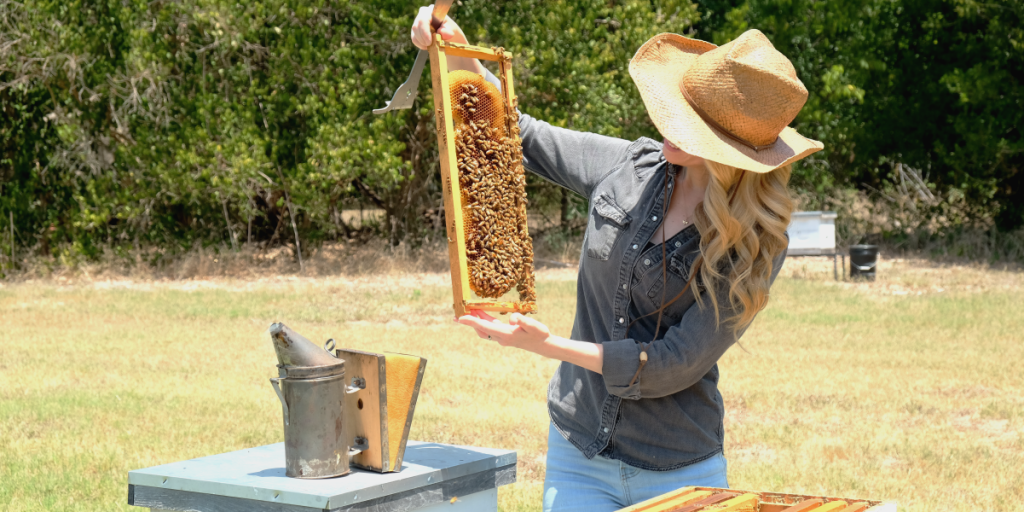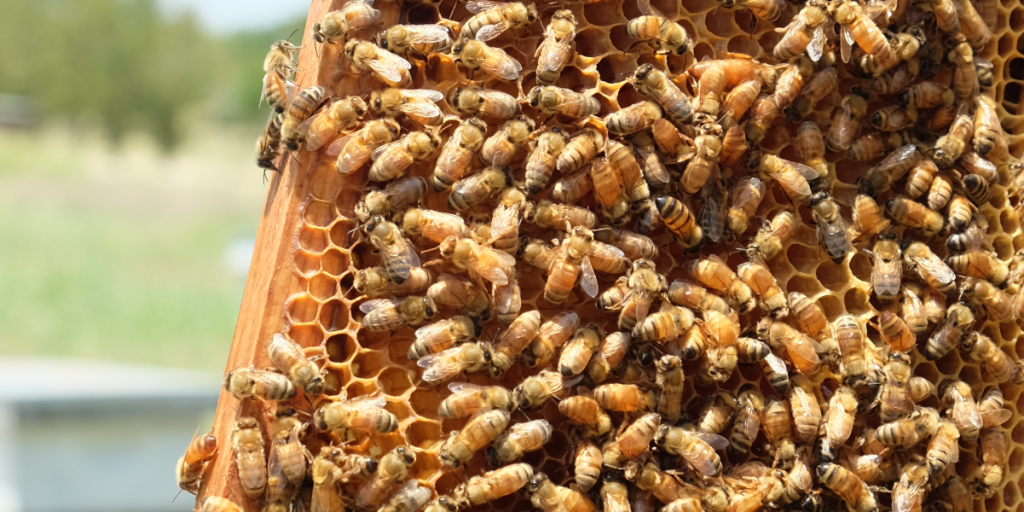 Above: Erika checks on one of the bee colonies. Below: Bees on one of their hive frames.
The best thing about the designation is that everyone can get involved to make Austin a better place for bees! The most important thing you can do if you want to help bees is also the easiest: plant some flowering plants that bees will forage from. Whenever you're choosing something to plant in your yard, garden, or balcony, make sure it's a flower, bush, or tree that will provide food for bees and other pollinators. Native plants are always best because they more directly support native bees. There are actually over 20,000 species of bees, and 4,000 of those species of bees call Texas home!
Is there a book, documentary, or other piece of media you would recommend for folks wanting to learn more about these topics?
Texas A&M has a wonderful list of what to plant for pollinators in Central Texas. Check it out!
You can learn more about bees by following me on your favorite social media platform: @texasbeeworks.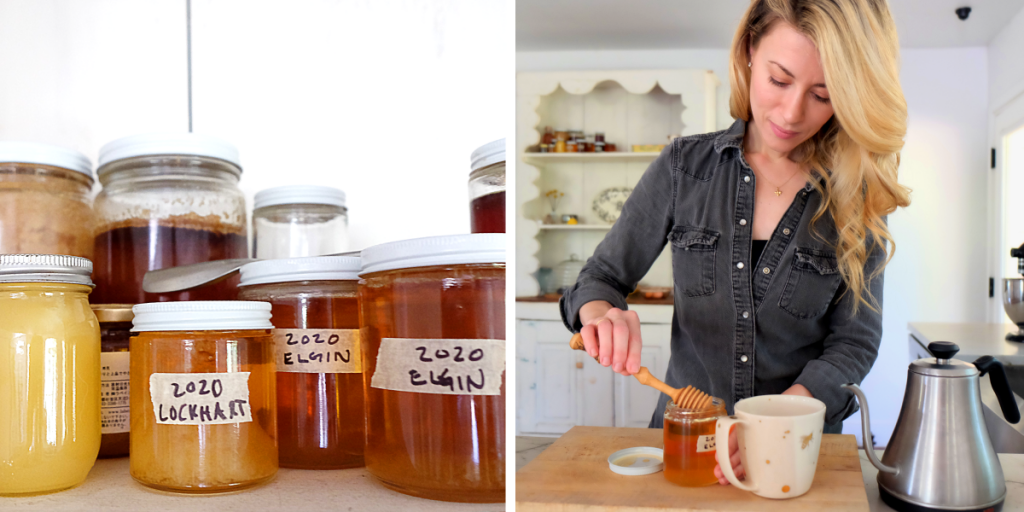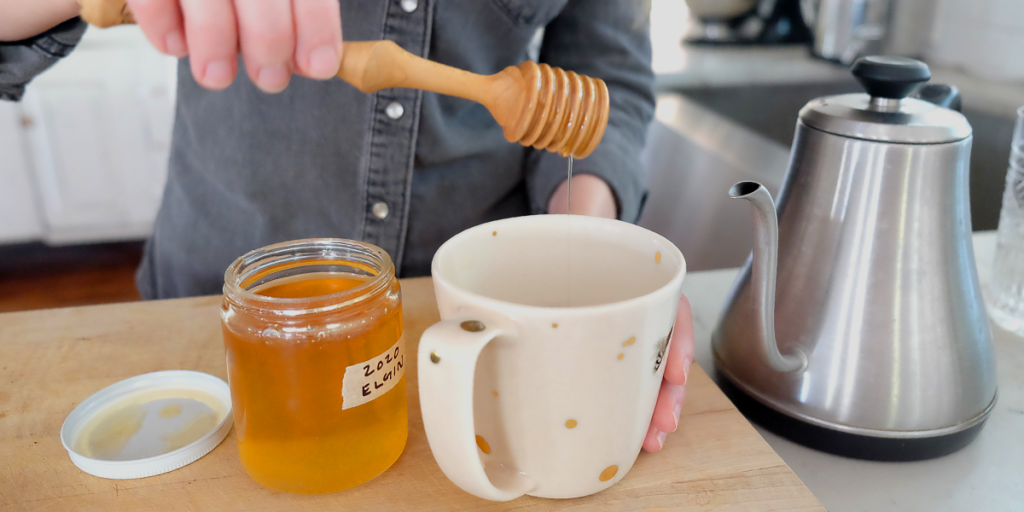 Erika makes a cup of tea with honey from her hives. With the philosophy of putting 'hives before honey,' Erika only rarely harvests the honey from her bees and never makes it available for sale.
What advice do you have for others?
Just like bees, no one is too small to make a big difference!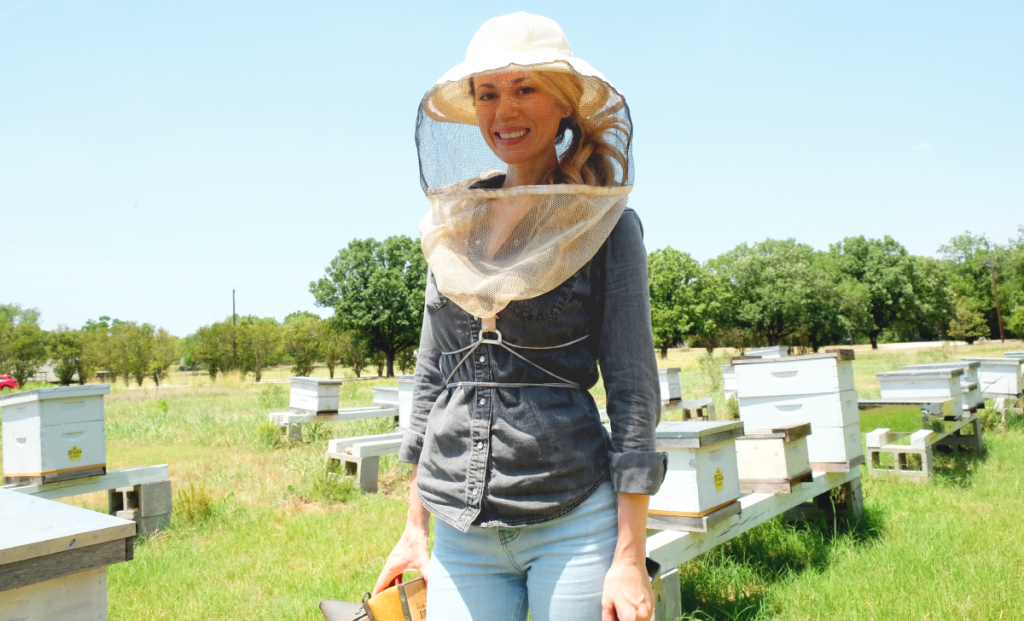 ---
Bees are an essential part of Austin's food system. If you'd like to get involved in helping to shape the future of food in Austin, complete our Food Plan Interest Form. 
Want to learn more about bees, butterflies, and pollinators of all kinds? Save the date for the 2022 Roots & Wings Festival, happening October 22 through November 5. The Roots & Wings Festival is Austin's annual celebration of nature in our city, commemorating Arbor Day and Monarch Appreciation Day.
To learn more about Austin's net-zero goal and explore actions you can take to support a greener community, view the Austin Climate Equity Plan.
Share your Net-Zero contributions with us on Twitter or Facebook and use #NetZeroHero. If you know a Net-Zero Hero (or heroes!) who should be recognized for their efforts, send your nomination to sustainability@austintexas.gov.