Meet our new employee: Amanda Mortl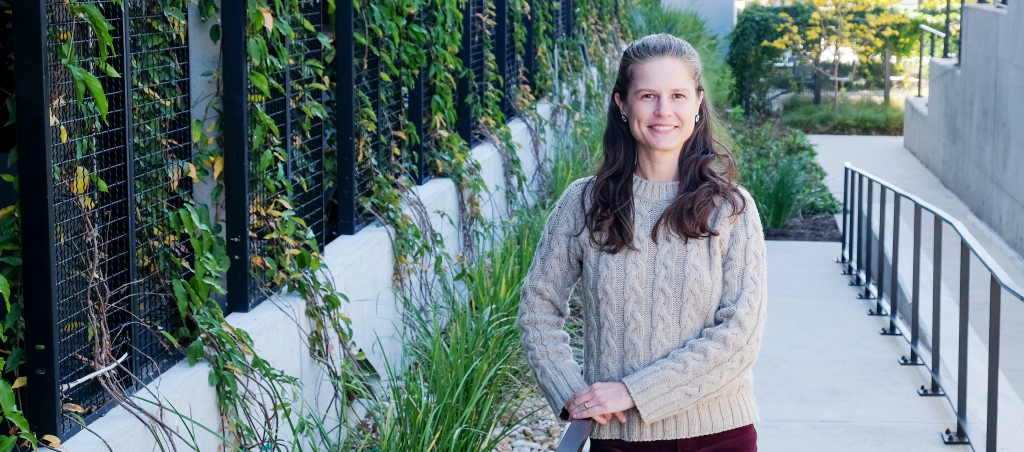 Please join us in welcoming the newest team member to the Office of Sustainability: Amanda Mortl! Amanda is stepping into the role of Environmental Program Coordinator. They'll be focusing on protecting our city's air quality and advancing Austin's Climate Equity Plan. As Amanda settles into the new role, we asked her some getting-to-know-you questions to help introduce her to our larger community.
Q: Where are you from, and what do you like best about your hometown?
A: I grew up near the Potomac River in the Chesapeake Bay watershed. Some of my favorite memories are exploring forested trails and savoring blue crabs with family and friends every July 4th. I relished the benefits of living near Washington, DC, and developing in such a diverse, vibrant, and academic community. You could say I love capital cities!
Q: Tell us a little bit about yourself and what interested you in joining the Office of Sustainability.
A: "I wasn't born in Texas, but I got here as fast as I could!" I first moved to Texas to attend college in Houston, where I studied Geology and Environmental Engineering Science at Rice University. It was there that I first learned about air pollution, like ground-level ozone, and how we each have a unique part in protecting each other's health with regard to air quality.
Q: What are you most excited to accomplish during your time with the Office of Sustainability?
A: I'm excited about my part in protecting our beautiful, breathable air while our City population continues to grow. I'm looking forward to an increased awareness of clean air as a community benefit that we all have a responsibility and ability to protect.
Q: What are some of your favorite things to do or places to go in Austin?
A: I love Lady Bird Lake for its bats and paddleboarding, and I enjoy walking my dog at off-leash trails like Walnut Creek Metropolitan Park. For indoors, having a meal with a movie at Alamo Drafthouse will never get old!
Q: What is your favorite sustainable thing to do in your personal life?
A: I love giving and being gifted with household items from my neighborhood "Buy Nothing" group. I love finding things at thrift stores or repurposing something to extend its use.   
Q: What is your favorite food and why?
A: My first thoughts go to family recipes: my dad's turkey soup, my husband's Yorkshire pudding, and my mom's causa de atún. If I'm cooking, you're most likely to be served the versatile and adaptable vegetarian tacos!