Maud Anna Berry Fuller, known nationwide for her work as a public speaker, youth organizer, and mission supporter and known locally for her work in the community and as a death care worker, was born in Lockhart, Texas in 1868.  
After high school, she attended Guadalupe College and Tillotson College - now Huston-Tillotson College - and taught at several different public schools in Central Texas, including some in Austin, for twenty-five years.  
Maud was an active member of Ebenezer Baptist Church at Austin and took part in many organizations associated with the National Baptist Convention of America, even serving as corresponding secretary and then president of the Women's Auxiliary for forty years. These conventions also served as launch pads for her to introduce the resolutions founding the Girls Auxiliary and the Shepherd Boys' League. She would go on to found the first national level organizations for Black Baptist youth and write handbooks for organizations like youth groups, church societies, and home and foreign missionary societies as well as founding and editing the national newspaper the Woman's Helper.  
Photo courtesy of Fuller-Sheffield Funeral Services
In 1944 she focused her efforts on raising funds for mission projects and went to Liberia the next year to acquire the land to build the mission where she then helped to set up a home for the elderly, published a national women's magazine, and became a spokeswoman for the black community to many government agencies. In addition to the work of the mission she and her husband helped educate more than twenty-five young men and women from countries ranging from Panama to Liberia. 
Closer to home, she cared deeply for her community. From speaking to the city council on issues that concerned the Black community of Austin, to visiting inmates in jail, and working to get the pensions for aged citizens raised. Along with belonging to clubs and service organizations and serving on the board of a nursing home supported by the King's Daughters.  
Over the course of her career she was given multiple honors, including a doctor of humanities degree awarded her by the Union Baptist Theological Seminary in Houston and the prayer room at Ebenezer Baptist Church here in Austin that she had built was later named in her honor.  
Her influence in the community extended beyond caring for the living as she and her husband William Handy Fuller purchased the N. W. Rhambo Funeral Parlor in 1932. Though they renamed the Funeral Home to Fuller Funeral Home, it allowed them to continue the legacy of Mr. Rhambo, who had been the embalmer of William M. Tears around the turn of the 20th century before he opened his own funeral home in 1911.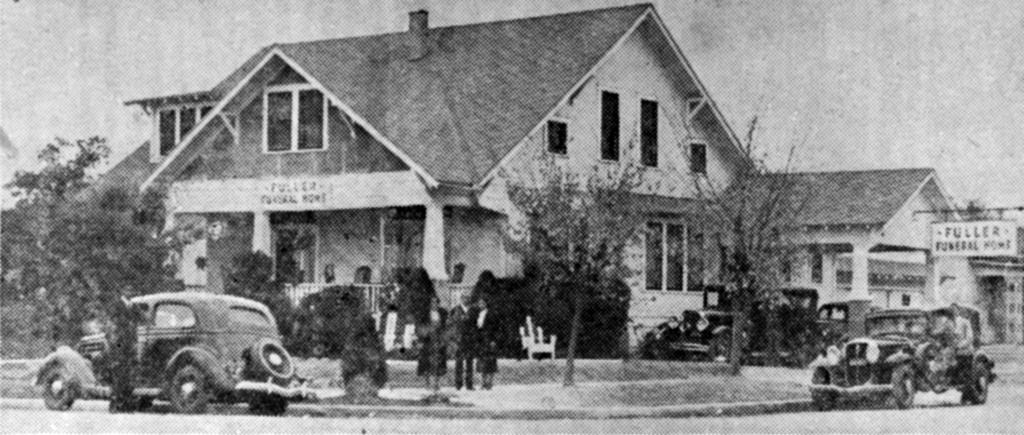 Photo courtesy Austin History Center
People couldn't say enough good things about the funeral home after the Fullers took over. They described the space as beautiful and modern with a beautiful display room, a spacious chapel, and  a portable organ that could be used at the cemetery for graveside services. Not to mention wonderful landscaping outside with a fish-pond, colorful flowers, well-trimmed shrubbery, attractive palms, and refreshing shade trees.  
After her husband passed in 1941 Maud went into partnership with Miss C.E.M. Mercer and changed the name of the funeral home to Fuller-Mercer Funeral Home. Then, when Miss Mercer passed, Mrs. Fuller became partners with Mr. Lloyd Sheffield and the funeral home changed it's name to what it is today: Fuller-Sheffield Funeral Services, Inc.  
Maud Fuller died at the age of 103 on January 26, 1972, in Lockhart and is buried in Evergreen Cemetery, Austin.