Partnering for Impact: APF & the Urban Forest Program
All the trees in Austin need care and attention to grow and flourish, but with 33 million trees in the city, it takes a community to give every tree the care it needs. To help solve this problem, different community groups, many of whom rely heavily on volunteers, have stepped up to care for Austin's trees. One of the largest groups is the Austin Parks Foundation (APF). This local Austin nonprofit provides resources, programming, and funding for our parks, with support from the City.  
The City of Austin's Urban Forest Program provides funding to APF through the Urban Forest Grant, which supports different community groups and organizations in projects that support and grow our urban forest. An important part of the City's effort to maintain and grow our urban forest is supporting the Austin Parks Foundation, which in turn helps to make sure Austin's trees get the care they need.  
In 2019, the Urban Forest Grant gave just over $100,000 to APF to help with its efforts to care for the urban forest. In comparison, the calculated value of all volunteer time given through APF in 2019 comes out to over $500,000! With financial support of the Urban Forest Grant, in 2020, despite COVID-19 restrictions, APF successfully completed 112 tree-related projects across the city. APF serves as the parent organization of 120 Adopt-A-Park groups, giving them valuable connections to eager volunteers across the entire city. By partnering with APF, the City is able to maximize the value of the money put towards supporting our urban forest. 
The map below shows all the projects completed by APF with support from the Urban Forest Grant from 2018-2020.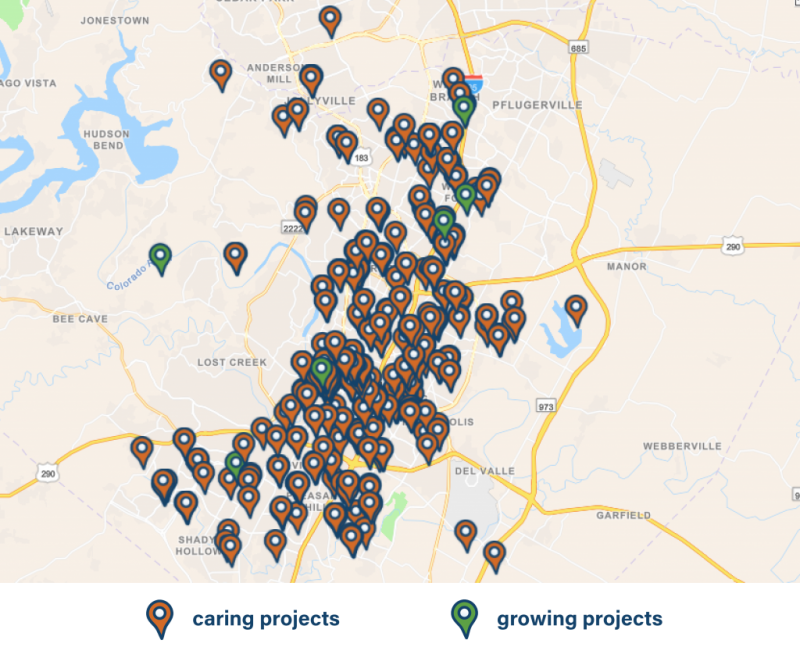 One of the most important ways the City supports the Austin Parks Foundation is by helping facilitate It's-My-Park Day, during which a great number of tree care projects are accomplished. Through the City's support, APF provides tools, mulch, and volunteer coordination for this biannual day of service. This support helps to maximize the value of the time given by the 3,000+ volunteers on It's-My-Park Day. 
Many of the projects accomplished by the City and APF, on It's-My-Park Day and beyond, are related to tree mulching. While mulching may seem mundane, it can go a great length in caring for trees.  
Mulch: 
releases nutrients into the soil through decomposition 
protects soil from erosion 
minimizes loss of soil moisture 
regulates temperature 
The last three are especially important in Austin's climate, as hot weather can dry out soil and negatively affect tree roots. APF has completed mulchings, with support from the Urban Forest Grant, all over Austin, in parks from Mayfield to Wells Branch to Dittmar. The Recycle & Reuse Drop-off Center provides free mulch (made from recovered yard trimmings) to Austinites interested in caring for trees on their property!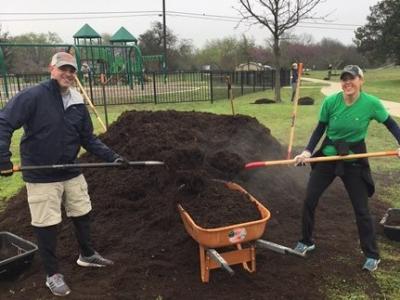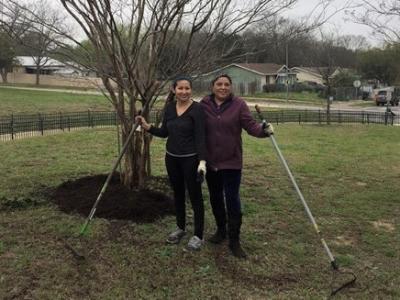 The Urban Forest Grant also provides funds for larger-scale park renovations to promote growing and caring for the urban forest in that park. For example, when North Oaks park was renovated in 2019 to include updated play structures, the Urban Forest Grant provided $10,000 for tree planting. Such support allows parks to care for and grow our urban forest during renovation.  
All Austinites can be involved in preserving our urban forest! One of the most hands-on ways to do this is to get involved in a Park Adoption with the Austin Parks Foundation. Park Adopters help care for and maintain their neighborhood parks and help put on It's-My-Park Day. For more information on adoptable parks, or to join an existing group, click visit the Adopt-A-Park wepage. The Austin Parks Foundation also offers lots of volunteer opportunities for individuals and families, many of which involve the urban forest. Volunteers are an invaluable resource for caring for our urban forest and allow Austin's urban forest to keep on thriving! 
---
This blog post was written as a project of the 2020 Youth Forest Council. You can learn more about the program at www.austintexas.gov/youthforest.