Project Spotlight: Roy G. Guerrero Metro Park and Circle Acres Nature Preserve
Our Urban Forest Grant program was developed to maintain, restore, and replenish our urban forest using development fees accrued via the tree preservation ordinance. Today, we are shining a spotlight on one exemplary project that helps us meet the goal of creating a sustainable, equitable urban forest for all our city's residents. At Roy G. Guerrero Colorado River Metro Park, local non-profit Ecology Action has been working for years to restore a degraded site back to the forest it once was.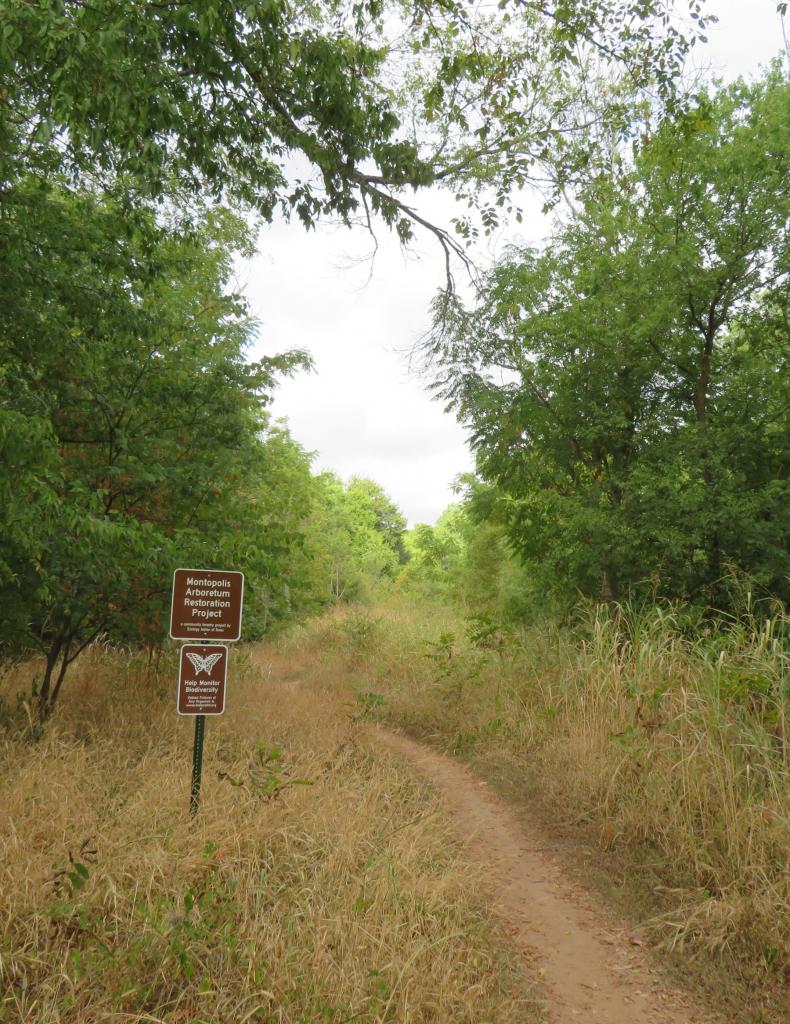 Ecology Action has developed hiking trails for access to the restored forest at Guerrero Park. 
Restoring a forest
Located in the Montopolis neighborhood near the Colorado River, the project at Roy G. Guerrero Colorado River Metro Park and Circle Acres Nature Preserve is helping to bring access to nature for an area that desperately needs it. Austin has a goal of making it possible for all our residents to live within a reasonable range of green space. Montopolis is a high priority area because such access has been limited there for a long time. This site was used by ranchers and dairy farmers decades ago, converting native forest to pastureland. It was later used as a City landfill for many years, then continued to be an illegal dumping site long after Grove Landfill was officially closed.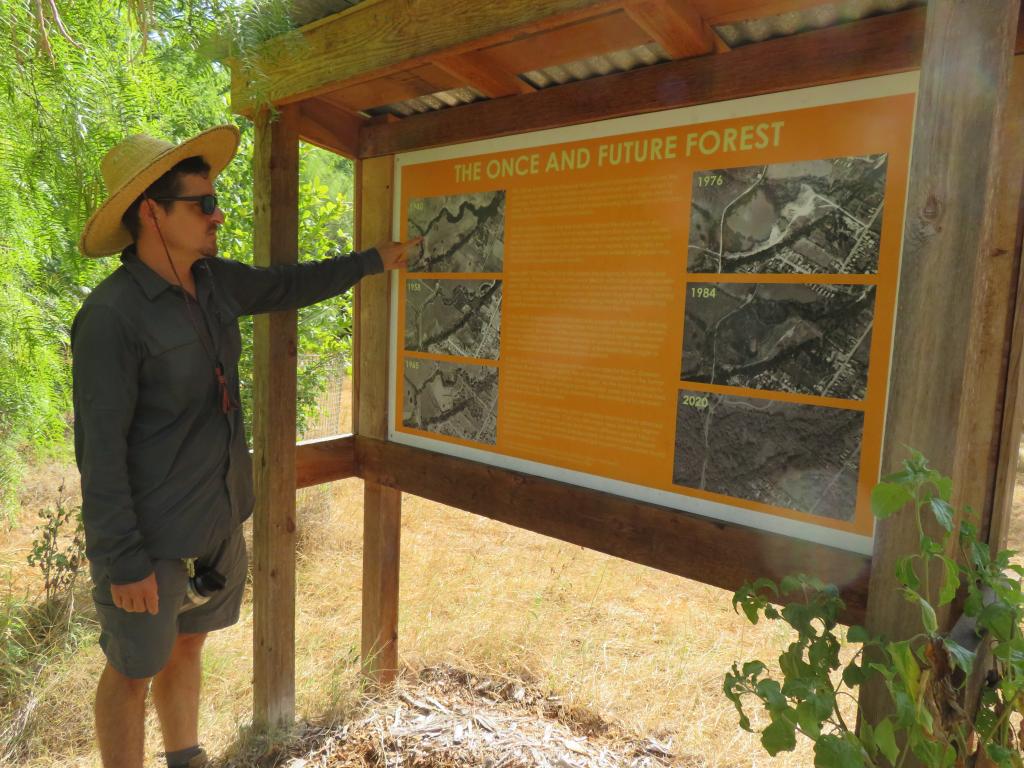 Signs educate visitors about the site history and restoration. 
The bulk of Ecology Action's work has been to restore Circle Acres, which they purchased to rebuild and protect it. Volunteers laboriously excavated tons of old garbage and other waste from the site, including almost 1,000 used tires. Today, it is transformed, with new trees and plants being added annually and a hiking trail where people can see the improvements that have been made. Interpretive signs help educate the public about the project and its recovery back to a diverse ecosystem. Restoration of this site has turned a trash dump into a nature preserve. Residents and visitors have more access to green space in an area where opportunities have been scarce.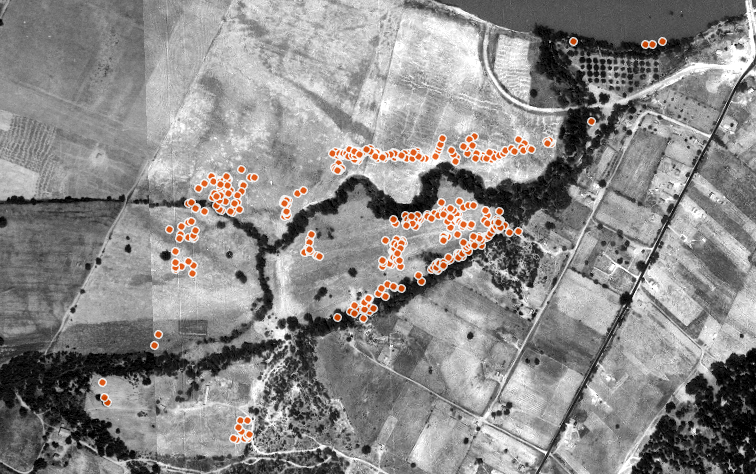 This aerial view of the park from the 1940s has been overlaid with dots showing where Ecology Action has planted new trees over several years.
Caring for trees
The work Ecology Action has done extends beyond just plants and trails. They have purchased and installed several water storage tanks that allow them to ensure the new trees don't suffer during dry weather. City watering crews help keep the tanks filled so trees can be irrigated as needed. In addition, Ecology Action installed greenhouses where they grow native plants to restore and enhance the original ecosystem. Staff and volunteers hand water the new plants and trees at first to help them become self-sustaining.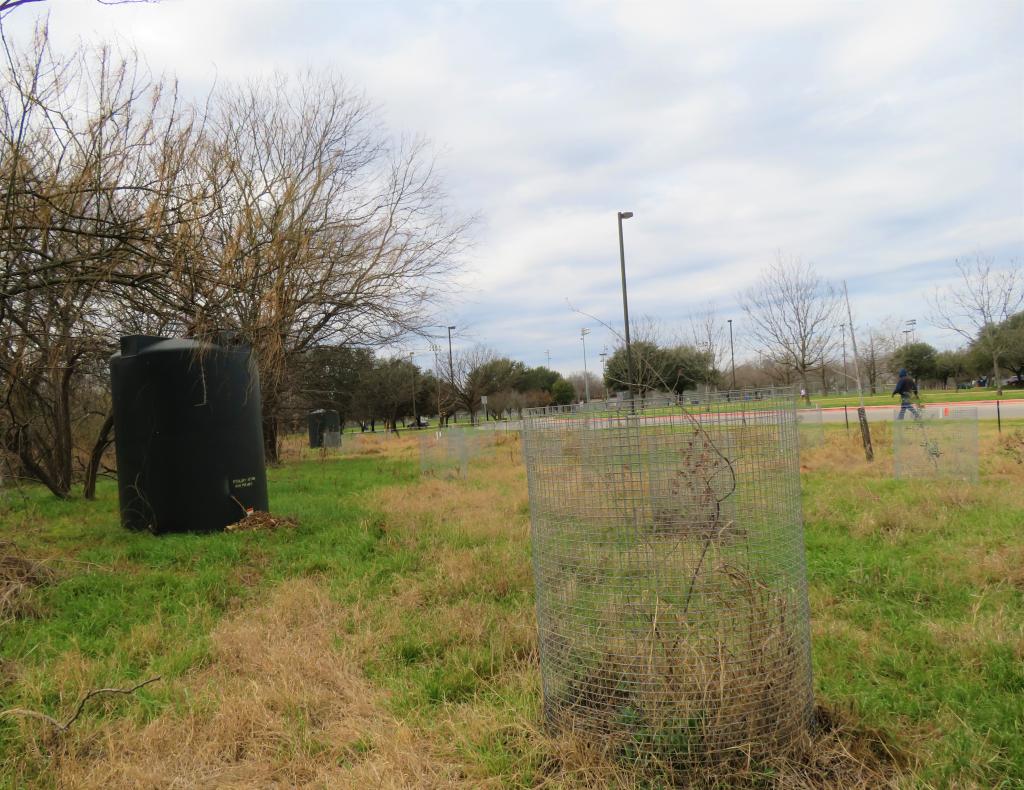 Water storage tanks allow Ecology Action to irrigate new plants and trees until they can become self-sustaining. 
Growing new Trees
In the greenhouses, spent mushroom blocks from the produce industry are combined with wood chips and other natural materials to create a medium for growing seeds until they are ready to be planted in the landscape. The greenhouses nurture local standbys like Mexican buckeye, Eastern Gamagrass, and other native grasses. Live oaks are also part of the mix, but not just any live oaks. "We source acorns to grow from the heritage trees located in the park nearby, some of the oldest trees in Austin," Paulus said. 
"There are several huge, old cottonwoods along the creek, but they are not able to establish young cottonwoods naturally because of all the deer," said Eric Paulus, Ecology Action Operations Director and Land Manager. "We grow cottonwood saplings from the local seed, then plant them with cages so we can ensure future generations have cottonwoods in this park, too." 
Replacing rare plants for biodiversity 
To create a more sustainable ecosystem, Paulus also nurtures rare Texas plants, including some that are native to hotter, drier climates. This includes small trees like green hawthorn, red buckeye, and Texas ebony, and large species like black hickory. "We get a lot of help from the LBJ Wildflower Center sourcing a diverse mix of seeds," said Paulus. Diversity in new plantings increases the chances of having a healthy ecosystem even when some species may struggle to adapt to changing weather patterns.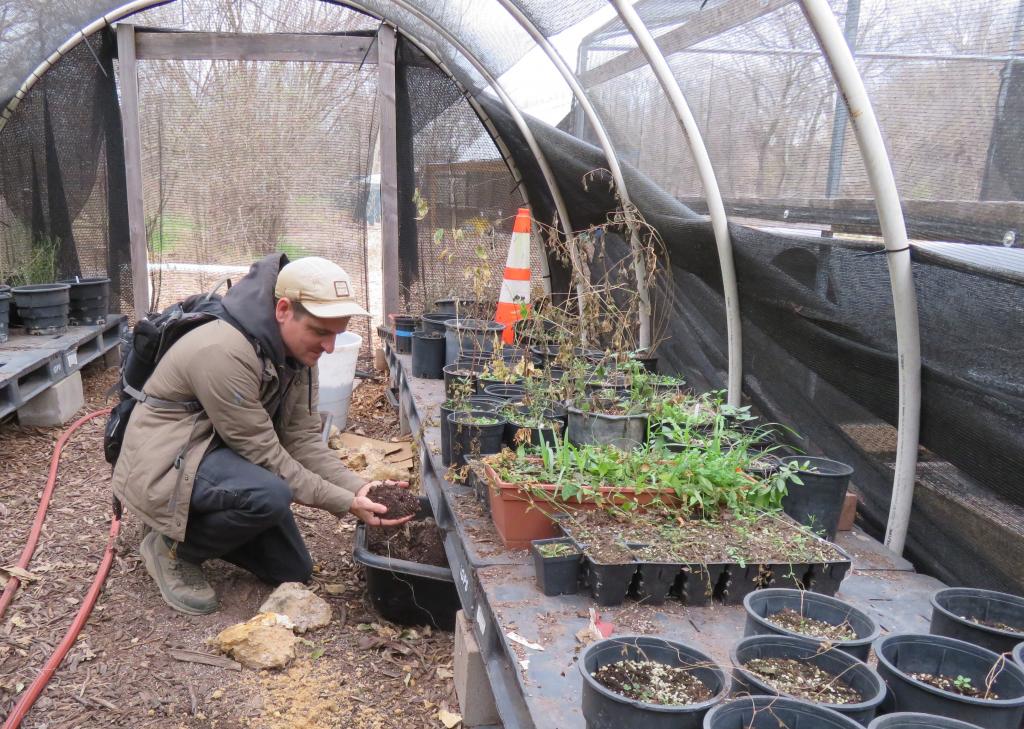 Eric Paulus shows the growing medium he makes from recycled mushroom spawn and worm castings to support seeds until they can be planted in the park and preserve. 
Create your own project
Through the efforts of a local non-profit and its volunteers, a degraded forest is being restored and expanded to allow Austin residents and visitors to enjoy natural spaces for decades to come. We are proud to support their work through our Urban Forest Grant. We hope the ambitious work at Circle Acres Nature Preserve can be a source of inspiration for other local groups seeking to apply for similar projects, whether big or small. Visit our web site to learn how to get funding for your project that will help our urban forest. 
Article written by Keith Babberney, Education Forester for the Development Services Community Tree Preservation Division, City of Austin.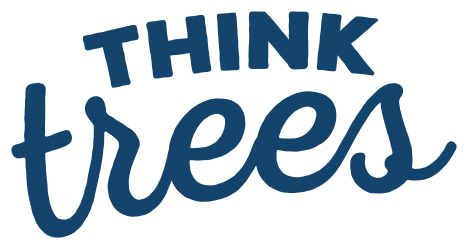 Visit the Tree Information Center at www.austintexas.gov/trees.