Sustainability Spotlight: McNeil High School
Hi, I'm Anish. I will be a senior at McNeil High School in the fall of 2023. After being a member of the 2022-2023 Youth Forest Council, I decided to continue as a fellow for the 2023-2024 Youth Forest Council. With the help of my mom, I developed a passion for gardening during quarantine for Covid. My position as a member of the Youth Forest Council and my interest in horticulture helped me choose my Community Action Project (CAP). For my CAP, I decided to plant native trees in parking lot medians and create a courtyard oasis for students with special needs.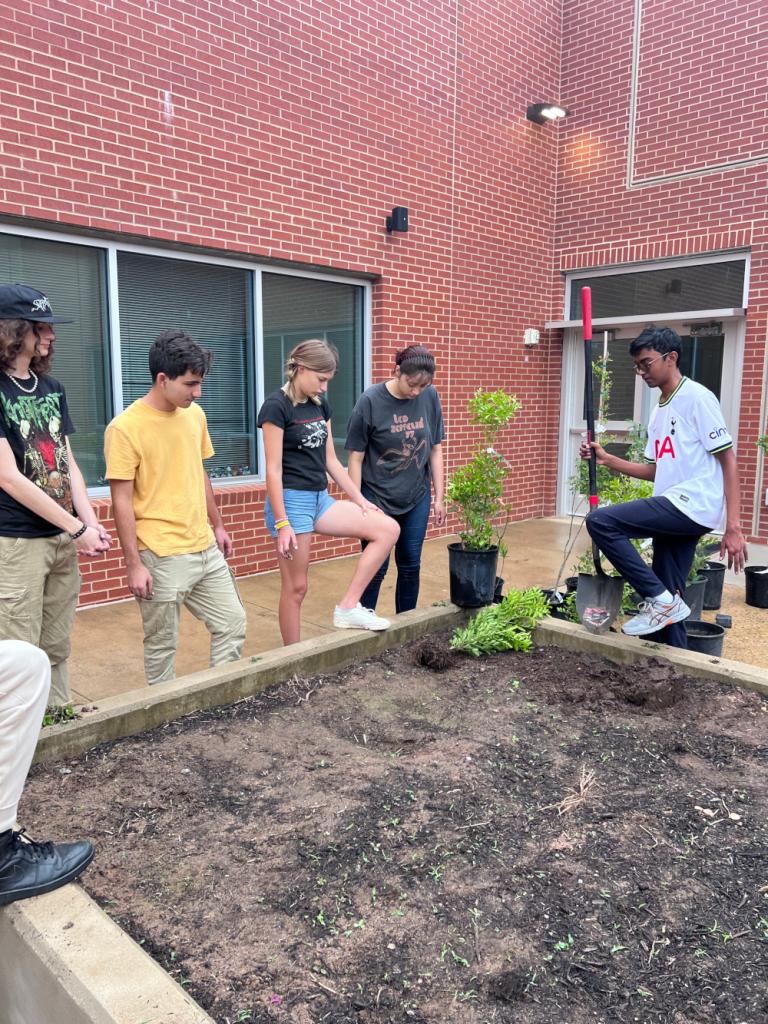 Volunteers at McNeil High School prepare to plant a Texas Mountain Laurel tree.
Planting Trees
Thanks to TreeFolks, a local non-profit organization spreading awareness about our urban forest, we received twenty-seven Texas native trees. These included the following species: Mountain Laurel, Anacacho Orchid, Oak, Pecan, Eve's Necklace, and Desert Willow. With the help of the McNeil Green Club, an afterschool program aimed to promote environmental sustainability, nine Mountain Laurel trees were planted in McNeil High School's courtyard for students with special needs. The remaining eighteen trees were planted across three of McNeil High School's parking lot medians as a part of a McNeil High School NHS volunteering event. Planting trees around impervious surfaces, like parking lots, reduces the harmful Urban Heat Island Effect which occurs when impermeable infrastructure retains the sun's heat. 
​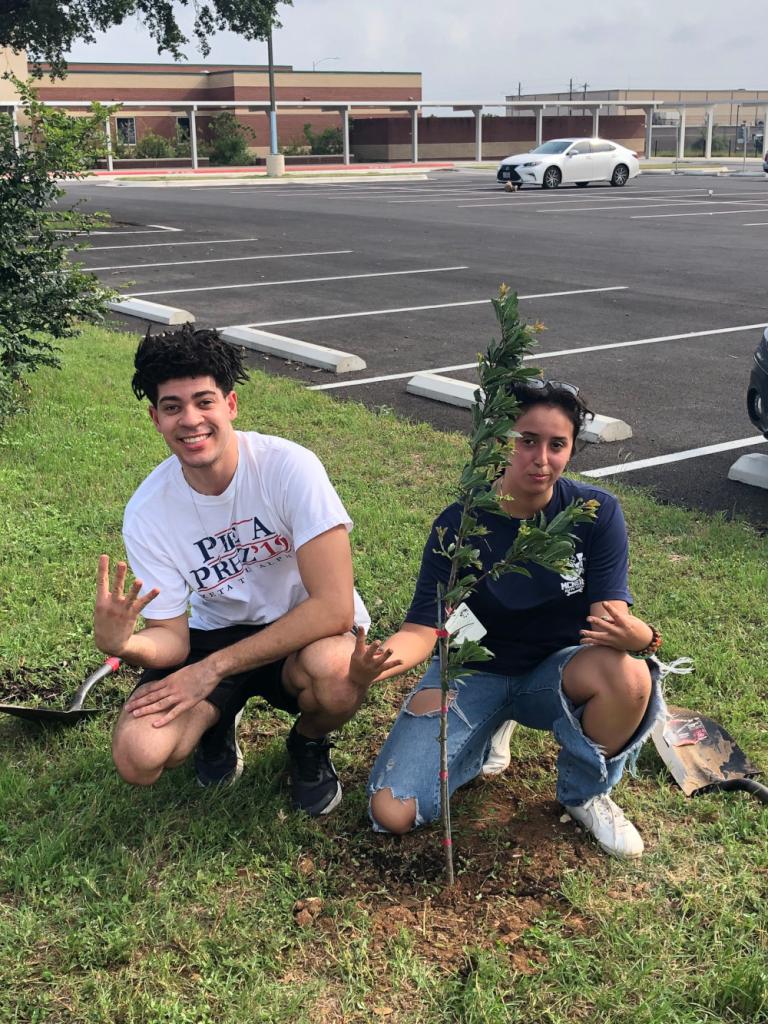 Two National Honor Society volunteers plant a tree near the school parking lot, mitigating the heat island effect.
Courtyard Oasis
At McNeil High School, there is a specialized area for students with special needs referred to as the J-wing. Inside the J-wing lies a large courtyard with seven concrete garden beds and a raised bed along the wall. At the start of the year, the courtyard was overrun with monstrous weeds. Since special needs students have less accessibility, it can be difficult to create a welcoming environment. Over the course of the year, the weeds have been removed and replaced with over 40 native plants like Autumn Sage, Yucca, Muhly Grass, Gaura, Coneflower, and more, from Hill Country Water Gardens and Nursery, a local garden center. Going into the Courtyard Oasis project, I knew extra funds would be needed. For that reason, I applied for the Office of Sustainability's Bright Green Future School grant. I received $3000 to cover the cost of tools, materials, and plants. While it was a daunting task, with the help of my school staff and volunteers, we were able to convert McNeil High School's J-wing courtyard into an oasis.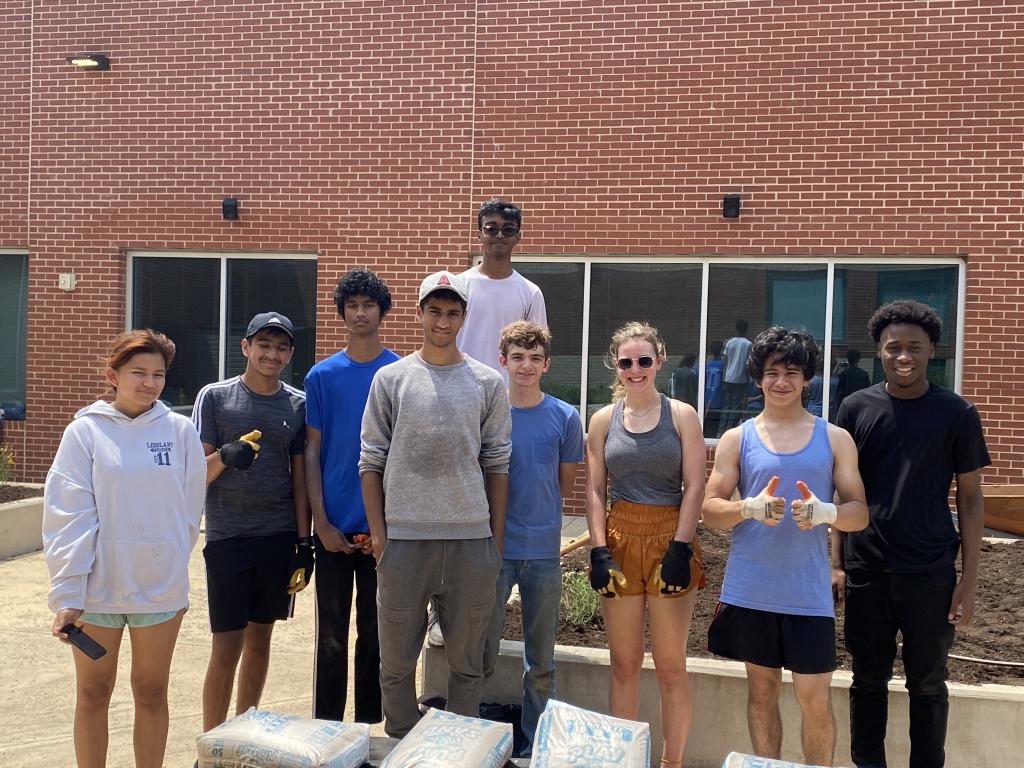 These eight hard-working volunteers just spent a day planting, weeding, and mulching the new courtyarrd gardens.
Lessons Learned
While the project has been a success, it hasn't gone without its fair share of setbacks. The challenges along the way helped me grow into a better gardener and planner. If I could share my knowledge with others about beautification projects, I would recommend clearly communicating far ahead of time. For example, reaching out to volunteer organizations weeks in advance can ensure that you get the desired number of volunteers. Although weeds and irrigation can be difficult to manage at times, spending time in nature can be a rewarding experience. I have loved working with 37 unique volunteers for a total of 14 hours in the creation of this project. Watching trees like Eve's Necklace thrive and perennials like Autumn Sage blossom over the last few weeks has been magical! As we head into the future, the plants and trees will create a nurturing green space for incoming students. Growing green not only helps the environment but the community as well.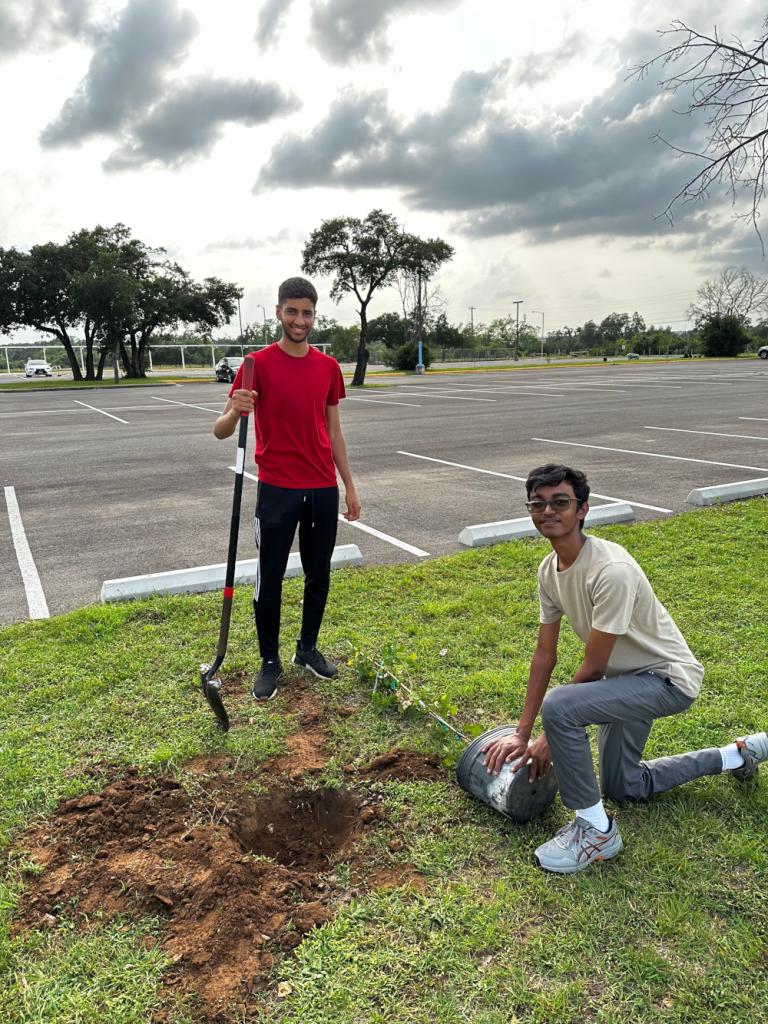 Anish and another McNeil student planting an oak tree in a parking lot median.
This article was submitted by Anish Palley, a past Youth Forest Council intern and current fellow.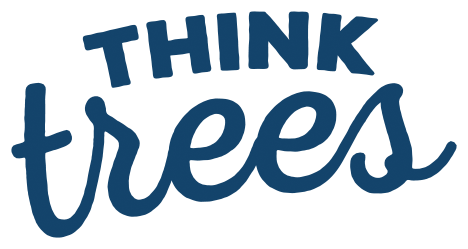 This site is sponsored by the City of Austin. Learn more about trees and resources at the Tree Information Center!